The 50 Best Things We Saw at Bonnaroo 2013
SPIN hit the 2013 Bonnaroo Music and Arts Festival and survived the heat, the rain, and the Lumineers. Here's the best things we saw, heard, and tasted.
1. The 50 Best Things We Saw at Bonnaroo 2013
1/51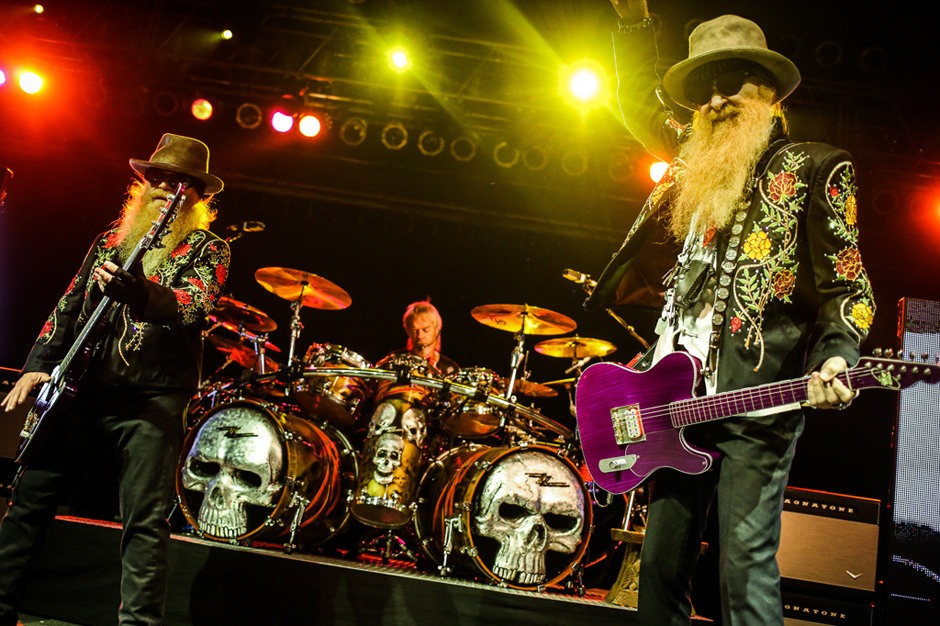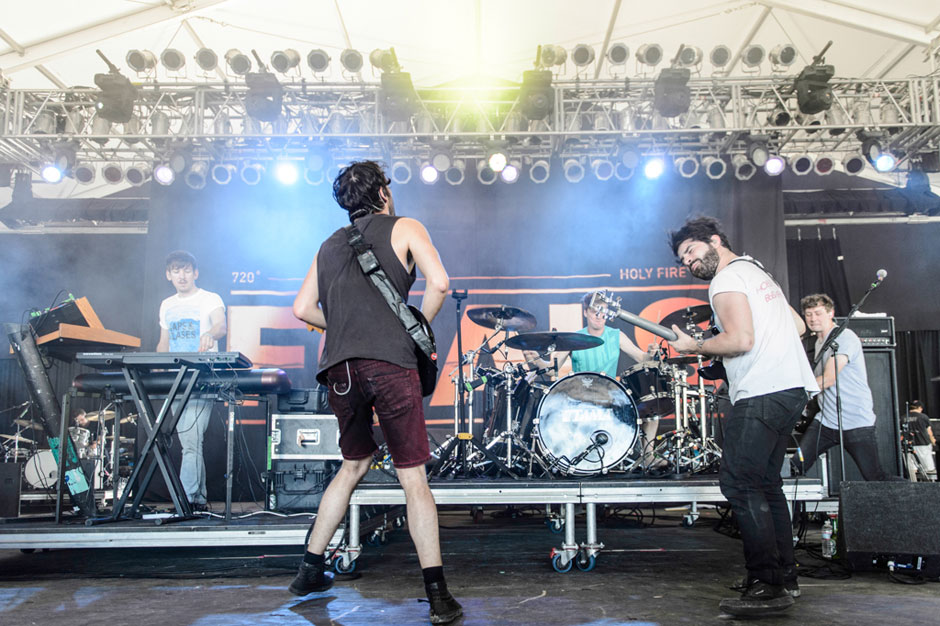 The pallid Brits of Foals might not write the most memorable hooks or have themost winning stage personalities, but at Bonnaroo they will be remembered forever as the group who played music good enough to convince a woman to crowd-surf on an inflatable crocodile. Midway into "Bad Habit," a standout among the group's bass-heavy, danceable noise-rock catalog, something must have snapped in her, because she took to the croc like Captain Hook in search of his lost hand. The inflatable animal was confiscated just in time for Foals to play "Milk & Black Spiders." KORY GROW
3. JEFF the Brotherhood
3/51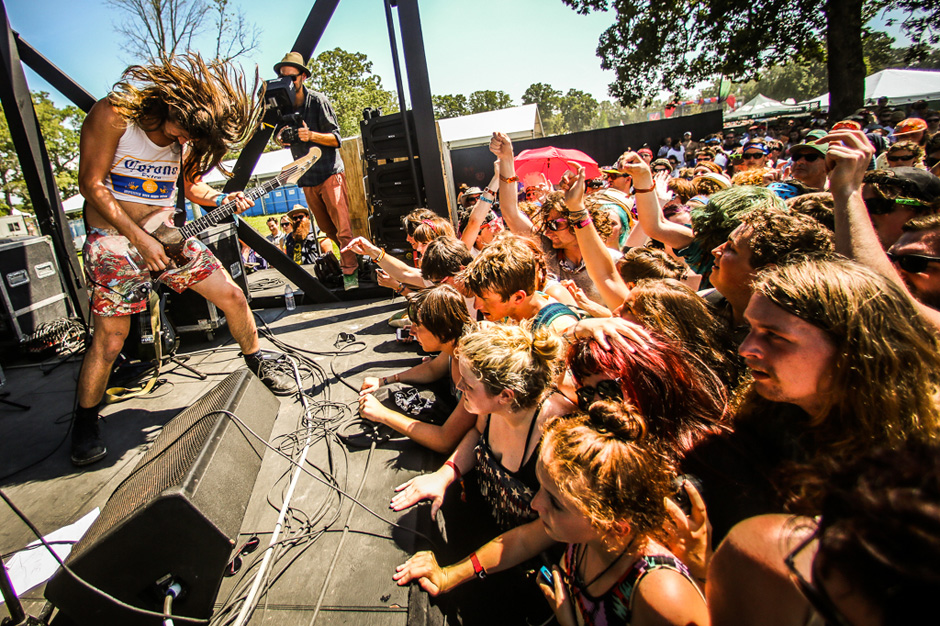 Clad in a T-shirt repping the grim, Norwegian black-metal duo Darkthrone and, ironically, Hawaiian shorts, JEFF the Brotherhood frontman Jake Orrall led his brother, drummer Jamin, through some of the duo's proto-punk-inspired garage sleaze. Whether playing a rumbly three-string bass or an even rumblier five-string bass, Jake made enough of a racket to rile the audience into a frenzy. By the time they played their single "Sixpack," one crowdsurfer after another ascended and fell like lemmings under the weight of the group's heavy bludgeon. It was a sound so distorted, so ridiculously over the top that the Brotherhood managed to make kazoo-sounds rock — with no kazoos in sight! KORY GROW
4. Snake & Jake's Christmas Club Barn
4/51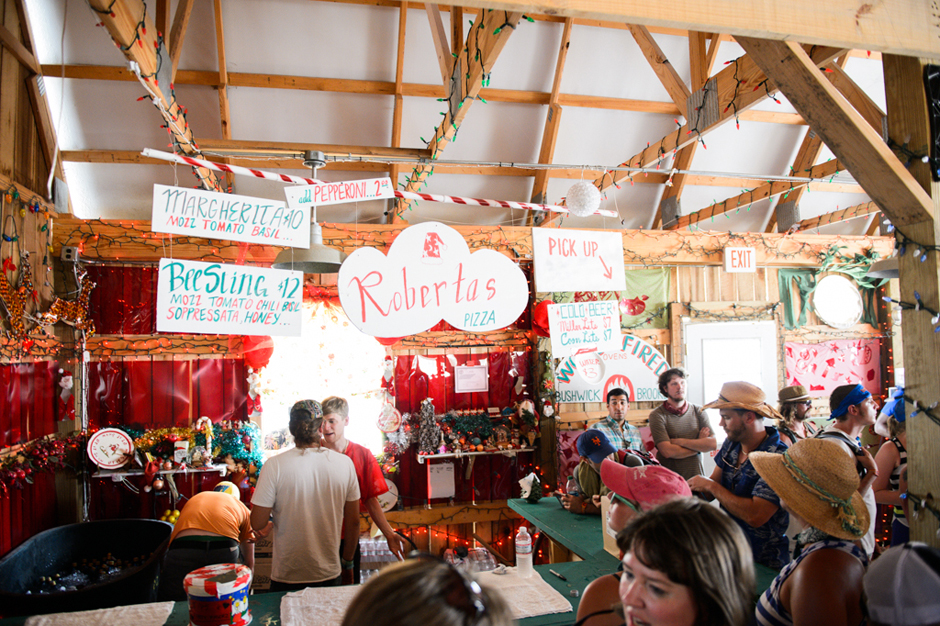 Set up as a place to beat the heat and eat the celebrated pizza from Bushwick, Brooklyn's Roberta's, the little barn near the north end of Centeroo was constructed as a little slice of the North Pole, complete with lights, some Santa Clauses, and a DJ spinning remixes of A Charlie Brown Christmas. With the weather in the 80s outside, they fortunately served bottled waters and not eggnog.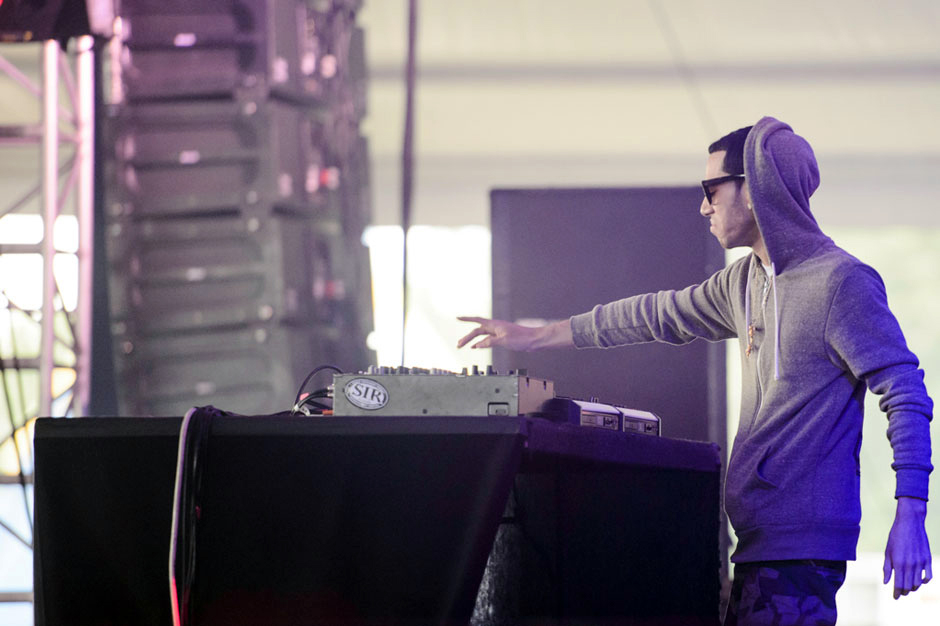 "Thanks for the love," yelled the hypeman for furious MPC diddler AraabMuzik — who speaks with his hands. "This is his first show back since being shot, y'all." AraabMuzik's return after being wouned in a robbery attempt wasn't exactly triumphant — the first note of an abbreviated set landed 26 minutes off schedule — but it did feel like a new chapter. Araab edged away from trillwave ooze and boom-bap-bap-bap pyrotechnics, leaning towards a split between trap beats and trancey house: i.e., the stuff that could be playing to bigger tents than Bonnaroo's. Of course, his sound is still handmade, punched out on his MPC like a pocket-Peart with a flurry of fingers. This meant his tempos were erratic, not exactly the best formula for a rave. But when an increasing affinity for popular sounds met his unique, jackhammering snares — like on a percolating version of French Montana's "Pop That" or Flux Pavillion's "I Can't Stop" — the crowd had multiple reasons to go wild. C.W.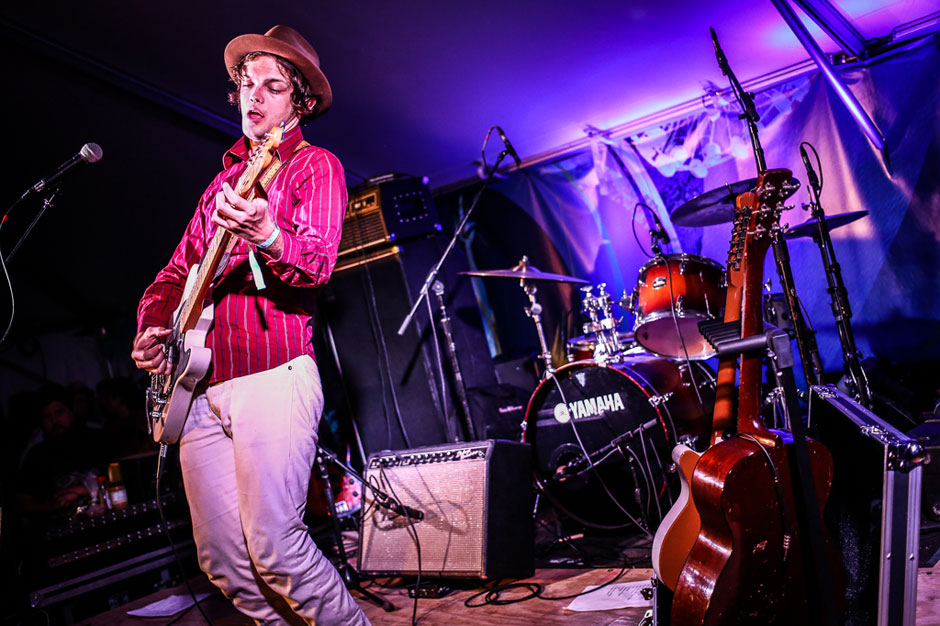 Fahey-inflected, instrumental-rock doomsayer William Tyler opened his set by bragging that he lived only an hour away ("Bonnaroo is the most convenient festival"), and that's why his pants were still white. He played tracks from his recent album Impossible Truth and fleshed out his sound with a full band (bass, drums, pedal steel). He described his recent work as "a bunch of instrumental songs about the end of the world," portraying Armageddon through Eastern-sounding filigrees and off-kilter 5/4 rhythms, all of which seemed a bit too upbeat and clean (like Tyler's pants) to signal the end of the Earth. K.G.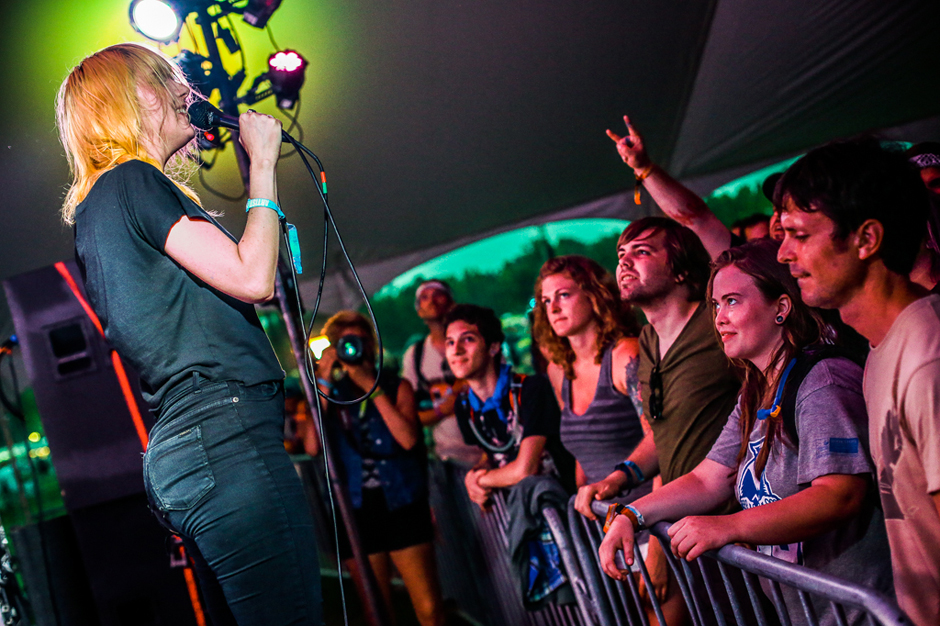 It must be hard work to appear this bored. Vancouver's White Lung were punk rock in that loud/fast, lost-my-mind Agent Orange way, and that ho-hum, everything-is-so-dreadfully-tedious Sex Pistols way, all at once. "Do you guys like festivals?" asked singer Mish Way. "Is this exciting? Are you guys camping? Do you like camping? Me, I'd rather sleep in a ditch in the streets." After half-heartedly tossing a water bottle, she wowed with Courtney Love-via-Poly Styrene shouts as her band chugged along quick and lean without looking too excited about it (the drummer was wearing sunglasses at 7:30 p.m.). Someone from the crowd asked, "Why haven't you been playing this whole time?" Way responds, "Five hours at Bonnaroo is quite enough for me, dude." CHRISTOPHER R. WEINGARTEN
8. The Always Bizarre Sight of People in the "Silent Disco"
8/51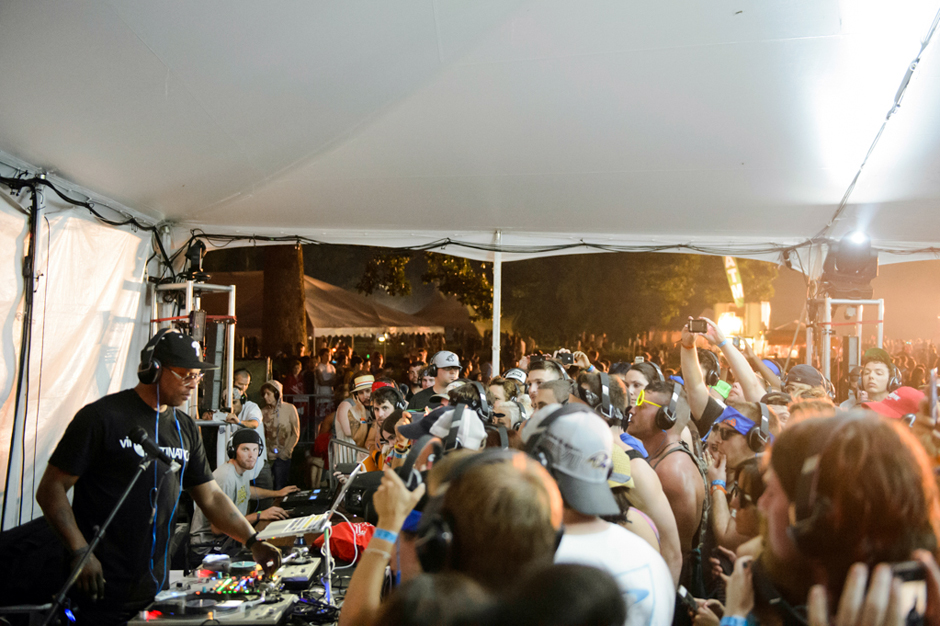 Nothing like seeing a bunch of people go from silence to spontaneously erupting into "Move Bitch."
9. Superjam, feat. DJ Jazzy Jeff, Schoolboy Q, Solange, Chad Hugo, RZA, Redman, Method Man, Ghostface Killah, and Inspectah Deck
9/51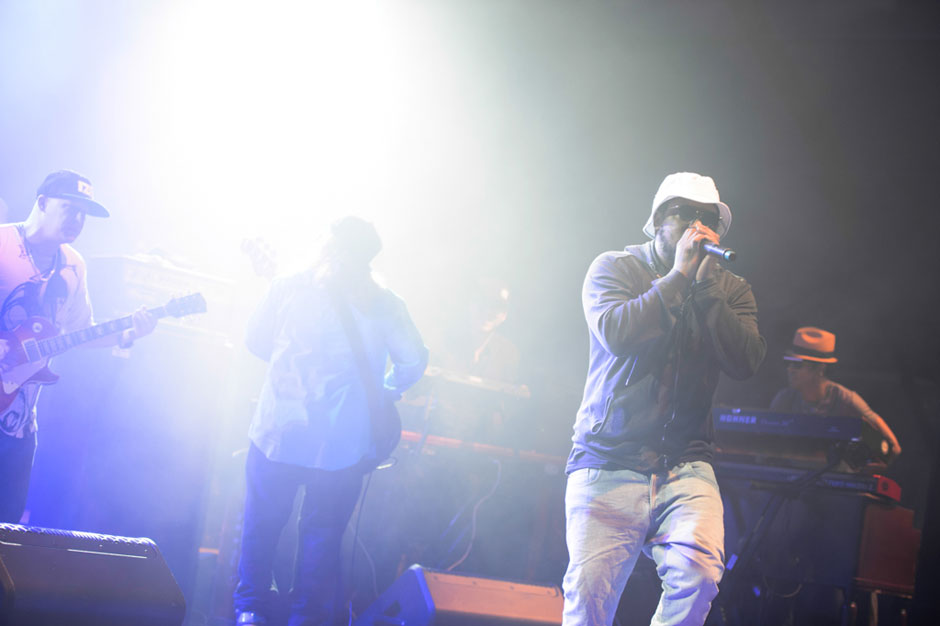 The first hip-hop-themed edition of Bonnaroo's long-running "Superjam" noodle sessions was anticlimactic and messy — but we should have expected nothing less than disappointment after ?uestlove unearthed D'Angelo for his own Superjam in 2012. With a parade of rappers backed by '70s-tweaked hard-funk crew Lettuce, the set was mostly Wu-Tang members wandering over after completely dominating the Which Stage. There was some serious jamming involved — DJ Jazzy Jeff and Lettuce drummer Adam Deltch ran circles around James Brown's "Funky Drummer," though Deltch's heavy right foot seemed more indebted to DJ Premier than Clyde Stubblefield. And, yes, it certainly felt most special when more famous people popped by to cover well-known songs: Schoolboy Q interpreted Nas's "NY State of Mind," (this was a beautiful moment in which a California rapper got a Tennessee crowd to yell, "New York, New York") and Solange covered the Fugees' version of "Killing Him Softly," hitting those soaring notes in the bridge with relaxed ease and liquid cool. Unannounced guests Redman and Method Man finished everything with their usual shot of crowd-surfing, water-throwing, adrenaline — even though they had already surprised us once with "Da Rockwilder" a few hours earlier.
But when it was bad, it was brutal. The tepid crowd response to Neptunes' Chad Hugo playing N.O.R.E.'s "Superthug," made one of the greatest hip-hop beats of all time feel like homework. And RZA, taking swigs from a bottle of vodka, couldn't seem to remember his own lyrics, wandering around the stage like Ozzy Osbourne. When he got lost (which was almost immediately) he would begin rapping other songs. What probably should have been Gravediggaz' "Diary of a Madman" became Wu-Tang's "Protect Ya Neck"; "Triumph" ultimately turned into "C.R.E.A.M." Other times, he just stood in place and danced. "I got to make a confession," he said. "I'm getting nice and fucked-up in here." C.W.
Superjam partial setlist
DJ Jazzy Jeff – "Funky Drummer" (James Brown)
DJ Jazzy Jeff – "The Payback" (James Brown)
Schoolboy Q – "NY State of Mind" (Nas)
Schoolboy Q – "There He Go"
Schoolboy Q – "Collard Greens"
Chad Hugo – "What Happened to that Boy?" (Baby feat. Clipse)
Chad Hugo – "Superthug" (N.O.R.E.)
RZA –"Diary of a Madman"
RZA – "Triumph"
RZA and Chad Hugo – "Shimmy Shimmy Ya" (Ol' Dirty Bastard)
RZA – "Family Affair" (Sly and the Family Stone)
Solange – "Killing Me Softly" (Fugees via Roberta Flack)
Solange – "Umi Says" (Mos Def)
Ghostface Killah, U-God and Solange – "Cherchez La Ghost"
Redman – "Tonight's the Night"
Redman – "Da Goodness"
Redman and Method Man – "Part II"
Redman and Method Man – "Da Rockwilder"
Wu-Tang Clan – "C.R.E.A.M."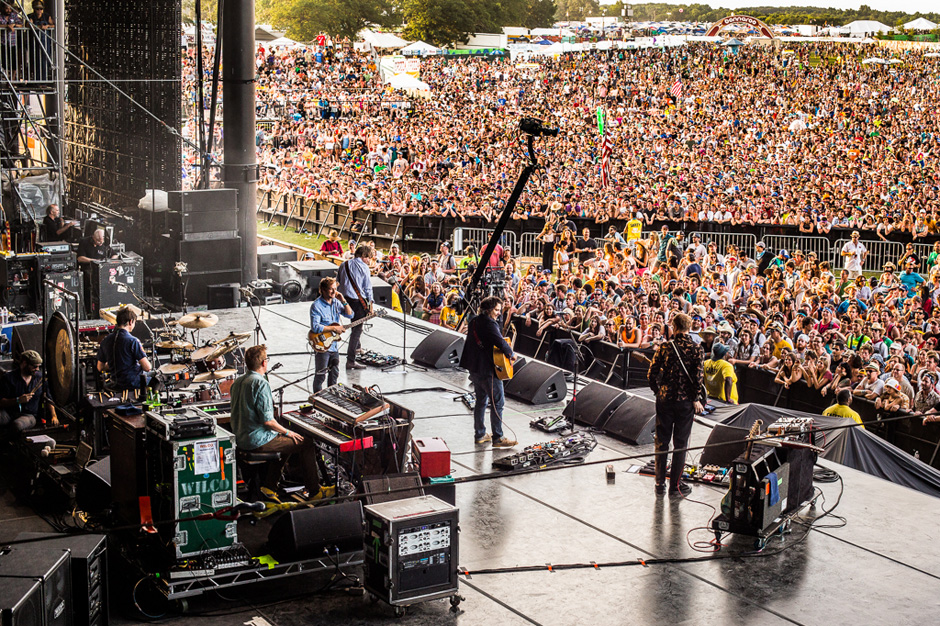 With a vintage nearing 20 years, alt-rockers Wilco are ripe enough to know how to work a crowd. For 90 minutes, they leaned on their oft-celebrated 2002 album Yankee Hotel Foxtrot slightly more than their most recent record, 2011's The Whole Love. And while a good portion of the concertgoers laid down, waiting for Sir Macca later, Wilco still managed to turn a few heads. They invited members of Calexico, who played earlier in the day, onstage to join them on the Yankee song "I'm the Man Who Loves You," and in between frontman Jeff Tweedy & Co.'s seamless texturing of guitars, the singer even took a few minutes to crack wise. "Stick around, Paul McCartney's next," he said. "I'm not familiar with his work, but stick around." K.G.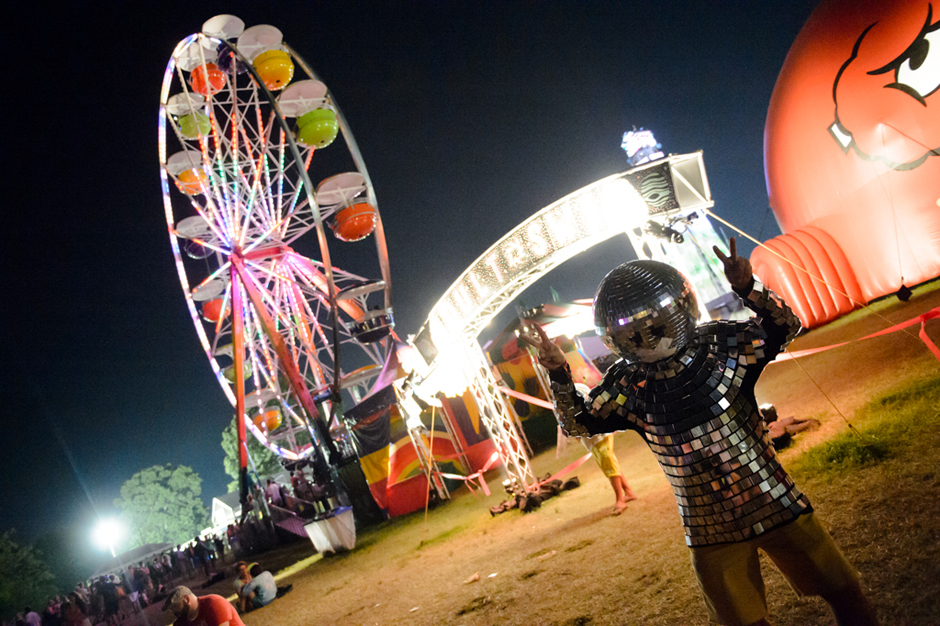 Someone is a little too psyched about Random Access Memories.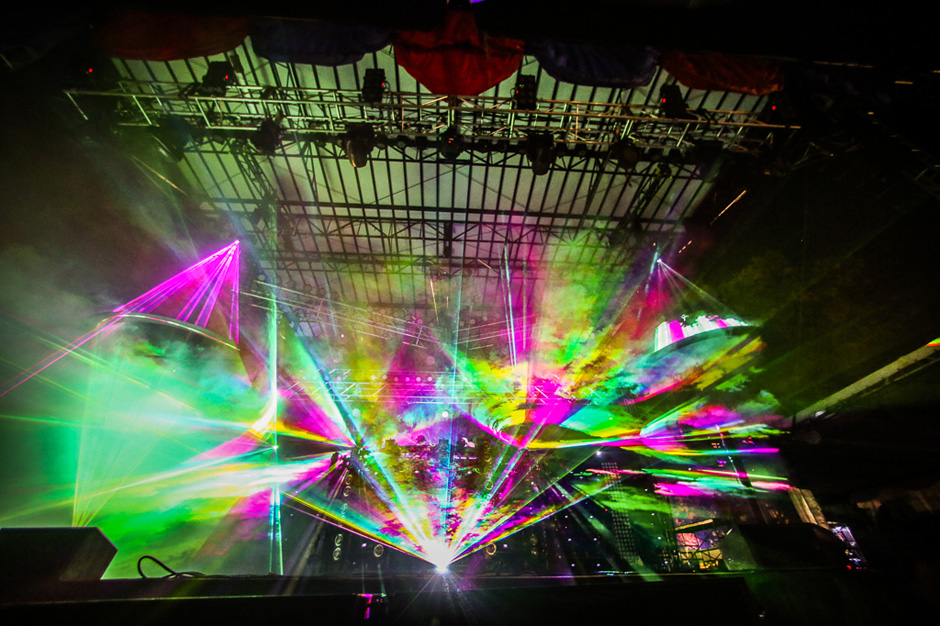 Someplace invisible in the mist of smoke that surrounded the Which Stage, DJ Derek Smith affirmed his Pretty Lights moniker with a wide array of lasers, bright mattes of color and, of course, the ubiquitous and effective all-white background. The mammoth-sized audience reciprocated, throwing fistfuls of glow sticks towards the heavens and shining their own custom lights from a football field away, as Smith assaulted them with a hip-hop–inspired blend of EDM. He didn't speak much, instead offering the occasional aside, like, "If y'all like this jazzy shit, let me know." K.G.
13. Dirty Projectors
13/51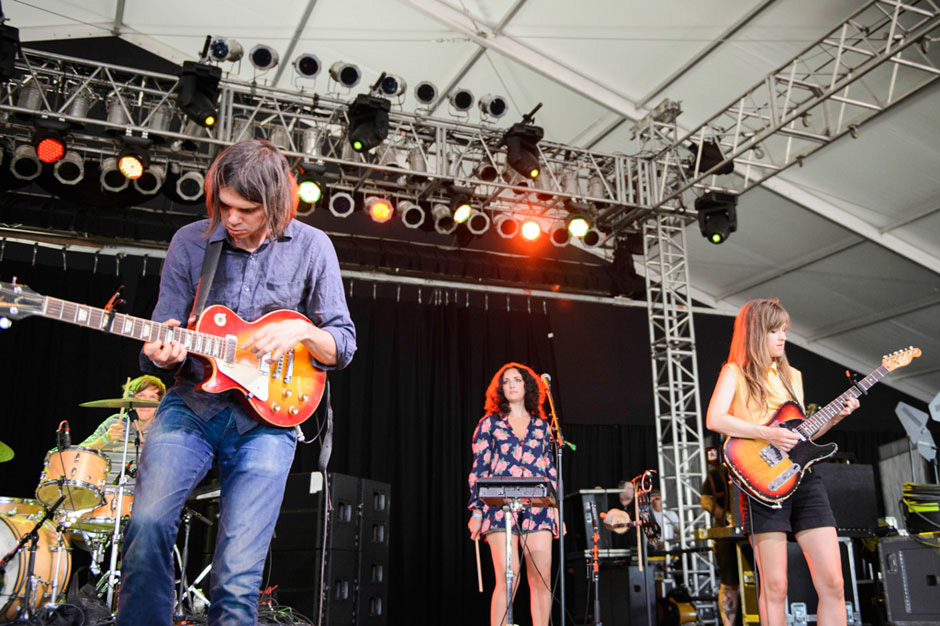 Midway into the Dirty Projectors' set, frontman David Longstreth made an interesting proposition to a packed This Tent. "The next song is called 'See What She's Seeing…' and I feel bad for all the women in the tent today who can't see," he said. "So, men, this isn't a command, but feel free to put the women up on your shoulders for this song." As the song began, about 25 women took up Longstreth on his invitation, and by the end of the song there were at least 75 women towering like beanstalks to see the band play their jagged indie pop. When the song finished, they all were set back down politely for the rest of the set, the highlight of which was singer-guitarist Amber Coffman's stellar vocals on Solange's favorite Dirty Projectors tune "Stillness Is the Move." K.G.
14. Dave and his Conch Shell
14/51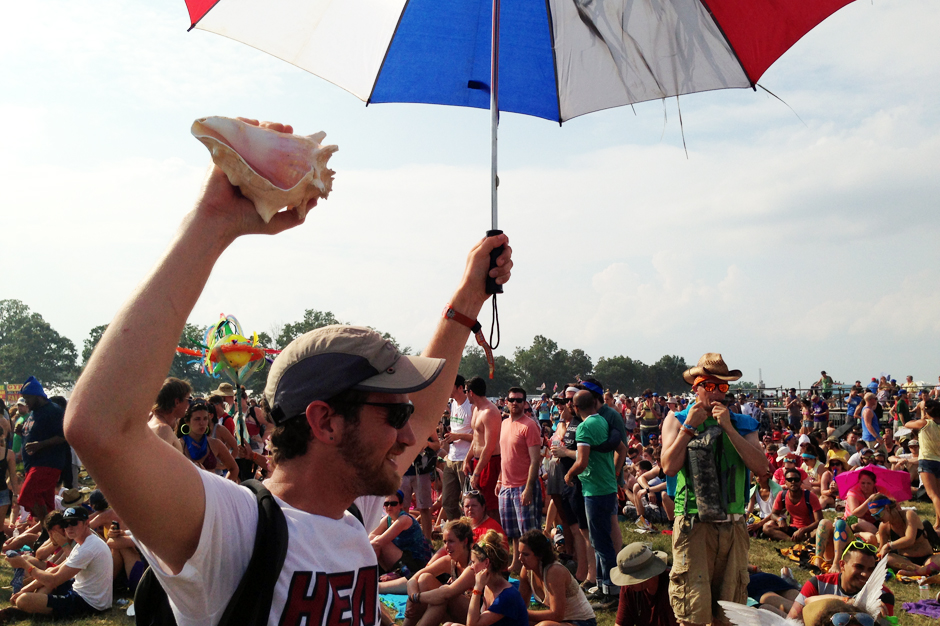 While waiting for Kendrick Lamar to arrive, you could hear the call of Dave, 27, and his conch shell — often used to help find his friends. "At the end of Beach House, right when the show ends, as everybody's cheering, I blow it, and two groups of friends run up and say, 'We've been here the entire time' just like [in Anchorman]."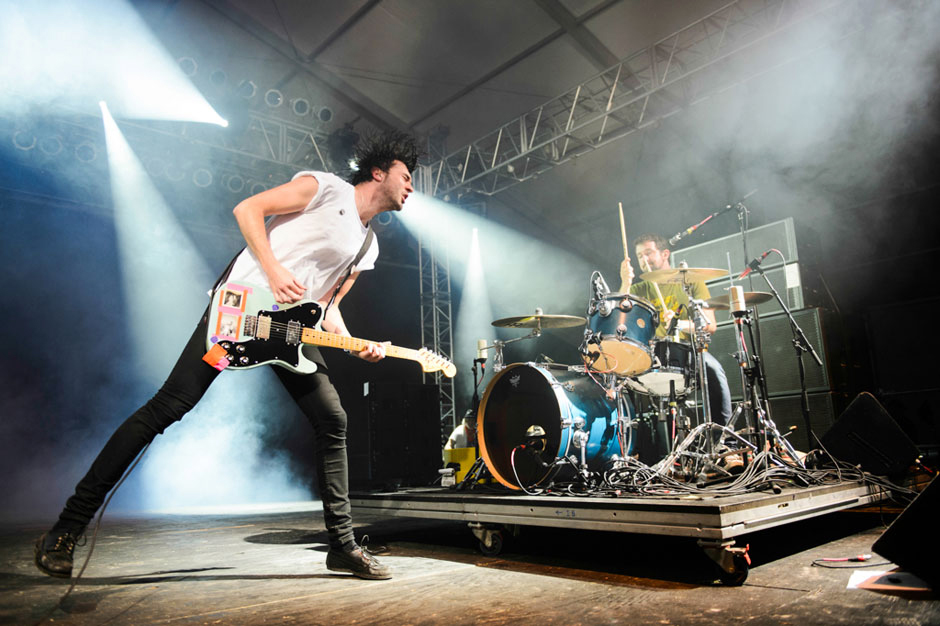 The clappiest, crowdsurfiest, Canada-lovingest 'Roo revelers turned out for Japandroids' This Tent set, and they spilled out in all directions. Though the tent's acoustics didn't do the duo any favors, bleeding the guitars into the vocals and generally making everything sound like a blur, they got the crowd participating for nearly every song. Their only misstep? Taking a stab at Metallica's "Enter Sandman," perhaps a holdover from their Orion Fest set earlier this week, which was such a trainwreck that it was barely recognizable. K.G.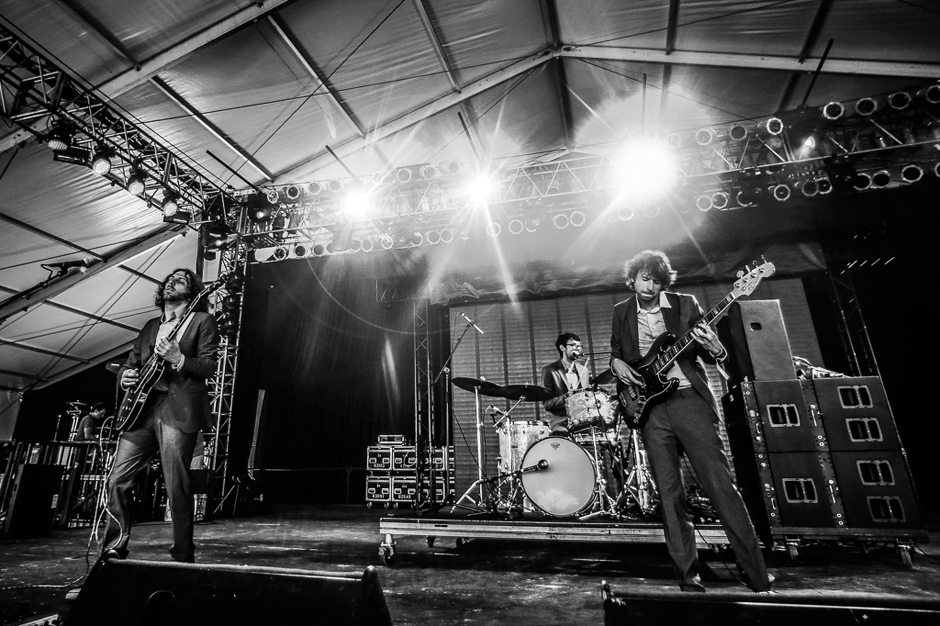 Playing a festival in the summer of 2013, Connecticut psych-funk smoothies the Stepkids are stepkids to an actual pop moment, with the band totally in tune with the vintage sultriness of the year's hit songs like "Suit & Tie" and "Get Lucky" — albeit with their own loose, private-press, garage-soldered vibes. The bedrock of their mellow, rain-saturated set was a mix of Steely Dan gloss (nice suits, by the way) and Stark Reality weirdness (guitarist Jeff Gitelman's solos range from the wildly wheedly to poking and prodding). More chill than funky, more silky than cosmically sloppy, they sounded at times like a broken wedding band, a jazz-fusion odyssey, or Phish covering electric Miles. C.W.
17. "Weird Al" Yankovic
17/51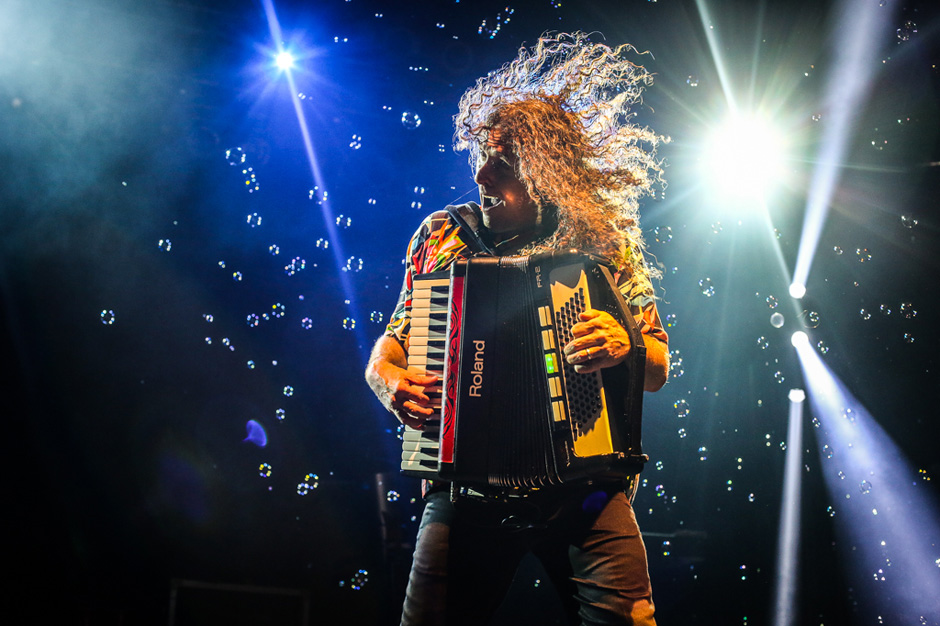 About a half an hour before his set, "Weird Al" Yankovic's fans began chanting, "Let's get weird! Let's get weird!" And when his video screen signaled the beginning of his set, showing one of many "AL TV" vignettes, madness erupted in the crowd as Yankovic stormed the stage, accordion in hand to polka-ize Gaga, Pink, Britney, and more. From there, he made more costume changes than Axl Rose takes offstage breaks, donning a Cobain outfit for "Smells Like Nirvana," a maple-leaf jacket for "Canadian Idiot," full Pennsylvania couture for "Amish Paradise," and even a Mark Knopfler headband on "Money for Nothing/Beverly Hillbillies." The audience knew every word, even to his video shorts ("Wheel of Fish!"), which goes to show that even though Huey Lewis may not make the average twentysomething's iPhone playlist, a crowd of twentysomethings somehow knows all the words to Yankovic's 1985 single "I Want a New Duck." K.G.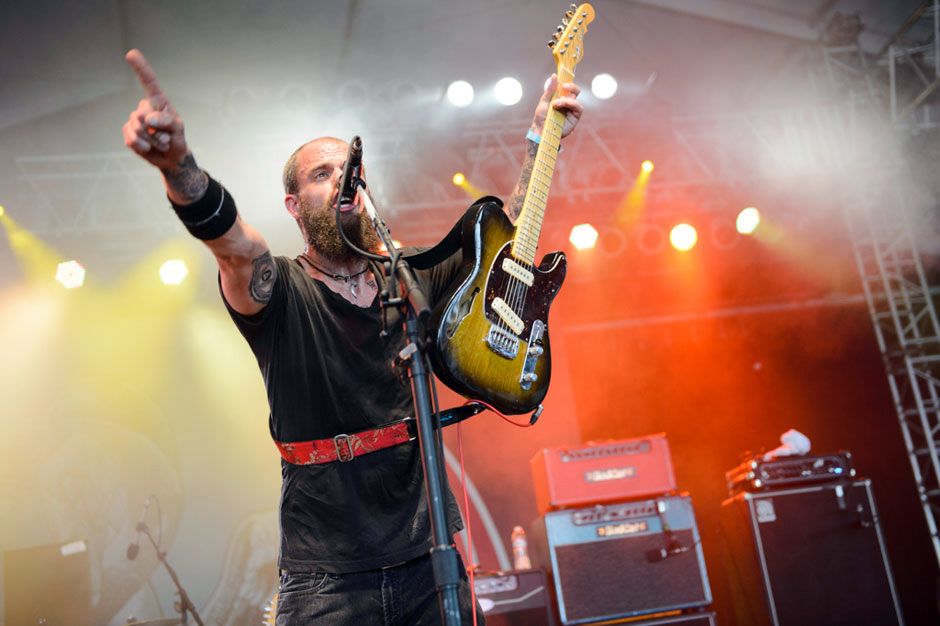 "It's great to be back," said Baroness frontman John Baizley. He meant back to Bonnaroo (they played in 2010), but soon appended the thought to include the fact that, yes, his band survived a harrowing bus crash that left them on the sidelines for months. It sure looked like a triumphant comeback judging from Baizley's Corgan-via-Springsteen stance. Or you could judge by the dissonance between his downer lyrics and the crowd willing to have fun anyway: Baizley sang, "Heroin, where did you take my friend?" in "March to the Sea" and a kid crowdsurfed along in sunglasses and a bandana. He sang, "A tower of ashes and sawdust will lie / Where our castles were made" and a beachball sailed by. C.W.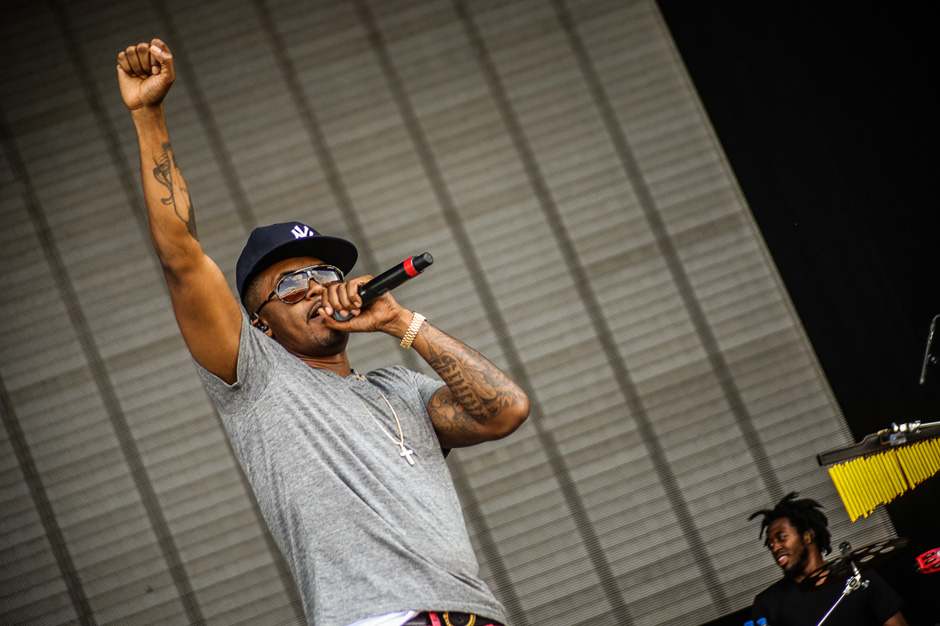 Not to compare them on every single thing, but Nas' live band is a little scrappier, a little looser, and a little meaner than Jay-Z's Vegas-ready ensemble. That means they'll bang around with the "In-A-Gadda-Da-Vida" riff of "Thief's Theme," the drummer will stand up off his throne, and the bassist will feel free to step in front of the star on the stage. That star, now in his 23rd year as a recording artist, seemed like he wanted to be part of the gang (he even got on the drum riser and crashed a cymbal), but still commanded the stage with an authoritative cool. All those hits helped, too, as he broke out early with a suite of tracks ("N.Y. State of Mind," "Represent," "The World is Yours," "Life's a Bitch") from 1994's Illmatic. From those classics, the set naturally flowed into newer, more mature material. "Today's my daughter's birthday. She's 19. That's crazy. This one goes out to the fathers," he said, before playing "Daughters" to an audience young enough to have scheduled Macklemore more than Nas on the Bonaroo app. C.W.
20. The Dude Who Danced in the Fountain and Made Out With a Pole
20/51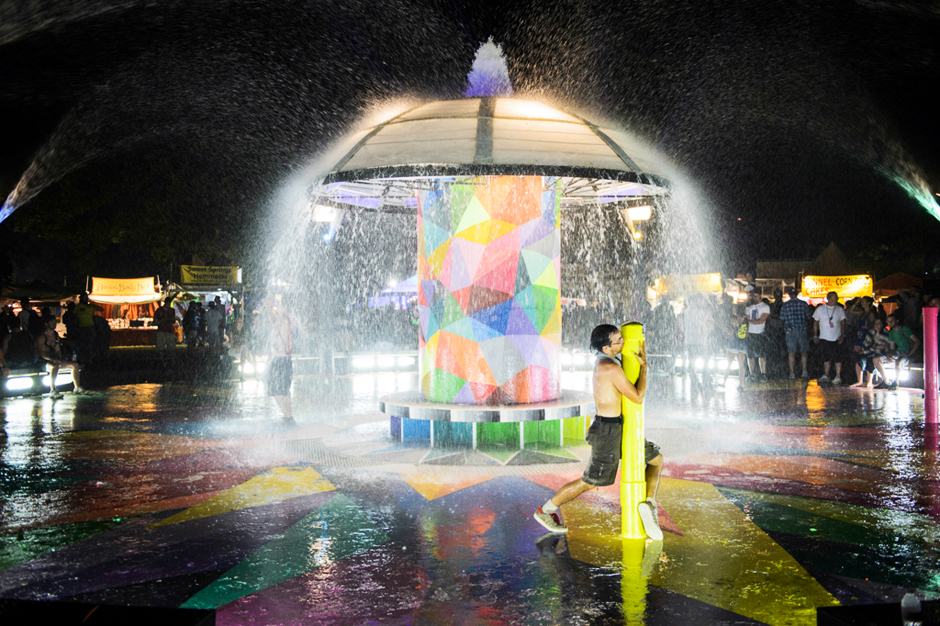 In his defense, it was a pretty nice pole.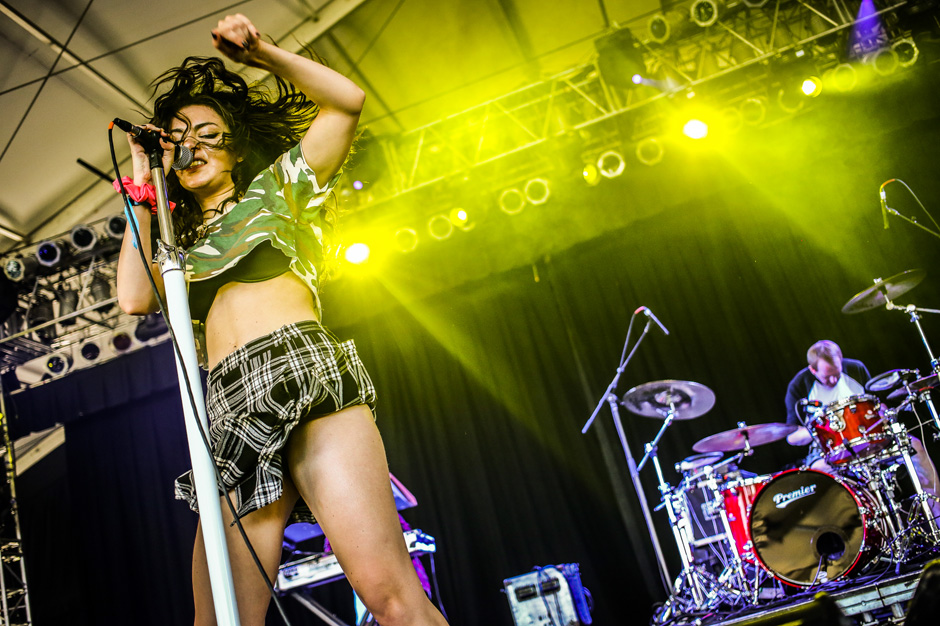 Onstage, British sensation Charli XCX seemed like an Internet-generation pop star around which multiple ideas collided at once — a voice like Björk, a look like Britney, a band that looks like Wavves, a grip on the mic as tight as Trent Reznor's, a cover of the Backstreet Boys (not everyone was singing along, but the people who did were really singing along), and a nod to EDM culture: "This song's about taking E, so if you're on pills, this song's for you," she said before introducing "Take My Hand." But some things never change — like having a hit song. When she got to Icona Pop's "I Love It" (she made sure to mention she was featured on it and wrote it), the crowd went ballistic, bounding up and down, raising hands, and smacking beach balls. C.W.
22. Kacey Musgraves
22/51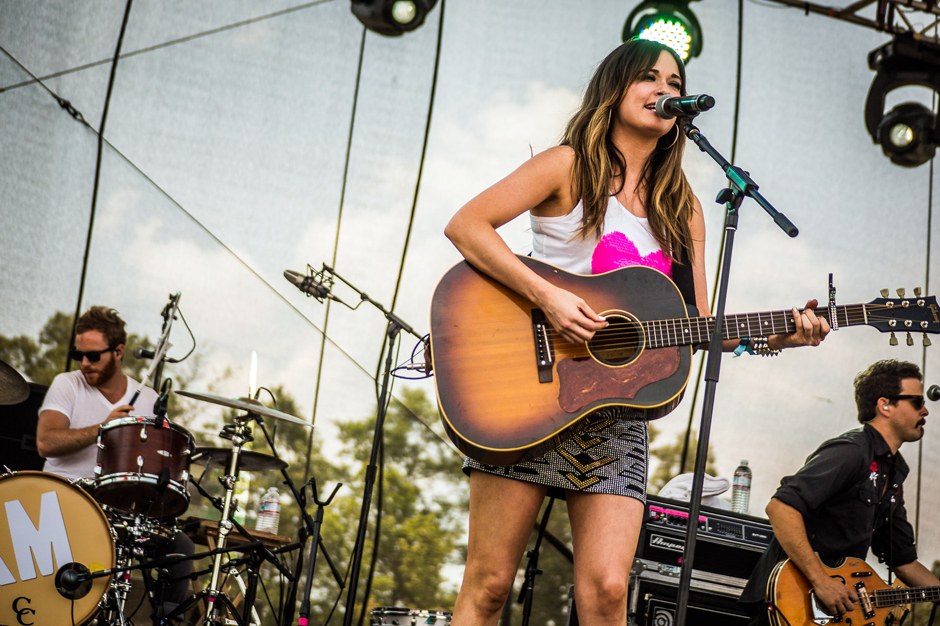 The closest a Bonnaroovian could get to the Grand Ole Opry without driving an hour out of town was Kacey Musgraves — and the only thing about her that's Nashville-polished is her voice. She covered Weezer with pedal steel ("Island in the Sun"), turned her own "Step Off" into a venue-appropriate reggae number and a Bob Marley sing-along ("Three Little Birds"), talked about drugs like she was Trinidad Jame$ ("I'm tripping out right now, I've always wanted to play Bonnaroo. Who's actually tripping at Bonnaroo?"), and extended the liberal-for-country lyrics of "Follow Your Arrow" ("Make lots of noise / Kiss lots of boys / Or kiss lots of girls / If that's something you're into") to include the do-anything spirit of festival life. Even when her band went Mumford-style country throwback — acoustic guitar, upright bass, dobro, two-piece kit — for Buck Owens' "Act Naturally," her drummer was still moving his own floor tom like a punk band launching into a side project at a basement show. Bonnaroo's one representive of contemporary mainstream country shined because she was such a unique, left-of-center representative. "This is super-exciting for me," Musgraves gushed. "I only got to come here one time. I snuck in. It was this stage, I got to see Nine Inch Nails. But I don't remember much." C.W.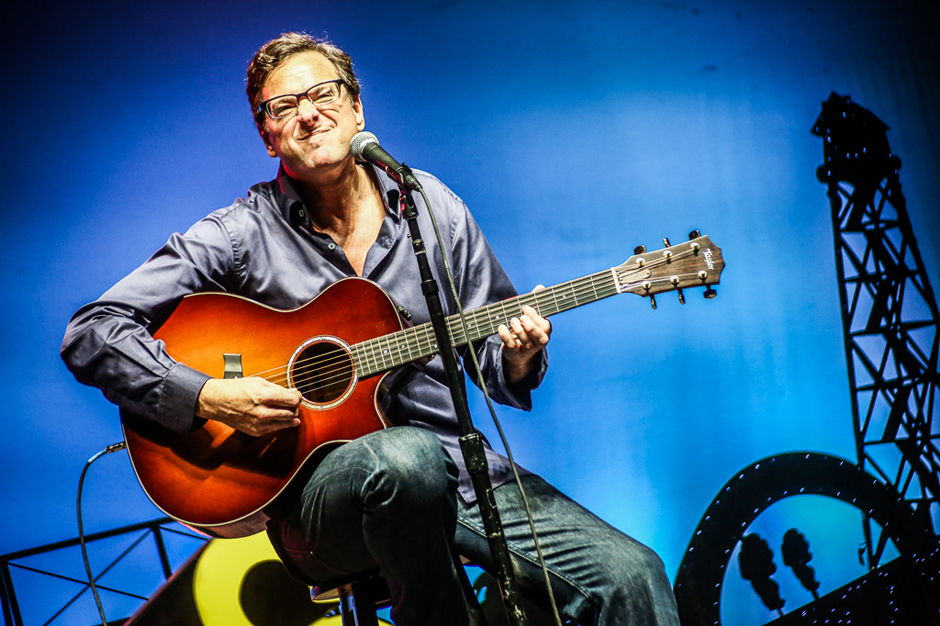 When Danny Tanner took notice of a large gentleman in a knit winter cap taking video of him (something verboten in the Bonnaroo Comedy Theatre ), he transformed seamlessly into the filthy, calmly abrasive Bob Saget of The Aristocrats fame. "You can talk to me," he told the fan. "I'm your dad. I was Michelle's father. What's your name? Aaron? That's a girl's name. Are you on the web a lot. Do you whack off to me?" For a huge chunk of the set, Aaron belonged to Saget, who mercilessly berated Aaron's manhood and libido, all to the fan's delight. There was also a story about a donkey visiting the Full House set with an erection. K.G.
With Kendrick Lamar up there on the main stage with just one mic and a DJ, his fans were the real scene-stealers. They seem to have taken the accolades of good kid, m.A.A.d. city's lyrical content seriously, and committed much of it to memory. Lamar poked the mic at the audience for songs like "Backseat Freestyle" and they rapped parts of it right back — a sea of predominately white kids yelling, "Martin had a dream." C.W.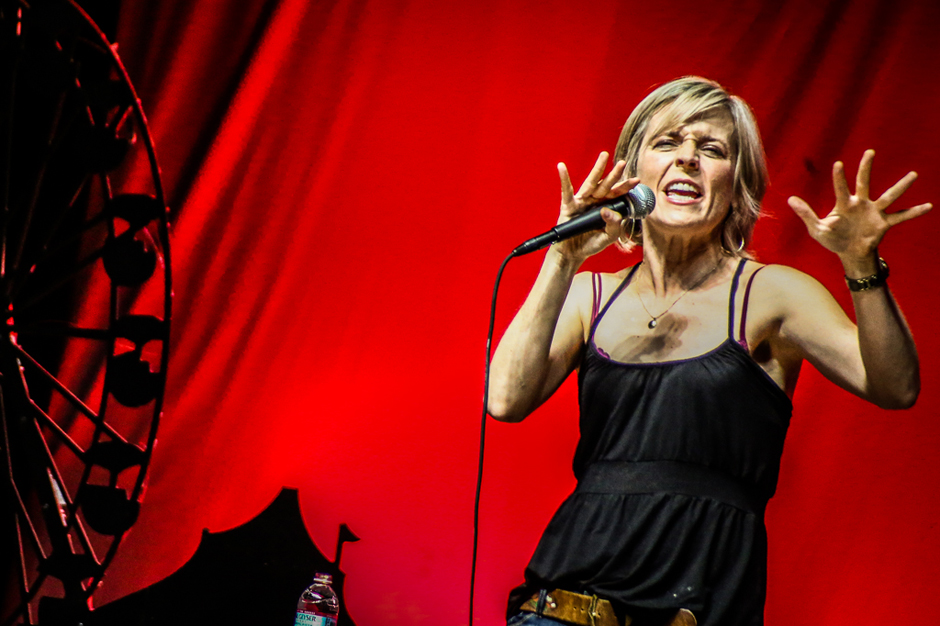 The Dillinger Escape Plan of comedy, Maria Bamford cycled through her barrage of ideas in jagged, unpredictable clusterbombs: Her riff on relationship comics, for example, was broken into shards by "The Star-Spangled Banner." Like Robin Williams' attention span meeting Emo Phillips' droll art-punk bent, Bamford blasted through serious subjects — suicide, depression, accidentally killing her pet pug — using an array of ridiculous Muppet voices, but hardly ever cracking a smile. C.W.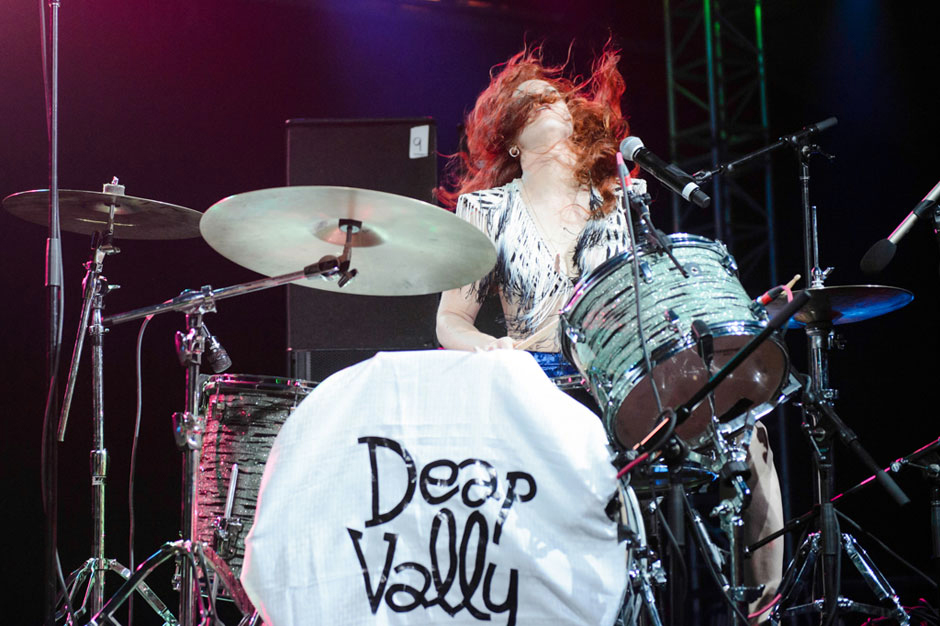 "I was kind of hard up for cash recently," began one of many stories that Deap Vally drummer Julie Edwards told the gathered throngs at This Tent. "So we made a deal with a fan at a show where if he bought one of our crop tops, we'd dedicate a song to him." Since the crop-topped concertgoer was in the audience, we assume he was stoked on the shout-out just before "Raw Material," one of many boot-stomping Black Keys-y hard-rock numbers the duo played. But he was not as stoked as the guy who took Edwards up on her next offer. "If a guy wants to get naked, we'll dedicate a song to him, too." Soon, a small patch of fans were pointing at a spot in the audience. "Are you naked?" asked frontwoman Lindsey Troy. "Let's give this man a round of applause. This is what a music festival is all about." Without missing a beat, they found the perfect tune with which to regale him: "Walk of Shame." K.G.
27. Preservation Hall Jazz Band, feat. Jim James
27/51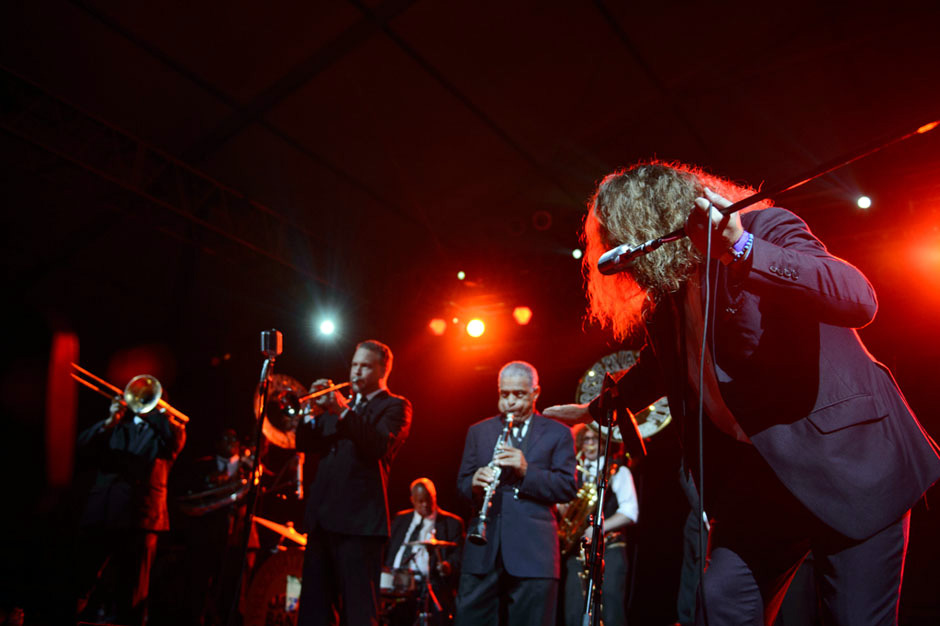 Watching one of New Orleans' most revered jazz octets was the perfect alternative to enduring headliner Jack Johnson doing whatever it is exactly that Jack Johnson does so benignly. Grounded by two tubas, the group made an uproarious racket in the That Tent and the audience clapped, hollered, and danced right along with them. Toward the end of the group's set, a dapper stranger in a black suit and an explosion of hair that Sideshow Bob would envy appeared — when the light hit him, it was revealed to be Jim James. After sharing the mic with Preservation Hall for new track "I Think I Love You," James took center stage to sing "St. James Infirmary," giving a performance that had us questioning whether crooning should maybe be his full-time gig. James undulated, gesticulated, and flagellated his body with abandon, until his hair draped over his face like a weeping willow, giving their old traditions some new rock fury. K.G.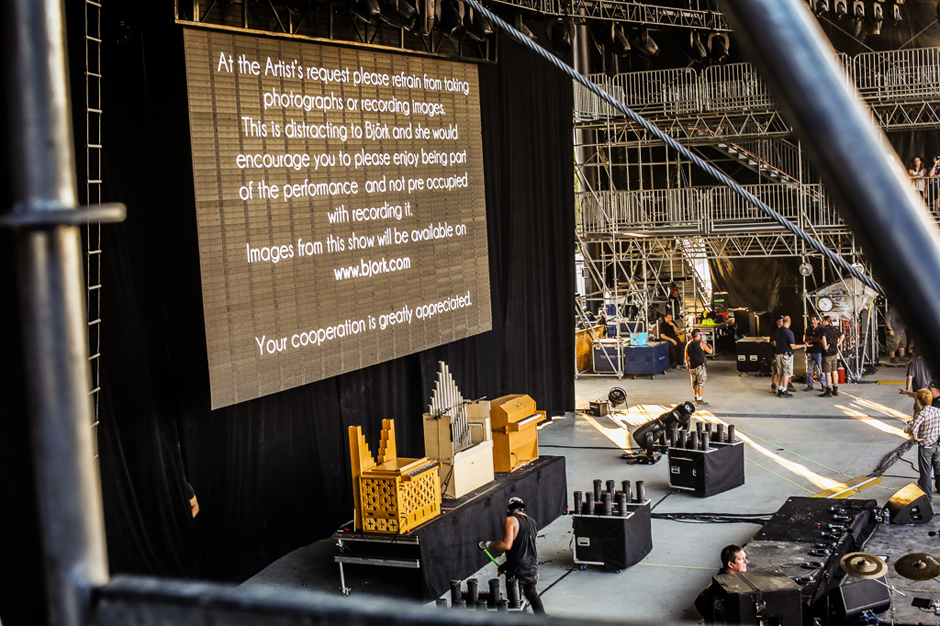 Biology-obsessed art-pop eccentric Björk doesn't skimp on eye candy to accompany her future-opera ballads and electro-punk screeds. With a headdress that looked like a cross between a cotton ball and a dandelion, the Icelandic performance artist led a drummer, a keyboardist, and 13 bronze-and-blue singer-nymph-atoms in a series of perpetual-motion experiments in front of a screen depicting the world falling apart. It perfectly fit her set, which included old favorites ("One Day," "Hyper-Ballad"), fun songs (the punky, "raise your flag" screed "Declare Independence") and one explosive finale ("Nátúrra," which featured some incredibly hot pyro.) Throughout, her backup performers danced, gathered in formation, disbanded, and generally looked like love-struck pawns in Björk's Pied Piper routine, or possibly a beached synchronized-swimming crew. K.G.
29. David Byrne & St. Vincent
29/51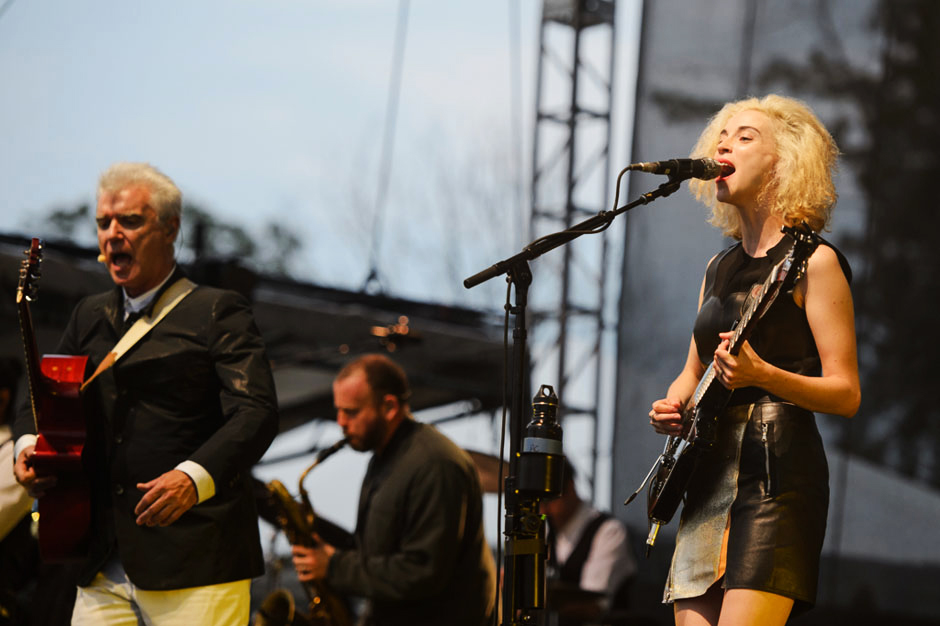 On record, David Byrne and St. Vincent's union is a funky, brassy, quirky exercise; but live, it begins to approach the ego of the LP's title, Love This Giant. Backed by a steroidal, New Orleans-style brass ensemble (saxes, a tuba, trumpets, a French horn, and much more), the duo commanded some onstage kinetic energy, occasionally succumbing to it themselves with =boxy, jazz-handy robot scuttling, as they played songs from their collaborative album, plus their own individual hits. Especially poignant was the Talking Heads song "Road to Nowhere," during which the ten or so mobile musicians onstage walked in circles with Byrne stopping St. Vincent's Annie Clark to sing at her. At their most frantic, Byrne — dubbed the "White Wizard of the Evening" by Clark — sparred on theremin rounds with the younger singer, swatting at the instrument and even kicking at it during Clark's "Northern Lights." K.G.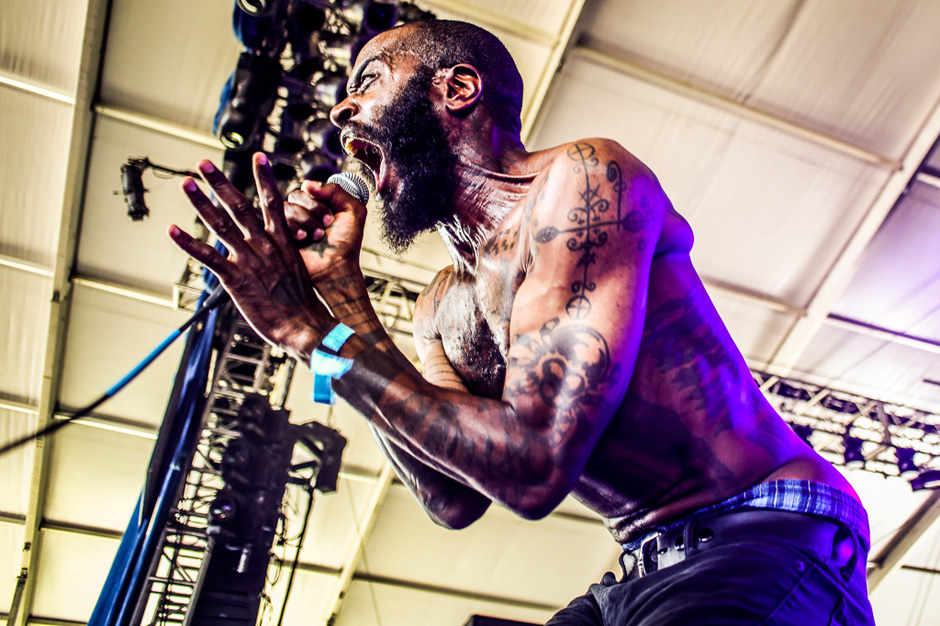 Appearing on a banner day for noise-rap minimalists (congrats, Kanye!), Death Grips continued their summer-scream tour with another festival appearance minus the help of spastic drum rocktopus Zach Hill. Last week, at Orion Music + More, we said MC Ride took full advantage of the extra space, and it was hard to tell whether he was actually putting out extra energy or just more watchable without Hill angling for attention. Well, at Bonnaroo he had a crowd that was much larger, much more receptive (pushing, shoving, stage-diving, throwing water, tossing glasses), and much more familiar with the music (the throwbacky "I've Seen Footage" was greeted like it was actually Salt-N-Pepa playing "Push It"). In turn, the energy gave Ride something extra to feed off — he convulsed, made feedback, his "yuh"s grew a couple "yaaaaaah"s — and the tent promptly turned into a sauna. Even mean-mugging DJ Flatlander seemed to be in higher spirits: In one final petulant act, he pushed over his mixing console like he was taking his ball and going home. C.W.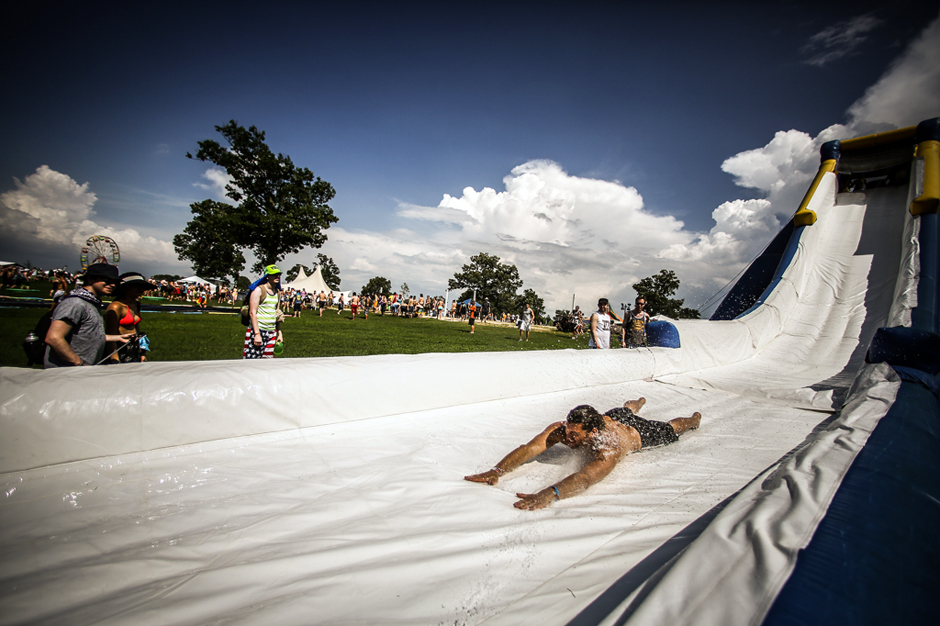 We didn't ride the waterslide because we didn't want to get our notebooks wet, but we rode a similar one — maybe even the same one — at Hangout Fest and can confirm that it is fun.
32. Reno 911! Sheriff's Department's Bonnaroo Drug Safety Seminar
32/51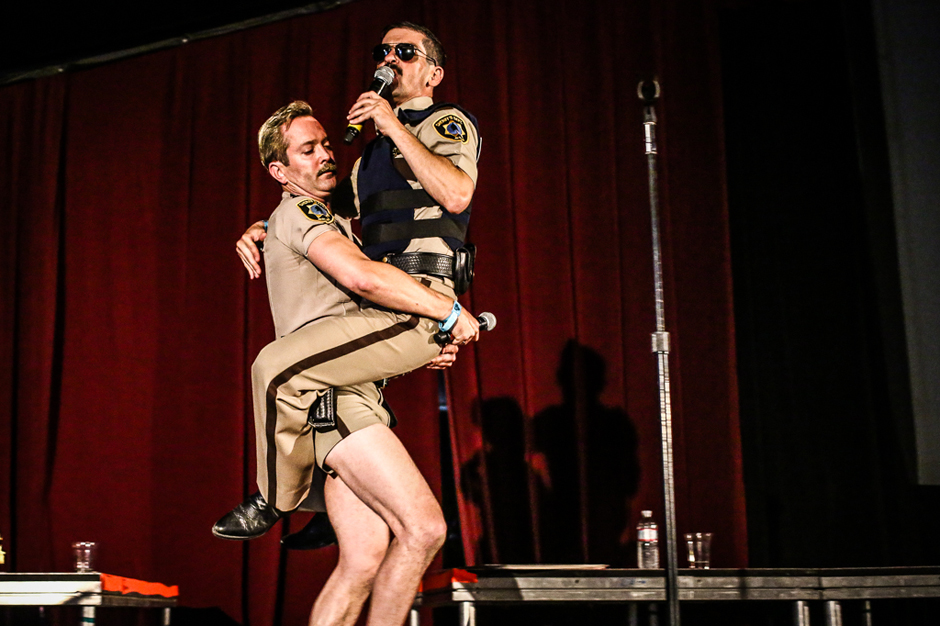 Comedians Thomas Lennon and Robert Ben Garant dropped by the Cinema Tent dressed for their roles from Comedy Central's Reno 911! for a "very special presentation." Their seminar was a laundry list of ways to not get arrested, tightly meshing scripted jokes with sharp improv until you couldn't tell which was which. "Throw up into the Breathalyzer," said Lennon, dressed in tiny shorts as Lieutenant Jim Dangle. "If you throw up into a Breathalyzer, I will never touch it again." After performing "Bath Salts: An Opera of Nightmares," the pair introduced the original 2000 Reno 911! pilot for Fox, and the pilot for Lennon/Garant's naughty space sitcom Alabama, which Lennon called "the thing that nobody's seen that I'm most proud of." C.W.
33. Animal Collective
33/51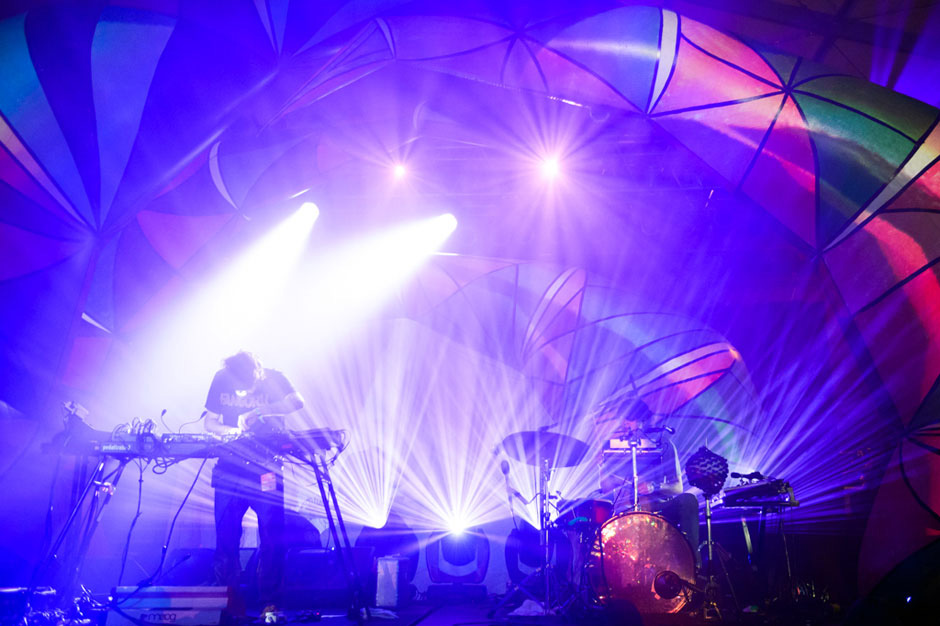 The most notable jam of the evening wasn't even advertised as "Super." Michael Winslow, a.k.a. "the Man of 10,000 Sound Effects," a.k.a. "the guy who makes all the noises in the Police Academy movies," stopped by Animal Collective's very late performance, making EDM-centric sounds until the band joined him and it blossomed into a song. As the night progressed for their 2 a.m.(!) set, the music became a mushy boom caught somewhere between the idyllic vibes of chillwave and the delirium of rave music — i.e., it was very early. C.W.
34. Michael Winslow
34/51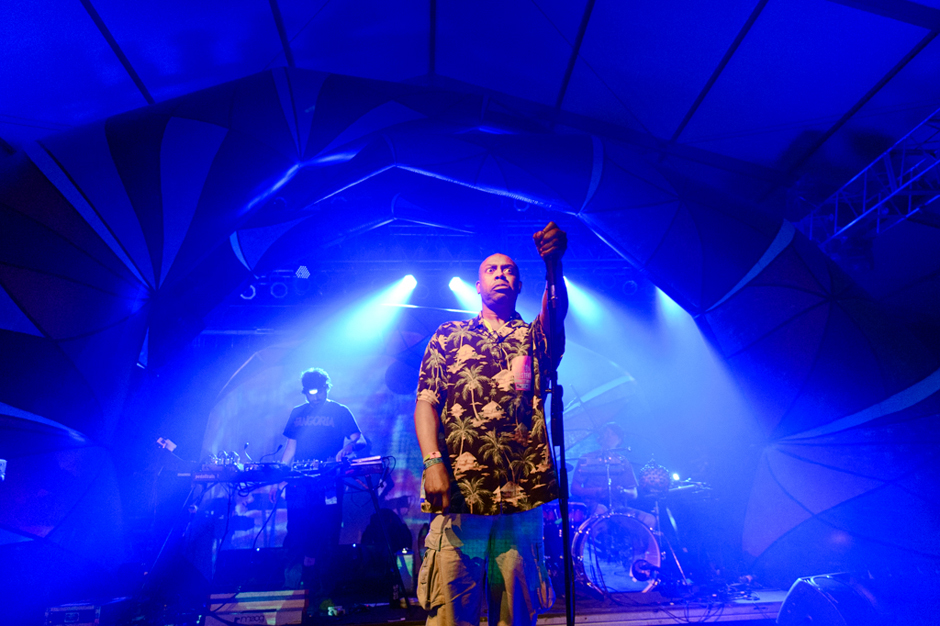 Police Academy's famed sound machine Michael Winslow was the unofficial mayor of Bonnaroo. He jamed with Animal Collective, performed Jimi Hendrix's "Star-Spangled Banner" to kick off the Superjam, and performed his own set of original material in the Cinema Tent. He did airplane jokes, but at least they included the sounds of an airplane.
35. Bombino / Fatoumata Diawara
35/51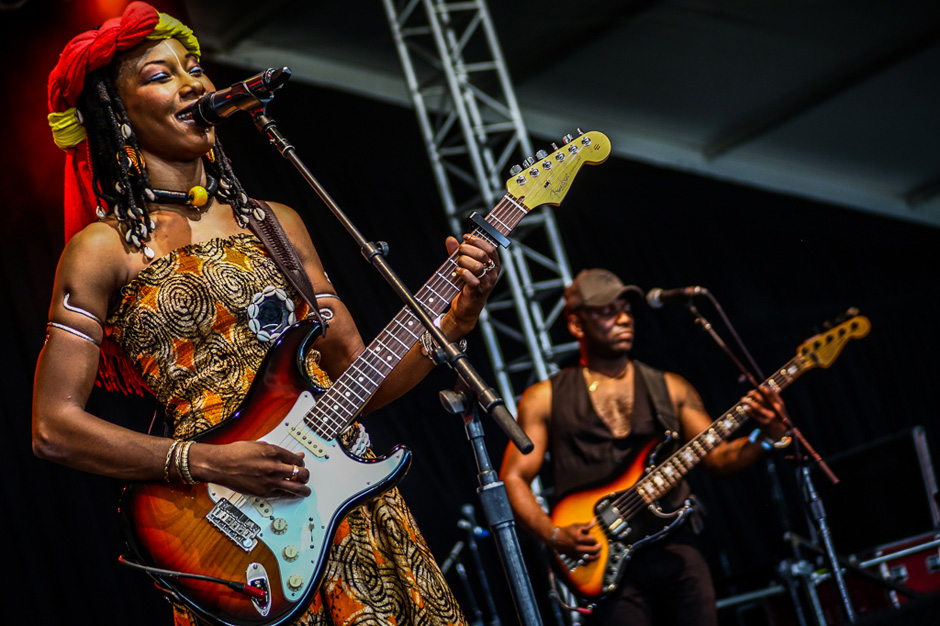 African music took over the That Tent in the afternoon, hypnotic grooves prompting a small but sturdy crowd to sway like blades of grass. Niger's Bombino took heroic guitar solos for songs of rebellion — not a lot of English was spoken, but his raised hand said a lot (though the audience member yelling "Bombinoroo" could probably use a better battle-cry). Following his set, Mali's Fatoumata Diawara took a sunnier approach, her voice soaring and floating, her body spinning, her hair whipping back and forth. C.W.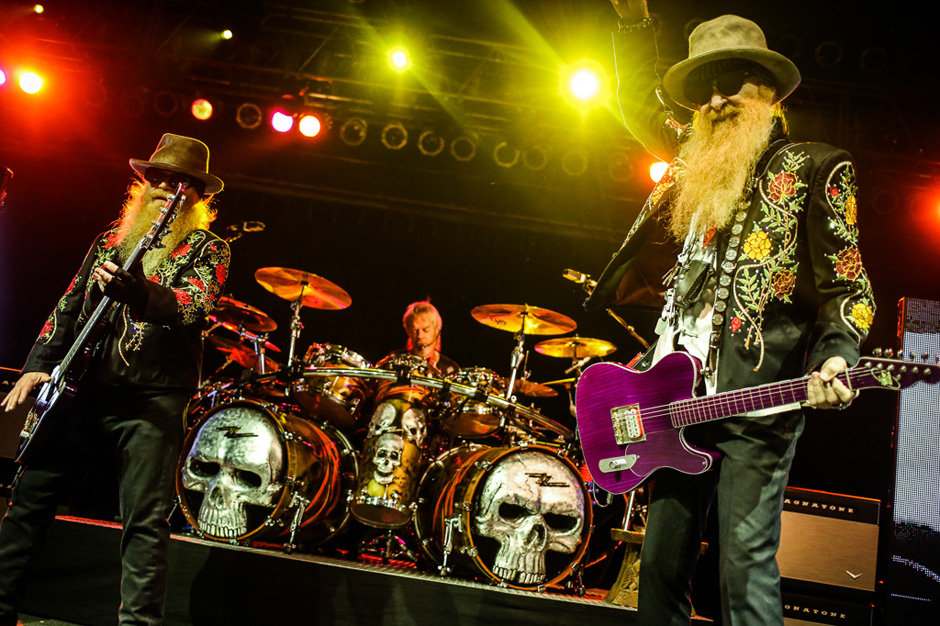 How does a band take to a stage immediately following a Beatle? Well, with a devil-may-care, hearty "haw-haw-haw," some fuzzy white guitars and, of course, beards that stretch out for days. Although ZZ Top delayed their set by about a half-hour, as Sir Paul floated over his published ending time, they took the stage with aplomb and promptly rattled through a bevy of blues, including "Tush," "La Grange," "Tube Snake Boogie," and "Waitin' for the Bus." As vocalist-guitarist Billy Gibbons and an unusually plush-looking vocalist-bassist Dusty Hill swapped verses on songs like "Pincushion," they drove it home with coordinated body grooves which thankfully steered clear of drummer Frank Beard's giant skull-front drumheads. These Sharp-Dressed Men even had a costume change. K.G.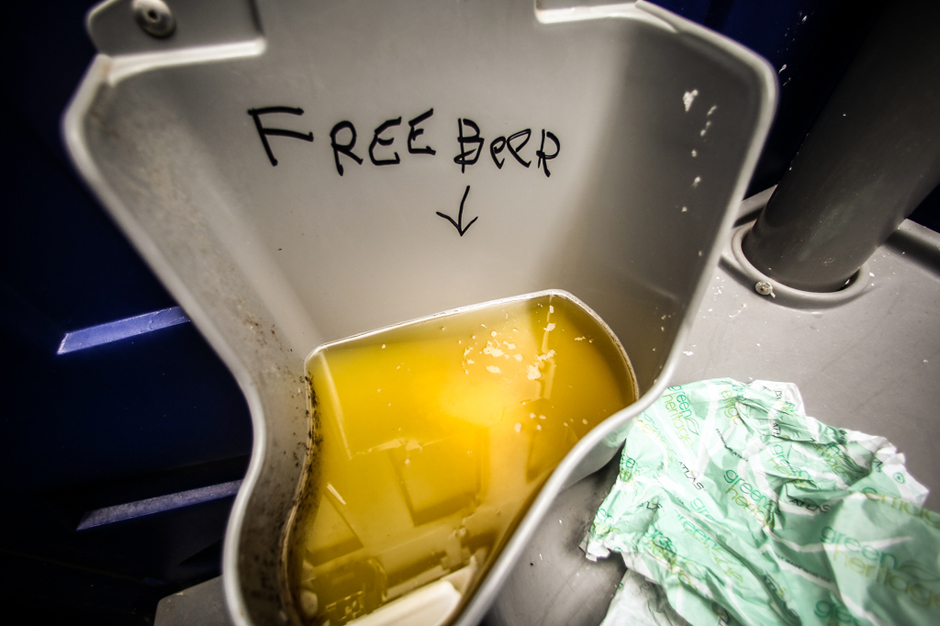 Save your R. Kelly jokes, we've heard them.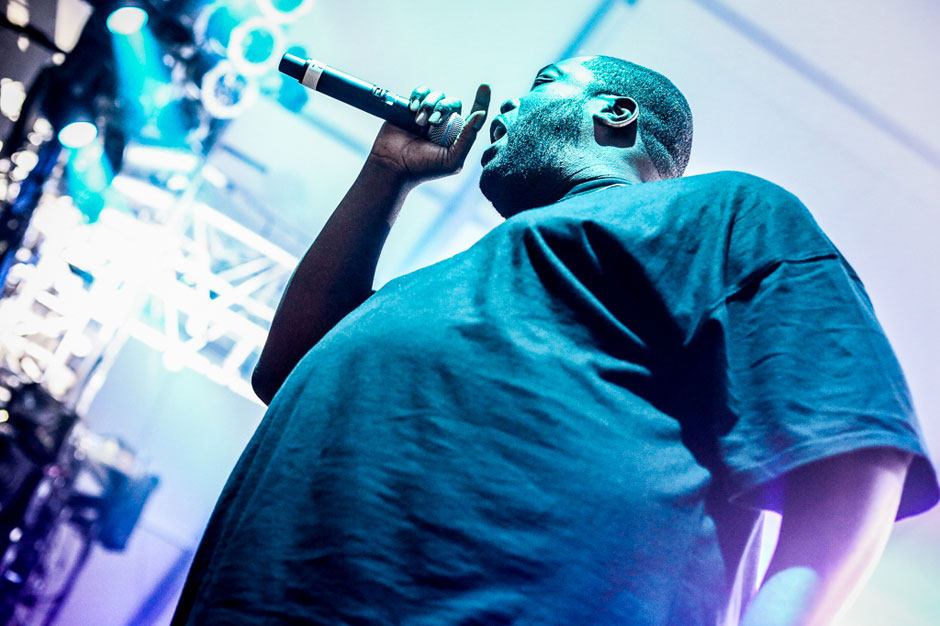 The current reigning champ of stage banter delivers more gems. On the interpreters signing his lyrics: "Shout out to the hearing-impaired. I'll join you soon." On the NSA: "This week we learned that no dick pic is private… If they're gonna be looking, they can't arrest all of us if we all do drugs at the same motherfucking time." On his stagecraft: "My doctor says this counts as cardio, so you guys are saving my life." C.W.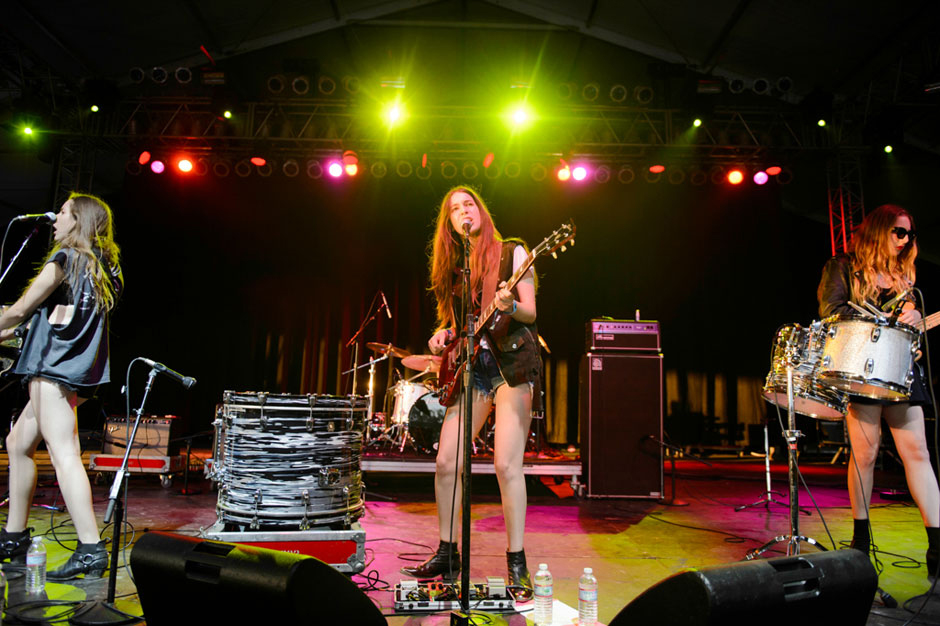 To date, Haim's complete discography consists of a handful of singles and one EP, yet the L.A. collective of three twentysomething sisters and their drummer packed the That Tent and even claimed their own groupie. Midway through the set, bassist Este Haim exclaimed, "Stop the set. There's a little boy with a sign that says, 'Kiss me, Este!'" She threw down her instrument and vaulted across the stage, nearly concussing herself on a sign bearing the band's name. She smooched the boy, who was named Asa and looked to be about three years old, and brought him onstage to enjoy "Send Me Down" through his giant yellow earmuffs. That song (and every other song in the set) was an upbeat celebration of the sisters' vocal abilities — something they occasionally punctuate with impromptu drum solos — and their posi energy dovetailed perfectly with Bonnaroo's party vibe. We know it won over at least one fan, since Este told the audience as Asa left, "So guys, I'm engaged apparently now." K.G.
40. The Polyphonic Spree perform the songs of The Rocky Horror Picture Show
40/51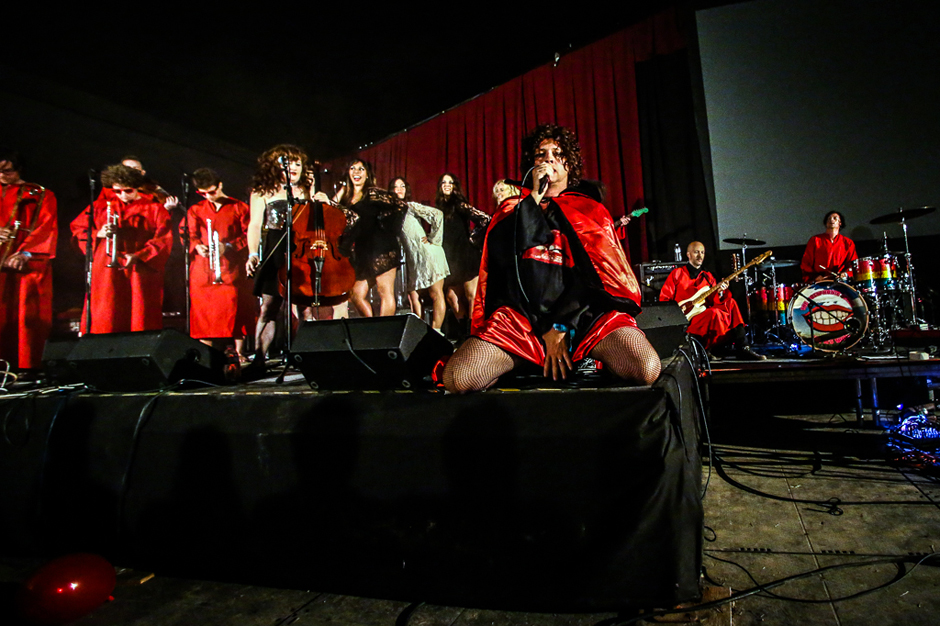 "Don't dream it, be it!" goes a refrain in one of The Rocky Horror Picture Show's many camp classics, and the equally kitschy Polyphonic Spree took that mantra to new heights in the Cinema Tent. Dressed seriously in Sweet Transvestite apparel (complete with a cape), frontman Tim DeLaughter led his Transexual Transylvanians through uproarious renditions of some of the movie soundtrack's highlights. And about 500 lucky Bonnaroo festgoers eagerly ate it up, doing the pelvic thrust during "The Time Warp," moshing a little during "Wild and Untamed Thing" and awaiting moments to shout back Midnight Movie mumbo jumbo with antici..."say it!"...pation. The group faithfully recreated the songs with their own quirks, such as a trombonist playing Meat Loaf's sax solo in "Hot Patootie," and even though it was only their second such performance in the States, the Spree seemed like a perfect stand-in cast. K.G.
41. Frank Turner and the Sleeping Souls
41/51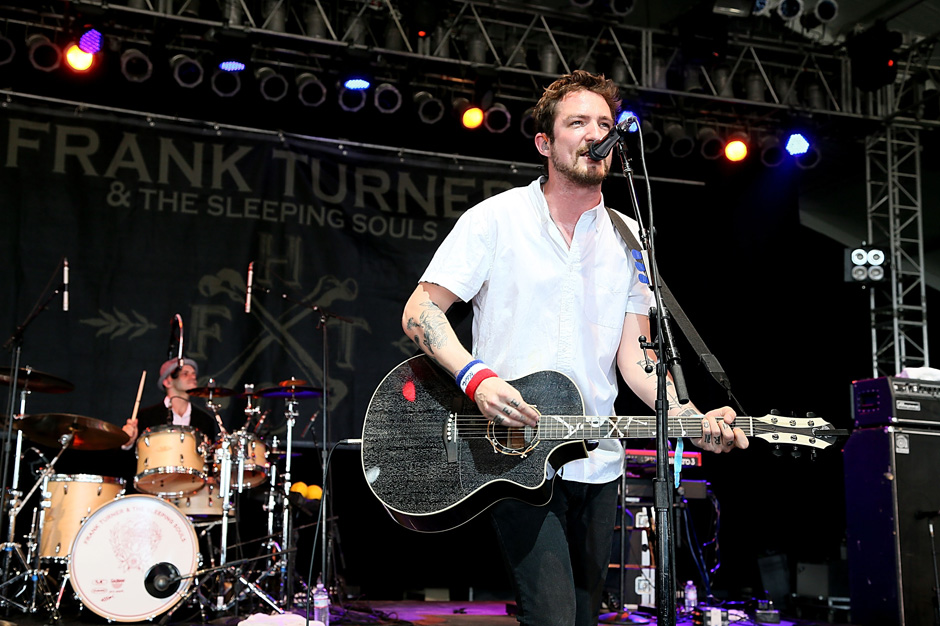 There's a lot not to like about British outlaw-folk punk Frank Turner. Of the whole nu-Born to Run crew (Titus Andronicus, Japandroids, Against Me!, the Hold Steady), he's easily the one most likely to get a Grammy; his new record, Tape Deck Heart is overproduced and is also called Tape Deck Heart; his pro-atheism song "Glory Hallelujah" is like a Reddit post with chords. But the man puts on a rock show with such killer force that it almost feels like a trick. His band bounds around the stage, he gives simple, straightforward demands ("If you know the words to a song, you got to fucking sing along"; "Let me see you clap your hands"; and "Everybody jump!"), plus a drummer who flips sticks and a keyboardist who doubles as a hypeman. Frank Turner is brazenly unafraid of the Rock Playbook's most rudimentary tenets. Sometimes that means he's kind of a dick ("This song is about my ex-girlfriend, it's called 'Reasons Not to Be an Idiot') or ridiculous (one song's chorus: "Get up and get down and get outside"), but he's clearly studied the Book better than most. C.W.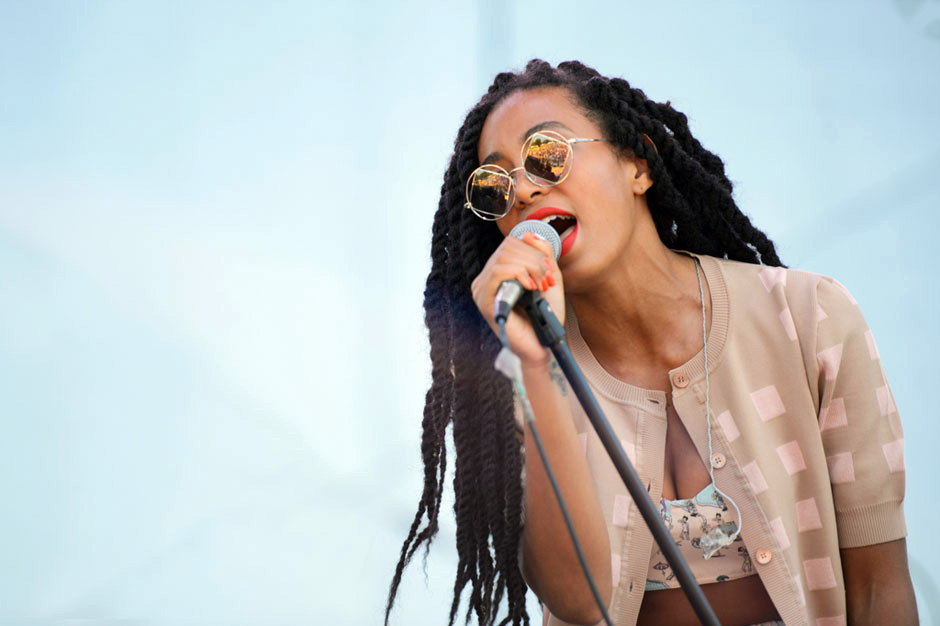 "I know it's hot out there," Solange told the audience during her Which Stage set, "but if I could could see you guys grinding just a little bit, that would make me so happy." And of course the audience shrieked back with approval, as her band began playing the dreamy "Bad Girls." Following her surprise appearances with Grizzly Bear and on Friday's hip-hop Superjam, it was refreshing to see Solange perform her own dreamy, soulful brand of pop. Throughout her set she shimmied, smiled and swooned along with her band, even pulling off some coordinated line-dancing with her natty and talented guitarist. But aside from Solange's vocal feats and general soothing ease, the highlight of the set, which contained undeniably catchy songs like "Losing You" and "Locked in Closets," was her cover of the Dirty Projectors' "Stillness Is the Move," as she somehow turned it into a rollercoaster ride for her impressive range. K.G.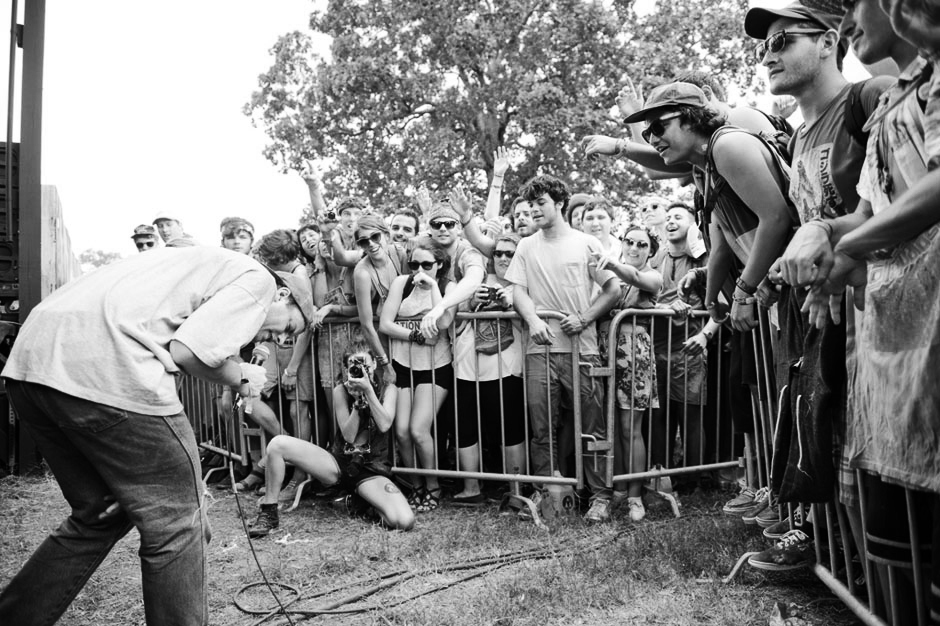 Mac DeMarco and his three bandmates drove all the way from Canada to play two 'Roo shows, including their half-hour Sonic Stage set, and the drive must have made them delirious. Nearly every turn, every second, every song-break felt like a tongue-in-cheek routine that the small, mostly twentysomething audience was invited to share. In and around freewheeling indie-rock guitar exercises like "Ode to Viceroys" (a Canadian cigarette brand) and "Rock and Roll Night Club," DeMarco and especially bassist Pierce McGarry went ham, with the singer shaking his head like a wet dog with his tongue out and the four-stringer approaching the mic for a giddy, screamy take on the Beatles' "Blackbird." (This, mere minutes after DeMarco messed around with Eric Clapton's "Cocaine," interjecting lyrics about penises.) And while this all may sound like a shambolic mess, the singer's heartfelt songs came across with complete sincerity. K.G.
44. Our Photographer Got to Go in a Helicopter
44/51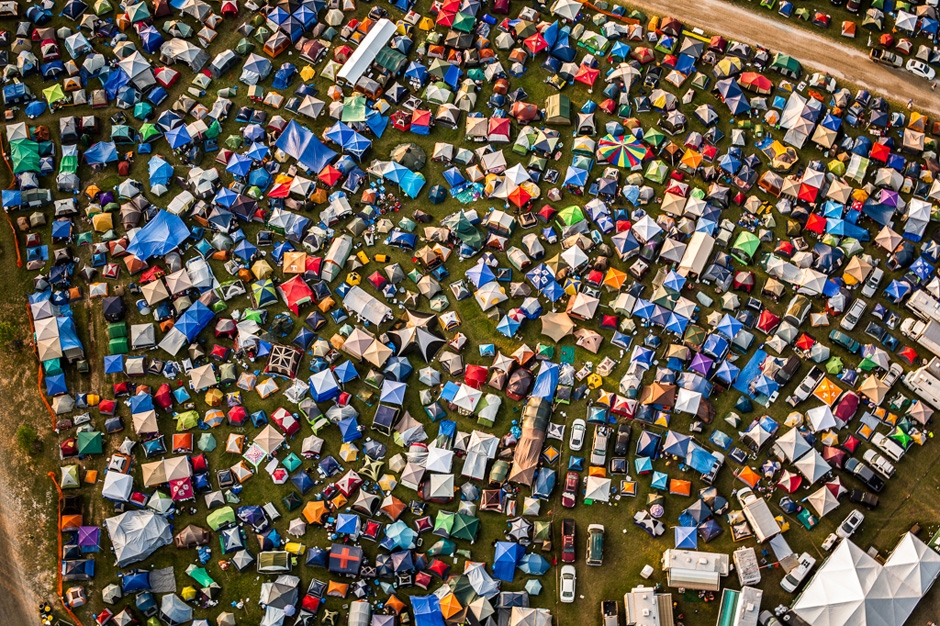 And here's proof.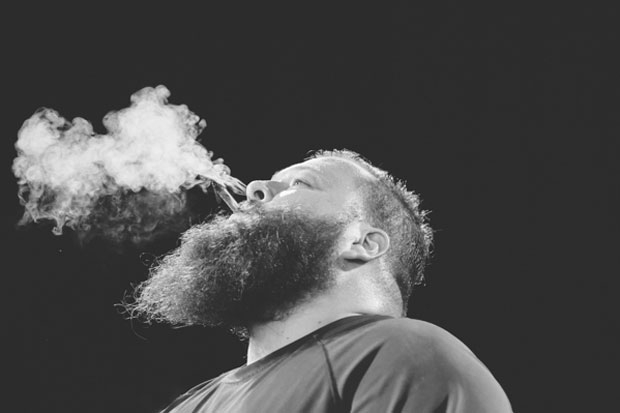 Though Action Bronson prides himself on a precise rhymecraft ("Motherfuckers don't rhyme no more," he stated early on), his Bonnaroo set was like one unpredictable, full-body freestyle — rife with the hilarious, the confusing, and the impulsive. Smoking tons of weed — including some borrowed from the crowd ("I try to be righteous but it's hard," he said. "I need someone to toss me some kind of drug") — he did whatever came to him at the moment: rapping with an inflatable alligator under his arm, signing someone's sneaker, interrupting an a cappella version of "Brunch" to ogle the posterior of a stage-diver, rapping "9-24-11" reclined in an office chair with his feet on the monitor. At certain points, he would just go down in the crowd and wander around as a beat played, everyone swarming him as he made his way from once side of the tent to the other. Emerging on the right side of the crowd, he decided, "The show's over here now!" And the audience followed. C.W.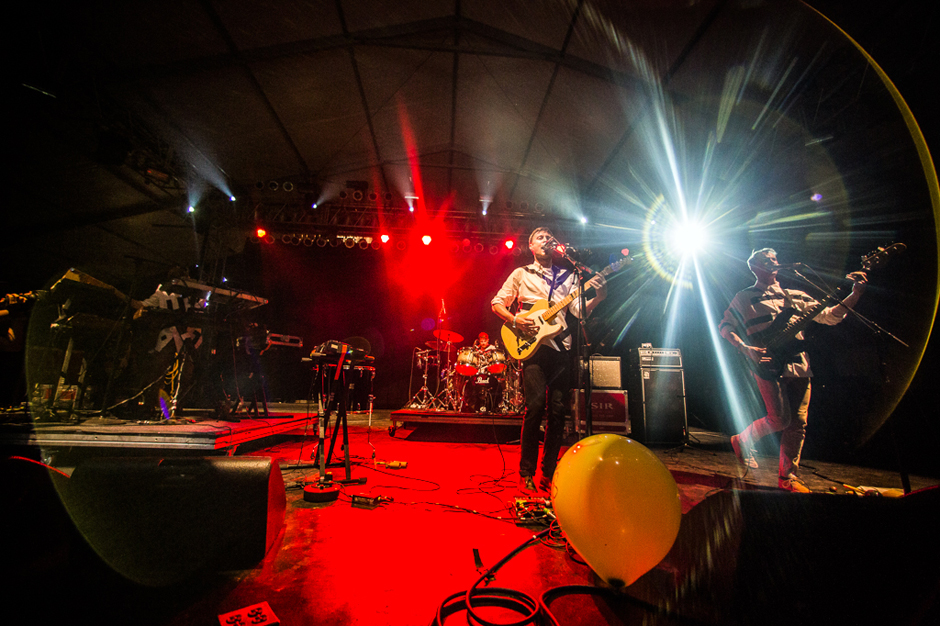 They look like Vampire Weekend, dress like Devo, harmonize like Todd Rundgren's Utopia, play guitar like Wall of Voodoo — but to the huge crowd gathered for London's Django Django, they were an EDM act. The crowd danced, bounced balloons, held up inflatables, or undulated with strobing jewelry. The gentlemen in the band mixed goofy fun, earnest enthusiasm, and tight harmonies. Welcome the return of the new-wave party band for a generation who only knows Oingo Boingo's Danny Elfman as the Nightmare Before Christmas guy. C.W.
47. Donuts From the Amish Baking Company
47/51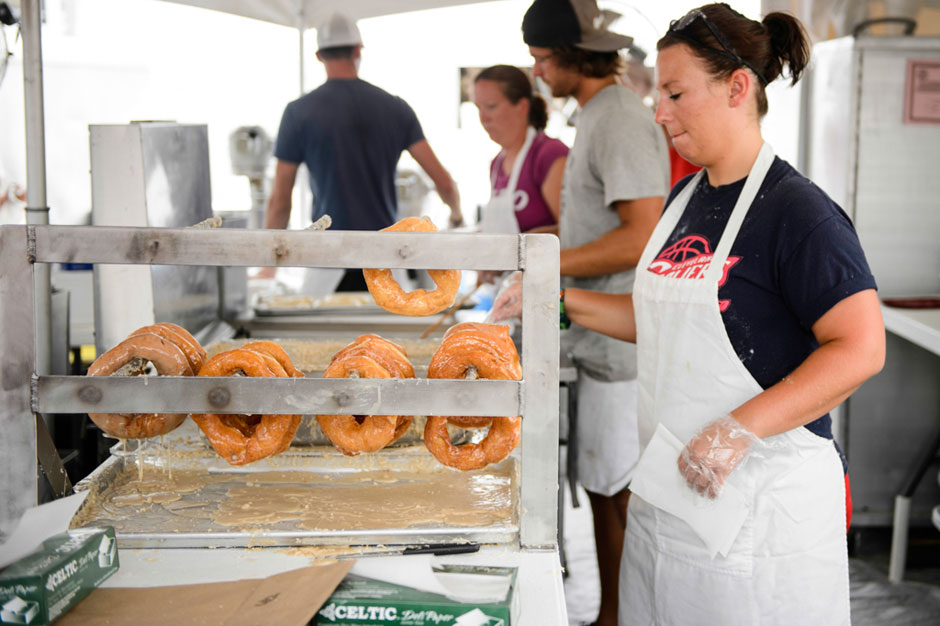 This Sarasota-based crew hand-rolls the best thing we tasted all weekend — hot, chewy, sticky, and with a glaze as sweet as a St. Vincent song.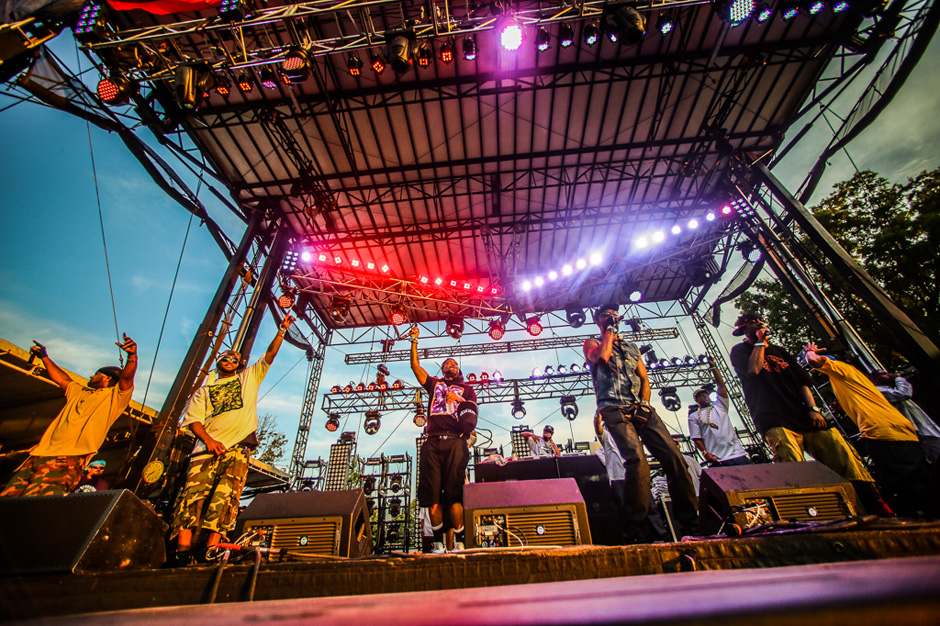 Despite only rolling with seven of the eight living members (they'll still do "Ice Cream" without you, Raekwon!), the Wu-Tang were a powerful, merciless force. Barely giving the sea of fans time to catch their breath, they played hits back to back to back to back, going a good 30 minutes before dwelling outside of RZA's 1993-1996 victory run. Ghostface Killah and Masta Killa had energy and volume that seemed ready to swordfight with Death Grips, RZA asked for some Southern hospitality (that's applause), and Method Man got to interpolate Hall & Oates at a fest where Oates was actually playing. As for the lyrics of Ol' Dirty Bastard? Those were chanted by everyone; no hologram needed. C.W.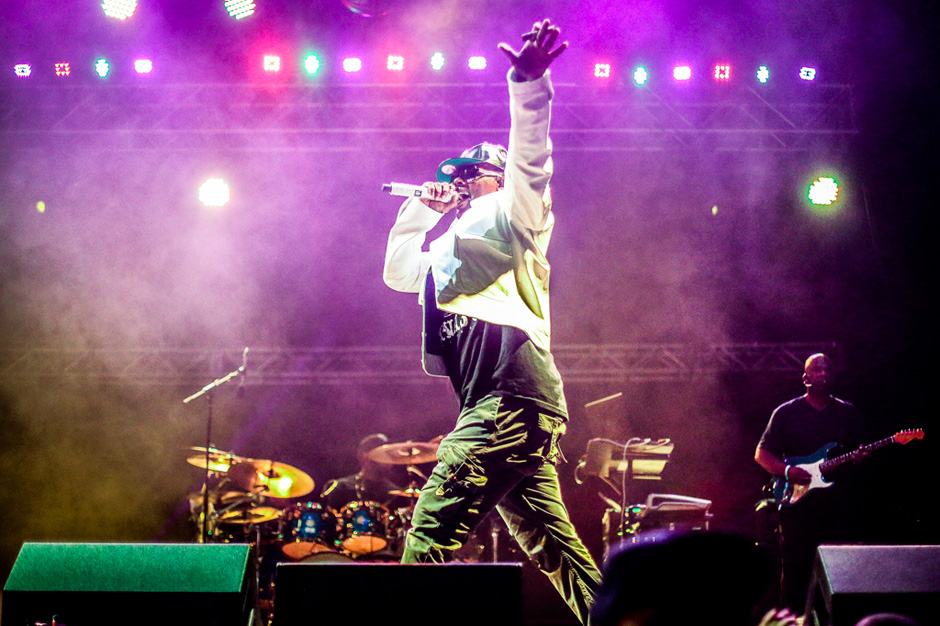 With the sheer magnitude of bells, whistles, pre-planning, and tight medleys, R. Kelly wasn't doing a festival headlining spot, he was doing an awards-show appearance. Well, he technically wasn't even doing a headlining spot to begin with (he was listed seventh on the lineup and playing on a side stage), but Tom Petty is not going to make a dramatic entrance in a cherry-picker above the stage (like Kelly did for "Ignition (Remix)," Wilco is not going to launch hundreds of white balloons into the sky like constellations (like Kelly did for "Happy People"), and freaking Jack Johnson is not going to bring his own church choir (like Kelly did for a show-stopping, uplifting, goosebump-inducing "I Believe I Can Fly"). After 14 albums and dozens of collabos, Kelly has the hits and semi-hits and cult hits to show for it — and if you haven't seen Kells live, they come fast and furious, sometimes just one chorus if it's a rap song he was featured on — making room for singles that didn't even brush the Top 50 ("Freaky in the Club," "Number One," "Half on a Baby"). He was funny ("Y'all off key like a motherfucker, I'll do it"), he was sexy ([Sung] "Question: Can I say what's on my mind tonight… There's so many fine-ass women out here"), he was inspirational ("If music has changed your life, make some noise"), and if he can't actually fly himself, he'll release a bunch of inflatable doves that can. C.W.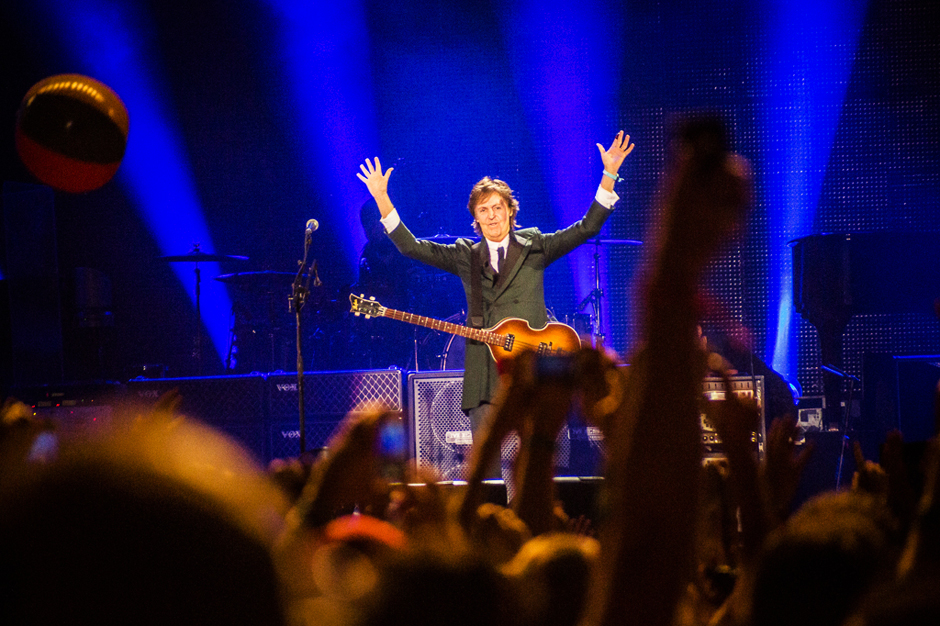 Only Paul McCartney can tell a story about Jimi Hendrix asking Eric Clapton to tune his guitar and not sound like a total name-dropping douchebag. Only McCartney can play songs like "Yesterday," "Let It Be," "Maybe I'm Amazed," "Eight Days a Week," "Band on the Run," and "Live and Let Die" — the latter, punctuated by pyro-kabooms and streamers of fireworks — and not sound like the live band at your mom's Saturday-night bar. Only Paul can cap off "Back in the U.S.S.R." with a "Free Pussy Riot!" and a story about Soviet dignitaries telling him they learned English from "Love Me Do." Only Sir McCartney can play for nearly three hours and still have a crowd in the tens of thousands captivated enough to sing every "na-na-na" of "Hey Jude." K.G.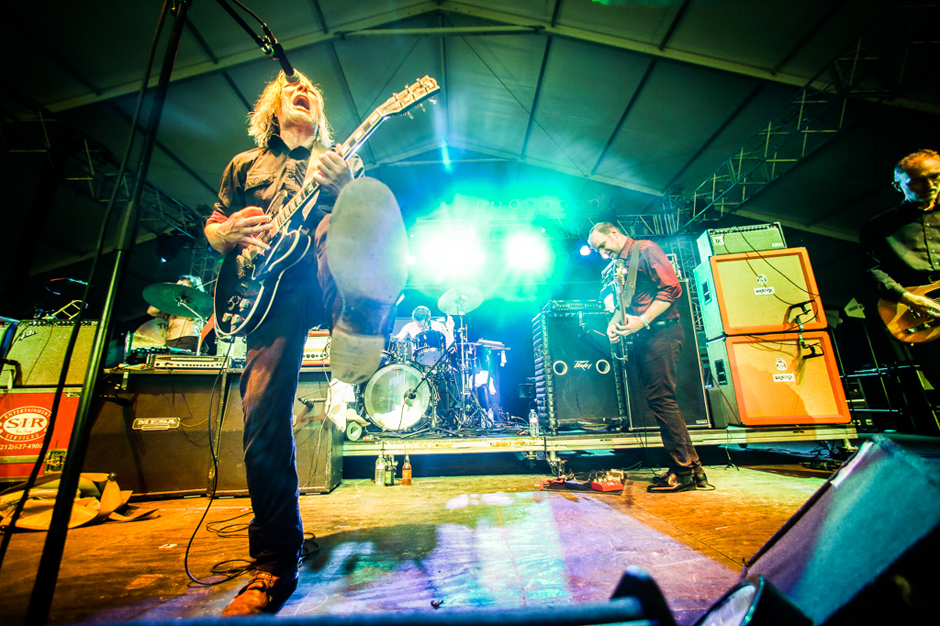 When beyond-heavy noiseniks Swans began their set, the This Tent was mostly full. By the time they finished their earth-rumbling, brown-sound oscillations, it was maybe about 20 percent full. But while some people took it as a gut-rumbling endurance test (and failed, maybe because frontman-maestro Michael Gira howled at them, "Stop texting! Stop texting!" mid-song), it was really an affirmation of sound. Top-loaded with eight amp speakers for their guitar players as well as a drummer and the one-man Viking percussion machine known as Thor (one of his bigger cymbals is inscribed with his name), the group fashioned a racket that stretched all the way to the Comedy Theatre, likely rattling the earth enough to scare away any local snakes for decades. Gira was an onstage dynamo, playing barefoot and literally conducting his bandmates during some free-metal drone exercises, chanting "freedom" as a mantra and a declaration and slapping his own face, as if he were hysterical. When it all ended, he offered his requisite thank yous, introducing himself as "General Sherman," and putting on his trademark cowboy hat and smoking a cigarette, looking just as peaceful as he did before the set. K.G.