Bonnaroo 2013: The 10 Best Things We Saw on Thursday
Polyphonic Spree play sweet transvestites, Killer Mike shares his workout plan, Deap Vally prompt total nudity, Haim get engaged to a three-year-old, and more
5. Reno 911! Sheriff's Department's Bonnaroo Drug Safety Seminar
Comedians Thomas Lennon and Robert Ben Garant dropped by the Cinema Tent dressed for their roles from Comedy Central's Reno 911! for a "very special presentation." Their seminar was a laundry list of ways to not get arrested, tightly meshing scripted jokes with sharp improv until you couldn't tell which was which. "Throw up into the Breathalyzer," said Lennon, dressed in tiny shorts as Lieutenant Jim Dangle. "If you throw up into a Breathalyzer, I will never touch it again." After performing "Bath Salts: An Opera of Nightmares," the pair introduced the original 2000 Reno 911! pilot for Fox, and the pilot for Lennon/Garant's naughty space sitcom Alabama, which Lennon called "the thing that nobody's seen that I'm most proud of." C.W.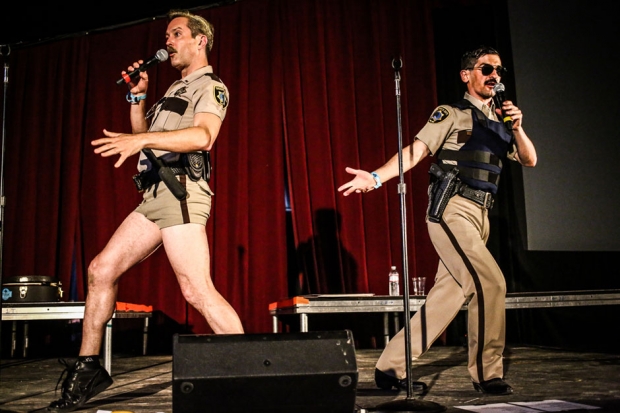 4. Killer Mike
The current reigning champ of stage banter delivers more gems. On the interpreters signing his lyrics: "Shout out to the hearing-impaired. I'll join you soon." On the NSA: "This week we learned that no dick pic is private… If they're gonna be looking, they can't arrest all of us if we all do drugs at the same motherfucking time." On his stagecraft: "My doctor says this counts as cardio, so you guys are saving my life." C.W.
3. Haim
To date, Haim's complete discography consists of a handful of singles and one EP, yet the L.A. collective of three twentysomething sisters and their drummer packed the That Tent and even claimed their own groupie. Midway through the set, bassist Este Haim exclaimed, "Stop the set. There's a little boy with a sign that says, 'Kiss me, Este!'" She threw down her instrument and vaulted across the stage, nearly concussing herself on a sign bearing the band's name. She smooched the boy, who was named Asa and looked to be about three years old, and brought him onstage to enjoy "Send Me Down" through his giant yellow earmuffs. That song (and every other song in the set) was an upbeat celebration of the sisters' vocal abilities — something they occasionally punctuate with impromptu drum solos — and their posi energy dovetailed perfectly with Bonnaroo's party vibe. We know it won over at least one fan, since Este told the audience as Asa left, "So guys, I'm engaged apparently now." K.G.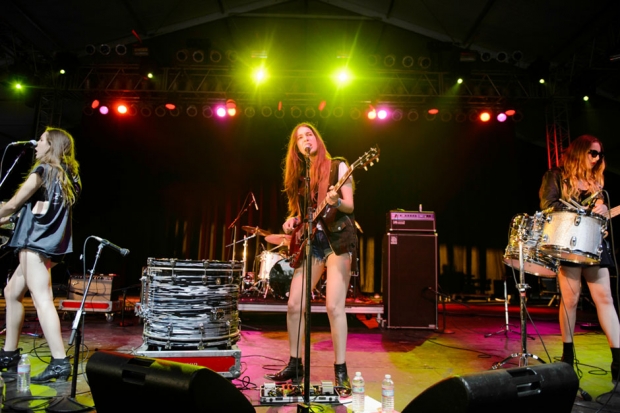 2. The Polyphonic Spree perform the songs of The Rocky Horror Picture Show
"Don't dream it, be it!" goes a refrain in one of The Rocky Horror Picture Show's many camp classics, and the equally kitschy Polyphonic Spree took that mantra to new heights in the Cinema Tent. Dressed seriously in Sweet Transvestite apparel (complete with a cape), frontman Tim DeLaughter led his Transexual Transylvanians through uproarious renditions of some of the movie soundtrack's highlights. And about 500 lucky Bonnaroo festgoers eagerly ate it up, doing the pelvic thrust during "The Time Warp," moshing a little during "Wild and Untamed Thing" and awaiting moments to shout back Midnight Movie mumbo jumbo with antici…"say it!"…pation. The group faithfully recreated the songs with their own quirks, such as a trombone playing Meat Loaf's sax solo in "Hot Patootie," and even though it was only their second performance in the States, the Spree seemed like a perfect stand-in cast. K.G.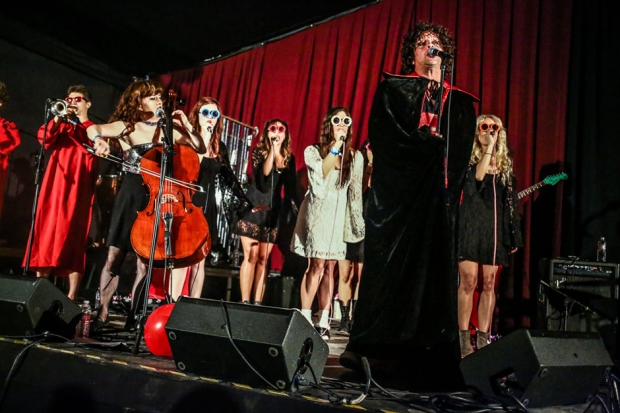 1. Django Django
They look like Vampire Weekend, dress like Devo, harmonize like Todd Rundgren's Utopia, play guitar like Wall of Voodoo — but to the huge crowd gathered for London's Django Django, they were an EDM act. The crowd danced, bounced balloons, held up inflatables, or undulated with strobing jewelry. The gentlemen in the band mixed goofy fun, earnest enthusiasm, and tight harmonies. Welcome the return of the new-wave party band for a generation who only knows Oingo Boingo's Danny Elfman as the Nightmare Before Christmas guy. C.W.