Bonnaroo 2013: The 10 Best Things We Saw on Thursday
Polyphonic Spree play sweet transvestites, Killer Mike shares his workout plan, Deap Vally prompt total nudity, Haim get engaged to a three-year-old, and more
10. AraabMuzik
"Thanks for the love," yelled the hypeman for furious MPC diddler AraabMuzik — who speaks with his hands. "This is his first show back since being shot, y'all." AraabMuzik's return after being wouned in a robbery attempt wasn't exactly triumphant — the first note of an abbreviated set landed 26 minutes off schedule — but it did feel like a new chapter. Araab seems to be moving away from trillwave ooze and boom-bap-bap-bap pyrotechnics, leaning towards a split between trap beats and trancey house: i.e., the stuff that could be playing to bigger tents than Bonnaroo's. Of course, his sound is still handmade, punched out on his MPC like a pocket-Peart with a flurry of fingers. This meant his tempos were erratic, not exactly the best formula for a rave. But when an increasing affinity for popular sounds met his unique, jackhammering snares — like on his percolating version of French Montana's "Pop That" or Flux Pavillion's "I Can't Stop" — the crowd had multiple reasons to go wild. CHRISTOPHER R. WEINGARTEN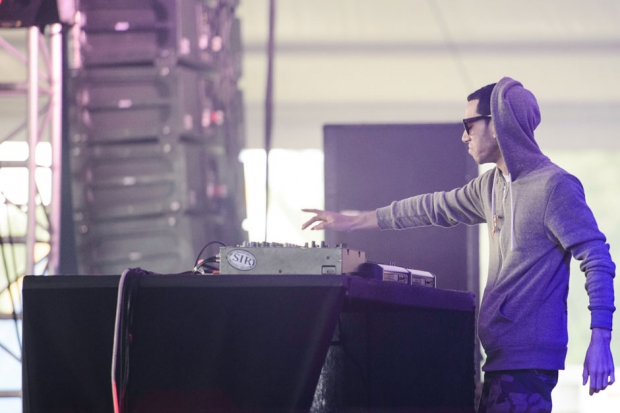 9. Japandroids
The clappiest, crowdsurfiest, Canada-lovingest 'Roo revelers turned out for Japandroids' This Tent set, and they spilled out in all directions. Though the tent's acoustics didn't do the duo any favors, bleeding the guitars into the vocals and generally making everything sound like a blur, they got the crowd participating for nearly every song. Their only misstep? Taking a stab at Metallica's "Enter Sandman," perhaps a holdover from their Orion Fest set earlier this week, which was such a trainwreck that it was barely recognizable. KORY GROW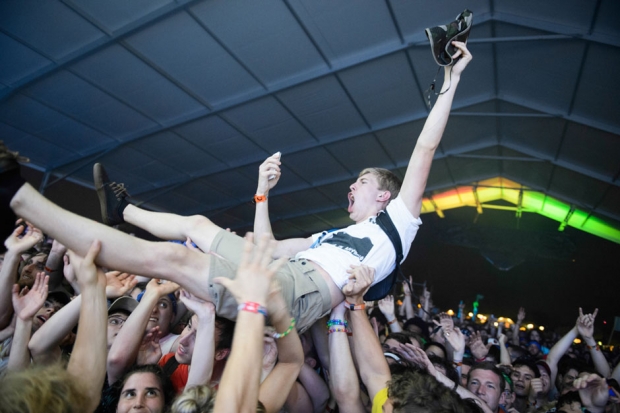 8. The Stepkids
Playing a festival in the summer of 2013, Connecticut psych-funk smoothies the Stepkids are stepkids to an actual pop moment, the band totally in tune with the vintage sultriness of the year's hit songs like "Suit & Tie" and "Get Lucky" — albeit with their own loose, private-press, garage-soldered vibes. The bedrock of their mellow, rain-saturated set was a mix of Steely Dan gloss (nice suits, by the way) and Stark Reality weirdness (guitarist Jeff Gitelman's solos range from the wildly wheedly to poking and prodding). More chill than funky, more silky than cosmically sloppy, they sounded at times like a broken wedding band, a jazz-fusion odyssey, or Phish covering electric Miles. C.W.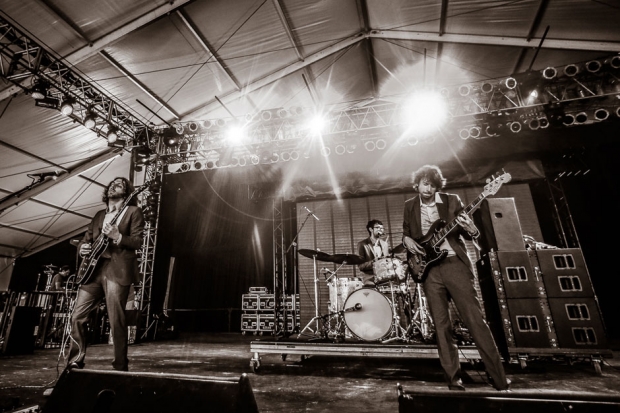 7. Maria Bamford
The Dillinger Escape Plan of comedy, Maria Bamford cycled through her barrage of ideas in jagged, unpredictable clusterbombs: Her riff on relationship comics, for example, was broken into shards by "The Star-Spangled Banner." Like Robin Williams' attention span meeting Emo Phillips' droll art-punk bent, Bamford blasted through serious subjects —suicide, depression, accidentally killing her pet pug — using an array of ridiculous Muppet voices, but hardly ever cracking a smile. C.W.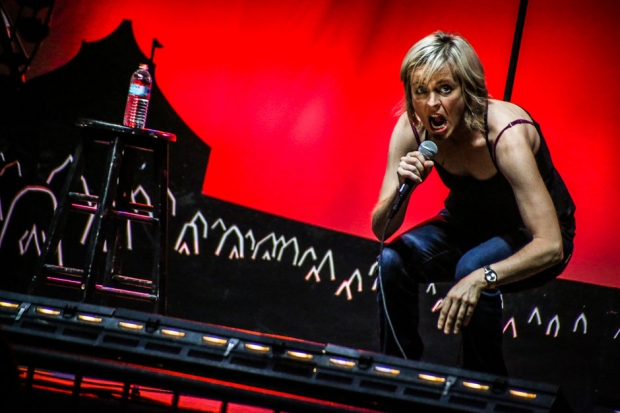 6. Deap Vally
"I was kind of hard up for cash recently," began one of many stories that Deap Vally drummer Julie Edwards told the gathered throngs at This Tent. "So we made a deal with a fan at a show where if he bought one of our crop tops, we'd dedicate a song to him." Since the crop-topped concertgoer was in the audience, we assume he was stoked on the shout-out just before "Raw Material," one of many boot-stomping Black Keys-y hard-rock numbers the duo played. But he was not as stoked as the guy who took Edwards up on her next offer. "If a guy wants to get naked, we'll dedicate a song to him, too." Soon, a small patch of fans were pointing at a spot in the audience. "Are you naked?" asked frontwoman Lindsey Troy. "Let's give this man a round of applause. This is what a music festival is all about." Without missing a beat, they found the perfect tune with which to regale him: "Walk of Shame." K.G.