One of hip-hop's biggest buzz words over the past couple of years is also the title of the cornerstone song from Bloc Party's latest release. The wiry U.K. rockers have announced they'll release The Nextwave Sessions EP on August 13 via Frenchkiss Records.
Opening track "Ratchet," one of two songs here produced by Dan Carey (Bat for Lashes, Hot Chip), premiered today on BBC Radio 1 (above). Frontman Kele Okereke said the disco-splashed rager has proved to be a hit at live shows. "'Ratchet' really came together whilst we were on tour in 2012," he said in a statement. "We started slipping it into the sets at the start of this year just to try it out and the reactions were insane. We knew we had something special."
The five-track EP follows last year's Four, Bloc Party's first album in four years. Watch a couple of live versions of "Ratchet" below. If Azealia Banks, Beyoncé, and Lady Gaga really did record a rumored song by that title, they'd better get it out, stat.
https://youtube.com/watch?v=6WEHbYcm_1A%3Ffeature%3Dplayer_detailpage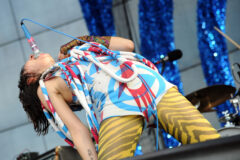 https://youtube.com/watch?v=Mr9sjhIaX14%3Ffeature%3Dplayer_detailpage
Bloc Party's The Nextwave Sessions EP track list
1. "Ratchet"
2. "Obscene"
3. "French Exit"
4. "Montreal"
5. "Children of the Future"