Listeners have gone from buying new music to streaming it. Now the Recording Industry Association of America is evolving with them, in a change that makes less sense than it may first appear.
As Billboard reports, the RIAA has started taking on-demand streams into account in its methodology for certifying gold and platinum albums. The move marks just the fifth big tweak to the RIAA's metrics for awards since they started 55 years ago. The idea is to acknowledge listeners' shift to the digital realm.
The streaming services the RIAA will now factor into its calculations include MOG, Muve Music, Rdio, Rhapsody, Slacker, Spotify, and Xbox Music. Also now platinum- and gold-worthy are video streams from MTV.com, VEVO, Yaoo! Music, and YouTube. Among the first 56 new titles to receive awards using the updated formula will be 30 Seconds to Mars' "This Is War," Emeli Sandé's "Next to Me," and Cher Lloyd's "Oath."
Ironically, the attempt to keep up with digital technology may reflect a failure to see how it could be abused. With platinum and gold status on the line, who's to differentiate between "real" on-demand listens and those that a clever marketing team could potentially pay for? Before the dotcom bubble burst, a company called AllAdvantage sent out real checks to people who viewed banner ads, but there were programs with names like "MyAdvantage" that let users pretend they were at their computers. Left unanswered, so far, is how the RIAA would stop similar manipulation.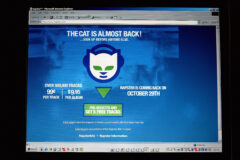 Another strange reality is that gold and platinum artists won't be making as much money as they used to. The royalty payments from online streams are a lot lower than from sales, even digital sales. If Apple enters the online streaming business, royalties could drop to 0.06 cents per play.
Look, it's clearly true that streaming services are on the rise, and it makes sense for the RIAA to recognize that reality. For instance, the International Federation of the Phonographic Industry recently found that the number of subscribers to services like Spotify and Rdio grew by 44 percent last year, to a total of 20 million users. (Pandora, which has been urging Congress to lower its royalty costs, is absent from RIAA's announcement today, presumably because it's not on-demand; the company faces other challenges at the moment.)
And it's not as if the RIAA failed to put thought into the change. The basic formula stayed mostly constant through the decades: 500,000 copies sold for gold, one million for platinum, and 10 million for diamond. Now, RIAA chairman and CEO Cary Sherman told Billboard the organization spent more than a year debating how many streams should be counted as equal to one sale. The RIAA found that songs tend to be streamed 100 times for each download sold, so that's ultimately the magic number.
Still, Sherman also said deciding to acknowledge on-demand streams was, as Billboard put it, "the easy part." Considering how rarely the RIAA tweaks its metholodogy — the last time was in 2006, to include ringtones — maybe deciding whether to include listens that don't cost users money should have been the hard part. After all, the services that used to pay you for viewing banner ads went bust long ago. Just because a technology is the future doesn't always mean the smart money is in embracing it.