The 10 Best Things We Saw at Primavera Sound 2013
Despite wintry temperatures that led some festival-goers to joke that it should have been renamed "Invierno Sound," Barcelona's Primavera Sound generated plenty of heat during three long nights of indie rock, rap, noise, and electronic music playing out alongside the Mediterranean. With one of the most expansive lineups on the worldwide festival circuit, Primavera offers a little something for everyone — from nostalgic crowdpleasers like the Postal Service and the Breeders to far-out propositions from Nurse With Wound and Guardian Alien — and delivered marvelously under the light of the full moon. Here are our ten highlights. PHILIP SHERBURNE
1. The 10 Best Things We Saw at Primavera Sound 2013
1/11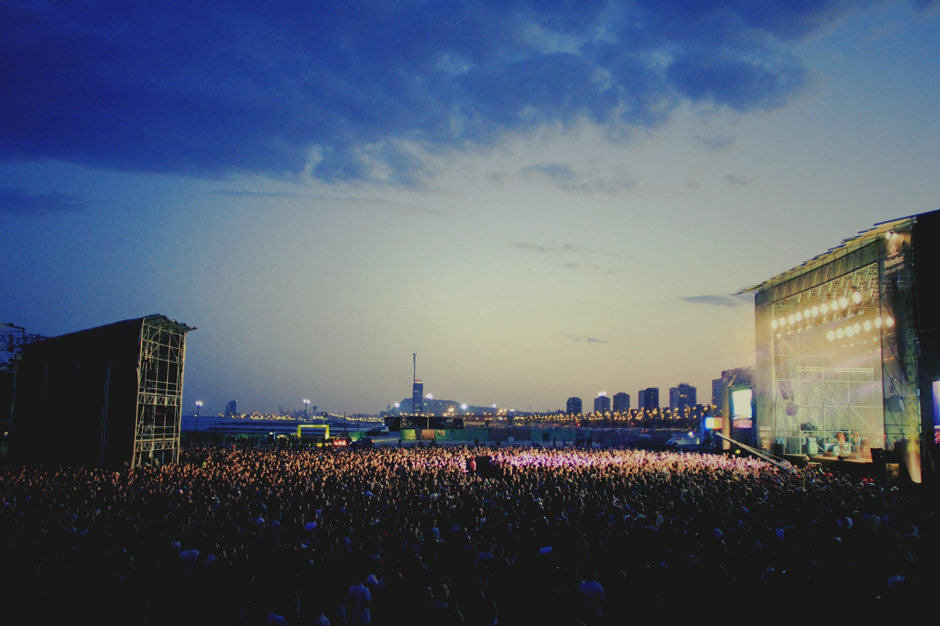 2. Best Performance: Swans
2/11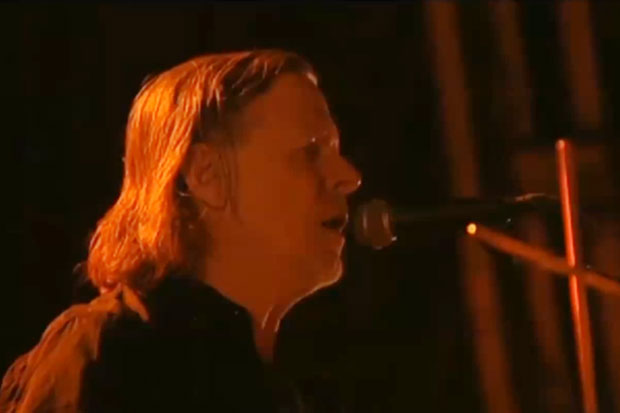 Are Swans the best live band in the world right now? The band deserved a bigger crowd and a louder sound system, but that didn't stop them from tearing through their 100-minute set with hell-bent intensity. Gira flailed like a scarecrow possessed as he led his five accomplices through classics like "To Be Kind," "Coward," and even "She Loves Us," along with "The Seer," the focal point of the band's triumphant recent album of the same name. There were moments of shimmering beauty as Christoph Hahn bowed his metallophone, Phil Puleo hammered away on further mallet instruments, and the imposing (and, as always, shirtless) Thor Harris banged on a strange, stringed board slung around his neck. Harris is also capable of some of the nastiest clarinet skronk going, conjuring the kind of Medieval decadence we find in Breugel and Bosch. And when they tore into their pile-driving repetitive riffing, you had to wonder if they were all psychic — how else did they know exactly when to stop and start each brutalizing succession of chords? It was as if James Brown were leading Glenn Branca's band through a tortured set of microtonal changes timed according to some secret math equation. At the end of it all, after a heaving finale that sounded like every Swans album played at once, Gira faced his bandmates and led them to one final climax, arms akimbo, face to heaven, fingers writhing like jellyfish. He shouted, for the second time that night, "Viva l'anarchie! Kill the World Bank now!" And then a funny thing happened: As he waved goodbye to us with both hands, like a little boy in a stroller, a smile crept across his face that spread into a ridiculous grin, and he cried, "Amorrrrrrr!" Yes, Michael Gira, taunter of the heavens, harbinger of End Times, the dourest doomsayer in rock and roll, actually looked happy.
3. Best ESL Course: Wu-Tang Clan
3/11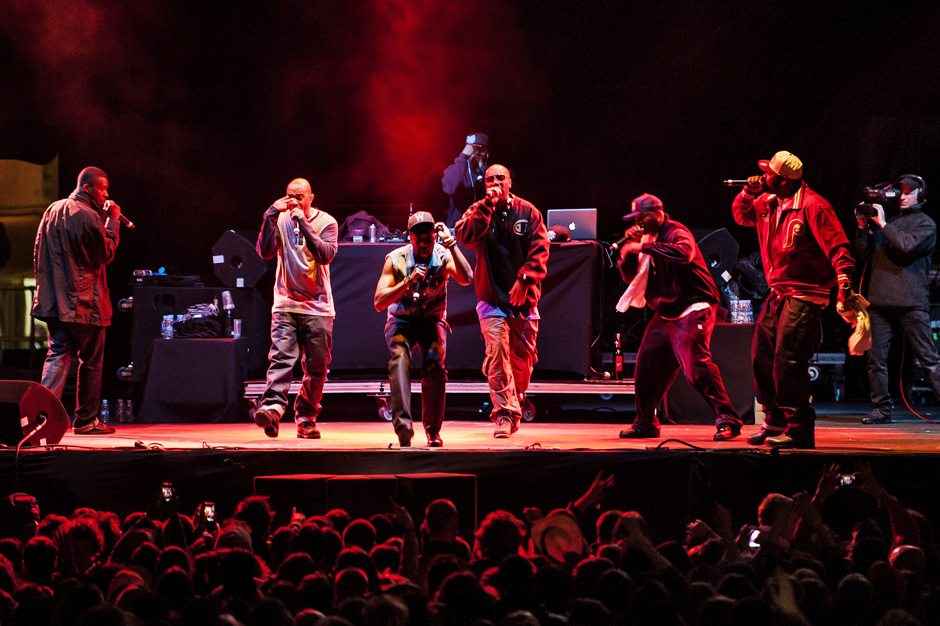 You might be surprised at how many native Spanish- and Catalan-speakers apparently know every word in Wu-Tang Clan's catalog. And for those who didn't, the Wu got them up to speed with an endless succession of call-and-response chants.
"Say 'Fuck yeah!' Say 'Shit yeah!' Say 'Hell yeah!' Say 'Oh yeah!'"
"Hi-de-hi-de-hi! Ho-de-ho-de-ho! Hi-de-hi-de-hi! Ho-de-ho-de-ho!"
"Dollar, dollar bill, y'all!"
"Roll that shit! Light that shit! Roll that shit! Light that shit!"
"It's Wu, motherfucker! Wu-Tang, motherfucker!"
"One, two, three, peace!"
The group was, inexplicably, missing members — neither Method Man nor Raekwon showed up, although RZA professed not to know why — but neither the truncated lineup nor persistent problems with their cordless mics managed to dampen the group's energy as they blazed through a full-on greatest-hits set ("Bring Da Ruckus," "Da Mystery of Chessboxin," "C.R.E.A.M.," "Reunited," "Protect Ya Neck") that was rounded out by a tribute to ODB, a lesson on the four elements, a demonstration of old-school scratch techniques by their DJ, and plenty of crowd chants, arm-waving, and Wu signs thrown high. (Ghostface persisted in referring to their hosts as "Barce-lonia," a malapropism that evoked more approving laughter every time it dropped.) They pleaded for a mosh pit that never happened, but maybe it was the language barrier. ("What's that?" asked a woman in the crowd.) In any case, there was plenty of action, as you knew there would be the moment RZA emerged, at the beginning of the set, with a champagne bottle in hand: Like Chekhov's gun, you knew it would go off, except this time there was no waiting for the third act. It only took about six songs before it was uncorked with a "Ch-chick POW," and the entire "Barcelonian" crowd frothed in delight.
4. Best Modern Dance Recital Disguised as a Rave: The Knife
4/11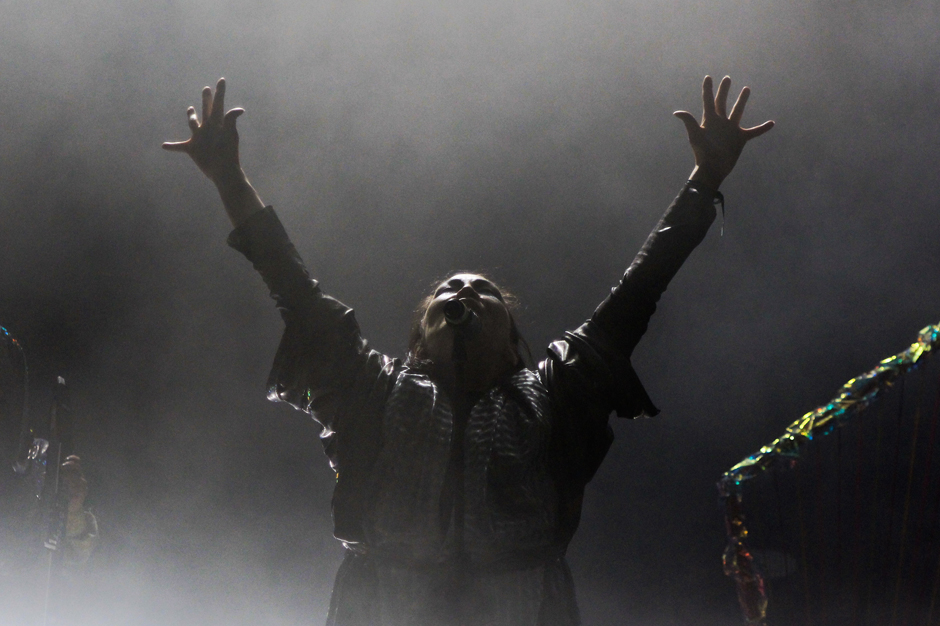 Some people are still mad about the fact that the Knife didn't really play much, if anything, on their Silent Shout tour, but they clearly do not give a shit. Indeed, the spectacle they've put together for Shaking the Habitual positively revels in artifice and ambiguity. There was no shortage of fanciful instruments (splatter-painted harps, electronic clarinets, Syndrums, shakers shaped like Dungeons & Dragons dice, tubular bells that looked like they were designed by Dr. Seuss, and, at the center of it all, a long, one-stringed instrument that may or may not have been their famous jerry-rigged bedspring contraption), but there was little certainty that they were anything more than props, given the way they appeared and disappeared without much appreciable shift in sound. At most, they were there as live embellishment for backing tracks that sounded identical to the album, and probably were — but that wasn't the point. Or, to put it another way, it was entirely the point, because it was never clear who, out of the dozen or so people on stage, was actually the band's Karin Dreijer Andersson and Olof Dreijer. This wasn't a performance, it was a performance, complete with choreography that swung from European folk dancing to Bob Fosse chorus lines without batting an eye. (Actually, there was plenty of eye-batting.) As The Quietus' Maya Kalev has pointed out, the show smartly develops on the big themes (gender, privilege, community) behind Shaking the Habitual (though there was a jarring moment when realizing that there were Nike swooshes beneath the glitter on the dancers' sneakers; aren't the Knife supposed to be anti-capitalists?). And there was plenty of jouissance to be found if you were looking for it, both on the level of critical-theory WTF-yuks and straight-up visceral oomph — at least from our perspective towards the back of the main-stage crowd, ecstatic dancers outnumbered grumpy head-scratchers by a considerable margin.
5. Best Shadows in Daylight: Savages
5/11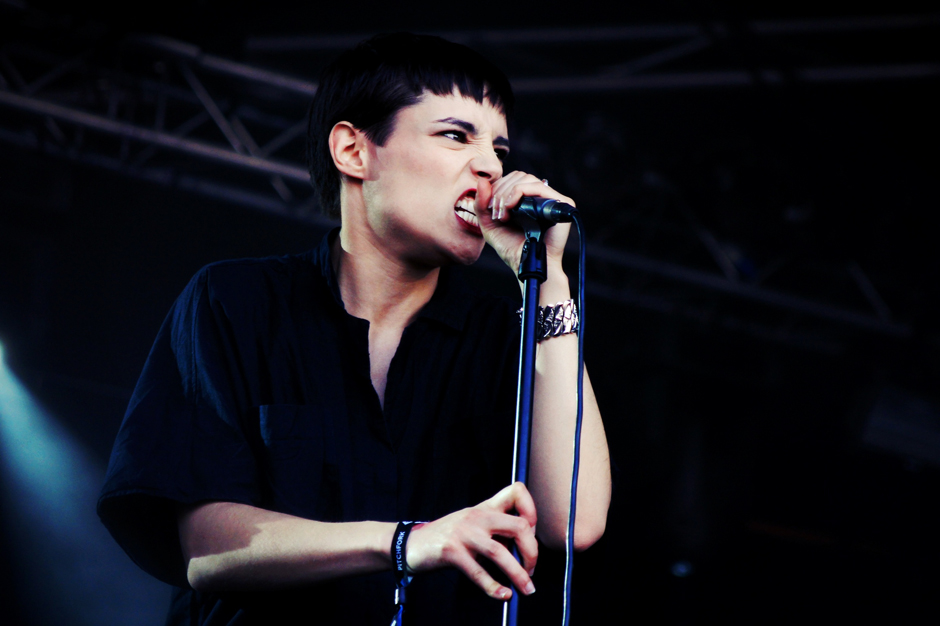 With their pale skin and all-black clothing, Savages are not a "daylight band," but they made the most of a 7:30 p.m. Thursday slot, conjuring Batcave vibes despite the Mediterranean lapping the breakers just 100 yards away. It helped that the stage was framed by a gigantic solar panel that vaulted overhead in a style that might be termed postmodern brutalist, with huge cement slabs joined at odd angles buttressing the London quartet's steel-reinforced sound. With cropped hair and black pajamas, Jehnny Beth called down darkness with every shriek and tremulous bellow, dancing in place with clenched fists like a shadowboxer. It wasn't the clearest sound of the festival, but bassist Ayse Hassan's ringing eighth notes ploughed powerfully through the maelstrom, drummer Fay Milton alternated between pummeling toms and dance-punk rhythms, and guitarist Gemma Tompson's turquoise Fender lent supple tone color (both literal and metaphorical). Despite the relative brevity of their songs, they went in hard and milked them for all they were worth, like surfers raging straight into the tumbling foam. They made no mystery of their influences: Echoes of Siouxsie, Bauhaus, Swans, Sonic Youth, and even the Cult rubbed elbows and threw off sparks. (Also, just going by Milton's dubby snare riffs, they really ought to consider hiring Adrian Sherwood to produce them — or, better yet, do their live sound.) In a festival that had more than its share of nostalgia acts, Savages took hold of shopworn goth-rock sounds and made them sound, if not new, then triumphantly alive.
6. Best Visuals: Tame Impala
6/11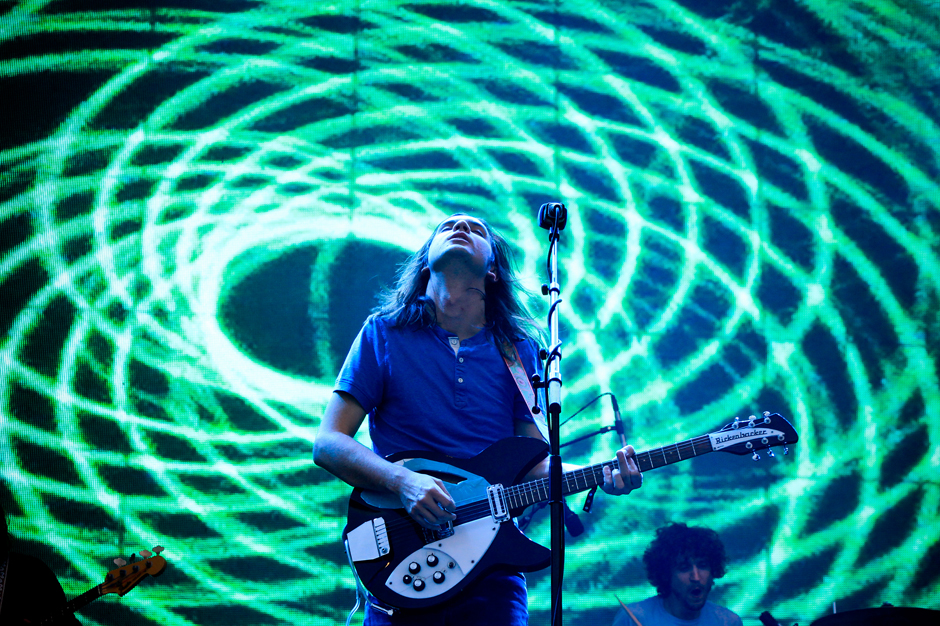 What Tame Impala lacked in flashy stage presence — which is to say, most of it — they made up for with groovy visuals that did plenty of psychedelic heavy lifting, all glowing orbs and rippling lines of electricity and even, at the end, something that looked a little like the sky-scapes of Flash Gordon as viewed from inside a lava lamp. (Fittingly, you could hear echoes of Queen's proggy soundtrack in Tame Impala's own pumping prog.) And what they lacked in the spacious, multi-tracked nuance of their studio recordings, they made up for with thundering drum solos, extended Moog intros, and unapologetic Led Zeppelin wail and T. Rex stomp. For all their retro impulses, they seemed thrilled to be in the moment, as frontman Kevin Parker reeled off a list of firsts, punctuated by the drummer's Borscht Belt rimshots: "Hey, this is our first time in Barcelona. And this is the first time we've ever played in front of a moving Ferris wheel. And the first time we've ever played in front of a full moon. And this is the first gig for our brother Cam on the bass guitar." (Just last week, the band announced that bassist Nick Allbrook had left the band and was being replaced by Pond's Cam Avery.) Parker continued, "Feel free to lose your shit for this next song. Hopefully you know it; it's about a big grey animal." As they tore into "Elephant," the crowd complied.
7. Best Dinos Who Cheated Extinction: Dinosaur Jr.
7/11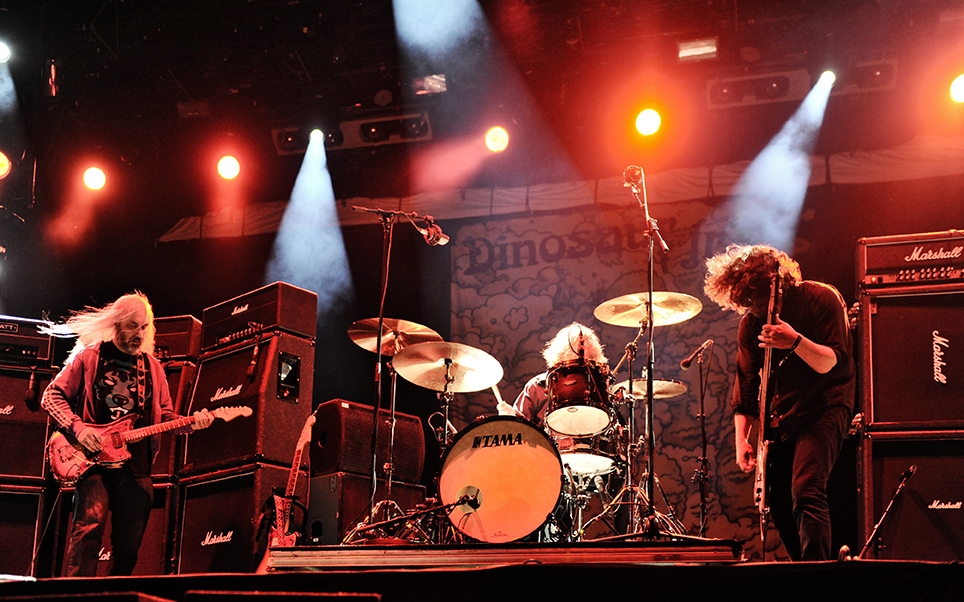 In his 2012 profile of Dinosaur Jr. SPIN's David Bevan identified the band's idiosyncratic, explosive sound as "punk made peace with the guitar solo." That's exactly the duality that defined the band's blistering, classics-heavy appearance at Primavera, a hippies-gone-hardcore mixture of noodling, shredding, and clenched-fist chug. Harvey Milk's Kyle Spence, who sat in for Murph on drums, provided a rough-cut keystone to hold up the heaving slabs of guitar and bass provided by J. Mascis and Lou Barlow, who occupied opposite ends of the stage; they barely looked at each other, but any lingering hatchets were buried deep beneath layers of overdriven sludge and squeal. Longtime fans were treated to the You're Living All Over Me songs "The Lung" and "Sludgefeast"; they tore into the latter without so much as a break between it and the Cure's "Just Like Heaven." (Whatever provocation was intended when they first recorded it in 1989, these days it's a feel-good chestnut, plain and simple, no matter how gnarly the half-time breakdowns get.) For the real old-timers, they went back to their hardcore roots with "Training Ground," a stripped-down thrasher by Mascis and Barlow's first band, Deep Wound. And hardcore reared its ugly head one last, glorious time with a closing cover of the Boston band Last Rights' "Chunks," featuring Fucked Up's Damian Abraham as a surprise guest on vocals. Given Dinosaur Jr.'s checkered interpersonal history, it was hard not to find something moving in the SxExHxC boilerplate lyrics:
"Like brothers! We're one and the same
Whatever we do, we do with the crew!
And you couldn't stop us
Even if you tried
'Cause we'll be together
Until we die!
'Cause they're my friends
Be that way 'til the end!"

8. Best Post-Concert Photo Op: Fucked Up
8/11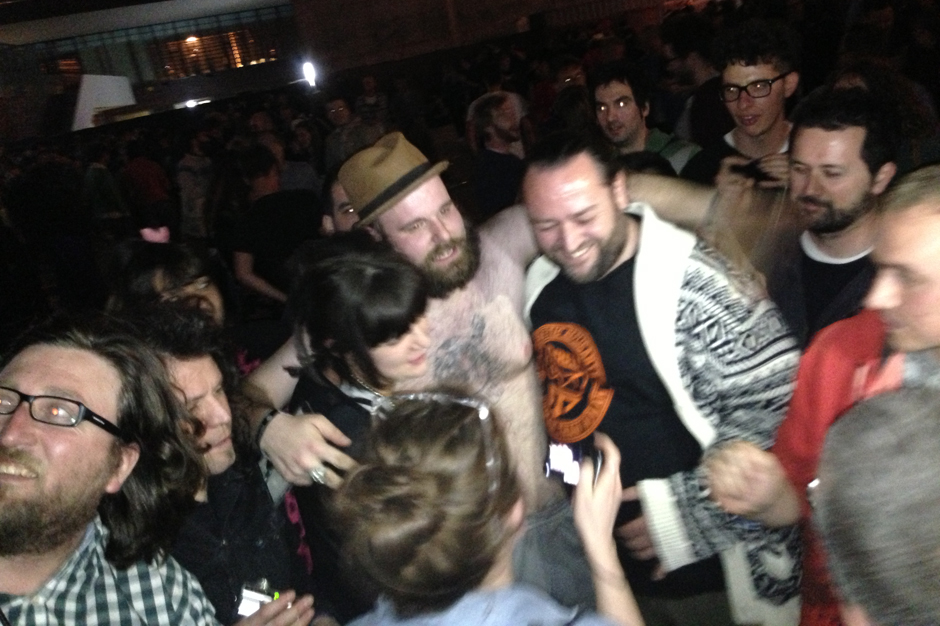 Is there a nicer, more gracious, more thoughtful dude in hardcore than Fucked Up's Damian Abraham? Up on stage with Dinosaur Jr., he made sure we all knew that Last Rights were "one of the best hardcore bands ever." Barely an hour later, leading Fucked Up's powerhouse six-person lineup through wave after wave of raging, seething, anthemic, utterly incandescent punk — pacing and leaping in front of the wall of guitars like a bricklayer intent upon dismantling every vertical surface ever built by human hands — he told us that Barcelona was the site of the group's best gig to date; stressed the historical importance of Spanish punk and shouted out a string of bands dear to record collectors; thanked a long list of Barcelona friends ("Alejandra! Pablo! Paco!"); apologized for their setlist ("I guess we should have done a sing-along last"); and waded deep into the crowd to sing a few verses down on the people's level. ("Oh shit!" he said afterwards, clambering back up on the bandshell; "I'm not used to stages that are this high.") After it was all over, he was back out in the adoring throng, posing sweaty and shirtless with fans for photo after photo, a man at one with his element. Along with Killer Mike's spiritual pep talk and Dan Deacon's community-building exercises, it was one of the feel-good highlights of the festival.
9. Best Motivational Talk: Killer Mike
9/11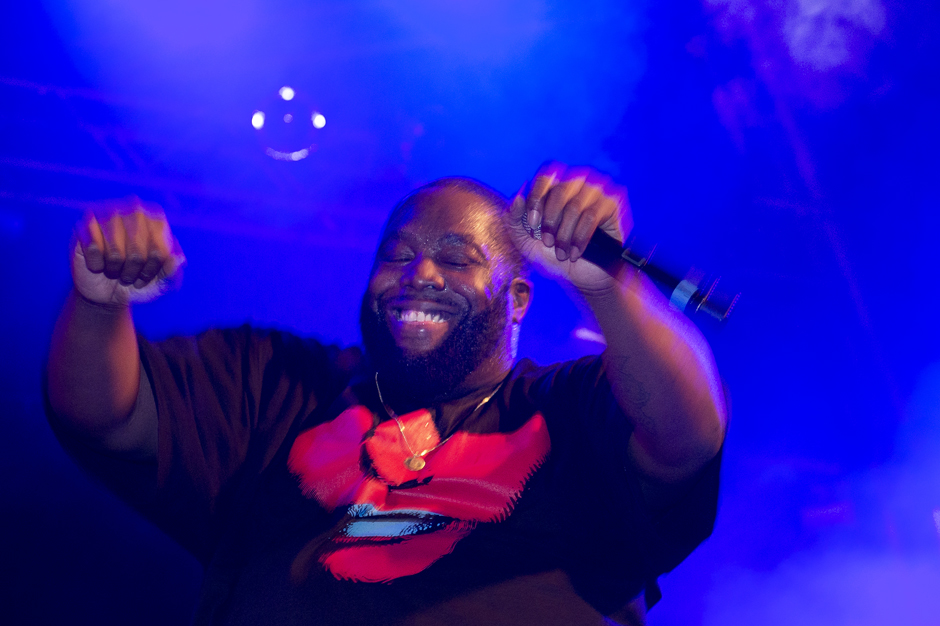 Maybe it's just because they both played the same stage, but it was hard not to think of Killer Mike and Fucked Up's Damian Abraham as twins separated at birth: Both burly, big-hearted dudes that share the same humility, unstoppable energy, and incredible generosity of spirit. Killer Mike had to work much harder: Compared to Fucked Up's sprawling crowd, the Atlanta rapper had barely gathered a quorum when he launched into his set, but from the moment he began, there was little doubt that this was the only place to be at Primavera. (Fortunately, the crowd's numbers grew steadily, as did its energy level.) Assisted by his DJ, Trackstar, and barreling his way through songs like "Big Beast," "Untitled," and "R.A.P. Music," Mike mustered the requisite gruffness, but when it came to the between-song banter — and there was a lot of it — the lovable underdog always came to the fore.
Early in the set, he told us, "I am Killer Michael, and I have said it before, but I am so very happy to be out here tonight. I don't know if you ever fell off a bike, if you ever didn't make the team, if you ever fell and bust your ass, but if you have, you know it's hard getting the fuck up and working your ass off. I have worked my ass off to be on the stage with you tonight. So what I need you to know is, I appreciate you so much, and I appreciate you for appreciating me and having rap music. So thank you, thank you, and motherfucking thank you!" He kept up that level of empathy throughout the set, whether it was lambasting Ronald Reagan for setting the world economy on its current course, leading the crowd in a salute to his wife, or turning the show's climax into a full-on revival meeting: "Whatever that feeling that my grandmother felt from church, I feel in a rap concert. And I can honestly say, from the bottom of my heart, I know there's a god, when I look at you and you and you and you and you and you all standing here in the name of rap music. So the final two records, now that we've been angry with politicians, we've smoked some marijuana, we did some ratchet shit, I'd just like to say, 'Welcome to rap church.' This is 'R.A.P. Music by El-P and I, and this has truly been a spiritual experience."
10. Best Proof of American Super-Power: "Molly"
10/11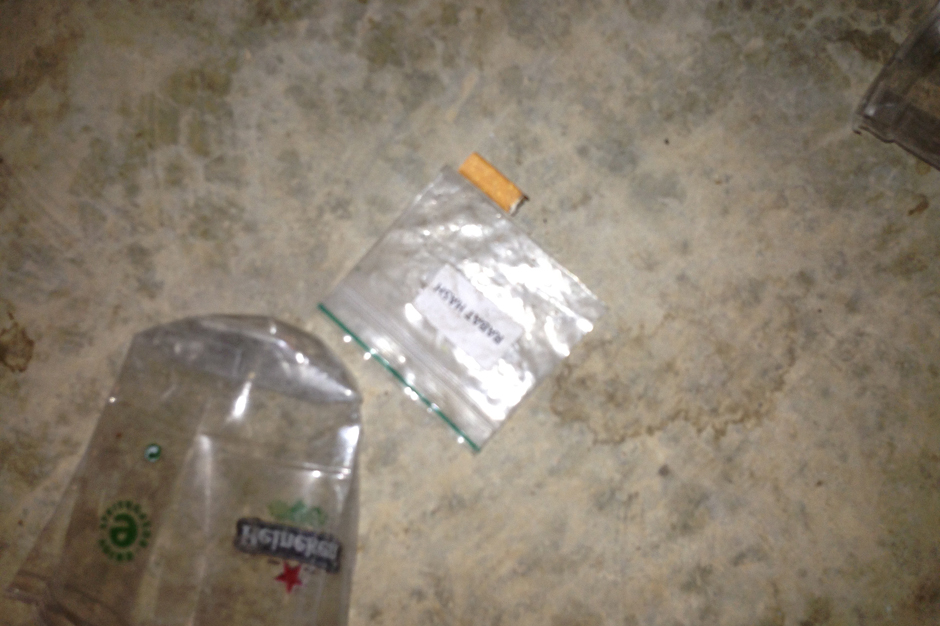 Ecstasy has always been known in Spain as "extasis" or "eme" (the pronunciation of the letter "M," the first letter in the chemical compound MDMA). In England, people say "E." But America's homegrown drug slang seems, finally, to be making its way across the Atlantic, presumably in the wake of EDM. During the Knife's set, a dealer passed through the crowd, adopting the same multi-lingual strategy that Barcelona's ambulant beach vendors do as they call out, "Agua, water, cerveza, beer." As he squeezed through the packed, dancing mass, he intoned, "Anyone want anything? Cocaine, MDMA, Molly? Cocaine, MDMA, Molly?"
11. Best Back-Up Plan: Omar Souleyman
11/11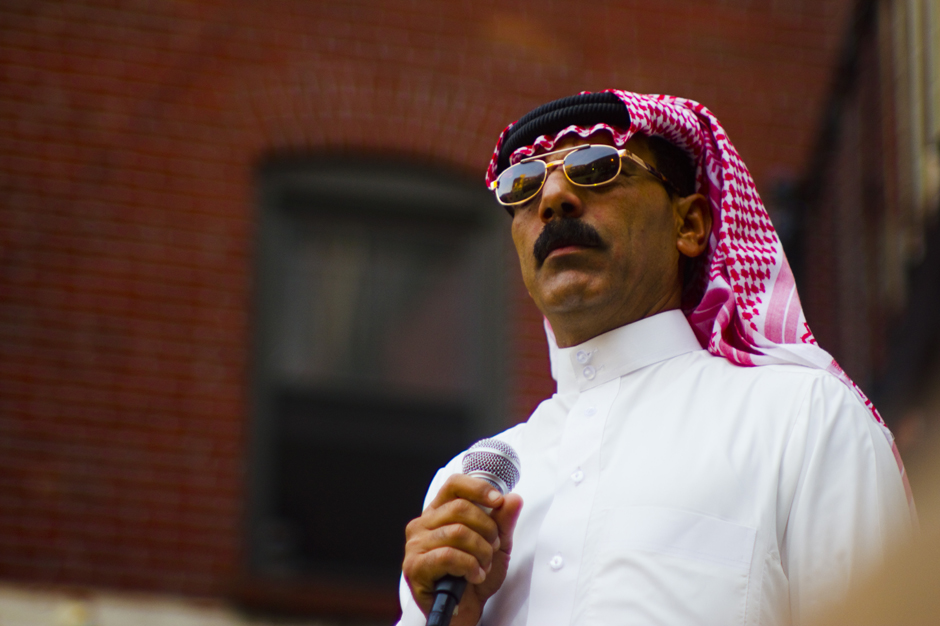 Was it the wind wreaking havoc on My Bloody Valentine's sound, sweeping away crucial frequencies before it could reach gale force itself? Who knows, but the set was a disappointment, with little energy on stage, despite the drummer's best efforts to inject an echo of acid house in the grooves. As audience members peeled away, some found themselves drawn towards Omar Souleyman's entrancing set at the ATP stage, just 100 yards away. As a performance, maybe it wasn't much: The Syrian dabke performer spent much of his time just pacing the stage and offering reverb-heavy interjections as his keyboardist manipulated slinky, high-energy desert techno on a pair of synthesizer workstations; it was impossible to say how much of his soloing was live, but it didn't matter. You only had to look around at the faces of the crowd, which was dancing even way out on the fringes where drinking and chatting would usually be the norm. It felt strange but familiar, with Arabic scales married to rapid-fire electronic beats that were as complex as jungle or footwork. In between songs, it sounded like a rocket was taking off over at My Bloody Valentine's stage, but as soon as the beat kicked in, it was Omar Souleyman's show, bleed-through be damned.