Brooklyn's Palmetto Playground was officially renamed Adam Yauch Park Friday (May 3), at a ribbon-cutting ceremony attended by family, friends, and fans of the late Beastie Boy.
Nestled along the Brooklyn-Queens Expressway in Brooklyn Heights, the leafy tenth-of-an-acre space was filled with tattooed, T-shirt-wearing thirtysomethings (several of whom had toddlers either sitting on their shoulders or strapped into baby carriages), local politicans, members of the press, and people who were among Yauch's closest confidants. As the story goes, MCA first learned to ride a bike in the park that now honors his name.
Fellow Beastie Boy Adam "Ad-Rock" Horovitz was there, along with his wife, Bikini Kill/Le Tigre/the Julie Ruin frontwoman Kathleen Hanna. Horovitz briefly spoke in front of the crowd, describing his deceased bandmate, who succumbed to cancer at age 47, as "curious, thoughtful, kind, and just enough crazy."
"It's fitting that we're here today to dedicate a playground to Adam Yauch, because like the Wu-Tang Clan, Beastie Boys are for the children," Horovitz joked. "I'd like to thank the New York Parks Department and the people of Brooklyn for honoring my friend and brother and recognizing how cool it is to have an Adam Yauch Park for other crazy New York kids."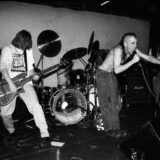 City Council Member Stephen Levin, a self-described "huge" fan, also stepped to the podium. "[Adam Yauch] was anti-establishment and iconoclastic, but he did it in a way that made you laugh, think, and bounce your head at the same time," Levin said. "I can think of no greater honor for someone whose reach was so global than to be memorialized at the playground where he grew up."
Brooklyn Borough President Marty Markowitz "rapped" his own rendition of the Beastie's 2004 track, "An Open Letter to NYC," ("Asian, Middle Eastern, Latin, black, and white / Brooklyn, you do it just right," the pol over-enunciated), but only after he offered tender words of comfort to Yauch's parents, Noel and Frances Yauch. "I know that a loss at such an early age — there's nothing anyone could say that could ever fill that emptiness," Markowitz said. "That will always be with you, but know that everyone here and millions across this country and beyond consider your son a member of their family."
Jim Strouse, a longtime Beastie fan, waxed nostalgic about the Rock and Roll Hall of Famers with SPIN. "Licensed to Ill was such an important album to me and my friends," Strouse, 36, said. "I feel like I sort of evolved right along with them. When Licensed to Ill [came out], it was like, 'I love drinking and girls,' but as they grew, I grew." He also said, "It makes me feel kind of old now. My kids now go to a park named after Adam."
Closing remarks came from MCA's mother, Frances Yauch. "When Adam died last year, there was a worldwide outpouring of admiration," she said, speaking on behalf of herself and Yauch's father, Noel. "People told us, 'We didn't know your son was so famous.' We didn't know it either."
Reflecting on her son's lengthy, massively influential career on the eve of the one-year anniversary of his death, Frances Yauch ended her speech by saying, "Adam made us so proud of him… And I'm proud to have this park in his name."
Watch footage of the ceremony below (via Gothamist).