SPIN Rating:
Release Date:
May 24, 2013
Label:
Ribbon
Oh, wunderkinds. They grow up so fast. British folk singer Laura Marling debuted at the age of 18 with 2008's Alas, I Cannot Swim, the sort of self-assured debut that tends to make people old enough to rent a car feel bad about themselves. She followed it up with 2010's even more poised I Speak Because I Can, which made it rain Brit Awards and critical raves.
Though her live shows were notoriously shambling affairs — she had a tendency to introduce a song, go off on a tangent, then apologize for her stage banter) — on record, she had a poise and control of her craft that made her stand out, even against neo-folkies a decade her senior. Her lyrics were knowing looks at young love and coming of age, buoyed by sweet melodies and deceptively skillful arrangements. But according to "You Know," a highlight from her fourth album, Once I Was An Eagle, that time feels so long ago to Marling she's not even sure it happened: "You asked if I was a child once / And I said I'm really not sure." She is 23 now, and the growing you do in life between 18 and 23 is some of the toughest growing there is to do. Even people who seem to have it all figured out ahead of time are going to get some bruises.
Marling has always approached lyric-writing from a short-story perspective, giving us just enough character details so we understand why the pivotal moments and realizations matter, while giving us a sense of a larger world just out of reach. Eagle has the wounded elegance of a classic breakup album ("I will not love / I want to be alone"), but there's something deeper going on here. That said, the line, "Damn all those hippies who stomp empty-footed / Upon all what's good, what's pure in the world," will probably get read as a dis against a certain arena-cornpone-slinging ex (Marcus Mumford), even if it's doubtful that she'd ever be quite so on the nose.
Marling's last album, 2011's A Creature I Don't Know, had a gleaming polish, courtesy of Kings of Leon producer Ethan Johns, that pushed her worryingly close to soft rock; but here she opts for a tougher sound to fit her tougher outlook. The reunited pair strip things down here, opting for stitched-together quilts of ringing acoustic guitar and cello, with occasional stabs of piano and percussion. It's a warm, lightly psychedelic sound reminiscent of British strum god Bert Jansch and the quieter moments on Led Zeppelin III, less a soundtrack for Sunday brunch and more a place to get lost in, though our host herself isn't interested in hiding.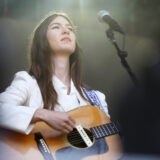 Instead, on the title track, Marling talks about how she made a decision to never again be a victim of romance "or any man who would get his dirty little hands on me." Which, sure, sounds great. Everyone loves a fiery independent-woman anthem. But she keeps poking at this idea, exploring the consequences of hardening her heart, and surveying the fallout from the realization that she didn't have it as together as she thought she did. If the chorus is any indication ("When we were in love / I was an eagle / You were a dove"), protecting yourself at any cost often means attacking first, wallowing in regret second. Marling has always trafficked in understated elegance, but she's firmly in attack mode here. Mostly against herself.