Kurt Vile is on the road in support of his SPIN Essential new album Wakin on a Pretty Daze, and last night the artful Philadelphia singer-strummer played a hometown set as part of the Non-COMMvention radio conference at local public station WXPN. His gorgeous half-hour solo acoustic set included both new and old material, including songs from 2009's Hunchback EP and 2011's Smoke Ring for My Halo, and he asked for requests. When, during a rendition of latest LP centerpiece "Wakin on a Pretty Day," his voiced cracked a little on the words "don't worry about a thing," it was almost too appropriate.

Listen to Vile's full set here. And if you happen to have Windows Media Player, you can also check out a few songs Vile did earlier this week for Seattle's KEXP. He'll be at New York's Bowery Ballroom tonight.
Iron and Wine's Sam Beam also performed a four-song solo set at WXPN, which you can check out here. Still to come at NonCOMM tonight are sets from Foxygen, Mt. Moriah, Wild Belle, Mavis Staples, Jason Isbell, Jay Farrar, and the one and only Tom Jones, among others. The full audio archive is here.
Vile set list: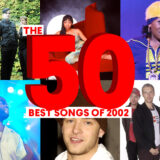 "Hunchback"
"Wakin on a Pretty Day"
"Peeping Tomboy"
"Baby's Arms"
"Goldtone"
Beam set list:
"Grace for Saints and Ramblers"
"Boy With a Coin"
"Flightless Bird, American Mouth"
"Tree by the River"