Kanye West's "New Slaves" projections were shut down in two cities this weekend: Houston, Texas, and Baltimore, Maryland. In Houston on Friday night, all three pre-planned locations (the Rothko Chapel, the Central Library, and George Bush Monument) did not show "New Slaves" due to police canceling the events, as well as "technical difficulties." As SPIN reported via the Houston Chronicle and local Houston blog Day and a Dream, the events seemed peaceful and the police presence heavy, though concerns about public safety and a lack of permits were cited by the city as the reason they did not happen.
Details are a bit more clear on the Baltimore shutdowns, scheduled for the Bromo Seltzer Tower, the Walters Art Museum, and the Baltimore Museum of Art. At 5:45 p.m. on Sunday evening, the Baltimore City Police Department's official Twitter announced, "NOTICE – The Kanye West album release events in Baltimore have been cancelled tonight." Though their information wasn't exactly correct (these were not album release events), it did seem to eliminate some of the in-the-moment confusion that took over in Houston. Baltimore City Police department spokesman Anthony Guglielmi told Justin Fenton of the Baltimore Sun that the the projections were canceled because "the organizers did not have proper permits." Guglielmi also mentioned their "use of electricity" and "anticipated crowds."
One projection did go on regardless. The Walters Art Museum projection happened at 9:15 p.m., 45 minutes before it was planned. At 8:58 p.m., the Twitter account for Kanye's label Def Jam tweeted, "Anyone in Baltimore! Make sure you head to the Walters Art Museum @ 9:15PM. Corner of Cathedral and Peabody now!" Then, at 9:43 that night, Def Jam tweeted this: "Attention Baltimore! Lets beat the cops, we are headed to the Emerson Bromo-Seltzer Tower 312 West Lombard Street, see you @ 9:50!" The police were at the Bromo Seltzer by that time, and the event did not occur.
At 9:57, Def Jam tweeted, "Baltimore! H&H Building, Utah & Franklin STAT!" That projection was also shut down. The Baltimore Sun's Justin Fenton was tweeting the events and retweeting frustrated fans. He even quoted an officer at the canceled H&H projection, who told the projectionists this: "If it was up to me… You're all adults, this is a peaceful crowd." SPIN walked over to the Baltimore Museum of Art location around 10 p.m. and it was dead. A half-dozen or so police milled about, politely informing the few people wandering over to check it out that it was canceled.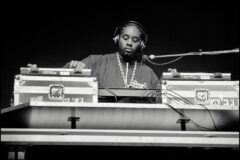 The cancelations seem to expose Kanye and Def Jam's quasi-"guerilla" approach to this album's promotion. They pop into a city without permits or too much communication with the city (though all the information is on Kanye's website ahead of time), and then project the video without consent. In most cities, these events have gone off without problems and concerns over "public safety," though they make sense, also feel typically hip-hop-phobic. The projections are over and out in under five minutes. What could possibly go wrong?
Pointedly, the Sun's Justin Fenton, a Kanye fan, also tweeted this out of frustration: "OK, I'm a biased Kanye fan, but these projections went off in 90 locations from Glasgow to New Zealand and only Houston/Bmore shut it down.." If more projections happen and more cancelations occur though, it seems likely that part of the fun of "New Slaves" will be running around the city, trying to find a location Def Jam drums up last-minute, to beat out the police.