Google has launched a paid digital streaming subscription service. As USA Today reports, "Google Play Music All Access" will provide access to millions of tracks.
All Access will let users explore based on listening preferences, genre, and more, the Internet giant announced today at its anual Google I/O conference. Any track a user plays can also be turned into its own "radio station," Google said. According to ABC News, the service will allow users to mix their own music libraries with Google's.
The service is out today in the United States, available for phones, tablets, and Web browsers. The cost is $7.99 a month for those who subscribe by June 30, or $9.99 for those who sign up later. A 30-day free trial is also available. That compares with a $9.99 monthly subscription to Spotify Premium or a $36 annual subscription to Pandora One.
Google has inked contracts with Universal Music Group, Sony Music Entertainment, and Warner Music Group to allow unlimited paid access to particular libraries of songs, the Wall Street Journal reported yesterday. Intriguingly, though the Journal described Google's service as a rival to Spotify, the "radio station" component also means that it works somewhat like Pandora. Spotify isn't publicly traded, but Pandora's shares fell on the news.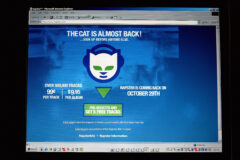 The launch of All Access follows the 2011 introduction of Google Music, which copies users' music libraries to the cloud. Google has incorporated All Access into its Google Play digital-media store for Android devices.
While streaming is undeniably growing in popularity, how much room the market will have for Google is unclear. The Recording Industry Association of America's recent embrace of online streaming in its calculation of gold and platinum records, to the exclusion of hip-hop, shows you just how seriously the industry is taking the streaming business. But along with existing providers Spotify, Pandora, and RDIO, Apple has also reportedly been in talks to offer a streaming service. Google's own YouTube video website has also reportedly been negotiating with music labels to kick off its own paid subscription service.
All that said, what kind of name is "Google Play Music All Access"? Time will tell whether this is the next Google Buzz or Google Wave (justly forgotten failures), or the next Gmail (a service that millions of people actually use). All we ask is that Google please kindly reconsider its decision to kill Google Reader. That would be Play Music All Access to our ears.