Now in the sixth week of its much anticipated third season, HBO's Game of Thrones has made fantasy cool to hordes of individuals who would rather watch the action play out in a big-budget production than read more than 5,000 pages of George R.R. Martin's bestselling series. And who can blame them? The antics were practically made for HBO, with scenes strewn with sex, violence, magic, and the hint of many seasons to come. (The network has capitalized on the trend with a traveling Game of Thrones exhibition and the — surprise, surprise — promise of a fourth season.) Though Martin serves as an advisor on the show, he's inevitably given up more and more creative control as the series has been progressed, taking on the sort of visual life required for good television. A huge part of Game of Thrones' success has undoubtedly been the sets — which jump between Northern Ireland, Malta, Croatia, Iceland, and Morocco — and the meticulously detailed costumes, rich with furs, leather, metal and just the right amount of sex appeal. Michele Clapton leads the design team, who won an Emmy for their work on Season Two and has only upped the ante for Season Three.
Clapton's work and the general popularity of Game of Thrones has been gradually seeping into the mainstream design world, from Helmut Lang, to Custo Barcelona, to this guy at Nike. Clapton used to style musicians for video, including Suede, Coldplay, Boy George, R.E.M., Garbage, George Michael, Annie Lennox, and the Spice Girls, among many others, before she switched gears to dressing those who sing A Song of Ice and Fire. She answered questions for SPIN, ranging from how she prepared for the job to how they make the imagined world so realistic. (That Wildling suit of bones? eBay.)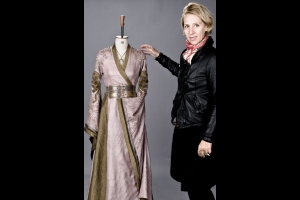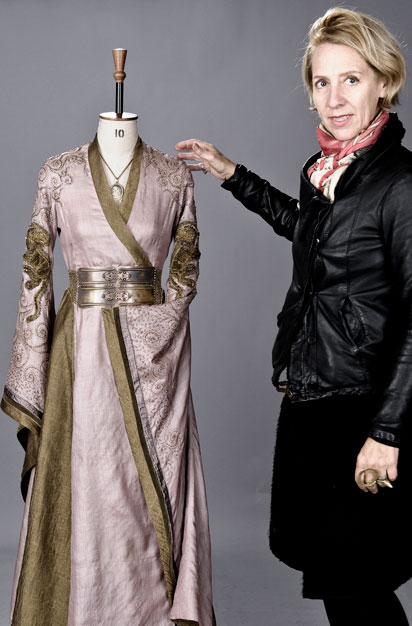 What was the transition from your previous work to the fantasy of Game of Thrones like?
Before Game of Thrones I worked a lot with period costumes. I always tried to put a twist on the look, to reference living conditions etc., and not lift it directly from a visual reference of the time, as this is usually styled be the sitter or painter. Once you get to the age of photo documentation then you can truly believe the period.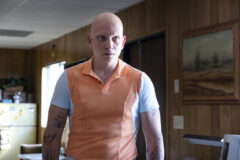 How did you prepare for Game of Thrones?
Research everywhere! Looking at how different people lived in different climates and times, at the availability of colors and fabrics that would be available, and making techniques. I then make a series of boards representing the different areas of Westeros so as to be careful to define them. I now do this throughout the year, storing away images that might be useful.
Did you try to stay true to the books or collaborate with George R.R. Martin? In what ways do things need to change for television?
I agree that books allow the reader to create images in their head, and I do the same but have to share them! But actually it's more complicated than that. Sometimes there will be something that I think is really important to show in a character. For instance, Mance Rayder's cloak with the patches of color which represent his reason for joining the Wildlings — this was discussed and on this occasion it didn't happen. We don't always agree, but then I'm only looking from the costume viewpoint. Another issue is [the] principal [actor's] hat-wearing north of the wall. Of course they should wear them but, as it is explained to me often, we would not see who was who. So we work as a team, as we should. I have spoken with George but only really on the pilot; he does not visit set very often. I'm sure it isn't what he had in his mind but then some of the descriptions of the costumes in the book would be hard to translate to screen and would really dominate characters. It would be a very different show.
Is there a certain emphasis on sexy that you need to keep in mind? In some cases the sex is even toned down — for example, the Quartheen gowns in the book that Daenerys wear expose one breast.
I had actually designed the dresses to reveal one breast and was surprised when they didn't want to go in that direction. But actually, we filmed that in Morocco and it would have been very difficult to find the number of women required to do it. Even to just film it would have been hard.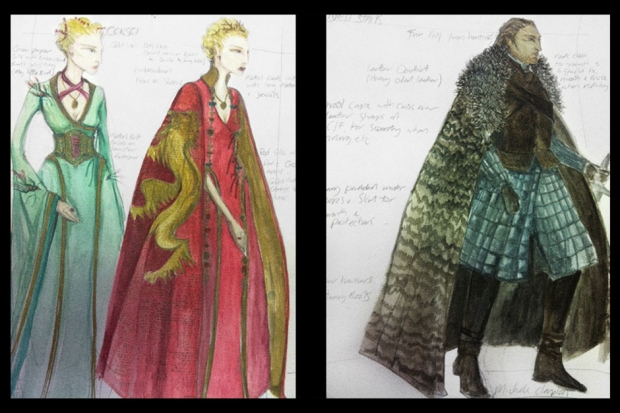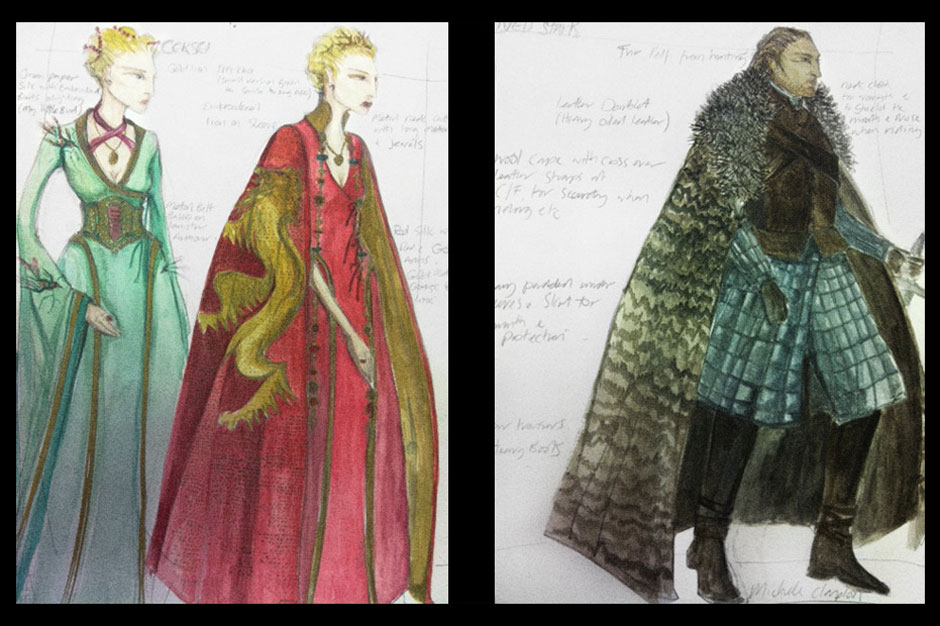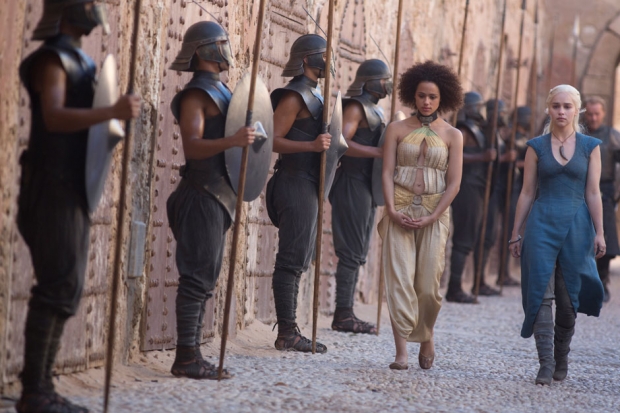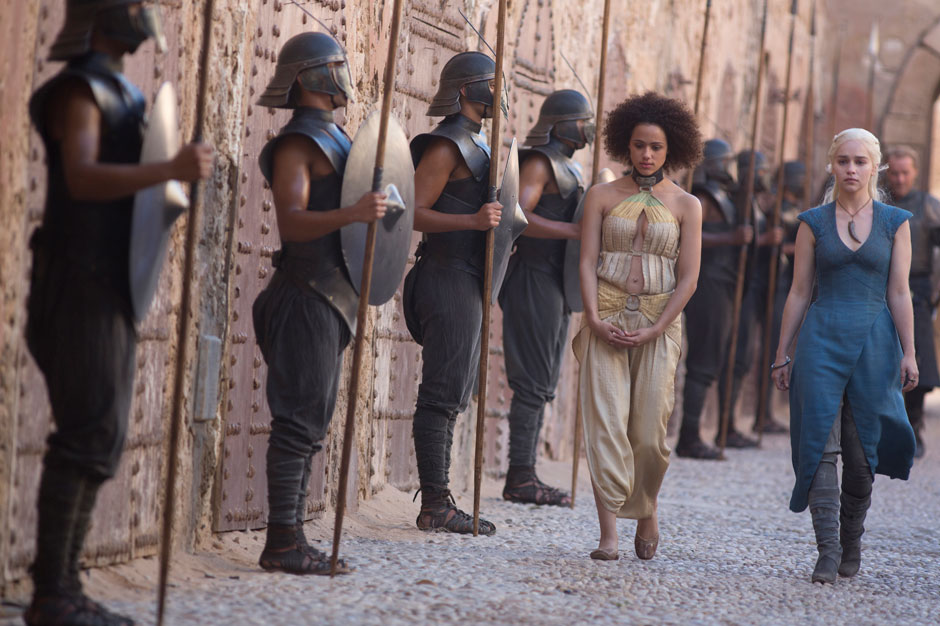 Sometimes the clothes seem to foreshadow certain things, is this intentional?
Yes. I love to try and indicate the emotional state of characters through their costumes, and also to indicate their influence over other characters and courts. Sometimes this says so much more than words.
How have the clothes changed in Season Three? What's stayed the same?
Poor Maisie [Williams, who plays Arya Stark] is still in the same costume! Along with the Hound, they are travelling so it makes no sense to change their clothes, and that in itself tells their story. Whilst in Kingslanding, Margery [Tyrell] is beginning to influence the dress of the younger girls in court, whilst the older girls continue to follow Cersei [Lannister], even though she has shifted her style to a previous Margery-like look. A cruel blow for her and this makes her hate Margery more!
Is production on all the clothes done in-house?
Armor and costume are 99 percent made in-house, and we have a wonderful range of artisans: leather workers, dyers, metal workers, cutters, printers, and embroiderers.
Are some of the clothes aged or worn in for a realistic look?
All costumes are aged — be it a little sweat or full on rags — and it is one of the most important aspects in the costume department. We have a team of approximately ten people including painters and textile artists whose job it is to age the costumes appropriately.