Not Daft, Occasionally Punk: 8 Essentials of French Modern Rock's Secret History
The typical American exceptionalist stance has long argued that French people have no business trying to rock or roll. And evidence in that truism's favor might well date all the way back to the early-'60s work of Johnny Hallyday or the Singing Nun (who, to be fair, was technically Belgian, no matter what language 1963's four-week U.S. chart-topper "Dominique" was intoned in). Truth is, plenty of French people just rock differently. Hence, the '70s prog-weirdo likes of Etron Fou Leloublan and Magma (who sang in a language they made up!) and such '80s inheritors as Art Zoyd and Metal Urbain, the latter of whom's abrasive synth-punk is as prescient a Big Black blueprint as you'll find. There was also pub punk (Télephone), art-pop punk (Les Thugs), speedy metal (Trust), more French-speaking Belgians (Plastic Bertrand, La Muerte), and lotsa disco.
Eventually, some ratatouille-like mix of immigrant influences, growing up with Serge Gainsbourg LPs on the home hi-fi, and eccentric detachment from Western tight-assedness, culminated in a singular French aesthetic: usually more "pop" or "electro" than "rock" per se, but then so was most of the rest of the world by the time that Air, Mellow, Tahiti 80, Manu Chao, Paris Combo, Cassius, and the like started ear-worming their way into the U.S. market circa the millennium's turn. Here are eight fantastique French contributions to modern rock you may have missed — more proof the milieu goes way beyond Daft Punk and Phoenix.
1.Not Daft, Occasionally Punk: 8 Essentials of French Modern Rock's Secret History
1/9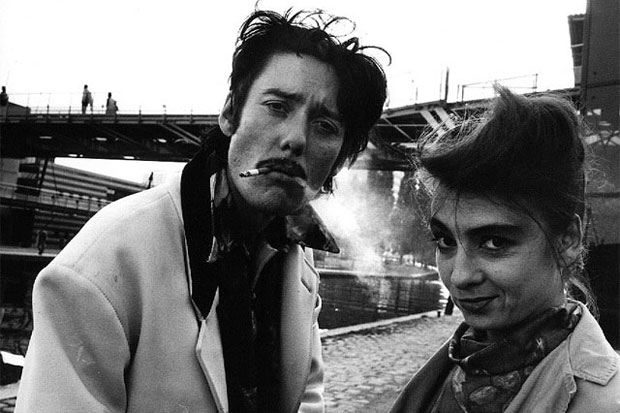 2.Les Rita Mitsouko - Présentent The No Comprendo (Virgin, 1987)
2/9
One of the few French acts to place in the Village Voice Pazz & Jop critics poll in the pre-Daft Punk/Phoenix era, the colorfully bilingual duo comprising Catherine Ringer and Fred Chichen did it with not an album or single, but a Top 10 video: 1987's "C'Est Comme Ça," wackily directed by Jean-Baptiste Mondino. That new wave-ish la-la number is here on their second album, as is their taunting "Andy" — a U.S. dance-chart hit which, judging from its faux-tropical groove, might be a tribute to Andy Hernandez from Kid Creole and the Coconuts. Les Rita Mitsouko are on a mission to reinvent black American forms in a continental context: Sylvester drag-disco falsetto over Marvin Gaye "What's Going On" conga rhythms in "Un Soir Un Chien"; charred-voice Memphis blues complete with dilapidated 78-rpm vinyl effects ("DANGER! false scratches," the inner sleeve warns) in "Stupid Anyway." Once in the latter, Ringer sneakily changes her "I tried every man" chorus to "I fucked every man," and her world-weariness doesn't end there — in the whistling wah-wah lament "Tonite" ("You just want to go to my house / You just want to go to my bed"), she's as seen-it-all cynical as Grace Jones or Rihanna; closing squawk-brass tango "Nuit d'iVresse" is mostly a drink menu. But Mitsouko never seem over-serious: Their gender-nudging visual aesthetic, made clearest in a 50-page art gallery of a lyric booklet called Illustres (assembled sometime in this album's cycle), is more montage than morose; their bawdyhouse trumpet-and-violin show blues has plenty of comedy in it; production and playing from glam-rock veteran Tony Visconti keep them bouncing. Soon they were collaborating with Sparks and being remixed by funk-rocking Time guitarist Jesse Johnson. And Ringer trills, yelps, howls, and hiccups as much as she torches: She's having fun up there.
3.Niagara – Religion (Polydor France, 1990)
3/9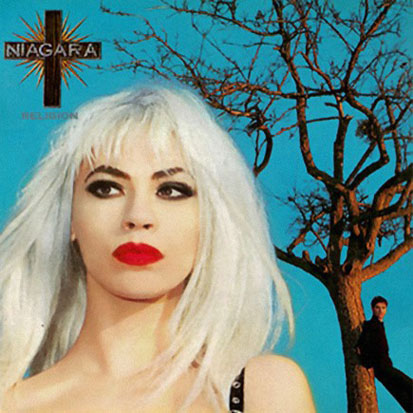 Like Mitousko, this northwest France pair started out in post-Eurythmics territory, or as a Gallic parallel to Sweden's Roxette — at least semi-rock, in other words, except with a female principle who looked more dangerous and exotic than her male partner — but gradually moved to a place perhaps slightly ahead of their time from a Kills/Raveonettes/White Stripes standpoint. What matters most is that they stole riffs from everywhere — Commodores, Wild Cherry, ABC, Prince, ? and the Mysterians, Bad Company — seemingly out of convenience more than a desire to make a postmodern statement. Also, Muriel Moreno's lungs could emit one devil of a gorgeous growl. Religion, their third and loudest album, features silly boinging noises, sax honks, disco strings, pretty a cappella parts: basically, it chews up whatever extinct ideas it can get its hands on, and excretes them back to the land of the living.
4.Elmer Food Beat – 30cm (Polygram/Off The Track France, 1990)
4/9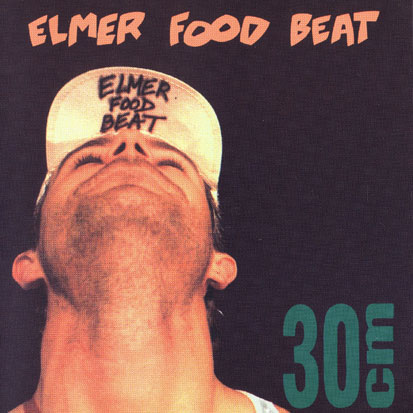 Supposedly named as a takeoff on "Elmer Fudd," thanks to an early member named Elmer, this Nantes-based fivesome appear to have been fronted by a potbellied fratboy called Twistos, whose baseball-cap bill always seemed to be flipped up EMF-style. And if Internet translation engines are to be believed, they were apparently fond of "humorous and ribald texts," which might explain the underpants drying on a clothesline on the inner sleeve. In fact, "Le Plastique C'Est Fantastique," which opens this debut full-length, was reportedly later put to use as part of a Ministry Of Health campaign encouraging condom use. What's audible to non-French-speakers, though, are a whole bunch of two-to-three-minute jukebox joys with girl-name titles ("Daniela," "Linda," "Brigitte") and hopscotching Tex-Mex/ska/polka beats that jump toward Sam the Sham wooly-bully territory when guitarist-singers Twistos and Kelu let out their "arrrreeebbbba arrreeeeebbba" and "yeeeeee-ha" yowls. Plus sock-hop harmonies, "Batman" fuzz, rockabilly gallops, Violent Femmes swipes — garage rock, in other words, without making a big deal of it.
5.Indochine – Le Birthday Album (Ariola France, 1991)
5/9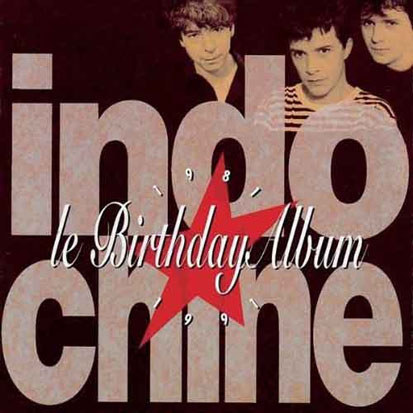 Formed in 1981 and stars at home starting a few years later, this probably-Police-inspired Greek-French trio sound like they learned syncopation from spaghetti Westerns, but they make it move. On this tenth-anniversary hits anthology, what's most surprising to Western Hemisphere ears is how they use all this dainty dinkiness (Dylan-style harmonica, but also synths and strings that sparkle like twinkle bells and jingle bells) for both dreamspace and to build drama amid all the excited pomme frites partying. Indochine consistently double the 4/4 with an Italodisco pulse, and over 19 songs they never run out of gimmicks: gongs, steel guitars, bongos, electro wah-wah, sidewalk-café strumming, New Orleans foghorn bleats out of Frankie Ford's "Sea Cruise," Muzak loops out of Philip Glass, dub echo as a dance-remix-style hook. Although Indochine weren't punks by any stretch, one parallel might be the Clash on Sandinista!, an analogy not hurt by titles referencing tzars and Managua and Salinger. Yet these are pop songs, with the minimalist grandeur of transcendent Eurobeat — "La Buddah Affaire" is some kind of eccentric music-box chamber-rock. Has any other guitar band ever managed to steal the frozen-void melody of Stacey Q's eeriest fluff-disco tune, "Dancing Nowhere," twice — in both "Trois Nuits Par Semaine" and "L'Aventurier" — and then add Duane Eddy twang?
6.Les Négresses Vertes – Famille Nombreuse (Delabel/Razilla, 1991)
6/9
Paris is an ethnic melting pot, and give or take the superb Mano Negra — whose leader Manu Chao later broke through in somewhat less rambunctious solo form to an awkwardly dancing hippie jam-festival crowd in the U.K. and U.S. — Les Négresses Vertes were as polyglot as Paris got. The Algerian/Italian/Polish/Spanish/Gypsy working-class mongrel octet's battle against National Front xenophobia was built into their very name, which came from a slur directed their way at an early gig. And their rhythmically astute, accordion-dominated crossroads hybrid of Parisian cafe rock-musette, Italian organetto music, Algerian rai, Ashkenazi klezmer, Jamaican horn-section ska, Poguesish folk-punk, flamenco, polka, and circus themes (at least one member had previously ridden horses beneath the big top) materialized in the late '80s, around the same time that Mano Negra and Mexico's Maldita Vecindad y los Hijos del Quinto Patio were working out likeminded concoctions. Famille Nombreuse, Négresses Vertes' second album, maintains a reliably vibrant energy, oompah to Bo Diddley beat to Gipsy Kings, with wails and polyrhythms frequently dipping into the north ("Face á la Mer") and sometimes even south ("La France a Ses Dimanches") of Africa. "Infidéle Cervelle" and "Sang et Nuit" probably get the most carnival-in-the-studio stomp and swerve on, but there's no fear of minor keys. Gogol Bordello's Eugene Hutz, for one, was almost certainly taking notes.
7.Mylene Farmer – L'Autre (Polydor France, 1991)
7/9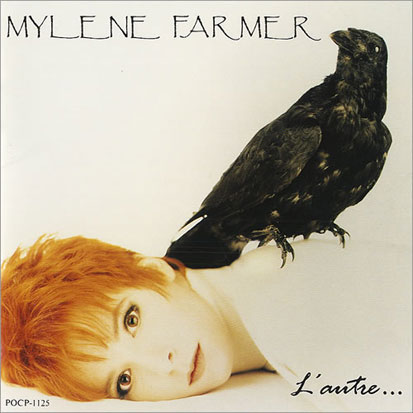 There was plenty of evidence in the '90s that Sinead O'Connor or Kate Bush might've been way more compelling if they'd grown up in the land of "Je T'aime…Moi Non Plus." For example, Jeanne Mas, a blindfolded Joan Of Arc who recited Baudelaire poetry, Arctic art songs, and eulogies for war babies amid Latin mass moans, guillotine guitars, circling vultures, and choruses of lost children; or Pauline Ester, with a synthetic X-Ray Spex name and a conehead Lene Lovich beehive, jumping from Malian chants to Caribbean rhythms to scatted catcalls and piano woogie. But singer Mylene Farmer — born in Quebec, but a suburban Parisian since elementary school, and one of France's all-time top sellers — has towered above the chanteuse pack since the mid '80s. L'Autre, which sold nearly two million copies in France, thanks in part to violent videos featuring co-ed boxing matches, labor-camp riots, and wolves lurking around vampiric lesbian makeout scenes, is her testament. Ornate ivory runs serve as a bed for clanking mechanical melodies dissolving into air; cloudland trip-hop moods that outdo P.M. Dawn ("Je T'Aime Mélancholie") and the Pet Shop Boys ("Désenachantée"); cathedral-bell synthesizer riffs mimicking the opening of Bon Jovi's "Livin' On A Prayer"; moods as heavy and Medievally Catholic as goth metal would be later in the decade ("Agnus Dei"). Centerpiece "Psychiatric" opens with a snip of the Elephant Man doing his Johnny Rotten-in-"Bodies" imitation, saying he's human not an animal, after which the hellfire-haired Farmer whispers that she's losing her mind — like it happens every day.
8.Noir Désir – Des Visages Des Figures (Barclay France, 2001)
8/9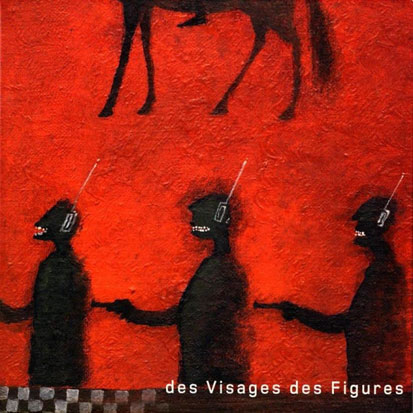 No matter how popular Noir Désir grew in France through the '90s — this album, their sixth and last, went No. 1 and double platinum there — this Bordeaux band is destined to forever remain known elsewhere primarily for one inescapable fact: In 2004, rampaging singer and guitarist Bernard Cantat was found guilty of manslaughter in Lithuania for drunkenly beating his model girlfriend to death in a hotel room. As with Chris Brown (though wife-murdering '40s Western Swing king Spade Cooley might be a fairer comparison), ignoring Cantat's music for that reason alone is entirely justifiable; but it didn't stop Malian duo Amadou and Miriam from inviting him to flamboyantly emote four songs on Folila in 2012, five years after he was paroled. Confoundingly, they were that album's four most powerful tracks, yet they barely hint at how ferocious Noir Désir could be.
Early albums were a kind of heavy cave-painting blues grunge, indebted to the Doors, Gun Club, and perhaps Nirvana's Bleach, and not far from the contemporaneous industrial metal of France's Treponem Pal or Belgium's La Muerte. But by 2001's Des Visages the foursome were giving their crashing guttural rock a singularly fluid groove, incorporating sub-Saharan African thumb piano and Brazilian mangue-beat drums, and inviting Manu Chao to contribute world-rhythm guitar to one track. Cantat's lyrics had seemingly always obsessed on immigration and global trade (an earlier title was "Holy Economic War"), and his band's final album ends with the beyond pretentious 23-minute-plus jazzoetry monologue "L'Europe," just as the Eurozone was coming into fruition. "We are currently working for Europe," one translation decodes Cantat's repeated mantra. "I'm not chauvinistic, but France is still the queen of cheeses." Given the evil he later did with his hands, chauvinism should be the least of the guy's worries.
9.Les Hatepinks – Tête Malade/Sick In The Head (TKO, 2007)
9/9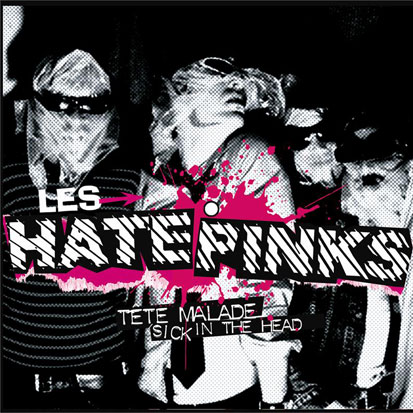 With songs that never exceed three minutes, rarely exceed two, and often last less than one, and with mostly English lyrics supposedly translated directly from French (though who knows if they're pulling our legs), Marseille's Les Hatepinks are the kind of punk goofballs who give songs titles like…let's see here: "Sexual Liberation Is for Animals," "My City Is Sick of Pizza," "Should I Kill Myself or Go Jogging?," "Microwave Drugs," "Tupperware Love," "I Piss in Your Swimming Pools," "I'm Phoning a Phone," "I'm a Gimmick (New Wave Punque Is Fuquing Shit)," "Sniffin' Glass," "Fall in Love with a JPEG File," "Kissing Cops with My Ass"….You get the idea. Which means they're also the kind of punk goofballs known to cover the Pagans, Vom, Easybeats, and German Neu Deutsche Welle heroes Die Doraus Und Die Marinas. None of which show up here, though they do oooh-oooh-oh-oh and sha-la-la-la-la harmonize a lot, and get rather rockabilly in the title track and borrow somnambulating guitar from Santo & Johnny's 1959 "Sleepwalk" in "Your Ass Is a Stereotype!!" Also, Les Hatepinks all wear plastic bags over their heads on the CD cover, which they curiously did not do on the front of 2005's not-quite-as-good Plastic Bag Ambitions (though both covers do feature cheap wraparound sunglasses). That disc squeezed 13 songs into 16-and-a-half minutes, which, to be honest, made it a bit longer than necessary. This one's just right: Seven songs, 9:10 total. Ooh la la.