How Did Daft Punk Go From the Flop of 2005 to the Talk of 2013?
If you've been anywhere near the musical environs of the Internet, you know that Daft Punk are a week away from releasing Random Access Memories, the robotic duo's first studio LP in eight years. The album will no doubt debut in the upper reaches of the Billboard charts, completing a stunning turnaround for Thomas Bangalter and Guy-Manuel de Homem-Christo. Less than a decade ago, Daft Punk were considered deader than disco when third studio album, Human After All, was eviscerated by critics and ignored by the general public, peaking at an unimpressive No. 98. Yet, here we are in 2013, and the duo is dropping the most anticipated thing this side of Iron Man 3. It's been one of pop culture's greatest reclamation projects, but the funky Frenchmen didn't do it alone: Here's how Daft Punk got harder, better, faster, stronger, and more popular in the interim.
1.How Did Daft Punk Go From the Flop of 2005 to the Talk of 2013?
1/24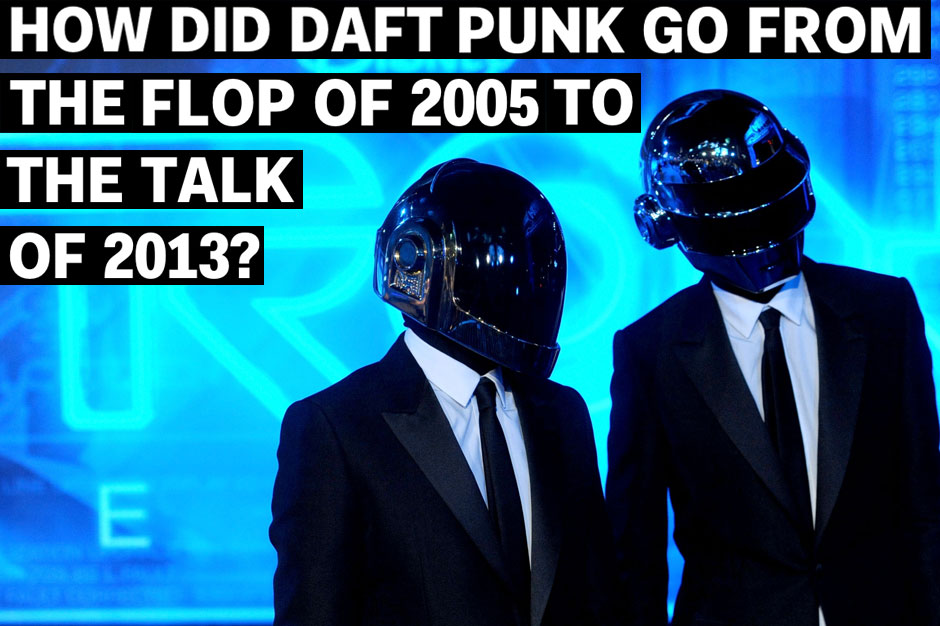 2.March 2005: Critics Savage Human After All
2/24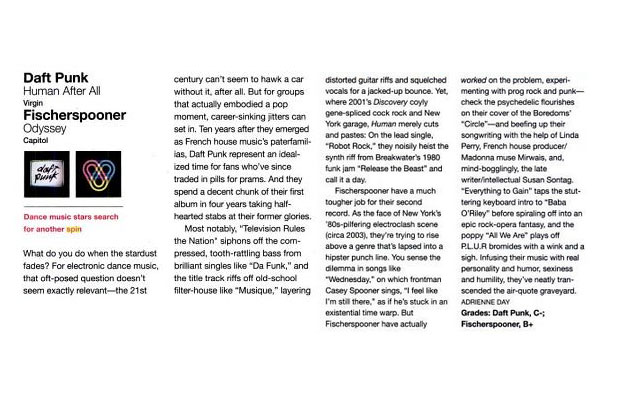 In the April 2005 issue of SPIN — where new LPs from the Soundtrack of Our Lives, Jack Johnson, and even Out Hud warranted more column space — Human After All couldn't even garner its own review, instead sharing a 500-word write-up with Fischerspooner's Odyssey. "They spend a decent chunk of their first album in four years taking half-hearted stabs at their former glories," Adrienne Day wrote of Human After All, which we granted a lukewarm "C-." We certainly weren't alone in calling Daft Punk's last LP a disappointment. Human After All currently holds a 57 percent rating on review-aggregator Metacritic, thanks to a 4.9 from Pitchfork, 2.5 out of five stars from Rolling Stone, and a mere two out of five from The Guardian. Said a Village Voice takedown: "[T]he music is flat, barely inflected, sitting there like a vending machine waiting patiently for your quarters."
3.March 14, 2005: Human After All Arrives and Peaks at No. 98
3/24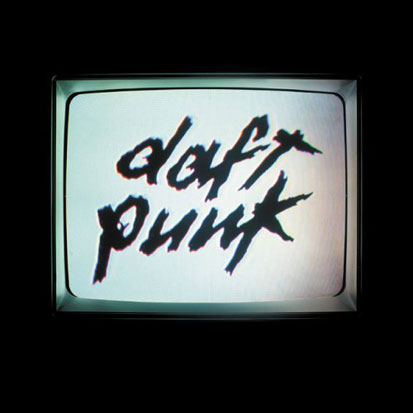 Talk about bad timing. In Daft Punk's four-year post-Discovery hiatus, the '90s major-label electronica movement had officially ended — remember Eminem saying, "Nobody listens to techno?" — and the Internet-enabled rise of hip dance labels like DFA and Ed Banger had not yet made an impact. Human After All bombs on arrival.
4.April 14, 2005: Daft Punk Is Playing at The O.C.'s House Party
4/24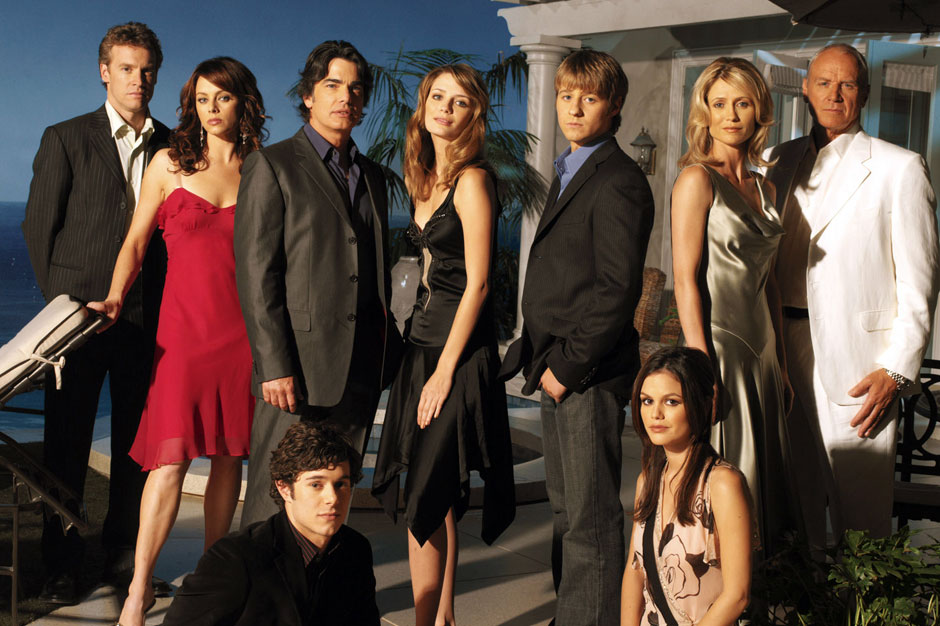 Despite poor sales and a round critical bashing, there's early evidence that some of the cool kids were still rocking out to Daft Punk: A month after Human After All tanked, Fox's then-hottest teen soap opera used "Technologic" to soundtrack a bacchanalian house party at Mischa Barton's pad.
5.December 2005: LCD Soundsystem's "Daft Punk Is Playing At My House" Grabs Two Grammy Nominations
5/24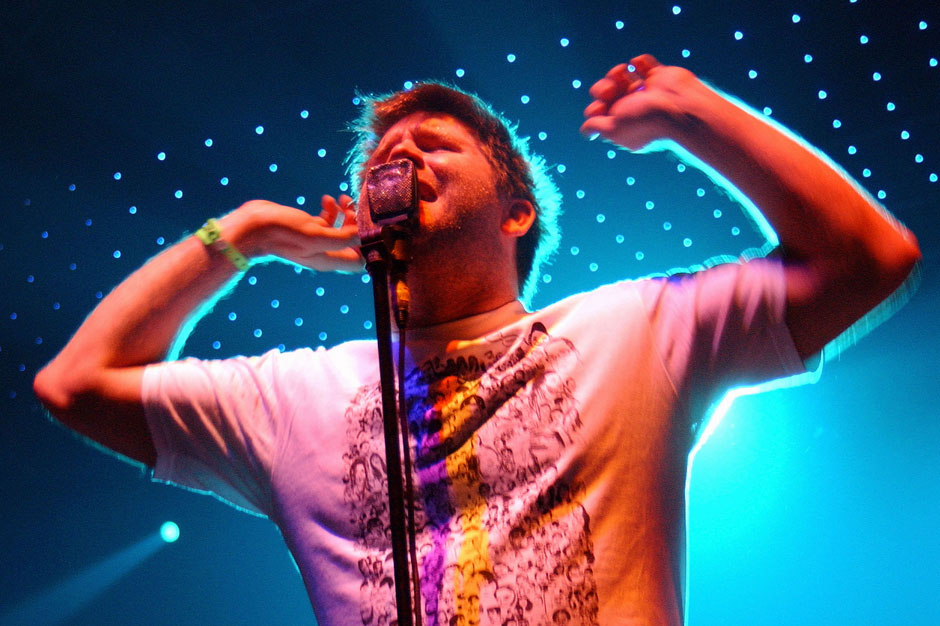 In "Losing My Edge," James Murphy takes credit for introducing Daft Punk to the "rock kids," and ultimately it was very probably LCD Soundsystem's own "Daft Punk Is Playing at My House" that introduced much of the Facebook-and-blog generation to the fading French duo. In the wake of Human After All's critical drubbing and equally pitiful sales, "Daft Punk is Playing at My House" re-cemented the group's unshakable standing in the dance world and gave Bangalter and de Homem-Christo a much-needed injection of Brooklyn cool — one of the hottest commodities around, circa 2005.
6.April 29, 2006: The "Pyramid" Changes the Game
6/24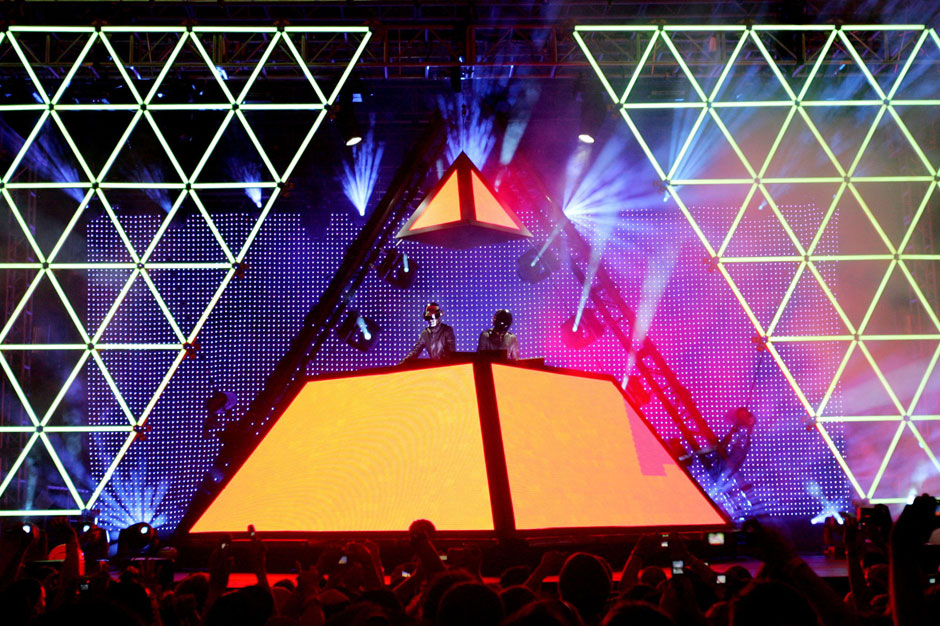 As Philip Sherburne noted in SPIN's 2011 cover story on the "New Rave Generation," Daft Punk's legendary headlining set at Coachella was "the tipping point" that introduced Daft Punk to a new age-group of alterna-youth and the Big Bang moment for the now-bustling EDM movement. "Not only did they prove that live electronic music could be captivating, but they set a new standard for spectacle. Virtually every main-stage headliner — Deadmau5, Wolfgang Gartner, Plastikman, the Glitch Mob — has since tried to assemble a flashier light rig that ups the ante in an audio-visual arms race."
7.June 2006: Busta Rhymes' "Touch It" Samples "Technologic"
7/24
Arriving just weeks after Daft Punk's triumphant Coachella set, Busta Rhymes becomes the first mainstream rapper to spit over Daft Punk, as producer Swizz Beatz morphs the track's instruction manual-reading robot into a seductive hook. "Touch It," which was later nominated for both Grammy and MTV Video Music Awards, proved that Daft Punk's catalog was fertile soil for future sampling.
8.April 23, 2007: Justice's "D.A.N.C.E." Is Released, Floodgates Open for French House
8/24
With one song, all those French kids who grew up worshipping Daft Punk stormed across the Atlantic and hijacked America bandwidth. Borrowing heavily from DP's '80s-gazing and hypnotic repetition, Justice's "D.A.N.C.E." and its pop-art video mesmerized hip young Americans just as Daft Punk's "Around the World" clip had a dozen years earlier. Suddenly, the blogosphere was inundated with French folk influenced by Daft Punk — Uffie, Sebastian, Busy P, Kavinsky, even MTV-era Daft Punk peer Mr. Oizo got a fresh look.
9.Kanye West's "Stronger" Arrives
9/24
With "D.A.N.C.E." still peaking, trend-spotter Kanye West bet heavy on the French house movement with "Stronger," his Nietzsche-quoting Graduation single that made Daft Punk's "Harder, Better, Faster, Stronger" a hit six years after its initial release. West even coaxed the two robots to appear in the "Stronger" video, giving the duo some powerful new visibility in what became the the summer of 2007's biggest song, eventually topping the Billboard Hot 100.
10.June 6, 2007: "Daft Hands" Hits YouTube
10/24
In a piece of excellent synergy, the clever, homemade "Daft Hands" video arrived on YouTube less than a week after Kanye dropped "Stronger." And the clip's ten well-choreographed fingers did some seriously heavy lifting: 56 million views and counting. The viral vid spawned loads of copycats — most notably Daft Bodies, which attracted an additional 16 million views for "Harder, Better" — and gave Daft Punk a much wider-reaching outlet than dance radio or music blogs had provided.
11.June 17, 2007: Daft Punk Make HBO Debut, Sorta
11/24
Amid the many Sisyphean efforts made by the comedy duo Flight of the Conchords to attain indie coolness/relevance, Jumaine and Bret also wore robot suits constructed out of cardboard boxes, aluminum piping, and silver paint, in an effort to "look like Daft Punk." It wouldn't be the last time the Frenchmen would be featured on HBO: Both Entourage (in 2009) and Girls (this past season) have featured the duo's music.
12.November 2007: Alive 2007 Released
12/24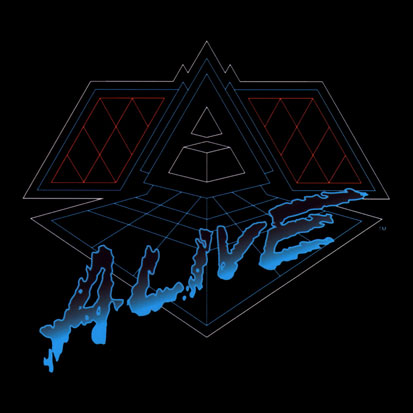 Millennials reminisce about Daft Punk's 2007 tour in the same way baby boomers won't shut up about Woodstock. The live document of these storied concerts repaired Daft Punk's fractured post-Human After All relationship with music critics — despite featuring seven of Human's ten songs. "Alive 2007 is the rare synth-based concert album to capture and transcend its creators' studio-bound essence," Barry Walters wrote in SPIN's "8" (out of 10) review. It even scored the duo two Grammy wins in 2009 for Best Dance Recording and Best Electronic/Dance Album.
13.January 2008: Daft Punk and Kanye Share the Cover of SPIN's 2007 Year-End Issue
13/24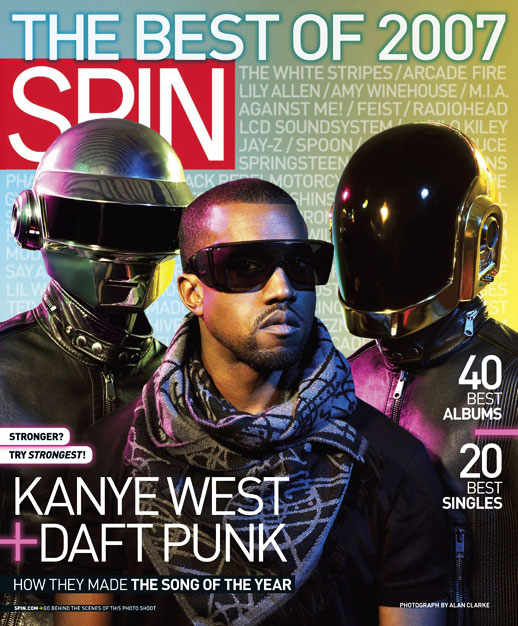 The duo are named Entertainers of the Year thanks to "Stronger" and their already-legendary '07 tour. In the cover story, Andrew Vontz writes, "Somehow, the hottest electronica act of 1999 has recaptured a mainstream American audience that traditionally prefers its rock stars to have instruments and, well, faces."
14.February 10, 2008: Daft Punk's Dope Tron Suits Wow Grammy Audience
14/24
The collaboration between Daft Punk and Kanye culminated in one of the greatest Grammy performances in recent memory, as the duo lugged their epic stage show to Music's Biggest Night. Bangalter and de Homem-Christo's Tron-inspired suits hint toward a major future endeavor.
15.May 2008: Deadmau5 Tops Billboard Dance Charts With "Move for Me"
15/24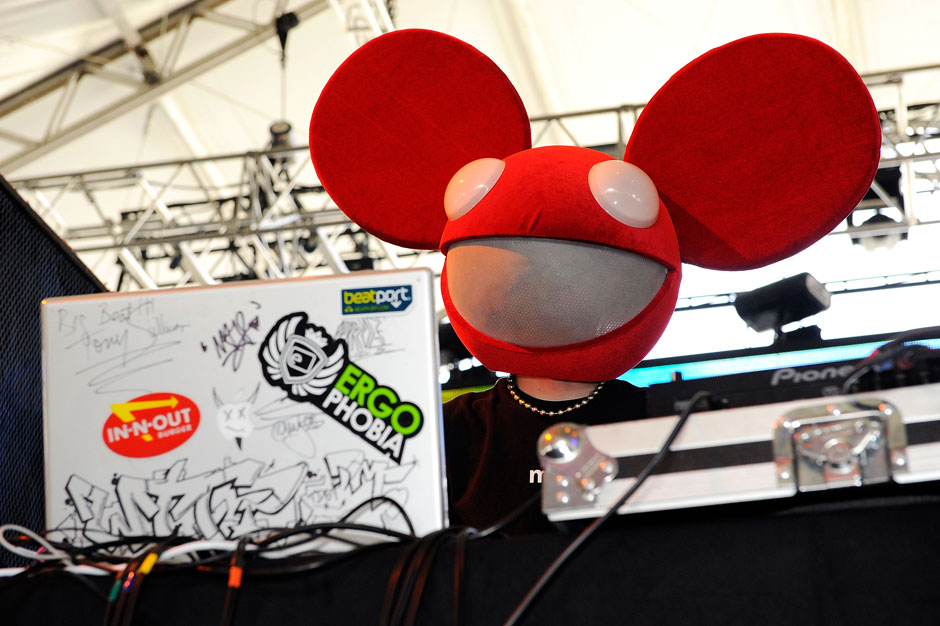 The quick rise of this similarly masked, similarly show-centric DJ is evidence of Daft Punk's influence on the then-burgeoning EDM scene. During Deadmau5's festival-closing set at Lollapalooza 2011, the DJ paid homage to his heroes with a mashup of "Harder, Better, Faster, Stronger" with Skrillex's "Moar Ghosts N' Stuff." "I was soaked to the bone," said Skrillex, who witnessed the Lolla performance, told SPIN.
16.May 25, 2009: Phoenix's Wolfgang Amadeus Phoenix Released
16/24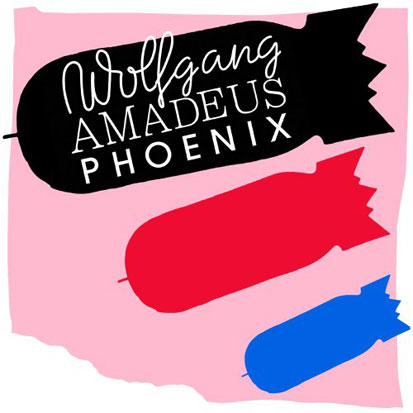 Justice ushered in the new wave of French house, but it was Phoenix — including Daft Punk's former Darlin' bandmate Laurent Brancowitz — that officially pushed French rock into the American mainstream. "Lisztomania" and "1901" became cross-format hits, the LP appeared in the upper echelon of dozens of year-end lists (it was our No. 3). Phoenix ended up headlining festivals and French dance-rock was cool in ways that Plastic Bertrand (actually Belgian) could have never anticipated.
17.September 8, 2009: Jay-Z Releases The Blueprint 3, Co-Signs French House
17/24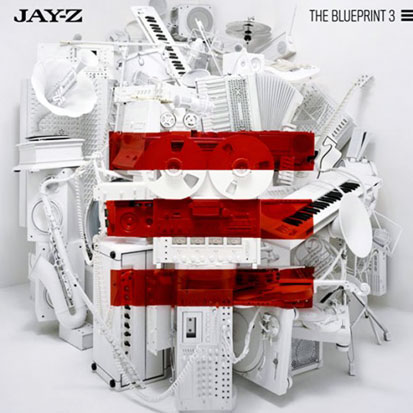 Swizz Beatz, the producer behind the Daft-sampling "Touch It," once again borrows from a French dance track, this time Justice's "D.A.N.C.E.," for Jay-Z's "On to the Next One." Just like those dubstep breakdowns on Watch the Throne two years later, Jigga's seal of approval cements French house's marquee standing in the mainstream.
18.October 29, 2009: DJ Hero Released, Daft Punk Are Avatars
18/24
While the music video-game craze has ebbed into extinction, at the time it was the hugest deal since ringtones. Rock Band and Guitar Hero were in the midst of an all-out war, and with several video-game publishers vying to release something that catered to the exploding crowd of kids who would rather play with turntables than guitars, Activision's DJ Hero scored Daft Punk's participation. The duo contributed exclusive remixes to game — including mashups with Queen, the Beastie Boys, and Boogie Down Productions — and also appeared as playable avatars.
19.June 2010: Daft Punk Chill With Han Solo and Snoop Dogg in Adidas Commercial
19/24
Nearly a decade after dancing awkwardly with Juliette Lewis for the Gap, the duo put on their robot suits and travelled to Tatooine for this much-hyped Adidas ad and some national TV exposure.
20.December 2010: Tron: Legacy Released, Daft Punk's Comeback Complete
20/24
Daft Punk go Hollywood — literally, Bangalter relocated to Beverly Hills — and showed they're ready to play in the major leagues of the branding age. With their Tron: Legacy score — after LCD Soundsystem, after Alive 2007, after Kanye — we see a dramatic turn of the tide in Daft Punk's mainstream popularity: While Human After All debuted at No. 98, the Tron: Legacy score peaked at No. 4 on the charts without the help of a hit single. The film went on to gross more than $400 million worldwide, meaning a lot of moviegoers caught the duo's club-scene cameo.
21.April 4, 2011: "Daft Punk Is Playing At My House" One Last Time
21/24
LCD Soundsystem perform the track that helped put them on the map — and put Daft Punk back on the map — for the final time during their farewell concert at a sold-out Madison Square Garden.
22.May 20, 2011: Drive Released, The '80s Are Hot Again (Again)
22/24
Nicolas Refn Winding's ultraviolent crime drama unfurls like a Daft Punk mission statement: '80s retro reverence, slow-burning neon synthphonies, and near-robotic leading men. One of the soundtrack's breakout songs, Kavinsky's "Nightcall," featuring Lovefoxxx, was cowritten and produced by Daft Punk's own Guy-Manuel de Homem-Christo. Drive ends up being the year's coolest art flick, hottest soundtrack and re-ignited an interest in misremembered '80s chic that hasn't been felt since the days of electroclash.
23.2011-2013: Daft Punk Rumored to Headline Every Major Music Festival; End Up Headlining No Major Music Festivals
23/24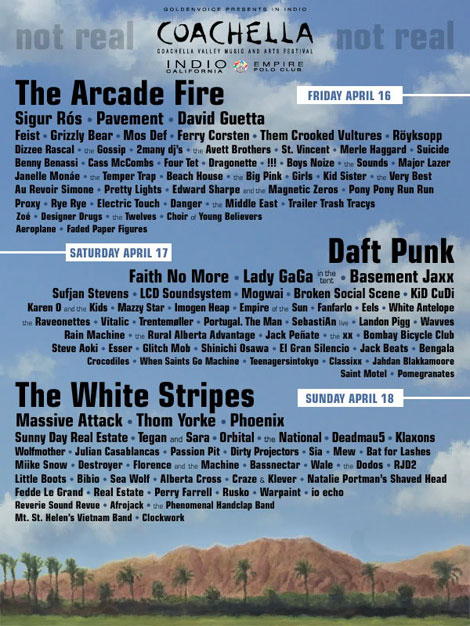 Teasing the return of Daft Punk becomes the favorite pastime among those people who love creating Photoshopped festival lineup posters. Like this one. And this one.
24.April 12, 2013: A Fucking Commercial Becomes Coachella's Biggest Moment
24/24
There was a lot going on at Coachella 2013. The Stone Roses and Blur playing their first U.S. concerts in forever, the reunion of Jurassic 5, the buzz around Savages — it all got overshadowed by 60 seconds of "Get Lucky." Phoenix and R. Kelly perform together, but all of Indio is instead buzzing about Pharrell Williams and Nile Rodgers. Without even showing up, Daft Punk are this year's "Tupac Hologram" water-cooler moment, priming one of the final pumps for Random Access Memories' assured commercial success.