Bigger Than Jesus: 25 Rock Deities, Rap Messiahs, and Would-Be Golden Gods
Rock'n'roll may have originated in a deal with the devil, but some stars choose to set their sights higher — much higher. From Billy Crudup's supposedly Robert Plant-inspired and acid-enlightened exclamation, "I am a golden god!" in Almost Famous to Kanye's new single, "I Am a God," there's a long, (vain)glorious tradition of musicians donning a metaphorical beard and robe and assuming the mantle of divinity. Some have climbed up on crosses to make points about pop martyrdom; others have taken their most ardent fans' proselytizing to heart and decided that, yes, maybe they are infallible deities after all. As the Roman Catholic Diocese of Brooklyn seeks to expand its flock with the message that Jesus was "the original hipster," we look back on 25 musicians who went from strutting onstage to walking on water. PHILIP SHERBURNE
Bigger Than Jesus: 25 Rock Deities, Rap Messiahs, and Would-Be Golden Gods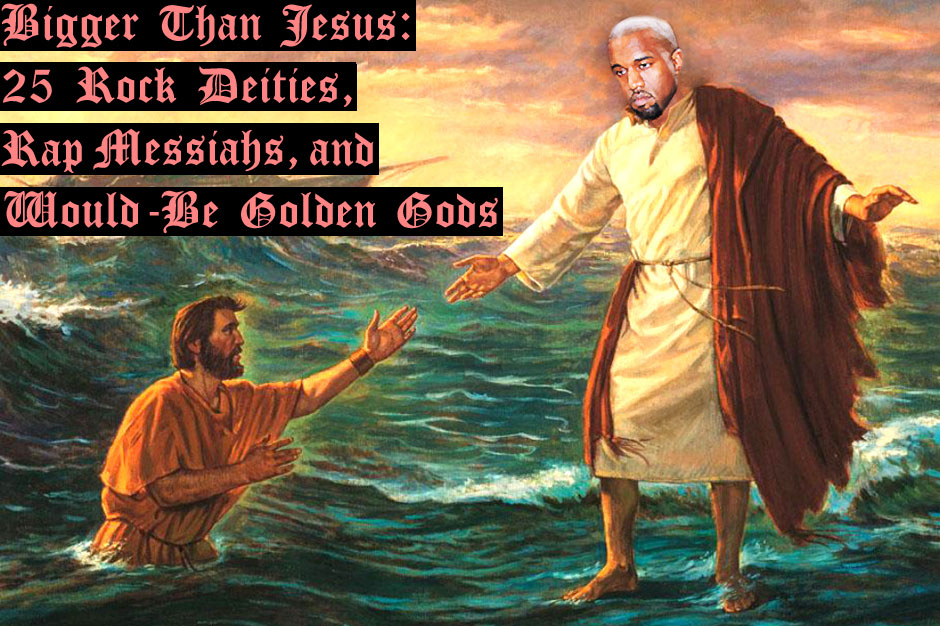 The Beatles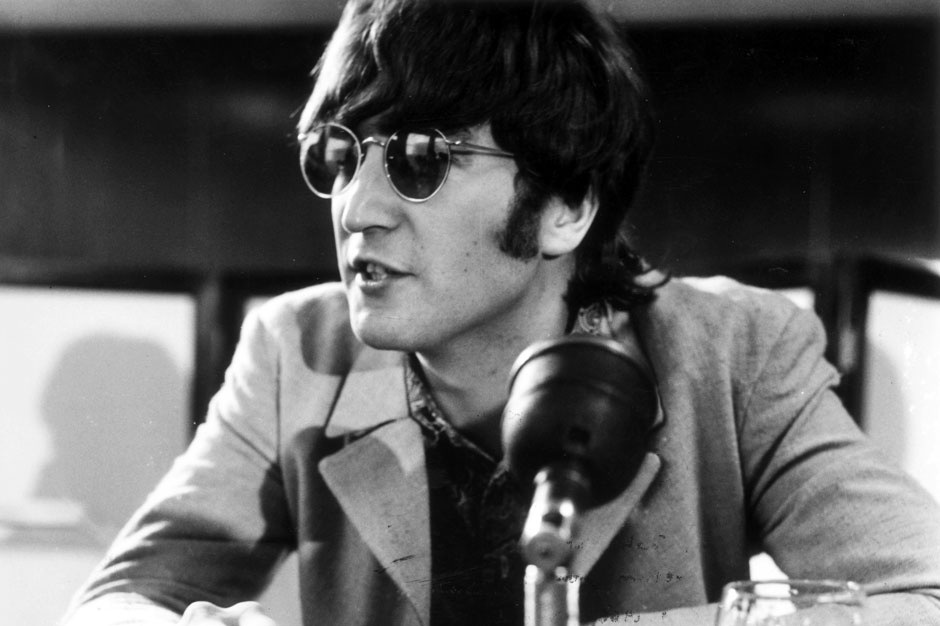 John Lennon never actually boasted that the Beatles were "bigger than Jesus," but that hardly matters: The phrase, a more reductive version of what Lennon actually said, has taken on a life of its own. It has been used for band names, song titles, the name of a theatrical play, and has been riffed on by Mystery Science Theater 3000, The Onion, and the web comic Bigger Than Cheeses. Simpsons fans will remember it as the title of the Be Sharps' second album.
The quote (or at least the sentiment behind it) originated in a 1966 interview between Lennon and the London Evening Standard's Maureen Cleave, a close confidante of the group's members. The 25-year-old Lennon mused, philosophically, "Christianity will go. It will vanish and shrink. I needn't argue about that; I'm right and I will be proved right. We're more popular than Jesus now; I don't know which will go first — rock'n'roll or Christianity. Jesus was all right, but his disciples were thick and ordinary. It's them twisting it that ruins it for me."
Ironically, it was Lennon's own words that were twisted — not immediately, but five months later, when his comment was republished in the American teen magazine Datebook's cover story, "The Ten Adults You Dig/Hate the Most." Outraged Christian fundamentalists boycotted the group, and the Ku Klux Klan burned Beatles records in public bonfires. Of course, if you're pissing off the Klan, you must be doing something right. Even the Vatican eventually absolved Lennon in a 2008 article in L'Osservatore Romano. PHILIP SHERBURNE
Eric Clapton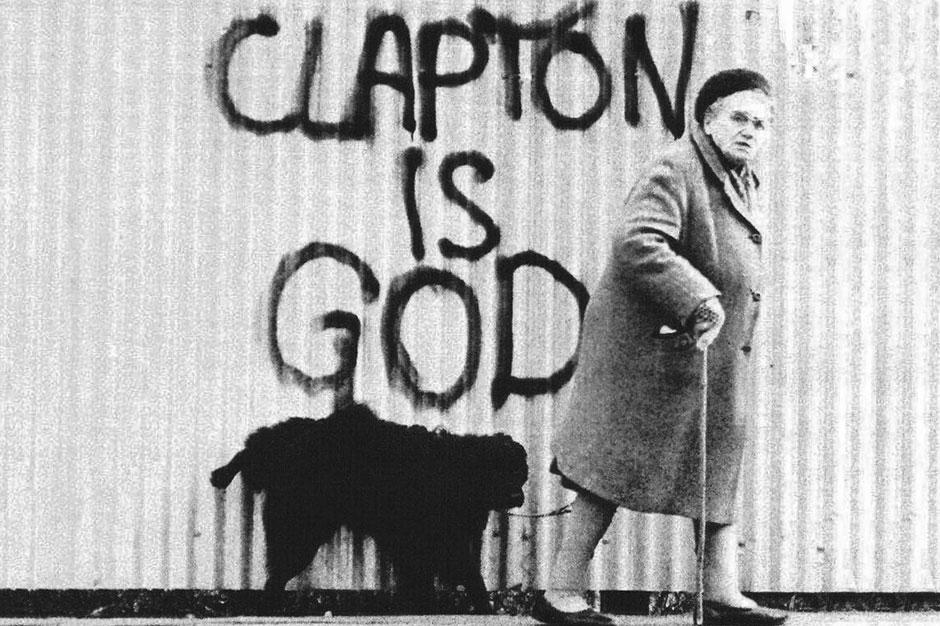 Our earliest example of a rock star being raised to godhood, this instance has also been fairly overblown. The story goes that in the mid-'60s, the graffiti "Clapton Is God" started appearing scrawled on London walls — such was the esteem in which Clapton, then handling lead guitar duties for John Mayall's Bluesbreakers, was held. (As you can see above, there is some photographic evidence of the tag.)
Though Clapton surely heard fans at his concerts yelling the then-common refrain, "Give God a solo," he himself never set eyes upon the alleged praise. "Did I ever see ['Clapton is God'] on walls?" he asked years later. "No. Never…It was all blown out of proportion. I could never really understand what all the fuss was about and I didn't really take it to heart."
That's not to say he didn't enjoy being worshipped as the original guitar god. In his 2007 memoir, Clapton, Slowhand admitted, "In truth, I felt grateful about [the graffiti] because it gave me status, and, even better, it was the kind of status nobody could tamper with." That is to say, it was the kind of status that causes someone to call his first post-Mayall group Cream — as in, "of the crop." DAVID MARCHESE
Kanye West "I Am God"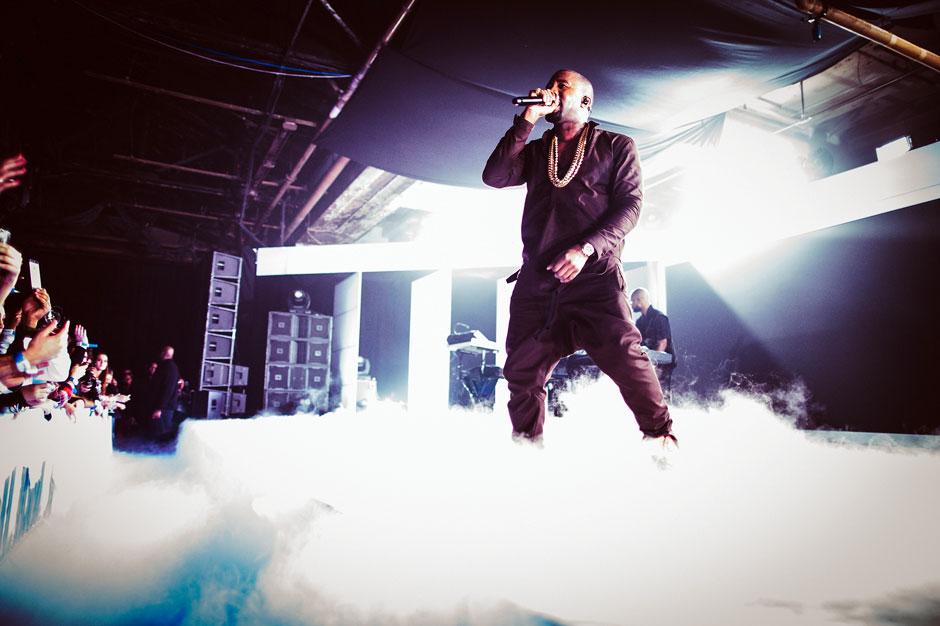 There may be no church in the wild, but leave it to Kanye to bring the wild to the church. The megalomaniacal rapper caused a stir back in March when BBC News Magazine suggested that he was contemplating I Am God as a title for his upcoming album, leading some to wonder if his fantasies weren't getting a little bit too dark and twisted. Despite a stray tweet from ?uestlove suggesting otherwise, the Huffington Post later reported that the correct title was "I Am a God" and referred only to a single. "We would never be so presumptuous or sacrilegious to call ourselves the supreme being," assured someone identified as "a reliable source in West's camp." (HuffPo notes that the title could be a reference to Psalm 82, but that first-person plural sounds more like Mark 5:9: "My name is Legion, for we are many." Which, come to think of it, sounds like a pretty good description of Yeezy's own headspace.)
The latest update to the Book of West came earlier this week at the Met's punk-themed gala when Ye took the stage — looking very Game of Thrones in a leather skirt and sparkly Givenchy top — to perform "I Am a God." A-Trak caught video of Yeezy exclaiming the titular phrase and looped it in a dizzying Vine clip. Watching him sigh and flail his way through the aforementioned, we're reminded once again of Groundhog Day and Bill Murray's exhausted conclusion, "I'm a god. I'm not the God." And maybe it's just something about the shaky quality of the video, but far from being boastful, Kanye's savage-yet-weary shout actually seems unusually human. Maybe the Louis Vuitton Don is ready to slip on sandals and walk amongst mere mortals after all. P.S.
Will.i.am
Will.i.am has taken some flak for borrowing other producers' beats for his recent album, #willpower. Perhaps, it's just that his one-off stint playing the Creator of All Things had him confused about what he did and did not actually create. (After all, copyright doesn't apply to the Almighty.) In 2005, the Black Eyed Pea had a bit part playing God on Joan of Arcadia, CBS' Emmy-nominated series about a suburban teenager (played by Amber Tamblyn) who encounters God in a variety of human incarnations — newscaster, cashier, balloon sculptor, gay male secretary, et al. Appearing as a dreadlocked three-card Monte dealer, Will.i.am teaches Joan a lesson about free will while schooling her in a card shark's favorite tactic, misdirection — a trick that the critically reviled, but enormously successful, pop star knows a thing or two about. P.S.
Charles Manson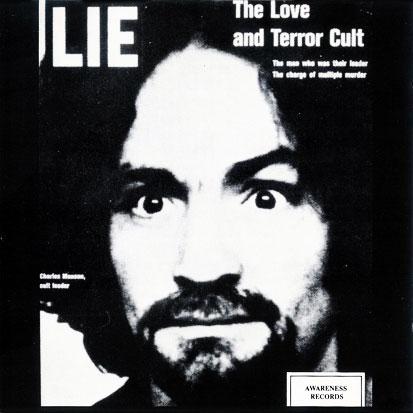 Not as much of a stretch as it might seem: Before he was revealed to be a murderously delusional psychopath, Charles Manson was a songwriter scuffling around the edges of the late-'60s Los Angeles music scene, counting Beach Boy Dennis Wilson and Byrds producer Terry Melcher among his acquaintances. Indeed, when Manson wasn't busy in the desert kissing his LSD-dazed followers' feet and having them strap him to a cross, he was writing songs promising listeners that "submission is a gift" and referring to himself as "father." One such song, "Never Learn Not to Love," even ended up as the B-side on a 1968 Beach Boys single. D.M.
Alanis Morissette
Though her casting wasn't quite as plausible as it would have been during her ubiquitous, all-powerful 1995-96 superstar prime, the Canadian star still had enough cultural juice for Kevin Smith to ask her to play God in his irreverent 1999 film Dogma. (The singer also contributed the empathetically Christ-like "Still" to the soundtrack, wherein she absolves humanity of a litany of sins.) Asked how she prepared for the role, Morissette told an interviewer, "Kevin and I both believe that God is us. So there's really no preparation needed."
Regardless of how little she may have had to flex her acting chops, Morissette did a good enough job that Smith asked her to briefly reprise her God-spot for 2001's Jay and Silent Bob Strike Back. D.M.
Ol' Dirty Bastard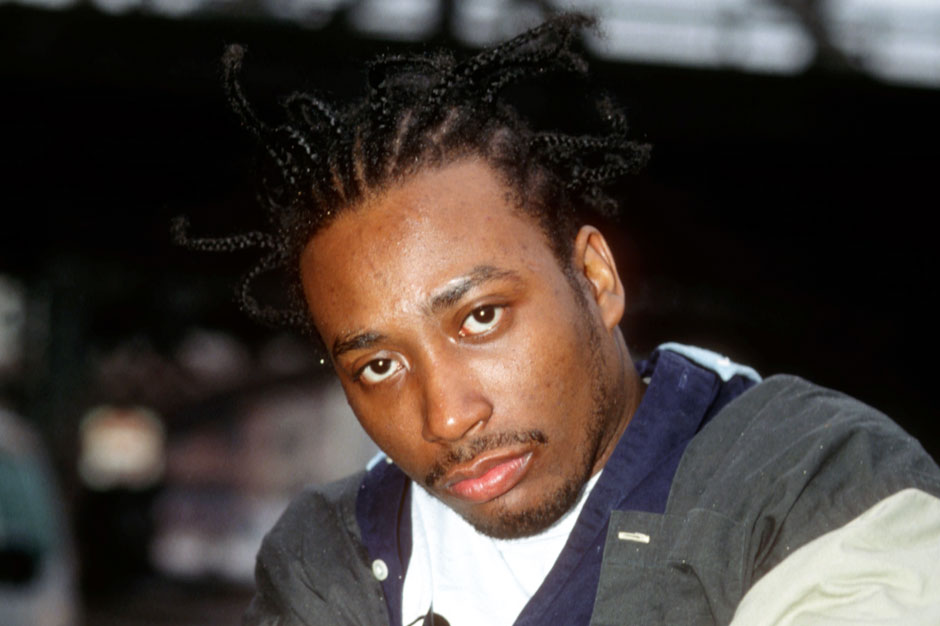 In April of 1998, on Vibe's short-lived, late-night TV show, Wu-Tang's Ol' Dirty Bastard announced that he was to be called "Big Baby Jesus" from here on out. He sincerely implored the audience, "Don't kill me, because you know you all love me." A year later, on the cover of his album Nigga Please, Dirty appeared in a white jumpsuit, bearded, long haired — a hot-mess conflation of Rick James swagger and Christ-like poise. Here was Big Baby Jesus in the flesh. And he even had a theme song with the track "I Can't Wait," in which ODB, or rather BBJ, screams "Big Baby Jesus, I can't wait" over a frantic version of the theme from T.J. Hooker. But why?
In her 2009 book Digging in the Dirty: The Life and Death of ODB, author Jamie Lowe praised Dirty's decision without appending too much meaning to it: "The Big Baby Jesus phase is one of the most popular reinventions in American pop culture. Funny, outrageous, provocating, ODB as Big Baby Jesus is perfect. Is it explainable? Probably not." Soberly, Lowe also considers the change as an example of the increasingly troubled performer "distancing himself from himself." In retrospect, the late rapper did seem to sacrifice his real-life Russell Jones identity to be the fly in the ointment of mainstream hip-hop acceptability. His frantic publicity stunts appeared at the very moment when the genre was about to go global and would, soon enough, push ODB types off to the side for good. BRANDON SODERBERG

The Game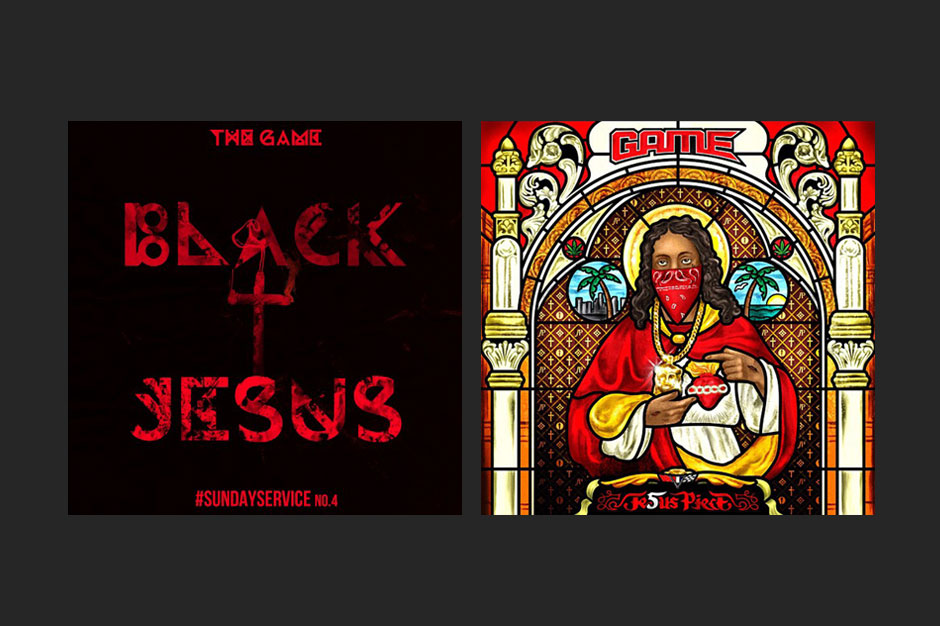 Game is always trying to find new ways to outdo his own ridiculousness, but he may have set an unreachable bar with the deluxe edition cover of his December 2012 album Jesus Piece. It's hard to parse the muddled symbolism, but the illustration shows a decidedly dark-skinned Jesus standing in front of a stained-glass backdrop pointing at a medallion bearing the image of…another Jesus? Who knows exactly what is going on, but it's definitely heinous.
Even more troubling, though, is "Black Jesus," a leak from his #SundayService free MP3 series. The track hangs on a hook from Dre — of the production duo Cool & Dre — who sings, "I'm the young black Jesus / Yeah, the young black Jesus." Lest you think Game was too respectful to make a similar boast, he opened his first verse similarly: "Yes sir, I'm the young black Jesus / Walking on water in them young black Yeezys." Ugh. JORDAN SARGENT
Lil B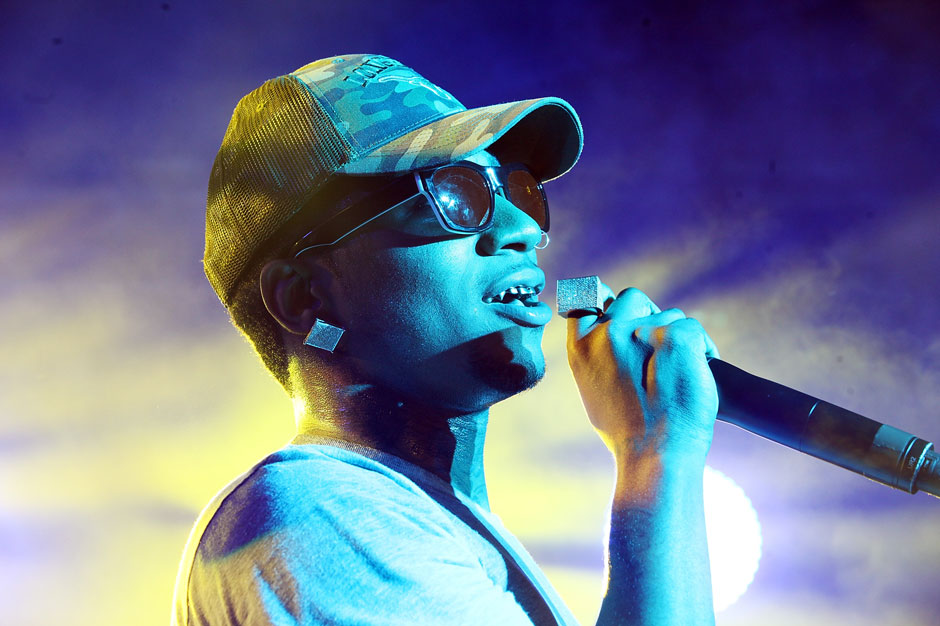 Before 2009, Brandon McCartney was just a kid with the first verse on a novelty rap song about skate shoes. But he soon emerged across 100-plus Myspace pages and literally thousands of tracks as Lil B the Based God, the lord of a vast universe of his own creation. His breakthrough solo track happened to be called "I'm God," an ethereal song produced by Clams Casino that closes with some of the most epically metaphysical boasts in rap history: "Somebody tell the ocean I'm the best out / Somebody tell the trees I'm here now."
The followers of BasedWorld could be classified as something close to an online cult, and Lil B's output now encompasses an 848-song freestyle mixtape and at least 50 other albums, including Angels Exodus, the cover of which features a painting of Lil B's crucifixion. And don't forget BasedWorld's meme-generating magic. Take, for example, this widely spread image of Lil B-as-Jesus holding a sheep resembling Paris Hilton. Heavenly. J.S.
Nas
Hype Williams' video for Nas' 1999 single "Hate Me Now" went all-in with the persecution-complex concept, depicting the rapper and Puff Daddy being stoned as they lugged crosses across a desert before being crucified. Or at least that's what it was supposed to show. But this isn't any arcane apocrypha: After the video was shot and edited, Diddy decided that he didn't want his crucifixion scene to be included in the final version and demanded that it be cut. Though the most widely seen version of the clip only has Nas getting brutalized, a cut of the video showing Diddy being nailed to a cross was broadcast on MTV. As a result, Puff allegedly stormed into the office of Nas' manager Steve Stoute and smashed a champagne bottle on his head.
Perhaps Nas learned something from his video costar's ego outburst. He titled his 2002 album God's Son. On that album's closing track, "The G.O.D.," he rapped, "Nas / God's Son / And y'all my little children." J.S.
God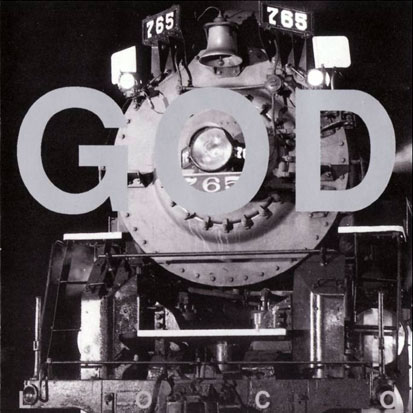 Between them, the British noise musicians and bass mavens Kevin Martin and Justin K. Broadrick have racked up an impressive string of incredibly daunting band names: Godflesh, Atrocity Exhibition, the Sidewinder, the Smear Campaign, Blood of Heroes, Techno Animal, the Curse of the Golden Vampire, and Ice, among them. Broadrick, in particular, has a thing for punishing pith, with solo aliases including Crusade, Krackhead, Cylon, and Final. But nothing was more final than God, their freeform jazz-metal outfit that brought together a wide-ranging cast of players — John Zorn, AMM's Eddie Prévost, double-bassist John Edwards, Henry Cow's Tim Hodgkinson, A.R. Kane's Russell Smith, Cindytalk's Gary Jeff — to create an unholy din out of industrial-grade skronk and dubbed-to-death grindcore, subtle as a migraine (or a seizure). More than a rhetorical flourish or an arrogant "fuck you" to authority, though, the name "God" summed up the totalizing nature of their sky-shredding, eardrum-rending sound, which exploded funk with the power of a supernova — a dance party for the End Times. P.S.
Prince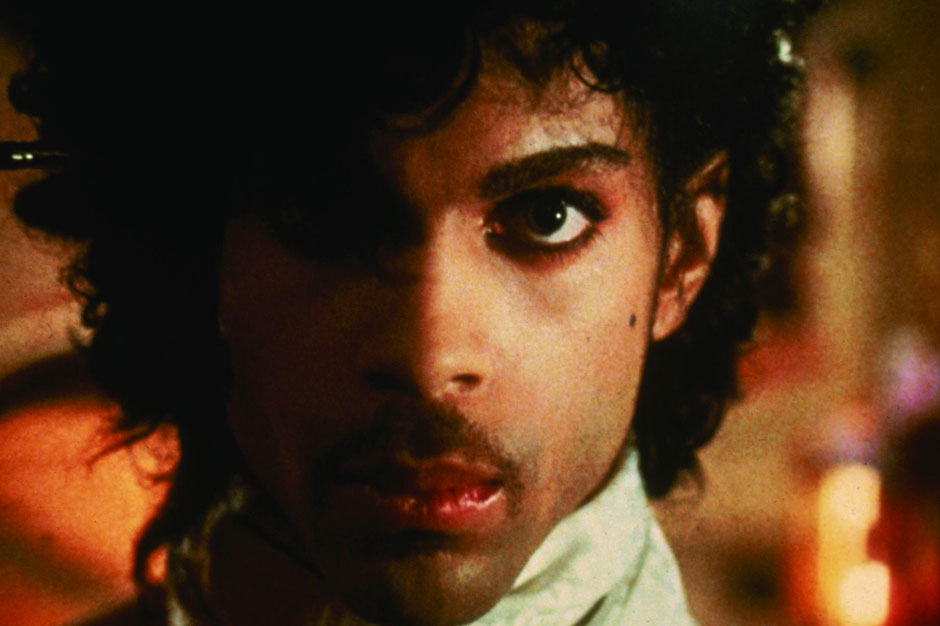 Now reportedly a devout Jehovah's Witness, Prince shies away from anything as outré as, say, swear words, but back in his scandalous heyday he wasn't shy about suggesting that he and the big guy in the sky were one and the same. On 1981's "Controversy," he teasingly asked, "Do I believe in God? / Do I believe in me?" By 1984's Purple Rain, an album that starts with a sermon, he was singing a slightly different tune. "No need to worry / No need to cry," he intoned on "I Would Die 4 U," "I'm your messiah and you're the reason why." Truly, martyrdom at its most funky.
The exalted monkey business ultimately didn't sit well with his Purple Majesty. By 1985's Around the World In a Day, any hints of holy conflation were gone, replaced by the self-lacerating "Temptation" and praise-worthy "The Ladder." It should be noted, though, that the icon he adopted as his name for a spell in the mid-'90s was not only a blending of the symbols for male and female, it was also a kind of cross. (Hey, better that than if he'd called himself Jesus Christina or something.) D.M.
Chris Brown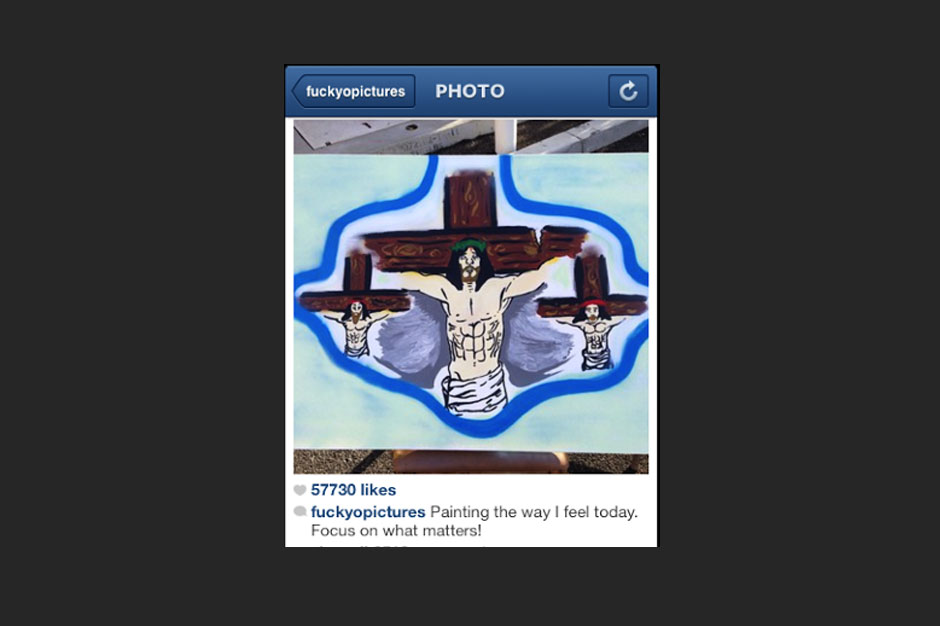 Chris Brown has a lot of haters. So did Jesus Christ. That's pretty much the only thing the two have in common. Well, not if you ask Brown. Maybe no moment in his ongoing campaign of blinding self-pity was as ridiculous as when he compared himself to Christ after getting into a scrap with Frank Ocean in a Los Angeles recording studio parking lot in January 2013. A day after news of the fight broke, Brown uploaded a photo to Instagram (see above) of a painting he did of Jesus on the cross. The caption: "Painting the way I feel today." They're called the Beatitudes, Chris. Check 'em out. J.S.
The Gallagher Brothers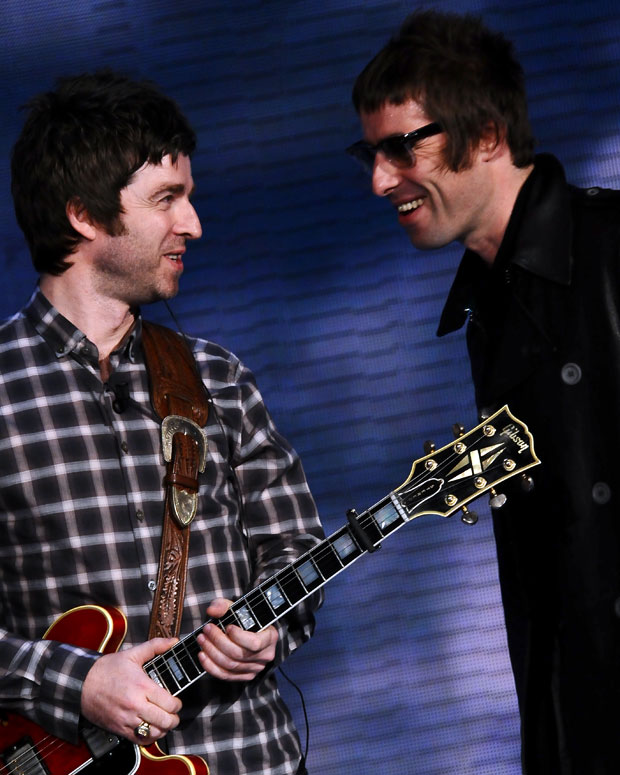 Quipping that Oasis was "taller than Jesus Christ," as Noel Gallagher did in a 1996 interview, was hardly the most sacrilegious thing that either of the notoriously flippant brothers ever said. Neither was telling NME, in 2012, "I accept that I am now a genius, just like God." (In fairness, it was the magazine that had declared him a "Godlike Genius.") Venturing to The Sun that Saint Peter would admit him to heaven for the price of a song wasn't it either. Nor even was it Liam's 2008 boast, "If I wasn't a musician I don't know, I'd be God, maybe? That would be a good job. That's the next highest honor. Being in Oasis, then being fucking God! Top!"
No, the most sacrilegious thing ever to come out of the Gallagher brothers' mouths would be Noel's 1996 claim to be the second coming of Johnny Rotten and Sid Vicious: "We're the only ones doing direct rock'n'roll since the Sex Pistols." In their defense, however, a 1996 Music Week poll declared that Oasis had trumped the Beatles as music fans' favorite band. The group then issued a statement, saying, "Are [Oasis] bigger than the Beatles? That's blasphemy!" Saint Peter might let them off the hook yet. P.S.
Billie Joe Armstrong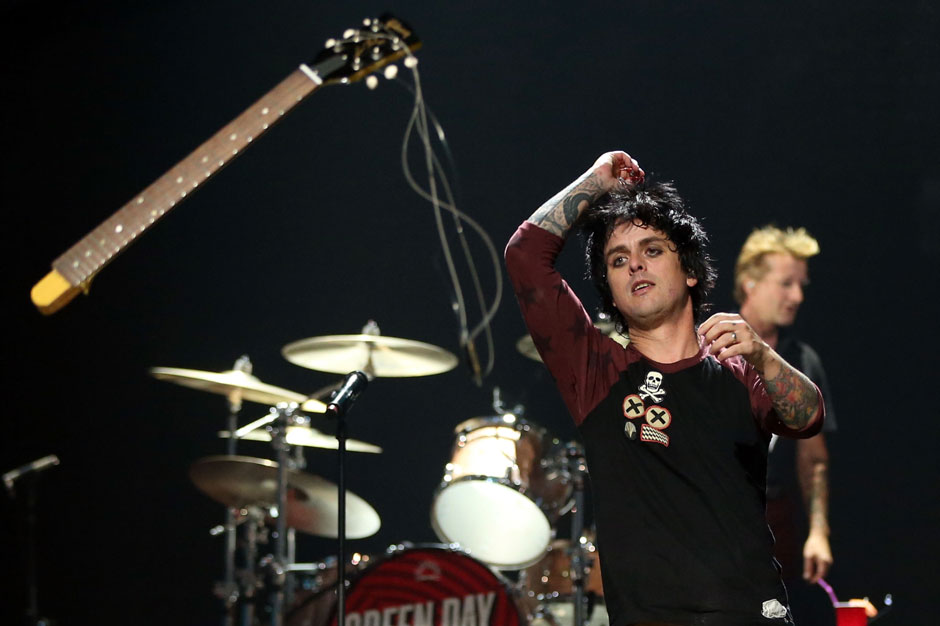 Granted, when Billie Joe Armstrong adopted the "Jesus of Suburbia" persona it was within the context of Green Day's American Idiot rock opera, but the truth-seeking messiah figure didn't arrive ex nihilo. "I think I'm digging up a lot of stuff in my psyche, like the whole 'Jesus of Suburbia' thing,' which isn't necessarily about me, but I feel like I had to go through a similar experience to be able to write from that standpoint," Armstrong cryptically told a biographer.
Tellingly, the frontman had been building toward playing the part for some time. Speaking about the lingering guilt he felt over possibly betraying his youthful punk ideals for stardom, Armstrong revealed in an interview earlier this year how he came to embrace his destiny as a fisher of pop-punk fans. "They wanted to have a good time, and it's okay to be a ringleader," Armstrong said. "All of that built up to American Idiot. It took me until I was 32 years old to actually speak for myself and do it with confidence." Good thing he got there. As he surely knows, sometimes 33 is too late. D.M.
Madonna
Like any good Catholic, Madonna Louise Ciccone understands the power of putting on a serious production. The infamous music video for 1989's "Like a Prayer" showed her with self-induced stigmata, dancing before burning crosses. How could she top that? By getting up on the cross, of course. For her 2006 Confessions tour, Madge performed "Live to Tell" suspended on a mirrored cross wearing a crown of thorns. Speaking for Pope Benedict XVI, Cardinal Ersilio Tonino said of the stunt, which NBC later edited out of a televised Madonna concert special, "This time the limits have really been pushed too far."
Ever humble, Madonna eventually released a statement explaining her actions: "My performance is neither anti-Christian, sacrilegious, or blasphemous. Rather, it is my plea to the audience to encourage mankind to help one another and to see the world as a unified whole. I believe in my heart that if Jesus were alive today he would be doing the same thing." Which as far WWJD-style thinking goes, is pretty ballsy. D.M.
Kid Rock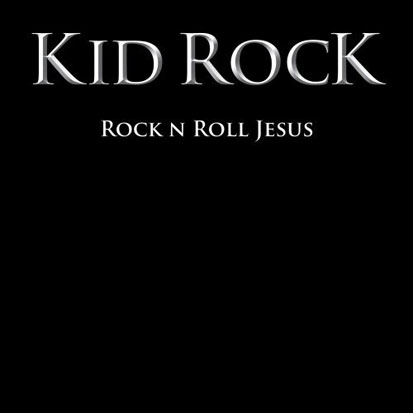 Bob Ritchie has a gift for reinvention, like when he morphed himself from the upper-middle-class son of a car dealership owner to raunchy hip-hop'n'roller Kid Rock. In 1998, he stepped towards divinity with the confusing "I Am the Bullgod." ("The illegitimate son of man / The T-O-P to the D-O-G / The P-O-T to the G-O-D"—huh?)
Ritchie shot for a slightly more sanctified transformation with 2007's Rock N Roll Jesus, warning us on the title track about "false prophets" and "un-American bullshit." Fear not! Over backing singers urging him to "testify," Rock yowls, "I'm your rock'n'roll Jesus…And I'm gonna save your soul." D.M.
Marilyn Manson
Manson doled out a double-shot of controversy in the music video for 1999's "Coma White." Released in the sad wake of the tragic Columbine school shooting, for which he became an easy cultural scapegoat, the clip showed the shock rocker and his then-fiancée Rose McGowan re-enacting the Kennedy assassination, before climaxing in an image of Manson suspended from a cross. Lest anyone be confused by the self-appointed Antichrist Superstar's extremely Christ-like posturing, Manson was clear on where he stands vis-à-vis God in his memoir, The Long Hard Road Out of Hell. "I believe that my life is so important that it affects the lives of everyone else," he wrote. "I believe I am God. I believe everyone is their own God." Duly noted. D.M.
Christ.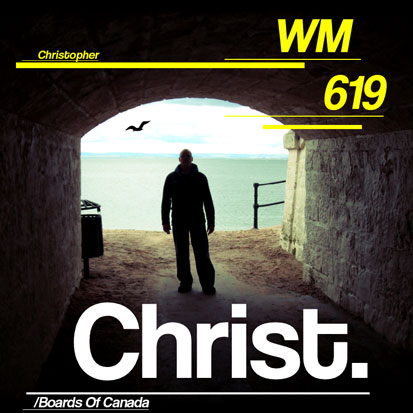 Christ., a.k.a. Christopher Horne, claims that there's no spiritual meaning behind his alias, which is simply short for his, um, Christian name. But let's be real, there's no way he's not aware of (and playing on) the fact that his alias packs an authoritative wallop, especially with that definitive punctuation mark at the end.
Consider, too, that Horne collaborated with Boards of Canada in the group's early years (he appeared on their 1995 album Twoism), so you can bet that he knows the power of a good symbol. In any case, he's in fine company: Danzig's guitarist, born John Wolfgang Knoll, goes by "John Christ," and artists named Christ have been members of California crust band Apocalypse, Quebec grindcore outfit Mesrine, and Norway punks SuperKings, among many others, while the Norwegian black metal band Ancient features a Jesus Christ! — again, the punctuation mark is part of the name. That doesn't take into consideration the scores of artists who have riffed on the name, from Luke Vibert's Wagon Christ to the refreshing-sounding Evian Christ. It's probably a good defensive strategy: As The Big Lebowski's Jesus Quintana put it, "Nobody fucks with the Jesus." P.S.
Nicki Minaj
Here's how you kick off a big-timin', Christ-comparin', shittin'-on-all-you-crumbs rap song: "They'll never thank me for opening doors / But they ain't even thank Jesus when he died on the cross." Typically, Nicki sells "Freedom"'s preposterous boast without ever looking back, leaning into her Queens dramatic actor-diva accent on "cross" so that it rhymes with "doors." And she gets a nice, if ponderous, assist from a stark Bergman-meets-Bela Tarr-esque music video, featuring Nicki, dead seriously rapping those lines to ungrateful Barbies and all her haters while sporting a crown of thorns and some curls in her Jesus-style hair. Nicki has toyed with religious transgression before, delivering an anti-homophobia performance-art piece by way of over-the-top exorcism at the 2011 Grammys, but this single from the bonus cuts-filled re-release of Pink Friday: Roman Reloaded is an even more ridiculous, sacrilegious victory lap. B.S.
Remy Ma
In 2007, Terror Squad's Remy Ma released the mixtape Shesus Khryst, complete with an outrageously photoshopped cover of Remy in only a bikini bottom, nailed to the cross. Below her, a weathered scroll read, "Y'all bitches workin on y'all albums go back to the studio immediately." In the video for the tape's intro track, inspired by the gritty imagery of Mel Gibson's Passion of the Christ, Remy rapped while tied to a cross lying in the sand. What it lacked in Hype Williams-style Puff Daddy-and-Nas "Hate Me Now" pretentious corporate sheen, it made up for in conviction and feminist-style double-standard destroying. Remy took on hip-hop's boast-happy boys club, suggesting that if "If Jay-Z is J-Hova / And Nas is God's son," then she should be able to indulge similarly lofty comparisons. "Then I came back like I never left nice," she spits, "And I'm the BX savior, Shesus Khryst." B.S.
Swamp Dogg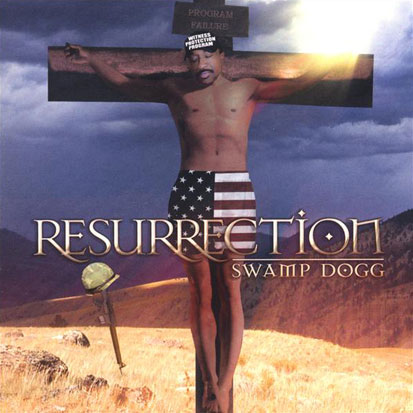 Likely the most obscure entry on our list, this prolific soul-music oddball (and recent SPIN feature subject) has made a long career out of playing the underdog. (See, among many others, his 1989 album I Called for a Rope and They Threw Me a Rock.) Sometimes that pose tipped over into a persecution complex, as on the insane album cover for 2007's Resurrection. "Jesus Christ had all these people around him that supposedly had his back and one or two of them got together for a few pieces of silver and had his ass nailed to a cross," said Swamp when we asked him about the cover. "You can't trust nobody." D.M.
Jay-Z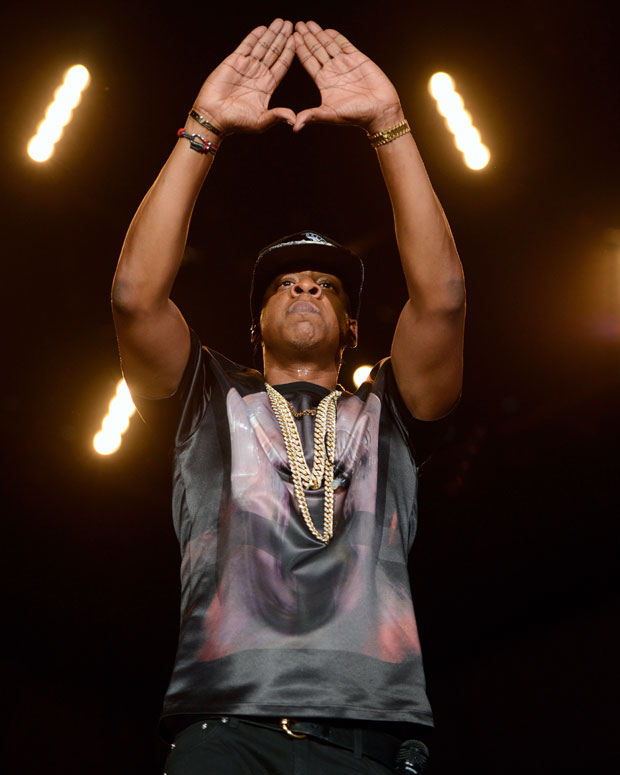 Rakim was the first rapper to call himself the God MC, but it's Jay-Z whose career is most entwined with self-deification. Of all Jay's nicknames, Hov (short for Hova, itself short for Jay-Hova) is the one that's proved stickiest, thanks in no small part to The Blueprint's "Izzo (H.O.V.A.)," wherein he builds one of his most memorable hooks from that simple Jehovah pun. Elsewhere on the same album's "The Takeover," he reiterates, "God MC / Me / Jay-Hova." And with "Hola Hovito," also from the The Blueprint, he nodded toward the all-important Spanish-speaking demographic. Say something enough, and it starts to sound true. J.S.
Rakim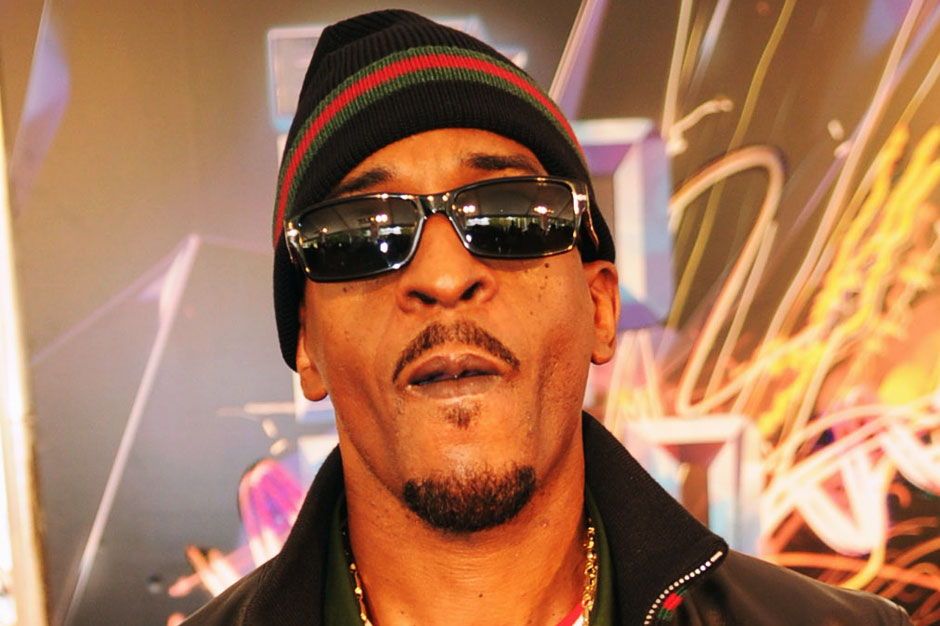 Lovingly dubbed "the God MC," William Michael Griffin Jr. turned Rakim Allah was the overlord of lyricism, penning impossibly tight raps so confidently terse that they could be voiced in a swaggering monotone and still send chills down aspiring rappers' spines. And though the "God MC" tag was hip-hop simply paying homage to one of its legends, it was also inspired by Rakim's involvement with the Nation of Gods and Earth or the Five Percent Nation sect of the Nation of Islam, who believe themselves to be Gods, with a focus on a hard-earned quest for understanding, and bringing light into the world. This sense of searching and world-decoding inspired Rakim's concise, aphoristic writing style and solidified knowledge-dropping transcendence as a prerequisite for being a first-tier MC. The influence of the Five Percent Nation weighed heavily on New York hip-hop in the '80s and '90s. The concept that men are "Gods" (inspiring phrases like "Peace, God," which peppered Golden Era hip-hop albums) and women are "earths" (inspiring plenty of for-the-ladies odes) was key to the mythos of groups like Brand Nubian, Poor Righteous Teachers, and the Wu-Tang Clan. B.S.
Tupac Shakur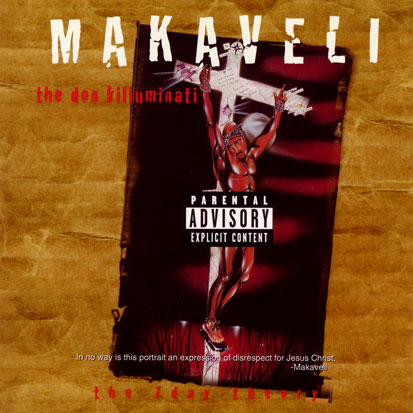 Released just eight weeks after Tupac Shakur was gunned down in Las Vegas in 1996, The Don Killuminati: The 7 Day Theory album, credited to "Makaveli" rather than Shakur himself, features a painted cover of Tupac on the cross, his mid-section covered by a "Parental Advisory Explicit Lyrics" banner. The album fanned the flames of speculation that Tupac was not actually dead, and was actually in hiding. Really though, the references to Christ and his persecution were acknowledgements of a shift in Tupac's attitude: He felt attacked by the media and embroiled in hopeless rap beef, believing he was fundamentally misunderstood and not long for this world.
In the book Rebel for the Hell of It, the most tangential and bizarre Tupac book around, author Armond White explains that the Makaveli persona was developed "to justify [Tupac's] bad rep" and found the late rapper "act[ing] instinctively on the confusions of double consciousness and the anxieties of modern wickedness." Harrowing tracks like "Hail Mary" and "Blasphemy," on which Pac connected God to other authority figures who are not to be trusted ("Is God just another cop / Waiting to beat my ass if I don't go pop?") speak to the album's overwhelming crisis of faith. B.S.