A handful of news organizations have come together to formally oppose Beyoncé's ban of press photography on her current "Mrs. Carter Show" world tour. The protest came in the form of a letter to Queen Bey's publicity firm from Mickey H. Osterreicher, general counsel for the National Press Photographers Association, co-signed by 19 separate groups advising that "removing the ban will help, not harm, your client's image in the long run."
Among those represented are the Associated Press Media Editors Association, the Radio Television Digital News Association, the Society of Professional Journalists, and the American Society of Media Photographers, Poynter reports. We also imagine that Garbage's truth-talking frontwoman Shirley Manson would partake had she been invited. After all, she espoused the "blow me" approach in managing such scenarios.
"Ending the ban is more likely to result in publication of fair, objective and mutually beneficial photographs that serve your interests and ours," the letter reads. "We believe such action would be seen as a good-faith effort on behalf of your client to support a free and independent press." Because that's kind of like a big deal out here in the world. And everyone's taking shitty smartphone shots anyhow.
Of course, this all started when Beyoncé's people requested Buzzfeed unpublish "unflattering" photos of the pop star during her Super Bowl performance. Those original photos were purportedly chosen for their "fierceness," not because they made her look bad, but the take-down notice was akin to shoving one's hand into a beehive with a request to "stop with all the stinging already."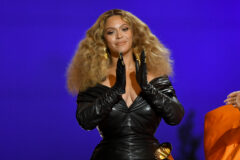 In related news, Beyoncé has canceled her concert in Belgium tonight (May 14) due to doctor's orders, fueling speculation that she may be pregnant with her and Jay-Z's second child. The official reason, according to the Associated Press, was a combination of dehydration and exhaustion.