RuPaul Runs the World
On the 20th Anniversary of "Supermodel (You Better Work)," the towering Queen of All Media is both revered and more relevant than ever, presiding over a compulsively watchable drag race to fabulousness. JULIANNE ESCOBEDO SHEPHERD laughs and cries with the inspiring performer behind the empire.
Ru's roots have always been in punk rock, and as his star grew in ATL, he began writing "books" — essentially fanzines — with names like Freak Sex and New York Is a Big Fat Greasy Ho. It was inside New York's greasy ho-ness that RuPaul really took off, first as a go-go dancer working at the East Village drag-punk bar the Pyramid, and later as Starrbooty, a recording artist and b-movie persona that solidified his "black hooker" era of drag. One moment stands out from the New Music Seminar — a precursor to CMJ and SXSW — in which he took over the lobby of the Marriott Marquis in Times Square "wearing shoulder pads, a G-string, some sort of Mad Max androgynous whatever," he says, laughing. That was in 1986, and it was the first time he'd met Randy Barbato, the man who would become his manager and lifelong friend. "He looked at me," says Ru, "and I could see in his eyes all the dreams I'd thought of for myself, he was reflecting back at me. And I thought, you see what I see, don't you? He didn't even have to say anything, he could see it. And here we are, all these years later."
World of Wonder, Barbato's production company with partner Fenton Bailey, has been with RuPaul for more than 20 years, and they are producers of Drag Race. The WOW office sits on Hollywood Boulevard, among the tourists and sidewalk stars, just up the block from Grauman's Chinese Theatre and the Dolby, where the Oscars were held just a few days before. It occupies an art deco building whose lobby is musty with the crumbling glamour of old Hollywood, but possessing a history as rich and storied as the inhabitants who call it their hub. A storefront served as the WOW Gallery in the late 2000s, where WOW employee/former club-kid James St. James staged shows with themes like "Dial M for Madonna" and, presciently, "Bettie Page: Heaven Bound" — it currently houses a Bettie Page chain store hawking '50s va-va-voom dresses. In the late '70s, the space that is now WOW's basement was the site of storied Los Angeles punk club the Masque, home to seminal bands like the Germs and X — the graffiti remains intact, and among the scrawls is a giant hot-pink declaration that "Go-Go's Rule," spraypainted after the group got their Hollywood star in front of the building.
These days, the basement resembles a vandalized flea market: aisles of dusty tapes from WOW's archives, haphazardly placed paintings of RuPaul, and a small, unceremonious green-screen studio where Ru records Drag Race: Untucked, the show's half-hour, behind-the-scenes look at each week's contestant drama. "RuPaul," says Barbato, "has always been punk rock. When I met Ru he was wheat-pasting posters of himself on the streets! He's the most glamorous-looking punk rocker there's ever been! It's always been the core of what he is."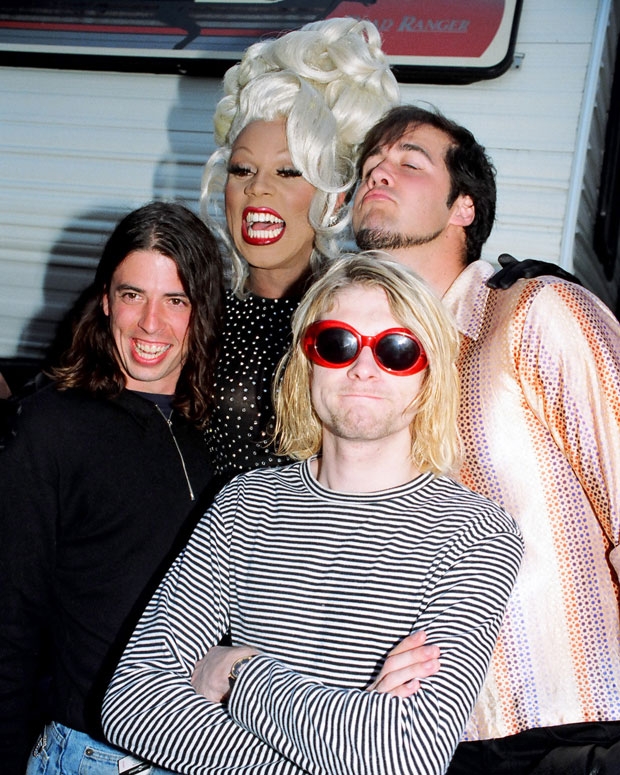 RuPaul is sitting in a World of Wonder conference room in another perfect suit, at the head of a table beneath a painting of the word "YES." He's regaling a handful of WOW employees with tales of his hero, Judge Judy. "She says, how much did that cost you?" — Ru cups his hands to his mouth — "'Uhhzero. Dollars.' Just like that, 'Uhhzero. Dollars.'" Then Ru laughs the infamous laugh — guttural, pervasive, sometimes cackly, and very contagious. It's so wonderful, and so indicative of RuPaul's zippy spirit, that two versions of the laugh function as the intro and outro sound effects everytime Drag Race cuts to and from commercial. Whoever thought that up was brilliant: It's a laugh of such joyous quality that you want to put it on a loop, just to make you happy. And it punctuates every third sentence, part of Ru's magnetism.
"The ideas for Drag Race came from my experience in the business," says Ru. "All the challenges came from everything I've done, which is radio, producing myself, marketing myself, dissecting what it is that could take me from below 14th Street to mainstream Betty-and-Joe Beercan. And we also wanted to celebrate drag as an art form, which during the post-9/11 era had really gone back underground. When a culture is engulfed in this hostile fear, gender identity issues really have to go underground because people don't have time for it and it fuels their fear. But everything is cyclical and I could sense that it was time again. So, celebrating drag. Also with my own legacy, to bring these young kids through me to build a platform for them to become stars. Because truth, I was the only bitch in the game for 20 years at this level. So now, my girls rule the world! Apparently all the girls round the country hate my girls because the only way to get a booking is if you're alumni from RuPaul's Drag Race! Hahaha!"
Drag Race's format blends and spoofs similar competition reality shows — mostly America's Next Top Model and American Idol — and depicts the competing drag queens in their element, making costumes, jokes, and lip-syncing. "It wasn't like we wanted to use a template," says RuPaul, sipping his coffee. "Inherent in drag is that we're making fun of everything, we're winking left and right at everything. Obviously the template for a reality show is pretty much set, so there are similarities, but we have more license to have fun."
Season five of Drag Race is particularly rooted in Ru's personal history. Along with the "RuPaul Roast," there was an episode themed "No RuPaulogies," in which the queens were tasked with re-enacting Ru's life story in a Black Swan-meets-Mahogany style performance, effectively schooling audiences on the high points of Ru's life prior to "Supermodel." In a quasi-ballet format, the queens depicted Ru's young obsession with Diana Ross; the early-twenties period when she and her friend, legendary drag performer Lady Bunny, became "the toast of the town — well, at least the Lower East Side" — and pre-fame Ru, when she "hit rock bottom" thanks to drug and alcohol abuse, and had "two choices: to die, or to die trying." If the show seems particularly reflective now, it might be because Ru has reached the time in his life where he recognizes the enormity of what he's overcome and what he has accomplished.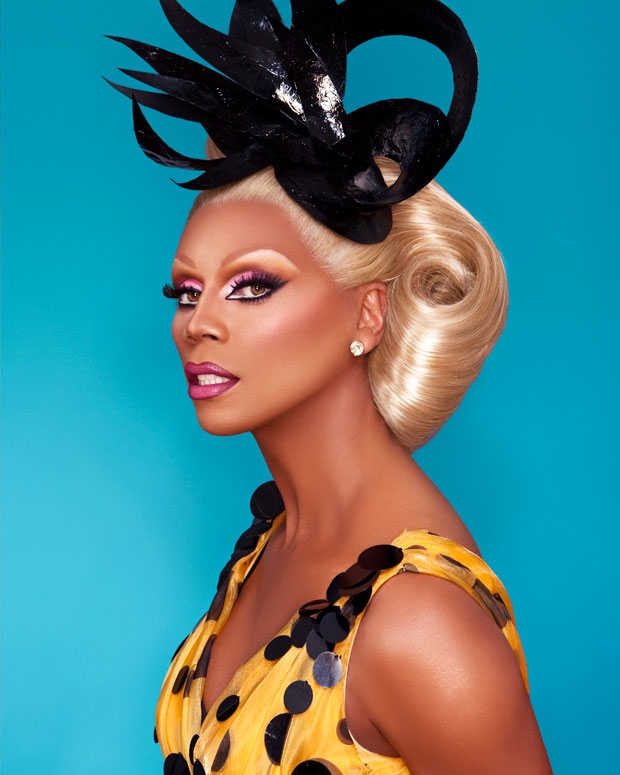 Also, drag is having its biggest resurgence since the 1990s. RuPaul has been held up as the poster girl for drag queens, certainly because he's hardworking, personable, and gorgeous, effortlessly displaying the magnetism needed for any modicum of star quality. But in 1999, he took a five-year reprieve from public life after recognizing that the tide was turning — moving his New York home base to West Hollywood, though he still keeps an apartment in Manhattan's West Village. Now, he can fully appreciate how it's swung back.
"Our culture had to ease up on the hostility on the gender issues," says Ru. "Obviously, I made it through the '90s at first, when Clinton got into office. But towards the late '90s, there was a feeling of hostility, especially after '98. I went on Hollywood Squares in 1999 and I could tell that the audience, even some of the stars on the panel, there was a certain animosity towards me and what I was doing. At that point, I was so exhausted from not just explaining myself, but trying to explain drag and reminding people I am an entertainer, I am not a fucking ambassador to keep reminding you what the difference between a transvestite and a transsexual is…Barbara Walters would interview me, and she knows the answer, but she'd always ask because she thinks she's doing a service to the people at home who don't know. Well, fuck those people at home who don't know! There's nothing you can do that will bring them up to speed, so stop kowtowing to them. Actually, it's their choice, really. We want to make programs for smart people. Don't lower yourself for fuckin' idiots."
The present season of Drag Race has proven, more than any other, how important the show is to the universe of LGBTQ-and-allies. Tears have abounded: In episode seven, "RuPaul Roast," the Orlando-based pageant queen Roxxxy Andrews broke down, detailing being abandoned at a bus stop by his mother at the age of four. (Tragically, the night that episode aired, Andrews' mentor and drag mother, Erica Andrews, passed away from a lung infection.) And in episode three, Monica Beverly Hillz admitted that she was not just a drag queen, but also a transgender woman. It was a first for network TV, and an important moment, as trans* people are often still met with hate and fear even by some cisgender gays. But as Monica looked at Ru with fear and trepidation, Ru responded with a stare of intense love and said, "I invited you here because you were fierce. You deserve to be here, and that's why you're here. You have to believe in yourself. The only person who does not believe in you is you. Stay strong, Monica Beverly Hillz."
Over breakfast, RuPaul says that Monica's admission was a complete surprise, and that no one on set knew that she was a woman until she a said so. "That type of self-realization in front of the camera in front of millions of people around the world is the struggle that every human alive goes through. That self-declaration is the human plight," says Ru, in a steadfast tone. "It not only shows the tenacity of the human spirit, it shows the vulnerability of it. It's the common thread that we all want to be recognized for who we are, we all want to be loved, and we all want to be accepted. Even the toughest, most courageous queen who's fought the biggest battles, in their own family, in the neighborhood, with mother and father, to get on that show and say to the world, 'Here I am. And I'm gonna be proud of who I am, I'm not gonna apologize for who I am.' That's why our show is so much more than men in pussycat wigs and cha-cha heels. That's what people connect with."