De La Soul "Get Away (feat. the Spirit of the Wu)"
De La Soul's brand new, totally oldhead track, "Get Away," samples the Wu Tang Forever skit "Intro" (the imminently quotable one that kicks off disc two and hypes up "Triumph") and proceeds to tell listeners what they are already know: Hip-hop sucks right now. At least, that's what you already know if you're checking for a new De La track in 2013, right? There is of course, some knotty levels of history to this song that keep it interesting: On Forever, when the RZA and GZA spoke out against "rap & bullshit," they were referencing the term De La had founded back in 1991, on De La Soul is Dead, so this is a nice nod back, more than 20 years later. And as the song fades out, you also hear the all-too-familiar death-siren screeches of ESG's "UFO." Look, man, this doesn't compare to the mindblowing, zooted raps of Buhloone Mindstate (and it's barely the worker-bee spitting of The Grind Date), but those pounding-on-the-table drums turn it into a declaration of De La's refusal to change, and that's admirable. Upon hearing this one, dads everywhere will throw junior's iPod housing Tyga's Hotel California across the room and force a history a lesson on their rap-clueless spawn. That's something, right?
Future "Hands On U"
OMG OMG OMG, have Ciara and Future turned the entire rap industry into a portal for them to sexily subtweet one another in songform? What the hell is going on? Too bad no one in the real media cares about rap music in a, like, People-style way because this is just so freakin' adorable, I'm about to jump out the window. First, there was "Body Party," which Future co-wrote and now there's the sort of response track, "Hands On U" which just keeps the "You can keep your hands on me/ Touch me right there, rock my body/ I can't keep my hands off you" vibes going. Also, Future's got a greeting card-like ability to pen lines that are corny yet earnest: "You're not my homie, you're my friend"; and he even gets loosely dead prez "Mind Sex"-like with, "When the party over, we can wine and dine / We can expand your mind / We can talk about it, we can talk it over / I wanna listen to everything you have to say." Future seems to be the only smooth-talking rapper whose brain hasn't been infected by tell-em'-anything bullshit like The Game. Looking your way, Drizzy! Ciara is a lucky lady.
https://youtube.com/watch?v=Z3qOnzK1P-I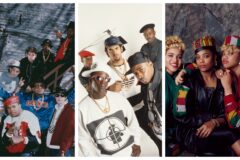 Homeboy Sandman "Dag, Philly Too"
"Dag, Philly Too" finds Homeboy Sandman high-stepping over a theme from Barney Miller-esque funk sample delivering his typical, though still underrated, mix of bugged-out lyricism ("A conquest extends upon realms, never charted / Where young flesh with color like tar be the target / For centuries, before the Red Sea was ever parted"), hammy do-gooder boasting ("I could have moved pounds of pedico when hell pounds / But that won't give power to the people"), and almost savant-like, wonder-of-the-world observations ("Big up to marsupials, carrying fam"). Sandman's Kool Herc: Fertile Crescent continues this New York nice guy's cosmic, verging-on-#BASED lyricism and works as a totally-not-oppressive tribute to hip-hop's early days. Also, do not hold it against Homeboy that he was featured on Peter Rosenberg's rummy mixtape New York Renaissance. He's forever going to be put into boxes that can't contain him. Not his fault.
Quelle Chris "LA Air"
Danny Brown producer Quelle Chris (XXX's "Monopoly," "EWNESW," and The Hybrid's "Guitar Solo," plus four others) addresses outdoor air pollution with an instrumental made of broken-up blues-rock riffs, drunken jazz wails, nature sounds, and samples of the Tim Curry-sung song "Toxic Love," from the 1992 eco-friendly agitprop kids movie Ferngully: the Last Rainforest (which was about how all of us dumb humans are ruining the earth and need to fall back). Quelle being an underground rap musician in 2013 and all, his ire is specifically aimed at Los Angeles, both ground zero for the country's dirtiest air and the music-industry's most idiotic behavior. Chris has a habit of these kind of wittily askew "conscious" rap tracks, actually. Don't forget his riff on the icky fetishization of "ratchet," called "Rat Shit." When Al Gore funds some kind of shooting-from-the-hip, Green-friendly remake of the enviro-sci-fi flick Silent Running (starring Kanye West in the cranky Bruce Dern role), with a "powerful" hip-hop-tinged score, "LA Air" better play over the ending credits.
Will.i.am, feat. Juicy J "Freshy"
RAP IS WEIRD. Back when I was in high school, Will.i.am was known for being an even-safer Jurassic 5 wannabe retro-rap party rocker. Now, he is the king of EDM Bar Mitzvah music. And turns out he's better as a fistpump-rap advocate than true-school b-boy blah blah blah-ing all over boring-ass beats. Juicy J used to be a Satanic maniac fight rapper with strangely antisocial hits that seemingly everybody knew. Now, he's something of a star at the age of, like, 90, shouting out Birkin bags? A generation doesn't even know that he was part of Three 6 Mafia? Supreme can sell Hypnotize Minds T-shirts for 80 bucks. What is going on? Anyways, here's a song called "Freshy" (which is just an inexplicably gross title, no?), that kind of thinks it's the James Blake-like, bass-burst dubsteppy part of "Niggas In Paris," and features will.i.am sounding like Juicy J, which dude couldn't even get away with if Juicy J weren't also on the track doing his Kool-Aid Man-kicking-in-a brick-wall-style anti-flow. Woah, slow down. What's that? The Kool-Aid Man has been revamped into a creepy CGI version with a far more pleasant personality? My teenage years mean nothing anymore. Ten years ago, we had will.i.am, Juicy J, and a big gregarious Kool Aid Man, now we've got….oh nevermind.