There's not much information out there on Oakland producer-rapper Ammbush. He has made beats for DaVinci ("Champion," "Quit Playin'") and Main Attrakionz ("Wings"), and his mixtape Ammbaataa, is out on SWTBRDS, one of many savvy labels aware that weirdo street-rap and all-over-the-place Internet hip-hop have become one. But that's all we've really got, and that's pretty refreshing. Here is some relatively unmarked rap territory to explore.
Ammbush can get very serious ("Fool'n With You" is a game-kicking love song plus drug-abuse admission) and also very silly ("Kick it like Pele with Sheneneh extensions" he boasts on "Keep Going"), but you never feel like he's trying to be anybody other than himself, even when he wanders into Tumblr-esque curating. The title is, of course, a reference to hip-hop legend Afrika Bambaataa; the cover art takes a famous image of Teddy Pendergrass and toys around with it, turning it into a GIF; Slick Rick is referenced on "Mama's Bad Boy"; Black Sheep's "Trik Turner" gets transcendently screwed on "C&C"; A "Walk on the Wild Side" sample waddles through "ROTN," presumably because Ammbush is a Tribe fan, not a Lou Reed fan, though if he's got a copy of Transformer at his crib, that wouldn't be a surprise, either. Booger of Revenge of the Nerds shouting, "We've got bush. We've got bush," appears on an end-of-song interlude. The next song is called, "LambdaLambdaLambda."
So, here is a hot mess of references and homages whose only commonality is just whatever the hell this guy happens to fuck with heavy, at the moment. Let's sit with "LambdaLambdaLambda" for a minute, here. It's produced by someone called Coffeehouse Multimedia — which just like, what? — and it's a vibrating sci-fi take on boom-bap with Ammbush boasting that his "words hurt nerds," and referring to Bob Marley as "Robert Marley" ("I hit the block party listening to Robert Marley"), which is for some reason the funniest thing I've heard in awhile. Has anyone ever done that before? Like we just kind of accept that his name was Bob Marley, and the slightly classy adjustment just seems absurd. It's like calling Charlie Sheen, "Charles Sheen," or something. It's also just a cool way of saying, "I am about to party and smoke some weed."
Like the best rap releases of the Internet-era, Ammbaataa feels like a dive inside the head of the person who's made it. Because there are no rules for sampling anymore, rappers can grab from their favorite songs if they feel like it, making mixtapes seem more like old-fashioned, feelingz-filled confessions. Ammbush's loving nods to soul on "Fool'n with You" speak to samples he sought out for reasons other than they sound hot. They warm his heart. And, well, rhyming requires a whole lot of words, which means a dozen or so listens leads to a build-up of weird obsessions that maybe even the MC isn't entirely aware he's putting out there. He really loves pro wrestling, for example.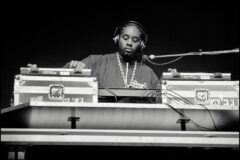 And though it lacks the scope of Danny Brown's XXX, Ammbaataa shares its embrace of out-there punch lines and nods to boom-bap sampling, i.e., a belief that there are still new slivers of sound to slice off a classic break. Brown's quirky, seriously damaged mixtape isn't a bad way to understand this goofy, expressive piece of work. Not to mention, the stakes are just so low these days that there's a folkways feeling to these things, where it's pretty much just a dude somewhere in the country tossing out thoughts and hoping they resonate with someone, anyone. Ammbaataa is a welcome reminder of Internet rap's folksy qualities. We need more of these right now.