45 Hay-Ya! Moments in Rap and Country's Uncomfortable History
The shotgun marriage between rap and country didn't start with "Accidental Racist." In fact, the two genres have been doing an awkward square dance almost as long as they've been around. Take a look back at these 45 moments that range from "Yee-haw!" to "Yeesh!" It's bigger than hick-hop.
1.45 Hay-Ya! Moments in Rap and Country's Uncomfortable History
1/46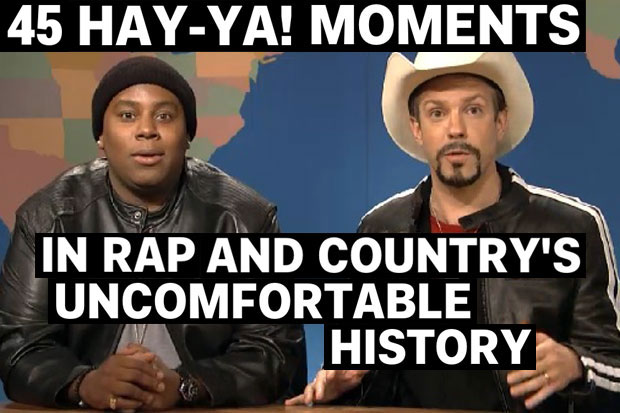 2.1927-1978: The Pre-History
2/46
If you really explore the pre-history of country rap, you'll wind up wandering down some unsettling abandoned corridors, leading back to a time long before not only rap, but even country, existed — a time when the racism in American popular music was anything but accidental. To get there, though, you'll need to start with the talking blues — a rhythmic, rhyming, humorously yarn-spinning spoken vocal style you've heard if you've heard much early Bob Dylan, or Johnny Cash's 1969 "A Boy Named Sue," or C.W. McCall's pop-chart-topping 1975 CB-radio novelty "Convoy" (which itself inspired a long-forgotten wave of country Citizen's Band raps, only a few years before "Rapper's Delight": advertising exec Cledus Maggard's "The White Knight," Johnny Hemphill's "The Handles Hall of Fame," Mac Wiseman's "Listenin' C.B. Blues," etc.) Talking blues were all over country, and frequently crossed over to pop, in the '60s and '70s: "Hot Rod Lincoln" for Johnny Bond in 1960 and then for Commander Cody in 1972; "Big Bad John" for Jimmy Dean in 1961; "Ringo" for Bonanza actor Lorne Greene in 1964; "My Uncle Used to Love Me But She Died" — as absurdist as anything by Beck — for Roger Miler in 1966. Ex-Dylan sideman Charlie Daniels made a career of out of them, though he never sounded rappier than in his first charting single, the uncharacteristically left-leaning "Uneasy Rider," which went top 10 pop in 1973 then seemingly went on to inspire the cadence that Southern soul artist turned X-rated proto-rapper (and "Convoy" parodist) Blowfly flew with in his 1980 single "Blowfly's Rapp."
Dylan may have nicked his own rap flow from mid-'40s Woody Guthrie or early-'50s Arthur "Guitar Boogie" Smith, but talking blues officially dates back to 1927, when mandolin-wieding South Carolina car mechanic Chris Bouchillon was recording in Atlanta, and an A&R director found his singing skills lacking, so he suggested Bouchillon just talk the words instead. Countless "Talking Blues" imitators ensued: usually white (Coley Jones and "Talking" Billy Anderson were rare black exceptions) and generally "not really blues at all, except in name," Nick Tosches argues in Where Dead Voices Gather, his 2001 book about the hugely influential second-quarter-of-20th-Century blackface minstrel Emmett Miller (who we'll return to). According to Tosches, one of the style's few blues-based practitioners was Herschel Brown, who followed his own 1928 "New Talking Blues" (which, like Bouchillon's, confusingly discussed not needing to work hard when one has "a gal in the white folks' yard") with two records that added an ugly n-word to the title. Which might not be surprising, given where talking blues came from: The form had "likely been around, in songster tradition and on the minstrel circuit, longer than could ever be known," Tosches writes. "Its age might be measured in centuries."
"The impulse to chant with a rhythmic background is probably as old as human culture," Don Kent notes to the Yazoo Records' 1996 compilation The Roots Of Rap: Classic Recordings of the 1920s and '30s, citing church sermons and work songs as well as vaudeville and medicine shows as relevant to rap's evolution. But minstrel is key: frequently fast-talking country guitarist Jerry Reed's funkiest hit, "Uptown Poker Club" from 1974, was actually a revival of Bahamian blackface superstar Bert Williams' atypically razor-toting 1914 "Darktown Poker Club"; Reed's top 10 pop 1971 country rap "When You're Hot You're Hot" concludes with offensive muttered asides about welfare checks and Cadillacs, just a year after Guy Drake hit the Hot 100 with a disturbingly stereotyped talking blues called "Welfare Cadillac." Conversely, African-American Memphis funk pioneer and Rabbit Foot Minstrels veteran Rufus Thomas' 1964 rap progenitor "Jump Back" (charted No. 49 pop) revived rhymes that date back to white blackface originator Thomas "Daddy" Rice's 1828 "Jump Jim Crow," the opening shot of the minstrel era. And in 1936, Emmett Miller — a white Georgia blackface singer whose yodeling falsetto tics immeasurably inspired Hank Williams, Bob Wills, and Merle Haggard — dueted with Gene Cobb on "The Gypsy," and the way they trade off lines sounds as much like rap music, proper, as nearly anything waxed before 1979. Even decades after America had swept minstrel's burnt cork under the rug, aging hillbillies like Harmonica Frank ("Swamp Root," 1951), Cowboy Copas ("Alabam," 1960) and Hee Haw comedian Junior Samples were making hay with talk-rhyme routines that, consciously or not, clearly channeled rhythms and most likely shticks from the Great Depression, if not the 19th Century.
None of which is to suggest that country rap is inherently racist; just that navigating its origins is a daunting obstacle course. Black precedents are even more elusive, since most white ones were ostensibly mimicking black music in the first place, but maybe these qualify: ska toaster Prince Buster galloping into Dallas in 1964's "Texas Hold-Up"; Parliament yodeling and yelling through 1970's "Little Ole Country Boy"; jazz-funk bassist Bad Bascomb tossing square-dance calls in 1972's "Black Grass"; Clarence "Gatemouth" Brown bluesifying Jerry Reed's raging-Cajun smash "Amos Moses" in 1975; Isaac Hayes and Solomon Burke introducing their respective covers of "By the Time I Get to Phoenix" and "I Can't Stop Loving You" with soul monologues — in fact, during the years leading up to "Rapper's Delight," plenty of R&B artists (Shirley Brown, Millie Jackson, Swamp Dogg, Joe Tex, Bobby Womack) dabbled in both soul-rapping and country, if usually not simultaneously. And those are only the names we've tracked down. Back in the ancient unrecorded crevices of time, there are country rappers — black and white — that we'll never know. CHUCK EDDY
3.1980: Kurtis Blow - "Way Out West"
3/46
The decked-out disco dude that Kurtis Blow describes in this song as wearing "a Stetson hat with a band of gold" would be called, in country parlance, a "drugstore cowboy" — the kind of person whose clothes ain't got a lick of dirt on 'em cause they never spent any time in the field or on a horse. In hip-hop, though, Blow's Harlem-reppin' fish-out-of-water is the coolest, so when he drives westward, he avoids a "showdown" with a Gucci loafer-wearing stranger named Ganamede by rockin' him on the mic. It's a classic narrative in the style of "The Devil Went Down to Georgia," and for people who love to talk about how rap and country aren't that different, here's Exhibit A. You can forgive the fact that the "country" guitar is actually playing a classic flamenco riff. JULIANNE ESCOBEDO SHEPHERD
4.1980: Trickeration - "Western Gangster Town"
4/46
Evidently named after some Cab Calloway jive, mysterious B-boy pair Trickeration made only one 12-inch, and that was short by 1980 rap standards — each side fits both songs. "Rap, Bounce, Rockskate," less than five minutes of rapping slung atop Vaughan Mason's almost identically titled roller-disco jam, partially concerns a restless country cousin who moves to the city and learns to skate. But "Western Gangster Town," a mere 3:27, is cowboy rap's Rosetta stone, and probably the first "gangster" rap (four years before Schoolly D's "Gangster Boogie"): Disco Rick visits an old-time burg where everybody carries guns; after the clock strikes high noon, he smokes cheeba with a fly young lady in a house of ill repute. When her six-foot-four-inch boyfriend walks in upstairs, Rick presses a heater to his head, but the big guy remembers seeing him onstage in Tennessee "and you're the baddest MC since Deadeye Dick," so everybody gets out alive. Then Basic warns city kids about doing jail time for ripping off subway passengers (based on his own personal experience). There's way more packed in, and the backing groove feels downright earthy, but the disc does its business quick, and it's as propulsive as old-school — maybe any school — ever got. And though the two teens were barely heard from again, their record jumpstarted Sound of New York label co-founder Gene Griffin's career, which would stretch from Indeep's "Last Night a DJ Saved My Life" to New Jack Swing with Teddy Riley and Guy to Pastor Troy's Georgia hip-hop. C.E.
5.1982: Malcolm McLaren - "Buffalo Gals"
5/46
The original "Buffalo Gals" was a blackface number from 1844; Mark Twain called it "rudely comic," and it proved geographically flexible (listed as "Charleston Gals" in 1867's abolitionist-assembled but misleadingly named Slave Songs Of The United States). And it never went away: Homer Simpson even sang it once. Malcolm McLaren, the P.T. Barnum of punk rock, typically passing off hucksterism as anthropology sometime between appropriating mbaqanga and Madame Butterfly, borrowed the ancient minstrel standard's title in 1982 as a frame for conflating the World Famous Supreme Team's turntablism with square-dance calls: Go 'round the outside, do-si-do your partners, all that scratchin' makin' you itch. On his 1988 compilation Buffalo Gals: Back To School, McLaren says he'd personally discovered hip-hop in 1980 by running into Afrika Bambaataa ("Huge black guy — massive man"), who was wearing a Sex Pistols shirt on a Harlem street. Who knows if that's reliable; what's undeniable, though, is that more than 100 records have sampled "Buffalo Gals" since: Beastie Boys, Neneh Cherry, Cypress Hill, Eminem, J Dilla, Madlib, Schoolly D, Skee-Lo, Snoop Dogg, "Weird Al" Yankovic, on and on to the break of dawn and then some. C.E.
6.1982: Disco Four - "Country Rock and Rap"
6/46
After lush singles like "Move to the Groove" and "Do It, Do It," Harlem quintet(!) Disco Four decided their next move was to be "kings of the barnyard swing." Pumpkin, the mysteriously named arranger and multi-instrumentalist to the old-school elite, had worked up a disco-ready version of Bad Bascomb's 1972 single "Black Grass" — itself a jazz-funk-gone-hayseed stepping stone to hick-hop's future. But the recipe for "Country Rap and Rock" was right in the lyrics: "We slowed down the pace / Jazzed up the bass / And put the banjo in the guitar's place." And that banjo was played by the same guy who played it on Bascomb's record, according to Disco Four's Greg G. "We kept trying to play it, but it wouldn't work, so we got the real banjo player," he told The Foundation blog. "I went and looked at the credits, and I called the company and he came, and he played it live for us." With fly banjo in place, the crew moved forward "yippee-ay-aye"-ing, do-si-do-ing, and doing the funkiest hip-hop hee-hawing this side of Missy Elliot. CHRISTOPHER R. WEINGARTEN
7.1985: Rappin' Duke - "Rappin' Duke"
7/46
John Wayne reimagined as a hip-hop originator who only rassled cattle part-time seems like a far-out concept, even for an era in which a Hollywood actor was elected president and fashion was going through a '50s-loving movement so weird they termed it "Cowboys and Poodles." Rappin Duke clearly had something going on when he name-checked "Suwanee River" and riffed "'Retha Franklin, wanna rock ya 'Retha Franklin!" for a good part of the song, because something definitely clicked — this little novelty single was later name-checked in Biggie's iconic "Juicy." But for 30 years, the Duke has felt misunderstood. In 2004, he told thestateofyo.com, "I wanted to make people aware of President Reagan's indiscretions at the time. Of course, I didn't happen to name any of these indiscretions and I had some superfluous mentions of Aretha Franklin and Scooby-Doo, but I intended for it to be a political record. Really." We believe you, Duke, because nothing else could explain it. J.E.S.
8.1986: The Bellamy Brothers - "Country Rap"
8/46
Shamelessly harmonizing Florida sunbelt-billy siblings Howard and David Bellamy might not have been the only country act to rap in the '80s, or even the first — check out, for instance, most of 1982's The Bird by Jerry Reed, though to be fair he was already pretty much rapping before rap existed. Ricky Skaggs' 1985 "Country Boy" video even featured kids breakdancing to bluegrass on a New York subway (not to mention Ed Koch lip-synching). But the Bellamys were more blatant about it: "Country Rap" wasn't just a No. 31 country-charting single; it was the title track to their No. 21 country-charting 1986 album. Hey, why not? They'd already had a hit called "Get Into Reggae Cowboy," right? And their rap had a tangible backbeat, albeit not far from the swampy one Jim Stafford had stuck under his huge pop version of David Bellamy's "Spider And Snakes" in 1973. They rhyme about what they know, or pretend to know: farm animals, soul food, pickup trucks, redneck girls, rowdy bars, cows for sale. "An unlikely hybrid," Walter Carter opined in the notes to the Bellamys' 1989 Greatest Hits Volume III, "combining the traditional country concept of 'recitation' (rapping) with a decidedly hip urban form." Well, sort of. C.E.
9.1988: Sir Mix-A-Lot - "Buttermilk Biscuits"/"Square Dance Rap"
9/46
Seattle's big butt man did not come from the South, but he sure sounded like it sometimes. Even beyond the hick shtick, these two tracks from his debut album Swass are the kind of late-period cartoon-voiced robo-rap usually associated with Miami. Sir Mix is repeatedly called a "cotton picker" (evoking not just the South, but the plantation), and we are told the following locations "rock": Seattle, L.A., Miami, D.C., Carolina, Houston, London, and Your Mama. Before that, and before a B.B. King sample and some human beatboxing, but after complaints about "everybody rappin' 'bout welfare line," a yee-hawing yokel instructs us to grab our partners' derrieres where the sun don't shine and do-si-do. The likewise hillbilly-toned "Buttermilk Biscuits" recommends grabbing some lovin' while said biscuits are in the oven, eating them with KFC, and, most audaciously, "From L.A. to Carolina / Drop them suckers in Aunt Jemima," thus referencing in one fell swoop both breakfast syrup and one of America's most enduring racially stereotyped figures — a full 99 years after Missouri newspaper editor Chris Rutt heard the probably African American-composed minstrel song "Old Aunt Jemima" performed in red-bandana drag by a blackface duo, whereupon he trademarked the name for his pancake mix. C.E.
10.1989: De La Soul - Three Feet High and Rising
10/46
Although it was your overeager college roommate who first informed you that Johnny Cash was, like, as hip-hop as it gets, it was De La Soul who first put him on a track, borrowing a line from "Five Feet High and Rising" — a record pulled from the collection of Dave "Trugoy" Jolicoeur's dad — for the end of their single "The Magic Number." There, the Man in Black found himself in conversation not only with Plugs 1 through 3, but with Eddie Murphy, New York mayor Fiorello La Guardia, the Fatback Band, and Schoolhouse Rock. "I can hear four individuals who didn't give a damn about the rules and just went in and had a good time," Jolicoeur would later say of the record. And the Plugs really threw out the rules when they laced the album's "Potholes in My Lawn" with actual yodeling, which came from Parliament's 1970 hick-hop precursor "Little Ole Country Boy," wherein the young funkateers toyed with jaw harp, slide guitar, and yodel-oh-ooh-hee. Nick Murray
11.1989: Special Ed: - "Hoedown"
11/46
Yes, as in "pimps up..." On the B-side to his iconic 1989 single "I Got It Made," Brooklyn rapper Special Ed straddled a banjo riff and rode it off into the sunset of the most obvious joke imaginable: "This hoe was low down / And this is the hoedown." More artful, however, was the use of a country-fried drum-and-banjo loop pulled from jazz-funk bassist Wilbur "Bad" Bascomb's 1972 single "Black Grass," a track known for its inclusion on the very first volume of sample bedrock series Ultimate Breaks & Beats. "Hoedown" does what hip-hop, in all its grab-from-anywhere glory, can do like no other music: forging connections between seemingly disparate cultures: It's a B-boy jam that found the perfect beat in an obscure bassist creating a twisted mutation of bluegrass. In doing so, Special Ed and producer Hitman Howie Tee implicitly made the point that line-dancing ain't all that different from breakdancing. BRANDON SODERBERG
12.1990: One Cause One Effect - "Country Rap"
12/46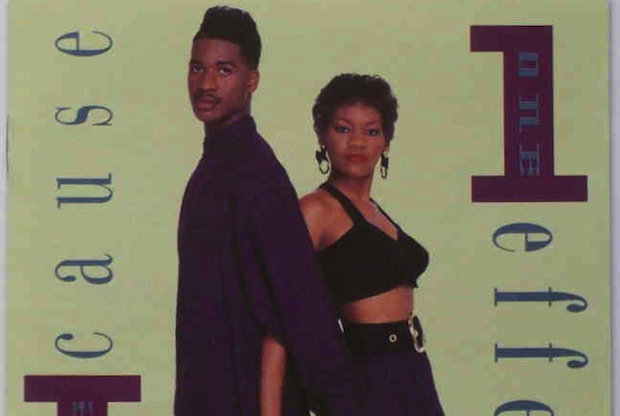 High-octane shout-dance duo One Cause One Effect was one of many artists signed to Hammer's Bust-It Records imprint in the post "U Can't Touch This" pop-rap boom. Unfortunately, they are remembered about as well as Ho Frat Ho!, B Angie B, and the other artists who didn't exactly pull an Oaktown's 3.5.7. and get immortalized in a Biggie freestyle. If One Cause One Effect's short MTV run was any indication, they were out to end American drug abuse through enormous pants and songs like "Up With Hope, Down With Dope." The 125-second chaser to their lone album, Drop the Axxe, is a giddy goof called "Country Rap," full of drowned-out freestyling, chirping turntables, moist beatboxing, a stuttering sample of Southern child James Brown, and some barnstorming acoustic guitars — actually an 8-bar blues played after they shout out Chicago blues artist Muddy Waters — but the country vibes are certainly felt when they spell M-I-S-S-I-S-S-I-P-P-I. C.W.
13.1991: Son of Bazerk - "Change the Style"
13/46
The twisted, sample-slammed, head-banging product of the post-"Terrordome" Bomb Squad and some high-energy Long Island pals, Son of Bazerk's 1991 album Bazerk, Bazerk, Bazerk is a singular piece of golden-era noise-funk — if Public Enemy were the "I'm Black and I'm Proud" James Brown of 1988, Bazerk were the "Hot Pants" Bobby Byrd of 1991. Their Yo! MTV Raps staple "Change the Style" was basically an ADD-damaged flip though an imaginary radio dial — at the drop of a dime, the crew dives into Yellowman-style reggae, a syrupy doo-wop ballad, and an uncut blast of smoking-hot, snot-rocketing California hardcore punk. But the whole thing starts with eight seconds of country twang — actually a riff borrowed from the Temptations' not-really-country-at-all 1966 "(I Know) I'm Losing You" — but don't tell that to the group, who seem to have filmed the first moments of the song's video at the "Whip It" ranch, plucking banjos, chewing straw, and wearing cowboy hats, overalls, and bandanas. C.W.
14.1996: Crucial Conflict - "Hay"/"Ride the Rodeo"
14/46
Coldhard, Kilo, Never, and Wildstyle — Chicago princes of the Box video era — liked wearing overalls, and they hit biggest (No. 18) with "Hay," which was about visiting Granny's house and craving collard greens with pinto beans, but even more so about blazing blunts in the back of a barn — a theme its video accentuated by picturing a desolate urban neighborhood seemingly reverting to rural. Hometown fans insisted that they sounded like Twista; everybody else figured Bone Thugs-n-Harmony. But either way, whatever hay they were smoking didn't prevent them from rhyming really speedily and dexterously. Their follow-up single, "Ride The Rodeo," went nowhere, but did expand on their favored western motif: Its video started with men in cowboy hats playing poker in a saloon, including an old white guy with a Lone Ranger mask who starts seeming very creepy by the end. The bridge featured a lady friend chanting "giddy-up" a lot. C.E.
15.1997: Imani Coppola - "Legend of a Cowgirl"
15/46
The Lilith-era '90s fostered a slew of quirky yet radio-ready woman-power anthems, and Imani Coppola's whiskey-swilling midnight marauder was one of the best. "Pecos Bill couldn't hang so long," she sang, "a female legend with a song." Thelma-and-Louise wanderlust informed Coppola's America-traversing character, a woman gettin' free off her own chutzpah to a Donovan-jacked slide guitar. The singer actually played Lilith Fair (and was embroiled in a small fracas after telling a reporter that she thought Sarah McLachlan was "boring to watch live"), and she still plays and tours, though she's never again approached the peak of "Cowgirl." Her latest single, from 2012's The Glass Wall, is an angsty, sub-bass-centered rock track called "Ave Maria," no rapping included. J.E.S.
16.1997: Spearhead feat. Joan Osbourne - "Wayfaring Stranger"
16/46
"The Wayfaring Stranger" is a 19th-century folk standard, beloved by country artists like Emmylou Harris and Johnny Cash, which tells the story of a narrator who travels through a world of woe to meet his Savior. In the mid-1990s, Michael Franti's travels brought him to a fellow occupant of MTV's Buzz Bin, "One of Us" singer Joan Osborne, and they collabo'd on this track from Spearhead's '97 sophomore bid Chocolate Supa Highway. Franti, with an impossibly deep voice and flow-impaired delivery — he sounds like a proto-Tyler, the Creator — references both Loretta Lynn's "Coal Miner's Daughter" and "Swing Low, Sweet Cadillac," Dizzy Gillespie's twist on another iconic spiritual of the American South. Osborne, a Kentucky native, actually sounds a little more at home singing this twangy melody than she has on her many barroom pastiches of soul music. AL SHIPLEY
17.1998: Everlast - Whitey Ford Sings the Blues
17/46
In 1998, Erik Schrody was a 29-year-old has-been. His first second chance, as leader of iconic mook-rap crew House of Pain had ended after years of failing to reproduce the success of their 1992 hooligan spazz-out "Jump Around." Strapping on a guitar and self-deprecatingly taking a nickname from '50s Yankees pitcher Edward "Whitey" Ford, he pulled off an unlikely multiplatinum reinvention after his twangin'-and-bangin' No. 13 single "What It's Like" carpeted the airwaves. What's surprising about the album was that "Whitey Ford" actually doesn't sing most of the time: Outside of the one megahit and its follow-up single, "Ends," the album was more rap than white blues or country; at times, you could close your eyes and pretend you're listening to an Xzibit album. "It's a hip-hop song, dude," Everlast said of "What It's Like" in a 1999 SPIN cover story. "But all these rock stations had to fool themselves into thinking it wasn't so that could play it." Still, tunes like "Death Comes Callin'" revealed Everlast's ear for melody, showcasing his skills as a grizzled old balladeer, which a heart attack and industry-career drama turned him into before he hit 30. A.S.
18.1998: Kid Rock - "Cowboy"
18/46
Though his career arguably bridges the two genres more than anybody's, Kid Rock has rarely tackled both country and rap at the same time. "Cowboy," one of his first and funniest charting songs (No. 82), might come closest. But even here, C&W sonics are limited to a just vaguely Southern-rockish riff, and the West that Michigan's son heads out to is Hollywood, "where real women come equipped with scripts and fake breasts" (no authenticity fetishes for this guy), and maybe Heidi Fleiss'll help him "start an escort service for all the right reasons." A piano sample comes, appropriately, from the Doors' "L.A. Woman." On the other hand, he does request that we call him "Tex" and "Hoss," and in the video wears rhinestones amid wanted posters and a burlesque-sideshow, little-people wrestling match between Joe C and Gary Coleman. Lyrics reference Falco and the band Kansas, and Kid calls himself "the real McCoy" just as Cowboy of Grandmaster Flash's Furious Five once had. Climactically, he delivers this self-deprecating white-trash statement of purpose: "I ain't no G / I'm just a regular failure / I ain't straight outta Compton / I'm straight out the trailer." He'd finally figured out how to make his star rise, and sounds like he knew it. C.E.
19.1998: Pras Michel feat. Mya and Ol' Dirty Bastard - "Ghetto Supastar (That is What You Are)"
19/46
Mya's indelible chorus on this No. 15 mega-hit is actually an interpolation of "Islands in the Stream," a duet written by the Bee Gees and popularized by country icons Dolly Parton and Kenny Rogers. It's a pretty brilliant flip, actually, turning the lyric "from one lover to another, uh huh" into "from one corner to another, uh huh" to support Pras and ODB's lyrics about their rise to hood fame and beyond. Mya and Parton performed on the same bill at a Billboard benefit in 2003, but so far the only way to hear them together on record is on the million mash-ups made in the early 2000s. Maybe it's better that way. J.E.S.
20.1999: Mr. Lif - "Farmhand"
20/46
The tangy, twangy banjo riff anchoring Mr. Lif's "Farmhand" clearly conjured up images of barns and tractors for the Boston rapper, inspiring the title of the song, if not the lyrics, which are Lif's usual internal-rhyme soup about microchips and earthquakes. He adopts an odd accent at some points, but if anything it's more Slick Rick than Hee Haw. The pickin'-and-grinnin' sample — imported from the U.K. of all places — is a slowed-down loop borrowed from "Tommy's Holiday Camp," a side-four annoyance from the Who's rock opera Tommy, and one of the few songs in their catalog composed by Keith Moon. A.S.
21.2000: Hick-Hop Wave 1
21/46
Eminem's real coup wasn't being a white guy who rapped well, it was successfully navigating the world's most popular black art form to express white rural angst. That's a nuanced way of saying he rhymed about shit that's usually in country songs: being a gas-station clerk, visiting the pawn shop, being so hungry he would throw fits, Kim's cheatin' heart, and basically being "tired of being white trash, broke, and always poor." Of course, the record industry doesn't have a great track record with nuance, and the years following his 1999 breakthrough saw no shortage of shit-kicking cracker-rap cash-ins in hopes that trailers were the new Impalas and poverty was the new bling.
Most prominent, obviously, was Georgia slow-flower Bubba Sparxxx, who somehow tumbled into Timbland's broken-bhangra phase to tell the world he calls his girlfriends "Betties" and his shits "grumpies." "I hate country music," he told SPIN in 2001, "but I really am a country dude." It was apparent in lines like, "Bubba like chicken gizzards, fried in Southern pride / Man go on and drink that beer, but you know I'mma funnel mine," even if Timbaland was intent on sending Bubba's Tractor puttering through space. Beating Bubba to the racks — and maybe the first white rapper to get the post-Em push — was Lebanon, Tennessee heavyweight Haystak, who rapped with a similarly lazy back-porch drawl, but preferred beats more of the trunk-caving, Memphis-bred Suave House variety. His 2000 album, Car Fulla White Boys, was led by a title track that's basically Bizzare Ride II The Waffle House, but songs like "The Bottom" and "Dollar" dug deep into the struggle of this self-proclaimed "poor white trash from the wrong side of the tracks."
Less severe was Southern Discomfort, the 2000 Epic debut from Georgia's Rehab, a half-rapped/half-sung country-rock two-man Bloodhound Gangbang. Like Sublime if they were into Merle Haggard instead of Bob Marley, they made feel-good, feel-bad derelict rock where they name-checked drugs as often as Too $hort mentions women's names — and actually scored a legit Modern Rock hit with "It Don't Matter," a depression anthem that somehow mentions both huffing glue and Othello. The label dropped the band years ago, but when their "Sittin' at a Bar" ("She stole my heart in the trailer park / So I jacked the keys to her fuckin' car") found a new life in jukeboxes many years later — the label reissued the record once it became apparent that this misstep was just ahead of its time. The same will not be said for Houston's Po' White Trash and the Trailer Park Symphony, whose 2001 album Po' Like Dis was pure poverty porn — complete with Pen and Pixel album cover — produced in part by Organized Noize and Lil Jon. In a voice that's a dead-ringer for the dude from Mindless Self Indulgence, PWT offers "honky malt liquor" in addition to grass, moonpies, RC Colas, and moonshine. Obviously it takes a little more savvy to be the Rap Game Mojo Nixon, and it would take another decade for the formula to properly coalesce around Colt Ford's mud-caked boots. C.W.
22.2000: Tow Down ft. H.A.W.K. and Big Pokey - "Country Rap Tune"
22/46
"I'm into everything from Run-D.M.C. to Led Zeppelin to George Strait," Houston white boy Tow Down boasted to Billboard in 2001… and it shows. On this track from his 2000 album By Prescription Only, CMT-ready, shiny-boots country music — pedal steel, plucked acoustic guitars, and a twangy melodic hook — gets mixed with UGK-indebted grit, as Tow Down teams with two members of DJ Screw's Screwed Up Click, Houston hard-spitters H.A.W.K. and Big Pokey. Sure, there's some nutty novelty here (which the video certainly doesn't shy away from), but "Country Rap Tunes" is an organic blurring of borders from a guy who comfortably mixes Americana images with Screwston signifiers: "Chrome wagon wheels with candy paint / From the tumblin' weed, we been blowin' dank." Later, the genre name "country rap" would be affixed to songs by fellow Southerners Big K.R.I.T. and G-Side: melodic, slow-rollin' beats full of soul samples, hard funk chops, and the church-raised instrumentation of UGK producer Pimp C. But in 2000, Tow Down was making the phrase wildly literal. B.S.
23.2001: Toby Keith - "I Wanna Talk About Me"/"Getcha Some"
23/46
Before 2002, when he first-responded to 9-11 with his belligerent "Courtesy of the Red, White and Blue (the Angry American)," only country fans cared who Toby Keith was. But by that time he'd already scored eight chart-topping country singles, and by the late '90s, he was defining a certain burly, amiable brand of domesticity. Didn't hurt that no other male in Nashville could match his singing voice — at times hinting at R&B, and in two songs hinting at rap without making a fuss about it. Which is to say, they're both talked not sung, sweet and corny, rhymed but relaxed. "Getcha Some" concerns getting a girl, then money, then babies ("You know…curtain climbers, rugrats, tricycle motors" — very '90s suburban family sitcom). In "I Wanna Talk About Me," Keith's a husband trying to get a word in edgewise when his wife won't stop blabbing about her "Nana up in Muncie, Indiana" and "your medical chart and when…you…start." (Maybe the most menstrual moment in country history.) Some of the song's more stuttering sections, chorus included, are almost cringe-worthily cutesy, but Keith pulls them off. And a decade later, in 2011's "Red Solo Cup," he was still rapping about decomposables, forecloseables, receptacles, and testicles. C.E.
24.2001: Wyclef Jean - "Kenny Rogers - Pharoahe Monch Dub Plate"
24/46
Clef is a huge Kenny Rogers fan: He produced the Rogers-interpolating "Ghetto Supastar," discussed collaborating with Rogers on record in 2010, and eventually became pals with "The Coward of the County." His most shining accomplishment, though, was probably getting the bearded cornball to actually rap on this track, which sampled Rogers' biggest hit "The Gambler." "Yo, this is Kenny Rogers chillin' on the country side" — did those words actually come out of his mouth? Whatever, Kenny's big in the Caribbean. "[Wyclef is] a very big guy in Haiti — that's where he's from — and I have a really good following down there," Rogers told AOL country site The Boot. While we're still waiting for that tour to happen, we can at least watch ABC's excellent soap-opera series Nashville, where Clef's experience with Rogers no doubt schooled him for his role as a nefarious country producer. J.E.S.
25.2002: Devin the Dude - "R&B (Reefer and Beer)"
25/46
In which Devin the Dude assumes his redneck alter ego to show that the greatest uniting cultural forces are weed and a six-pack. Scarily convincing as a white man from Arkansas (or the farther-flung parts of Houston), he uses his extreme drawl to sing the chorus and shout out Steve Miller, another force for unity (all those song samples!). "We can ride through the ghettos and trailer parks!" sings Devin the Redneck. So, we're all the same? Well, except for the n-word breakdown at the end in which Devin's redneck persona attempts to use the offending term in a friendly manner, but pronounces it with the "-er" intact. It's a way more nuanced racial commentary than your boy LL could muster for his Brad Paisley jam. J.E.S.
26.2002: Eminem - "Square Dance"
26/46
Before settling in Detroit as a teenager, Eminem spent his life bouncing around America's heartland, in the southern and western parts of Missouri. If he picked up any country as a kid he didn't really show it — save maybe the "Buffalo Gals" nod in "Without Me" — until 2002's "Square Dance," a track off The Eminem Show in which Em affects a bug-eyed, cartoonish Hee Haw voice for the chorus while banjos pluck in the distance. Despite the goofy veneer, the song is actually a foreboding antiwar treatise (though a lazy one — he rhymes "Bush" with "push" twice) and a brutal diss of Canibus, with Em flipping the concept of a square dance into something far more sinister. JORDAN SARGENT
27.2002: Nappy Roots - "Po' Folks"
27/46
In the early 2000s, before Lil Jon permanently made the club the center of the Southern rap universe, there was plenty of livestock and bales of hay on Rap City coming from videos shot south of the Mason-Dixon. Some artists, like Field Mob, flirted with that imagery before opting for a more urban, contemporary look, but Bowling Green, Kentucky's Nappy Roots have always embraced their rural roots, most notably on their biggest hit, "Po' Folks." Produced by the TrackBoyz, who would soon become better known for thundering club tracks by Nelly and J-Kwon, "Po' Folks" is melodic and bittersweet, full of pulsating truck-bed acoustic guitars, and a hook from future R&B star Anthony Hamilton. A.S.
28.2003: Britney Spears feat. Ying Yang Twinz - "(I Got That) Boom Boom"
28/46
What makes this song rap, obviously, is the hooting and hollering and "hanh!"-ing (sounds like somebody blowing his nose through a bassoon) and the "she naked, she soakin' wet" observations of Atlanta electro-crunk goofballs the Ying Yang Twins, recording here at the height of their powers: 2003 was also the year they put out Me & My Brother, easily their best album and one of the most irresistibly ridiculous rap collections of the decade. What makes "Boom Boom" country are the three brief banjo breaks, credited to one Roy Gartrel, initially dedicated by Britney to "all the Southern boys," and occurring at approximately 0:50, 1:50, and 3:50, timewise. Britney comes from southern Mississippi herself; in another time, she could've been a country diva. C.E.
29.2003: Bubba Sparxxx - Deliverance
29/46
"What you know about balin' hay in that South Georgia heat?" Raised on the outskirts of a small town west of Atlanta, at a time when rap was so centralized that even Hempstead, New York felt like the middle of nowhere, Warren "Bubba Sparxxx" Mathis made for an unlikely hero. Two years after his stuttering Timbaland-produced "Ugly" set off clubs in towns of all population densities, Sparxxx returned with a sophomore album, Deliverance, which was more ambitious, less commercial, and far less flashy than having Missy ride a tractor on MTV — in the wake of the O Brother soundtrack, one bluegrass hook was sampled from the Yonder Mountain String Band and another from Alison Krauss & Union Station. While Timbaland crooned about moonshine and fishing poles, Sparxxx repped the "New South" by rapping about heartbreak and singing the blues. "I wanted people to understand that a lot of the same things go on in rural areas and urban areas in every walk of life," he said of the album. "It's just a different type of place, but the same struggle is going on everywhere." N.M.
30.2003: Buck 65 - Talkin' Honky Blues
30/46
Buck 65, the white rapper from rural Nova Scotia who rose to prominence alongside avant-backpacker collective Anticon, got in touch with his country side on the 2003 album Talkin' Honky Blues, which was recorded after some research into the southern tradition of talking blues, an early precedent for hip-hop. In his gruff, Waits-ian delivery, the Buckster can be found documenting the minutiae of the North American road hog — hotel notepads, Johnny Cash in the tape deck, dead flies in the light fixture — when he's not invoking a rustic "nostalgia" for "beat-up contraptions that smoke when they heat up" or documenting the proper way to shine a shoe. His unique use of dusty acoustic strums ("Tired Out"), sprightly banjos ("Wicked and Weird"), mournful pedal steel ("Riverbed 1"), and shockingly tasteful jaw harp ("Exes") helped catapult the album to a Juno Award — not in the Hip-Hop category, but for Alternative Album of the Year, and helped make Buck a favorite musical choice on Canadian TV's redneck comedy hit Trailer Park Boys. A.S.
31.2003: David Banner - "Cadillacs on 22's"
31/46
After "Like a Pimp" made David Banner one of the hottest new rappers in the summer of 2003, the Mississippi MC/producer decided to repent with the follow-up single "Cadillacs on 22's," a letter to his maker that opens, "God, I know that we pimp / God, I know that we wrong." In the video, he raps those lines while attending a little girl's funeral at a small country church, accompanied by an acoustic guitar player who strums the folksy loop, which sounds even countrier when chopped up over Banner's crunk drums. The guitar actually comes from the downhome-disco title track of the Jacksons' 1978 album Destiny (which opines, "I've tasted city life and it's not for me"). The lyrics reference two victims of hate crimes, Andre Jones and Raynard Johnson, and in the video Banner walks by two nooses hanging from a tree and also wears a shirt bearing the name of Emmett Till, informing the hip-hop generation about the Civil Rights martyr a decade before Lil Wayne used him as fodder for a horrendous punch line. All in all, it's country rap at its most blazingly plainspoken. A.S.
32.2004: Big & Rich feat. Cowboy Troy - "Rollin' (The Ballad of Big & Rich)"
32/46
Almost a decade on, with rapping so commonplace on country records that even Kenny Chesney tries it now, it's hard to remember just how mind-boggling it felt to be side-swiped by this hard-swinging, hard-rocking track over a car radio in early 2004 – especially the minute-long rap from Cowboy Troy, a six-foot African-American whose perfectly energetic, if stylistically dated, part-Spanish cameo lassos grocery items from barbecue brisket to potato salad to crunk and trance. The song begins like the Hombres' 1967 proto-rap garage-rock hit "Let It Out (Let It All Hang Out)," with a downhome preacher exhorting about "country music without prejudice"; B&R make a case for country bands playing rock just like Funkadelic did for funk bands in 1978; by the end, hamster voices are letting in some electro. In other songs, Big & Rich rapped for themselves, if not as overtly. "This town ain't never gonna be the same," Big Kenny promised in the wonderful "Save A Horse (Ride A Cowboy)." And it wasn't. C.E.
33.2004: Gretchen Wilson - "Chariot"
33/46
Gretchen Wilson's 2004 debut Here for the Party went quintuple platinum and produced four Top 10 country hits, stats she's never come close to matching since. By now, she might be best remembered as a transitional figure readying Nashville for subsequent rootin'-tootin redneck women of Miranda Lambert's stripe. She deserves better, and the way her rhythm channels Teena Marie during this biblical track's 23-second rap interlude is one good reason. Not many female country artists have rapped since — Laura Bell Bundy in "Boyfriend?" in 2010; that's about it. In most of "Chariot," Wilson is in Janis Joplin mode, wailing hard blues over funk guitar and rent-party piano, and getting right apocalyptic about it: "When it's all over but the shoutin' / When God the father's done his final accounting / And I find out that I made the cut / I'm gonna get me a chariot." Once through the gates, she's gonna hunt down "my great great Grandaddy, that peace pipe-smokin' Cherokee." She confesses transgressions that she hope won't damn her; says Mama will kill her if she learns the choir kicked her out; then slides in and out of her surreal rap dream about Ezekiel and his golden Cadillac — swings down, stops, and lets us ride. C.E.
34.2004: Nelly feat. Tim McGraw - "Over and Over"
34/46
By 2004, Nelly was a pop titan: three No. 1 hits, three more songs gracing the Top 10, and an 'N Sync collabo that cemented him as the Bubblegum King of the Midwest. So, he began to take more risks — teaming with the Lincoln University Choir; sampling Spandau Ballet; releasing two full albums, Use Your Illusion-style, on the same day — his third and fourth full lengths Sweat and Suit. Though little was bolder than a duet with Tim McGraw, a combo that on paper looks like the "Accidental Racist" blueprint scrawled in calligraphy on a barn wall. But Nelly was nothing if not a rapper with a devotion to melodicism — smashes like "Ride Wit' Me" and "Hot in Herre" are the work of a true songwriter — and he was the product of a heartland upbringing with no shortage of country-music listening in his past. So, it's no shock that "Over and Over" is simply a tender, brokenhearted ballad that deploys McGraw for some backing vocals and a yearning bridge. It appealed to Nelly's fanbase — much of which was in states with strong country-music followings, and wasn't too hip-hop for McGraw. Plus, the two had chemistry, meeting at a basketball game and Nelly reportedly telling McGraw's manager afterwards that he liked the singer because, "He's a badass, he's got game, and he's got a fine bitch." Faith Hill, we hope, was flattered? J.S.
35.2005: Trace Adkins - "Honky Tonk Badonkadonk"
35/46
Trace Adkins' baritone is capable of real gravity, and he is not an especially frivolous artist: His single preceding this one was a morose homage to war dead buried in Arlington Cemetery. So when he does lower himself to silliness, one wonders whether his heart's in it. Also, for a song celebrating butts via backdated African-American slang, this is not even one of his most butt-rockin' numbers. But none of that kept it off boot-scoot dance-floors, obviously, or kept toddlers with questionably competent parents from reciting all the words while watching the video on YouTube in their car seats. The song was partly written by Jamey Johnson and Randy Houser (both so serious they make Adkins seem like Cledus T. Judd in comparison), and it was hardly the first country hit about female hindquarters (Mel McDaniels' "Baby Got Her Blue Jeans On" went No. 1 country in 1985), but between its stoopid riff and stoopider words about goin' on like Donkey Kong and slappin' Grandma, plus cheeky left-right-left commands, it gets by. The "video mix" actually speeds up the tempo, adds turntable scratching and incidental technocratic percussion doo-dads, turns screwy and choppy, then finishes going almost full-on Saturday Night Fever. Whatever works, y'all. C.E.
36.2008: The Snoop Dogg/Willie Nelson partnership
36/46
Snoop Dogg and Willie Nelson are like two peas in a very green, very sticky pod. "You know, me and Snoop smoke a lot," Nelson told CNN, surprising no one. "I was in Amsterdam one time and Snoop called me and wanted me to sing on his record. And I said, 'OK.' He said, 'Where are you?' And I said, 'I'm in Amsterdam.' So he caught the next plane and came over. And we recorded a song together." And on 4/20 2008 in Amsterdam, the pair bonded after reaching for a piece of that traditional southern staple, KFC. "We grab the piece [at the same time] and I'm just like, you know that's Willie motherfuckin' Nelson. So I let him have it and took the next one," Snoop said at SXSW in 2012. "I just had my hand in the same box of chicken as Willie motherfuckin' Nelson!" They made their friendship official when the Lonesome Stranger saddled up for Cowboy Snoop's "My Medicine," a brushes-heavy, midnight rambler that featured a beat by Everlast and a video shot at the Grand Ole Opry. Four years later, Willie also participated in Snoop's critically maligned album Doggumentary, singing on "Superman," a beatless moment of reflection about how all that hard-partying might be doing a number on their bodies. And finally (for now), Snoop returned the favor, appearing on Nelson's "Roll Me Up" (alongside Jamey Johnson and Kris Kristofferson), crooning in his typically laidback fashion. Says Snoop, after meeting Nelson, "I was getting heavy into it and finding country music is a form of hip-hop music. It's the same thing. We're the same people. Don't let the rhythm fool you. It's the same game." This can only end in an animated TV show. C.W.
37.2008: Brad Paisley feat. Snoop Dogg - "Kentucky Jelly"
37/46
Before Snoop Lion, there was Snoop Ryman. The year prior to traveling to Nashville to shoot the video for his Willie Nelson-featuring, Opry-referencing "My Medicine," Snoop earned himself the dubious distinction of being the first rapper to appear on a Brad Paisley album. His contribution was limited — he simply spoke the words "Goodness gracious, Kentucky Jelly!" as an introduction to the singer-guitarist's well-lubricated instrumental jam — but after seeing what happened when LL Cool J tried to extend himself further, perhaps we can agree that it was better off this way. N.M.
38.2009: Taylor Swift: Hip-Hop Junkie
38/46
As a novelty YouTube where an out-of place performer raps about their white and nerdy-ness, Taylor Swift and T-Pain's collaborative "Thug Story" hardly broke new ground. Still, her engagement with rap music isn't nearly so ironic ("I'm so gangster you can find me baking cookies at night"), as the clip would suggest. In 2007, she was opening shows with a cover of Eminem's "Lose Yourself," and in 2011, Taylor's ringing endorsement of Nicki Minaj's "Super Bass" — expertly rapping a few rapidfire lines on a radio show — contributed to making it the song of the summer. Meanwhile, her "Speak Now" tour featured surprise performances not only from Alan Jackson and Tim McGraw, but T.I., Nelly, Usher, and Flo Rida. The secret? Those collabos and cameos are a red herring: T-Swizzle has been hip-hop since day one, or at least since 2007's "Our Song," when the then-16-year-old saw the world as an instrument and brought boom-bap-inflected rhythm to the top of the country charts. N.M.
39.2010: Mud Digger Vol. 1
39/46
Nashville-based Average Joe's Entertainment — founded by Colt Ford, a drawling cowboy rapper who loves chicken, biscuits, and college football; and former So So Def producer/engineer Shannon Houchins — has been the Def Jam of country-rap crossover since releasing the former's Ride Through the Country in late 2008. But it was the label's 2010 Mud Digger comp that revealed hick-hop's maturation into a fully realized subgenre, one loaded with artists who take their work seriously. The record's biggest hit, Colt Ford and Brantley Gilbert's "Dirt Road Anthem," which places nostalgic small-town raps over a shuffling guitar-and-drum-machine beat, would eventually become a No. 1 hit for Jason Aldean. But tracks like the funky hootenanny "Shindig" ("Lovin' them girls, chasin' them squirrels") and the eponymous "Mud Digger" (which flips Gorilla Zoe's "Hood Nigga" just as "Mud Bog Paint Job" later flipped Dorrough's "Ice Cream Paint Job") proved influential in their own right. Three years and two compilations later, the label is stronger than ever, releasing records featuring hick-hoppers past (Bubba Sparxxx, Nappy Roots) and future (Redneck Social Club, the Lacs, Lenny Cooper), assembling a thick roster of performers united by a passion for off-roading and the belief that rural Southern identity is best expressed via an art form that's got its roots in urban New York. N.M.
40.2011: Colt Ford feat. Nappy Roots and Nick Cowan - "Waste Some Time"
40/46
Georgia hick-hopper Ford has landed five singles on the lower rungs of Billboard's country chart in recent years, taking a cue from rappers by filling his annual albums with lots of collaborations — mostly country guys (Jason Aldean, Montgomery Gentry, Kix Brooks, Darius Rucker, Tim McGraw), but sometimes rap guys: Bone Crusher on 2009's Steve Miller-sampling, patty-melt-gobbling, sumo-weight summit "Gangsta Of Love"; and D.M.C. in 2010's hell-raising, heavy-boogying biker rocker "Ride On." For 2011's "Waste Some Time," he hooked up with rustic Kentucky rap group Nappy Roots, and while the result wasn't as funky as "Wasting Time" by Kid Rock, the video at a lakeside summer party did feature plenty of water slides and Ford doing the Heavy D wobble (and, uh, few if any black attendees who weren't in Nappy Roots). The rapping offered approval of riding deep in the sticks and cooking the entire hog — from the roota to the toota, as rustic Georgia rappers Field Mob (who Ford has surprisingly yet to work with) would say. Also, somebody named Nick Cowan, seemingly a jam-bandish hippie crooner of the Zac Brown ilk, shows up. But he doesn't get in the way too much. C.E.
41.2011: Jason Aldean feat. Ludacris - "Dirt Road Anthem (Remix)"
41/46
In 2008, Colt Ford did this song with Brantley Gilbert, with whom he'd written it; in 2010, Gilbert "revisited" it with Colt Ford on Gilbert's album, Halfway To Heaven — though the track where he really gets his "dirty dirty South down heah" lingo right is that album's "Kick It in the Sticks." Anyway, Georgian hitmaker Jason Aldean — similarly fond of false-metal riffs, but less principled about it — was next to borrow "Dirt Road Anthem" in 2011, and got a No. 1 country single for his efforts, doing the quasi-rap parts himself, whereupon Ludacris joined him at the CMT Music Awards to help out. Luda's on the remix for half a minute, remembering the joys of water balloons, Super Soakers, wet T-shirts, bikinis, Kenny Rogers, penny loafers, and six-packs on ice. Aldean's own verses reminisce more about intoxicated driving ("Laid back swervin' like I'm George Jones…an ice cold beer sittin' in the console") and jumping barbed wire at Pott's farm and lighting a bonfire, then punching out some jerk for spreading nasty rumors. Luda's party sounds less dangerous, but Aldean manages to make his feel like a summer breeze regardless. C.E.
42.2011: Struggle Jennings feat. Yelawolf and Waylon Jennings - "Outlaw Shit"
42/46
One of the many fascinating trends that arose out of the Internet hip-hop moment of 2011 — the year Odd Future and Black Hippy broke — was the small contingent of profoundly sincere "redneck rappers," like Rittz and Yelawolf, who spit like Bone Thugs but for whom a "pocket full of stones" meant falling off your dirt bike in cargo pants. None had more country cred than Struggle, the actual grandson of Waylon Jennings. On "Outlaw Shit," he samples his mom's pops, and bemoans the life of scrapping and fighting that dominates the South's white working class. It's a touching song, which earns it use of Waylon's sober hook, sampled from a song of the same name off 2008's posthumous Waylon Forever. In an interview with the Nashville Scene, Struggle diagnosed the problem with most country rap: "It's either been corny rap or corny country, none of it's been real." "Outlaw Shit" was his solution. B.S.
43. Hick-Hop Wave Two
43/46
As long as rednecks grow up hearing hip-hop, new generations of country rappers are likely inevitable — and it can't hurt that Colt Ford has recruited more than a few to the Average Joe's Entertainment label he founded in 2008, or that guys like Jason Aldean have made country radio safe for rapping, or that big-ass trucks with gigantic tires can look somewhat rad sloshing through mud on YouTube. The latest hick-hop wave gets millions of hits…just not the kind that tear up the charts. It also seems, for the most part, to highlight groups, or at least duos. The Lacs, for instance, are two Average Joe's-signed South Georgia boys given to Jeff Foxworthy/Larry the Cable Guy-inspired skits and country strip-pole-rock collaborations with Big & Rich and Bubba Sparxxx. Their name stands for "Loud Ass Crackers," and their "Kickin' Up Mud" was popular in line-dance palaces, but they're best at getting smooth — i.e., swiping the guitar riff from OMC's "How Bizarre" in "Country Boy Fresh." Jawga Boyz, also from the Peach State as their name reveals if you drawl it correctly, are simultaneously crunkier (Pastor Troy helps out) and more Everlast-emo. Their "Ridin' High" video paradoxically flaunts both Confederate flags and African-American friends (not to mention muddy trucks). Also, they do a song advertising the "Mudjug," which appears to be a receptacle in which to spit tobacco juice.
Maryland/Indiana pair LoCash Cowboys, who gave Tim McGraw an embarrassing 2012 hit called "Truck Yeah" — where he claimed to rock Lil Wayne on his iPod — start one obligatory number with "Let's talk about mud, let's talk about trucks," but really they seem more like frat-party bros with sappy love-ballad tendencies. They cite '80s R&B and Justin Timberlake as influences, and they've actually country-charted three singles, though none peaked higher than No. 32. There's probably still a glass ceiling for this kinda stuff: Likable Ohio/Tennessee trio Trailer Choir, lightweight in sound if not on the scale, called it quits last year after charting four songs, none higher than No. 30; their heftiest member went on to drop 184 pounds on The Biggest Loser. So alternate business plans are worth considering. For example, Brooklyn Americana-rap collective Gangstagrass managed to land the theme song for TV's Justified while covering some 1920s Dock Boggs on the side. Hick-hop for Alabama Shakes fans: There are worse ideas out there, no doubt. And frankly, naming your album Rappalachia might be one of them. C.E.
44.2012: B.o.B and Taylor Swift - "Both of Us"
44/46
Country? Not really. Rap? Only by technicality. The sawing bass drops suggest dubstep, but the production credits give it away: With Dr. Luke ("Since You Been Gone," "Teenage Dream," "Dynamite") and Cirkut ("Where Have You Been," "Good Feeling") behind the boards, "Both of Us" is pure pop, completely oblivious to the long, storied histories of the genres it so casually plunders. "It happened naturally," said crossover rapper B.o.B. of how he and crossover country singer Taylor Swift wound up in the same room. "She actually arranged for me to come to Dallas and brought me out, and I played her the song and she liked it." Unencumbered by the authenticity issues that plague both rap and country, fans of both artists agreed, making the single the third off B.o.B.'s Strange Clouds to reach the Hot 100's top 20. N.M.
45.2013: Brad Paisley and LL Cool J - "Accidental Racist"/ "Live For You"
45/46
The immediately notorious, fairly confusing, dissertation-ready song "Accidental Racist" casts Brad Paisley as an unapologetic redneck espousing both a quasi-liberal apologia and stereotypical defensiveness in order to wear his Confederate flag shirt in a Starbucks — where no doubt SNL's racist depiction of "Verquanica" serves up his double latte with three snaps in a "Z" formation. LL Cool J, whose Kangol thread has been lost for a good eight years now (his head too sprung), goes the opposite direction and intimates that their conversation over this tepid ballad — and Paisley's non-judgment over LL's dookie rope chain — somehow makes up for American slavery. The idea that the country is "post-racial" was absurd from jump, but at the very least, let this song be the final nail in the coffin. All of this so Paisley could express his Skynyrd fandom, as well as his shock at the fact that maybe he can't do whatever he wants when he wants to — and why noooooot? White male privilege is the damnedest thing. The duo's other song together — Bruno Mars ripoff "Live for You" — isn't going to spark nearly as many thinkpieces, and is little more than a waste of some Run-D.M.C. sample clearance. J.E.S.
46.2013: Florida Georgia Line feat. Nelly - "Cruise (Remix)"
46/46
Nasally duo Florida Georgia Line hit the top of the country charts with "Cruise," a "Get Outta My Dreams, Get Into My Car" for folks who listen to Marshall Tucker Band and know what a "lift kit" is. The band has covered a truckload of rap songs in concert ("Tipsy," "Wanna Be a Baller," "Thrift Shop," "In Da Club," "Gold Digger," "Young, Wild & Free") and are avowed Nelly fans (they do "Hot in Herre," too). Unfortunately, the country-fried Nelly of 2013 is far from the country-fried Nelly of 2004. The lyrics he donates to this remix are remarkably facile: Even Rick Ross would go to a Halloween party dressed as a cop before he rhymed "you" with "you" and "that" with "that." The song was not an entirely unpredictable turn of events: With its chunky, greased-up acoustic guitar riff, "Cruise" shares more than a few strands of DNA with Nelly's twangy dance thumper "Hey Porsche," another song about living for cars and girls. J.S.