Public Image Ltd. are set to reissue their debut single, "Public Image," on April 20 as a Record Store Day 2013 exclusive 12-inch vinyl. All well and good, but far more enticing is the upcoming reissue of PiL's 1978 debut album, First Issue, which was never officially released in the U.S. because Warner Bros. Records thought the LP was too uncommercial for American audiences.
On June 18, Light in the Attic Records will issue First Issue for the first time in the States — nearly 35 years after it hit shelves — in digital, LP, and double-CD formats. The LP version includes a 180-gram vinyl in gatefold packaging, a fold-out poster, two stickers, replicas of archived newsprint advertisements, a lyrics insert, and a download card granting access to B-side "The Cowboy Song" and a nearly hour-long, unedited BBC interview with PiL leader John Lydon recorded in October 1978. Fans who purchase the CD edition will get the B-side and the interview on a bonus disc, plus two stickers.
The deluxe versions of both formats come with a PiL patch and six buttons. Watch the video for "Public Image" down below and and scroll further for the reissue's track list. Pre-orders are currently available through Light in the Attic's website.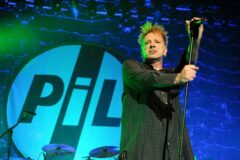 First Issue reissue track list:
CD 1:
1. "Theme"
2. "Religion I"
3. "Religion II"
4. "Annalisa"
5. "Public Image"
6. "Low Life"
7. "Attack"
8. "Fodderstompf"
CD 2:
1. "The Cowboy Song"
2. "Interview With John Lydon – BBC Radio 1, Rock On, Oct. 28, 1978"