1. THE FOCUS: "I love this one."
Two young women are studying Phoenix through a glass window. "Do I know any songs by them?" asks one, dressed in a faded Beatles Yellow Submarine T-shirt, her brown bangs wild, her black nail polish chipped. "Do they have hits?"
We're peering into the MetroPCS Lounge, a stale gray box located in the offices of Sacramento's alternative-rock radio station, KKDO 94.7. On this sunny, early April afternoon, the four skinny band members, glowing emissaries from the creative upper class, outfitted in boldly colored khakis, wrinkled collared shirts, and raffish haircuts, are seated on chairs in front of video cameras and contest winners, ready to activate.
"Oh my God, you definitely know this band," groans the other woman. She's business prim in a navy blue blazer, her dyed-blonde hair pulled back in a tight ponytail, her mind soggy with rum. "I went to the Sailor Jerry's thing last night," she continues, squeezing the bridge of her nose. "I got hella swag, though."
A burly cameraman with white muttonchops wearing cargo shorts and a baseball jersey adorned with the logo for German industrial misanthropes KMFDM gives a "Go!" signal, and guitarist-keyboardist Laurent "Branco" Brancowitz, his younger brother-guitarist Christian Mazzalai, bassist-keyboardist Deck d'Arcy, and sweetly boyish singer Thomas Mars, all of whom grew up together in the world-historically important, affluent, insanely boring Parisian suburb of Versailles, ease into a stripped-down version of their effervescently snide new song "Entertainment." It's the first single from the excellent new Bankrupt! (Glassnote), the band's fifth album and first since they became the kind of act broadly popular enough to headline Coachella and Lollapalooza, both of which they will have played before festival season is through.
But there are still hearts and minds to reach.
"I don't know this song," says the Girl in the Beatles Shirt.
"It doesn't matter, they're adorable," says the swag collector.
Phoenix next plays a fizzy "1901," the biggest single from 2009's Wolfgang Amadeus Phoenix, which was the most effortlessly catchy, blithely cool (and lyrically inscrutable) rock album since the Strokes' Is This It was released 12 years ago. Wolfgang won a Grammy for Best Alternative Album and sold 710,000 copies, a total six times greater than the sales for the band's previous three albums combined. "1901" went to No. 1 on Billboard's Alternative Rock chart.
The Girl in the Beatles Shirt knows it. "I love this one," she coos.
When Phoenix is finished playing, they come out into the hall to pose for photos. They do this with what I learn is their customary easygoing élan, throwing their arms around strangers' shoulders and happily signing posters. Having smiled for the last snapshot, the four Frenchman, all between the ages of 36 and 39, grab their belongings — Mazzalai sharply declines multiple offers to help carry his guitars — and stroll to a waiting car which will take them the 22 miles to Freeborn Hall on the campus of UC Davis, where they're performing for 1,300 fans in just a few hours.
"That was awesome," says Beatles Shirt.
"I knew you'd like it," says her friend. "You like hipster things." The rebuttal is swift and revealing. "I do not!" she snaps. "I just like good coffee."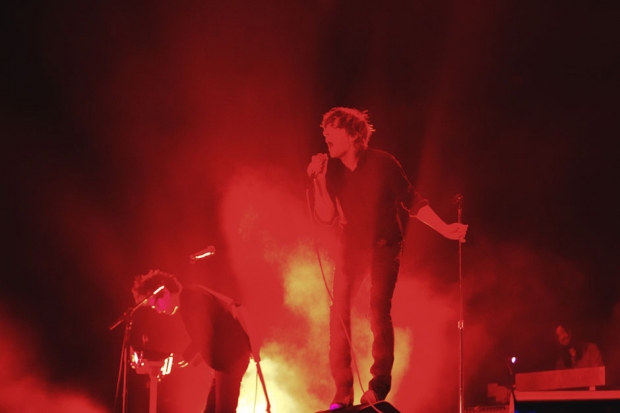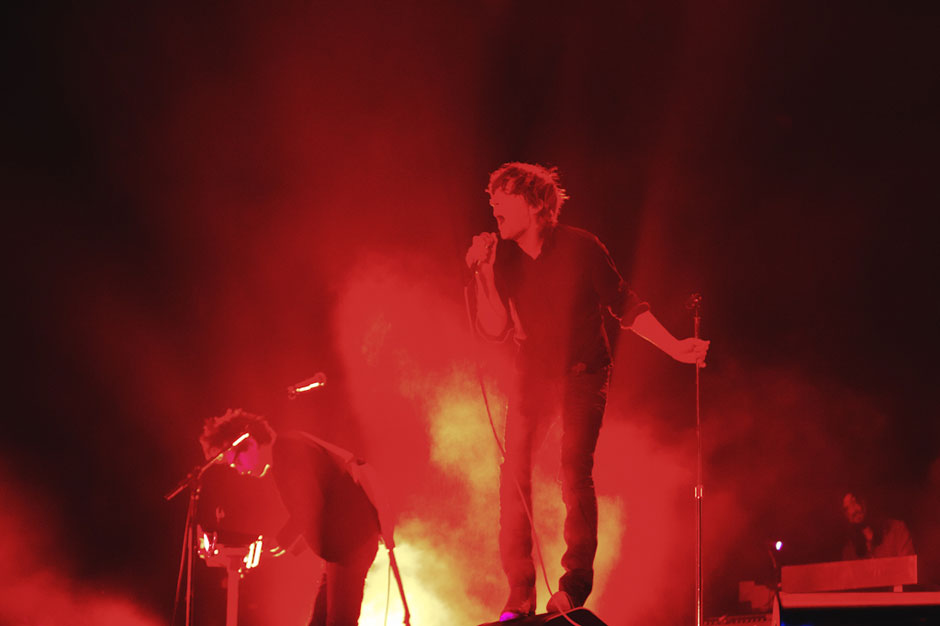 2. THE CONCEPT: "We try to make what we believe people do not like yet."
Trying to explain Phoenix's raison d'etre, Laurent Brancowitz raises a forefinger in Eureka! fashion: "We are fighting to create a new kind of coffee shop!" He, his brother, and I are sitting at a combination bicycle boutique-café on San Francisco's Divisadero Street. Across the boulevard, which is lined by pastel-colored, three-story Victorian homes, roadies unload gear from a 14-wheeler in advance of Phoenix's show tonight at the nearby venue, the Independent. It's April Fools' Day, and Branco, elegantly tousled in a pale blue Université Paris-Sorbonne V-neck sweater, is trying, with the hazy erudition of a young professor still fascinated by, say, the interpretive possibilities of semiotics, to isolate the function of Phoenix. Or, more specifically, how they've managed to achieve what the Black Keys, Strokes, Killers, or any other mass-culture guitar-based band birthed as the 20th century gave way to the 21st have not: Keep the concept vital. They've sold records while simultaneously exuding charm and modernity, and creating ear worms that don't lay foul double-yokers in your frontal lobe. Indeed, 13 years into its recorded career, the band, as evidenced by its elevation to festival headliner status, now confidently expects — and is expected — to entertain both casual music fans and connoisseurs.
"We want to serve coffee made out of, something else, out of soybeans," elaborates Branco, who tends to let his metaphors roam. "The idea is to fight against what people expect exactly, to make a new coffee shop for them to come to, not the coffee shop that looks the same in every city that every young person goes to and feels comfortable."
Wearing Ray-Bans and a denim jacket, Mazzalai is denuding a pulled-pork brioche with his fork. "It will sound pretentious," he says, eyebrows bouncing above his sunglasses, "but in a humble way we try to make what we believe people do not like yet. This is how to treat the listener with respect."
But, respectfully, this is pop music, where there isn't much patience for growers. "Because Wolfgang was successful," posits Branco, reaching across the table to sample brother Stewart's ginger beer, "people will probably give Bankrupt! at least three listens. We can't expect any more if the music is not enjoyable, so we always keep this in our heads. Our experimentation is always very subtle."
The LP, out April 23 and produced by Phillipe Zdar, who performed the same duties on its predecessor, doesn't have a song as instantly memorable as "Lisztomania" or "1901," but few do. Rather, its best tracks — "Bourgeois," "Chloroform," "Entertainment," "SOS in Bel Air" — adorns the band's bright melodies and frolicsome air with futuristic synths, radiant bridges, ingenious drum programming, and intricately uplifting chord changes. If the songs on Wolfgang Amadeus Phoenix  were racing ovals, Bankrupt!'s are street circuits. Different courses, but the aerodynamic Phoenix corner and accelerate comfortably on both.
"They achieve a kind of technical and emotional perfection," raves Air's Nicolas Godin, who has known Phoenix since they backed up his band at live shows for a brief, suave spell in the late '90s. (Air also scored 1999's The Virgin Suicides, the directorial debut of Mars' future-wife, Sofia Coppola.)
"It's very hard to preserve any form of innocence when you become more and more popular," Godin reasons. "The key for Phoenix is that they can go in the studio and remember the dreams they had when they were kids in Versailles of making great records.")