And poetic justice for all: Kanye West is facing a copyright lawsuit seeking payment over his 2005 smash "Gold Digger." According to TMZ, the children of David Pryor, the singer and songwriter of his band Thunder & Lightning's 1974 "Bumpin' Bus Stop," have sued claiming West wrongfully sampled the track for his own No. 1 hit. Around the 13-second mark, Trena Steward and Lorenzo Pryor allege, you can hear Pryor saying the words "get down."
Which, you seemingly can, but it's such a tiny, incidental sample. At some point these lawsuits seem more about, well, gold-digging than justly reaping the rewards of artistic creativity. Lord knows, West has faced plenty of them, settling one with Syl Johnson, winning another by a person who apparently had never heard of Nietzsche, and attracting legal interest from the same outfit that sued the Beastie Boys on the eve of Adam Yauch's death.
Then again, the sample database WhoSampled.com says "Bumpin' Bus Stop" has previously been sampled by Gang Starr, Dr. Octagon, Beanie Sigel, and Madvillain, among others. Now, WhoSampled.com can be notoriously unreliable, but it can at least indicate a sample's general popularity. If those rappers paid for their sample use, it makes sense that West might need to pay some small amount for his, too. But Steward and Pryor also reportedly want a judge to halt sales of "Gold Digger," which just sounds ridiculous on its face. The song is eight years old!
More recently, RZA has countersued in a battle over a piano line he used for West, suggesting would-be plaintiffs from now on may have a reason to double-check their claims are legally compelling before going forward. Especially considering Yeezy might or might not be "a god," and everything.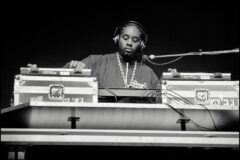 Compare the two songs in full below.
https://youtube.com/watch?v=yUCEVFpFqEc%3Ffeature%3Dplayer_detailpage