How fast they grow. On today, Sunday, April 28, Apple's iTunes Music Store celebrates its tenth year of existence. If you can, think back to April 2003 — the White Stripes' Elephant had just been released, the world was eagerly awaiting a new album from the Strokes (something not likely to ever happen again), and Justin Timberlake had recently Justified his post-'N Sync existence.
To commemorate Apple's double-digit birthday, SPIN has assembled a list of highlights from iTunes' history below.
Date: April 28, 2003
Milestone: The iTunes Music Store launches with a library of 200,000 songs, each priced at 99 cents. U2's very of-the-moment "Stuck in a Moment" is the day's biggest track, while Beck's opus, Sea Change, sits atop album sales.
Date: October 7, 2003
Milestone: The very first iPod and iTunes "silhouette" television commercial airs, featuring "Hey Mama" by the Black Eyed Peas. The ad campaign exposes the digital retailer to an immeasurably larger audience; it also unfortunately exposes the Black Eyed Peas to an immeasurably larger audience.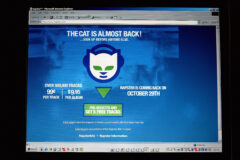 https://youtube.com/watch?v=wwv-dekrc24
Date: July 12, 2004
Milestone: A 20-year-old from Kansas named Kevin Britten downloads the 100 millionth song on iTunes — "Somersault (Dangermouse Remix)" by Zero 7 — and wins a PowerBook, an iPod, and 10,000 free songs, which is almost definitely the best thing that's ever come from listening to Zero 7.
Date: 2005
Milestone: Garden State (Music From the Motion Picture) ranks in the top 10 best-selling albums of the year. In 2013, the compilation lands on SPIN's 40 Movie Soundtracks That Changed Alternative Music feature. SPIN's Daniel Kreps noted, "It's amazing that the Garden State soundtrack, originally just a mixtape the dude from fucking Scrubs made for himself, was the catalyst for indie rock to officially enter the mainstream, but thanks to it, the door was kicked open for Arcade Fire and Bon Iver to win Grammys, for Vampire Weekend to score a gold record, and for Gotye and fun. to rule radio."
Date: February 23, 2006
Milestone: Coldplay's "Speed of Sound" becomes the billionth song sold on iTunes. The culprit, Michigan's Alex Ostrovsky, wins a 20-inch iMac, 10 iPods (!), and a $10,000 gift card good for any item in the iTunes Music Store.
Date: 2007
Milestone: "Hey There Delilah" by Plain White T's ranks higher than Rihanna's "Umbrella" on the year-end list of Top-Selling Songs. For shame.
Date: April 3, 2008
Milestone: iTunes becomes America's No. 1 music retailer. Five years later, New York City landmark record shop Bleecker Bob's shutters its doors. We're not saying the two are directly related, but, hey, these are the facts.
Date: November 16, 2010
Milestone: The entire Beatles catalog becomes available digitally for the first time ever, exclusively on iTunes. A power play if the music industry has ever seen one.
Date: February 6, 2013
Milestone: Germany's Phillip Lüpke downloads the 25 billionth song on iTunes. The historic track? "Monkey Drums (Goskel Vancin Remix)" by DJ/producer Chase Buch. Americans respond by Googling "Monkey Drums (Goskel Vancin Remix)" by DJ/producer Chase Buch.
Date: March 19, 2013
Milestone: Justin Timberlake's first studio album in nearly seven years, The 20/20 Experience, sells more than 580,000 copies on iTunes in its first week, setting a new worldwide record.