The 50 Best Things We Saw at Coachella 2013
1. The 50 Best Things We Saw at Coachella 2013
1/51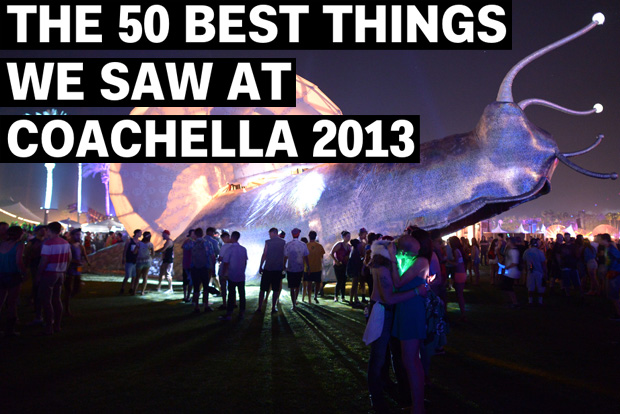 2. Best Headliner: YEAH YEAH YEAHS
2/51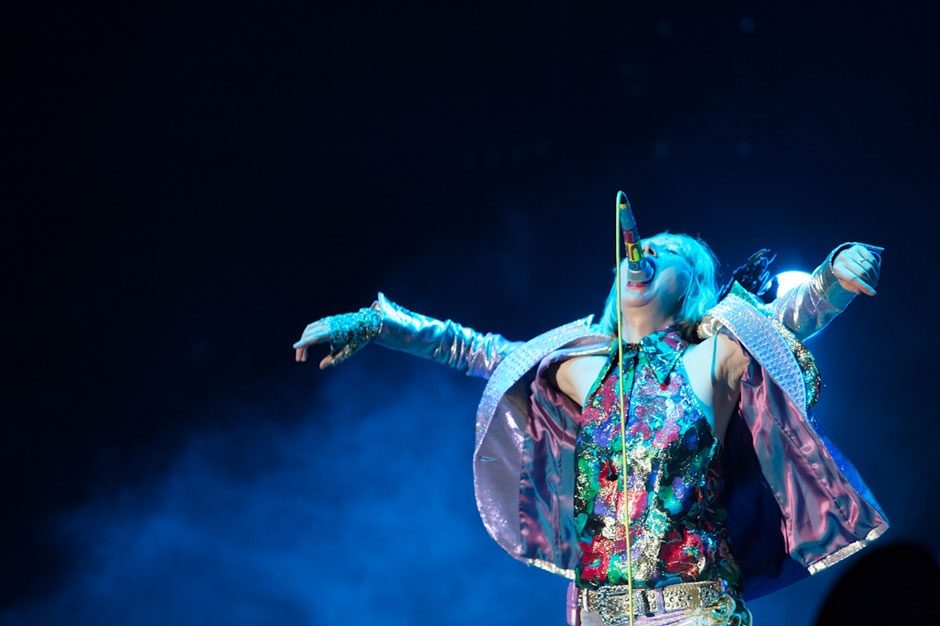 Four acts performed on the Coachella Stage after the sun went down Friday, and Yeah Yeah Yeahs were the only ones who started releasing albums this century. Perhaps as a result, they couldn't play it safe, and they didn't. The band opened with their latest single, "Sacrilege" (performed again with a choir, this one imported from Los Angeles), and tested out the delicate, hushed new Mosquito track "Subway" directly after the crowd-pleasing hit "Zero." The taut punk of "Pin" and soupy dub of "Under the Earth" challenged the patience of chilled-out bros who seemed puzzled by the brilliant show-woman in a lavender jumpsuit cavorting in front of them. Karen O didn't double down on wild gestures to fill the massive stage, though, relying instead on a more subtle visual presentation paired with the band's superb musicianship. Karen managed to rouse the crowd from its stupor for a "Gold Lion" clap-along and the Show Your Bones gem came off full, bright, and inspired. Mosquito's "Slave" — performed for the second time ever, following its debut at New York's Webster Hall last weekend — was assured and haunting. And as designer Christian Joy correctly noted in our recent cover story, the band's most popular track these days appears to be "Heads Will Roll," which capped the 11-song set. It's hard to imagine the Strokes or any of the other bands birthed around the same time as the YYYs stepping onto such a massive platform and throwing down the gauntlet like this, challenging the audience to get with a brand-new program. Which is probably why Yeah Yeah Yeahs are the only band of its generation with such plumb billing this year.
3. Best Headlining Performance from a Non-Headliner: WU-TANG CLAN
3/51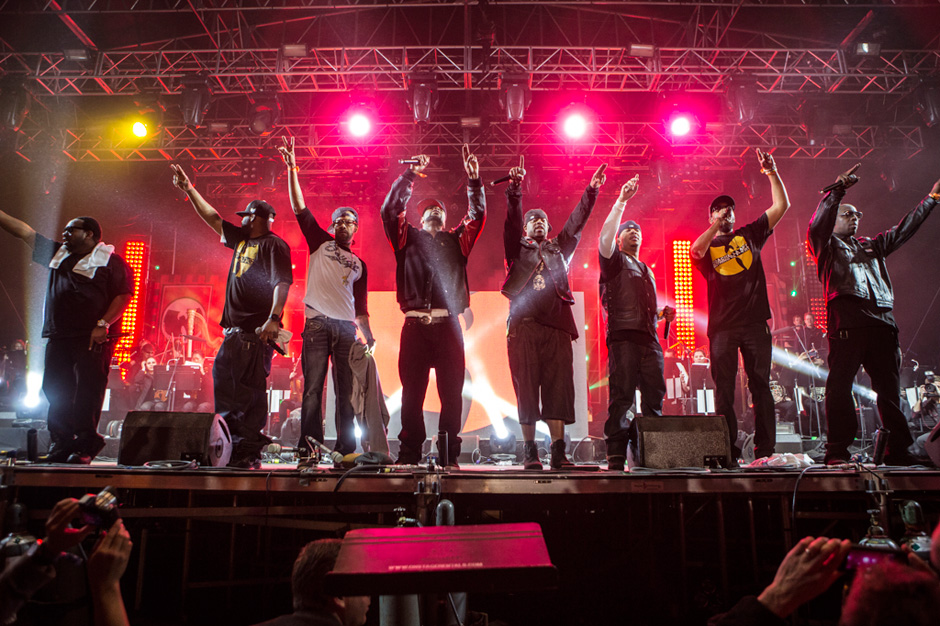 Let's be honest: There were some grumblings over this year's headliners. The Stone Roses played to an embarrassingly small crowd on Friday night. Phoenix are an extremely enjoyable and beloved band, but they still operate very much on the fringes of American pop. Sunday's nominal headliners were Red Hot Chili Peppers, a legacy act that is far from galvanizing in 2013. But it turned out that the weekend's real headliners were right under our noses, but nobody realized it until Wu-Tang Clan hit the stage at 9:30 p.m.
Wu-Tang were listed on Coachella's poster after groups like Vampire Weekend and Social Distortion, and seemed to be rather under-hyped throughout the festival. That's mostly because, after years of in-fighting, nobody ever knows what form a Wu-Tang set will take. There were no confirmations as to which of the eight living members would be onstage, info that was not being guarded but was still hard to piece together. The truth turned out to be better than anyone could have expected.
Coachella's Wu-Tang Clan was the full monty: Method Man, Raekwon, Ghostface, Inspectah Deck, U-God, Masta Killa, GZA, and Cappadonna joined onstage by the elusive RZA for a full reunion. The group kicked off the set with a run of tracks off Enter the 36 Chambers (which celebrates its 20th birthday in November) before sliding into various other hits, both solo and group. The energy was palpable both onstage — where the rappers were clearly geeked to be performing with each other on this night — and in the crowd, where an entire generation of the Wu's children were seeing them for the first time. And this was before RZA even brought out an orchestra. The crowd stretched back about 400 yards, even as the wind whipped sand into everyone's eyes and mouths. Not a headlining set in name, but it will be talked about for years as one of Coachella's defining moments.
4. Best Cameo: R. KELLY JOINS PHOENIX
4/51
Phoenix are a band that lets their hooks speak for themselves — their lyrics are inscrutable and they like it that way. Their electrifying headlining set at the main stage on Saturday was no different — "1901" was a massive sing-along even though clearly nobody knew the exact words to the chorus (it's "fallin', fallin', fallin'," right?). As far as stage banter, they said very little beyond noting when they were about to play a new song. But those songs!
Backed by a massive video screen and framed in tasteful beams of light, the foursome turned out giddy chorus after giddy chorus, each with precision and power, slick and irresistibly artful. And there was also a playful twist: The worst-kept "secret" at this year's festival was that Daft Punk — who were in Indio this weekend — would be performing with their fellow Frenchmen, and the anticipation was palpable. Every four-second break between songs felt pregnant with the opening notes of "Harder, Better, Faster, Stronger." Then, at one point, Phoenix began "1901," the stage went dark, and we heard the following: "My mind is telling me nooooo / but my body, my body is telling me yessssss," which seemed like a rapid-onset fever dream until R. Kelly emerged onstage. He and Phoenix performed a fantastic mash-up of "Ignition (Remix)" and the aforementioned "1901," the latter including a quick jump into "I'm a Flirt (Remix)"/"Chloroform." But the superstair pairing wasn't enough for some hopeful fans: Even after Phoenix had finished, a number of bewildered crowd members were still standing their ground staring at a deconstructed stage, waiting for two guys in robot suits.
5. Best Cameo (Gobi Stage Edition): TY SEGALL JOINS THEE OH SEES
5/51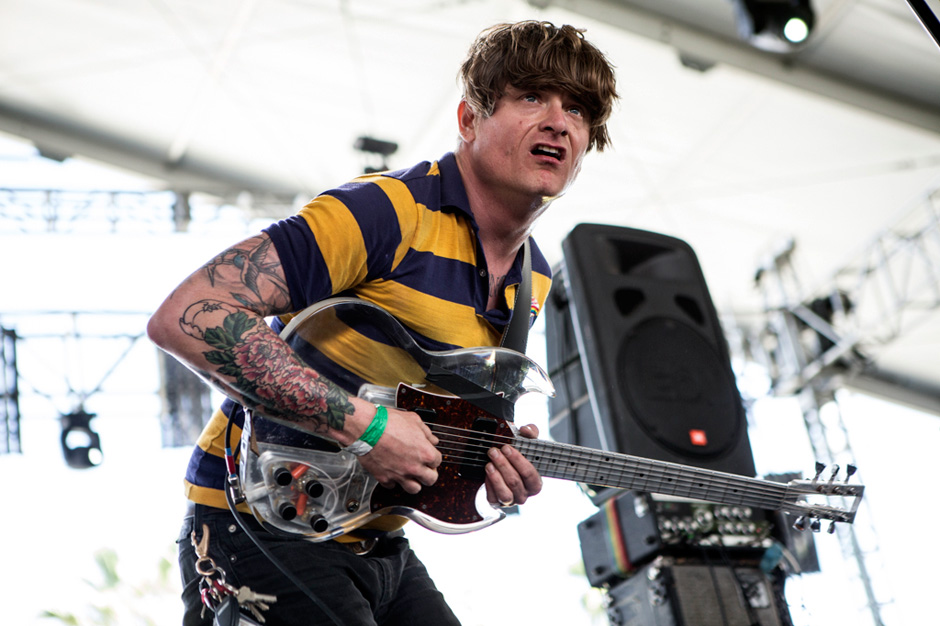 Thee Oh Sees are so reliably awesome at every festival they play that people almost take them for granted. Do so at your own risk. The San Fran psych-garage outfit took up residence in the Gobi Tent late Sunday afternoon and began moving at warp speed (bassist Petey Dammit! never paused his manic head nods). Frontman John Dwyer licked the mic and wielded his guitar like a bazooka, then spotted fellow Bay Area groovie Ty Segall in the front row of the VIP section and demanded he join the band onstage. Segall lacked the appropriate wrtistband but launched himself over the metal barrier (crashing to the ground in the process), then sprinted onstage to play sleigh bells and tambourine. Heads shook, bodies gyrated, and a surprisingly large number of female crowd-surfers ventured onto the shoulders of the audience. This was rock'n'roll far more pure than the MDMA being shared two tents down.
6. Best Reunion: BLUR
6/51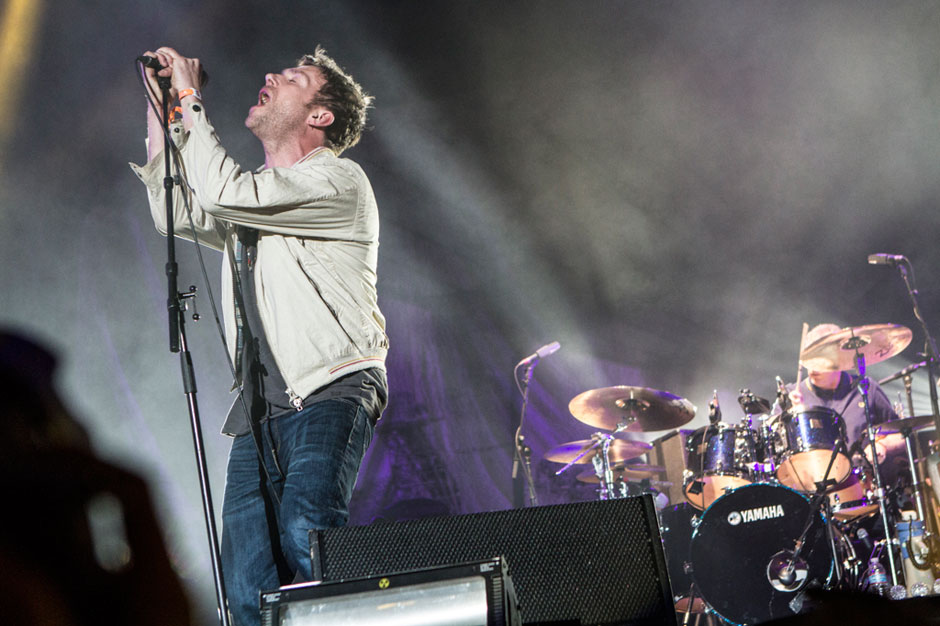 "It's very nice to enjoy your sunshine," Blur frontman Damon Albarn told the Coachella crowd Friday, as if we'd brought the evening's mellow California warmth just for him. It was a refrain expressed by various English bands throughout the day, but it felt especially appropriate considering the sunny flair of Blur's set. The Britpop legends were supported by four backing vocalists and a horn section, which imbued songs often inspired by dreary London weather with a distinctly uplifting vibe — it would've been hard to fault an onlooker approaching from the distance for thinking that it was Spiritualized or something. The fleshed-out, gospel-inflected climaxes of "Beetlebum" and "Caramel" were appropriately widescreen — with Albarn beckoning the backup singers for more and more — a triumphant, blown-up version of Blur justifying their return to American soil for the first time since 2003.
7. Best EDM Fan: THIS KID
7/51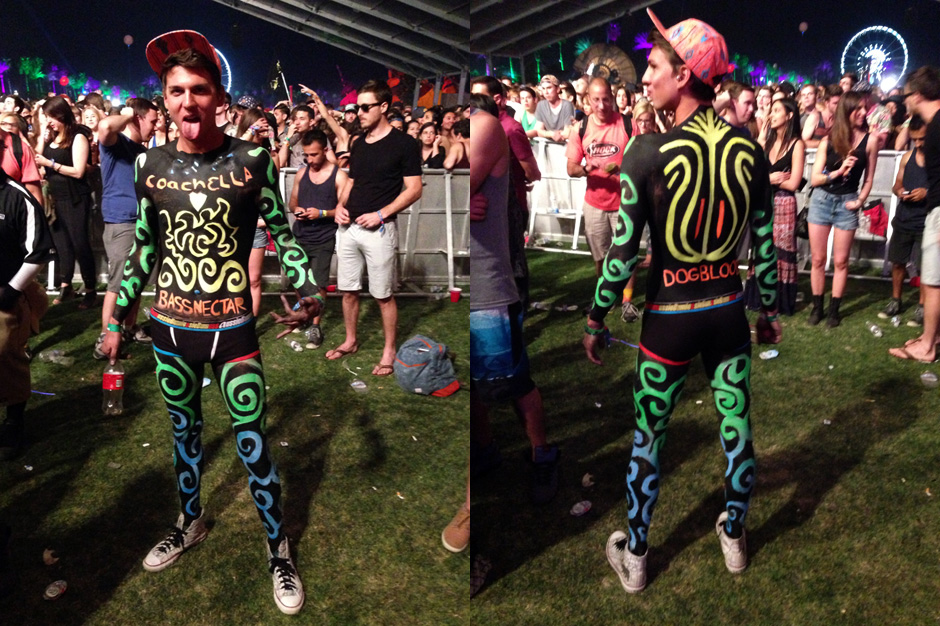 This kid lives for the drop. This kid sticks his tongue out because he wants you to deposit your mollies there. This kid is feeling Bassnectar up front because that dude's been around for more than a minute. But this kid writes Dog Blood on his back so you know he's up on the new shit. This kid dons sneaks, a snapback, and briefs and paints his entire body because he's ready to party.
8. Best Punk: TRASH TALK'S LEE SPIELMAN
8/51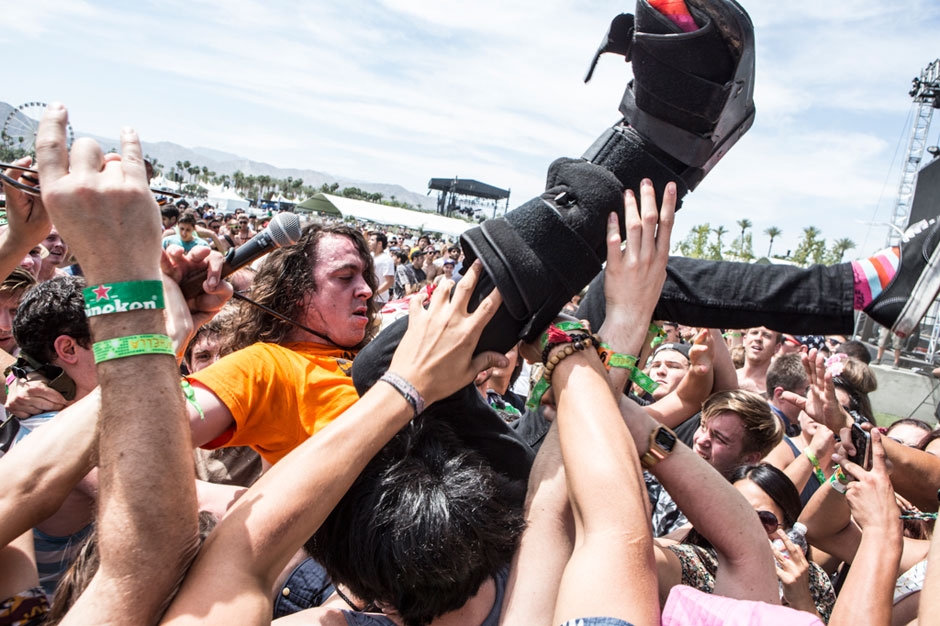 Face-melting punk at 1 p.m. on a 100-degree day at a stage where no shade can be found? Absolutely. Trash Talk singer Lee Spielman officially submitted his application to hardcore heaven on Saturday when he fought through what looked like some serious heatstroke (he vomited twice) to enter the crowd (with a broken foot) so that he could scream and surf along with his fans. He also tossed out cans of Bud, encouraged the smoking of bud, and just generally exemplified what it is to be a grade-A bud. "Wasn't this a nice change of pace, though, before you guys are all on drugs in the Sahara tent?" he asked toward the end. Then he sung a song about starting a riot.
9. Best Ballad: BAT FOR LASHES' "LAURA"
9/51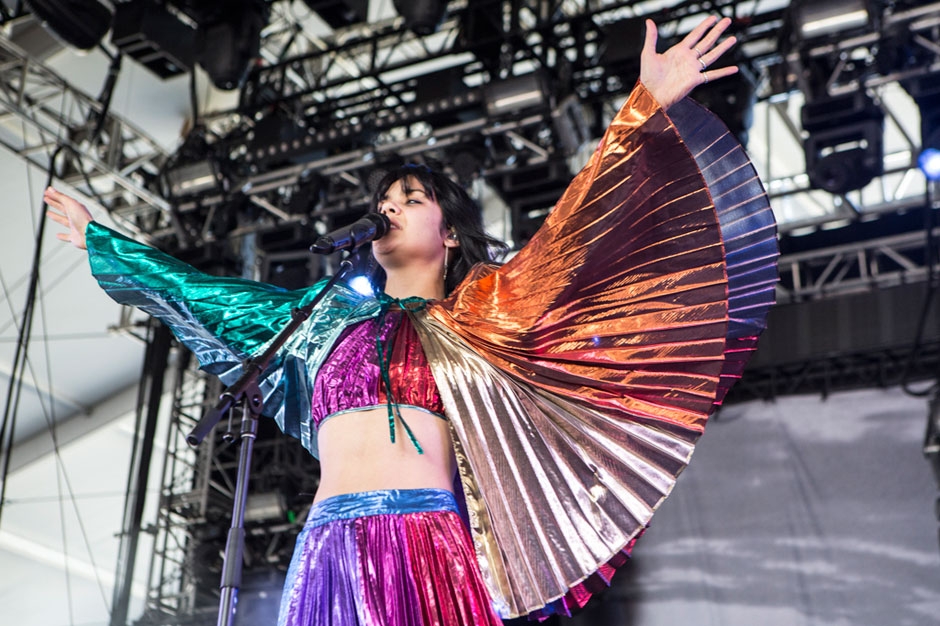 Festivals are a tricky place to pull off quiet tunes — the audience is mostly drugged, drained, dehydrated, and distracted. But all conversation, texting, and breathing seemed to halt when Bat for Lashes sang "Laura" at the Mojave tent Saturday afternoon, accompanied only by a pianist. Natasha Khan started the song about fading fame delicately and ended passionately, repeating, "You're more than a superstar" with swelling emotion. We were already on our feet, but the reaction looked and sounded like a standing ovation.
10. Best Swearing in Front of a Children's Choir: NICK CAVE AND THE BAD SEEDS
10/51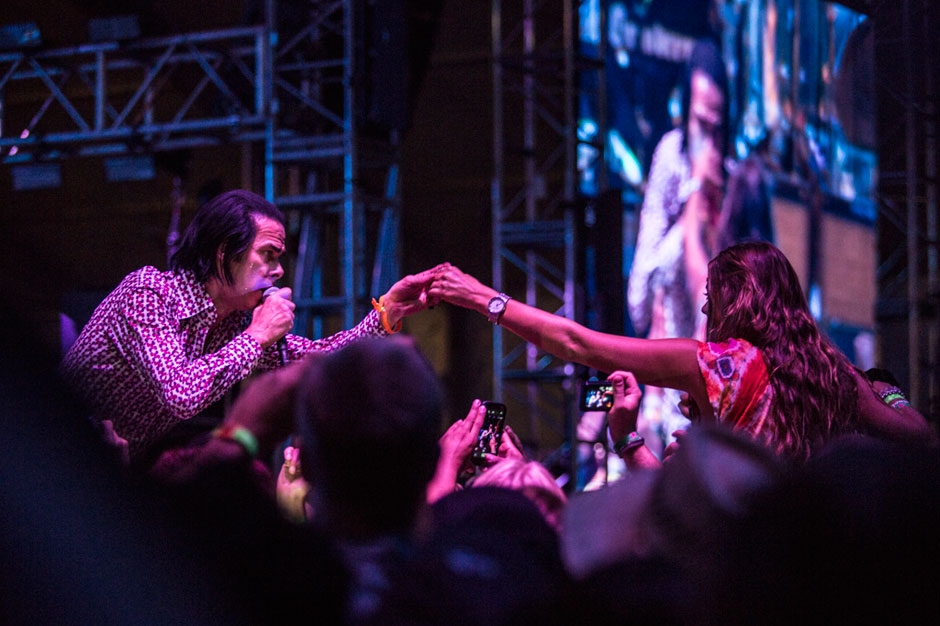 For the record, poor Billy Dilly never stood a chance. As fans acquainted with the Murder Ballads favorite already know, "Stagger Lee" wins every time — doubly so when Nick Cave sings the old standard whilst standing atop his fans. The Bad Seeds came to Coachella's main stage on Sunday night, and planted a foot firmly on the back of any who would stand in their dastardly way. The oft-repeated tale of that infamous titular bastard Stagger offered a perverse highlight: hearing Cave scream-sing, "Suck my dick," into an audience that began only inches from his belt buckle. The children's choir that accompanied two of the band's songs were notably missing from the stage for this one.
But first, there was the children's choir. The band's set, which felt all too short at 50 minutes, was bookended by a pair of songs from February's Push the Sky Away — "Jubilee Street" and the titular track — and each was helped along by an adorable squad of singing tykes courtesy of Flea's Silverlake Music Conservatory. ("We got these little kids from L.A.," Cave explained.) Many of them wore shirts that read "Bad Seed," though we imagine they were firmly advised to cover their ears during "Lee."
In between, the Seeds treated the nighttime crowd to 1984's clanging "From Her to Eternity" (best part: watching madman Warren Ellis conduct the string section with demented glee), slowed things down for 1994's "Red Right Hand" (picture Cave doing his own virile version of the Pee-Wee dance), led a fist-pumping chant-along via punk ripper "Deanna" (1988), and delivered a particularly Biblical rendition of "The Mercy Seat." Oh, and there was "Jack the Ripper," to which Japandroids singer Brian King air-drummed furiously from within the often too-cool-for-school guest viewing area.
11. Best Afternoon Horrorshow: GHOST B.C.
11/51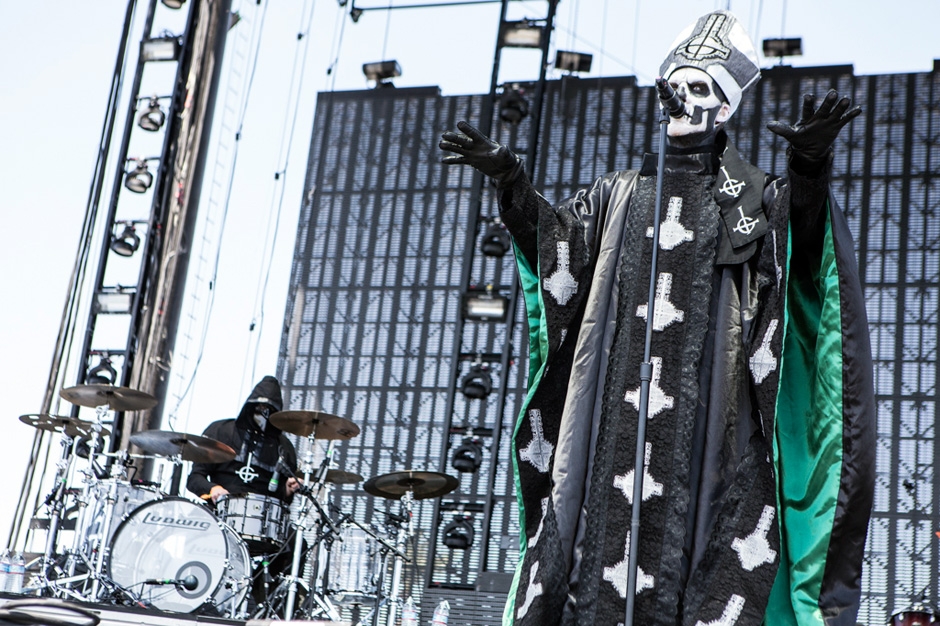 "Good evening," Ghost B.C.'s Papa Emeritus II told the Coachella crowd. It was 1:30 p.m. on Sunday afternoon. The sun was at its blazing peak, but the Swedish metal band was haunting the main stage in head-to-toe black cloaks and masks (one tech's primary purpose appeared to be adjusting the hood atop the Nameless Ghoul who was manning the drums). Papa Emeritus II — the only member of the band who isn't known as "Nameless Ghoul" — was even wearing black gloves. But the group's striking, melodic metal, which soared across Coachella's great field, was what drew curious listeners closer as they tested out tracks from their new album Infestissumam and broke out older songs like "Ritual" from 2010 debut Opus Eponymous.
12. Best Fashion Meme: FLOWERS
12/51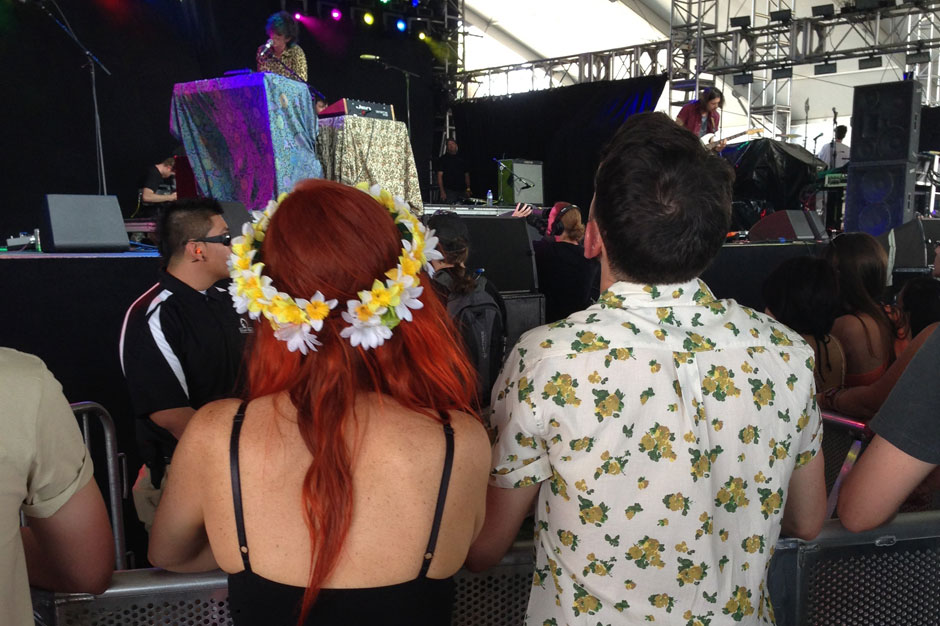 Summer festivallers take note — fake flower headbands are the new feather headdresses. Co-opting Native American culture is out, thankfully, and hippies are back in. Hippies, that is, who are okay wearing pollutant-rich plastic representations of things that smell nice and help keep the world alive. So, not really hippies at all, but at least the handful of goons who showed up in faux-Native beads and fringe felt shame. Even if it was for being so 2012.
13. Best Live-Action Spring Breakers: THE DO LAB
13/51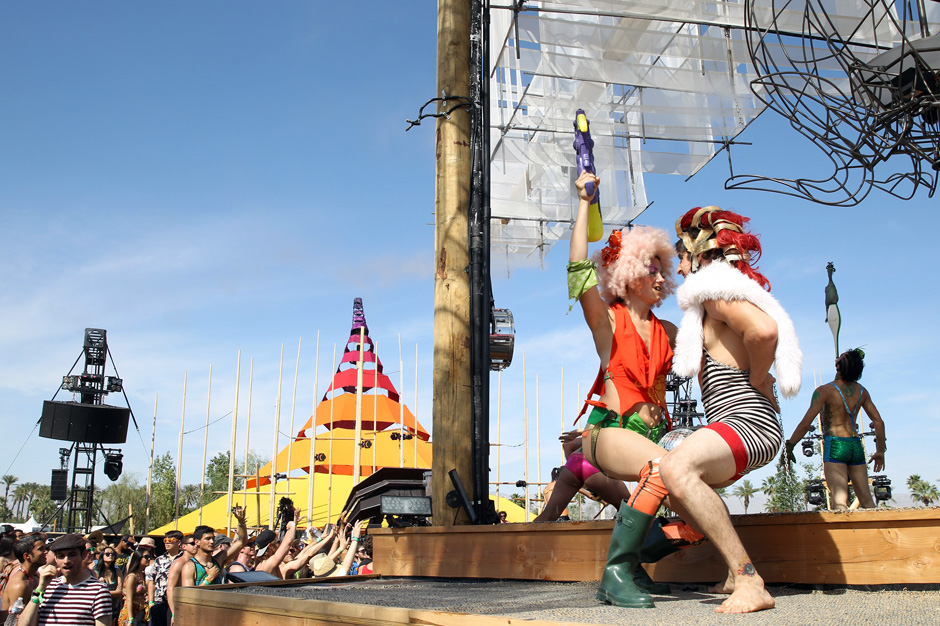 Coachella's Do LaB is an annual art installation set in the middle of the grounds that provides shade with aesthetically pleasing structures. Amongst the modified tipis this year was a small DJ booth and stage, which was emanating an endless stream of EDM for the ravers and molly kids who found themselves outside the dance tents' safe haven. The crowd that gathered in front of the stage to dance were surrounded by festival employees wielding hoses jacked straight from car washes — a wet-and-wild scene that Harmony Korine would salivate over.
14. Best Hip-Hop Performance: 2 CHAINZ
14/51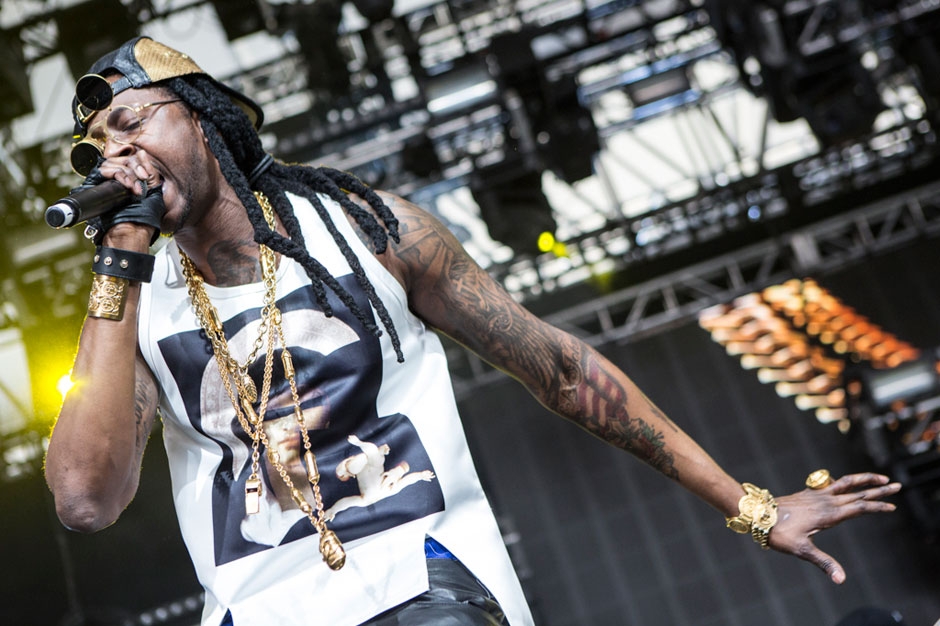 2 Chainz's 4 p.m. set at the Mojave tent on Saturday was at once a celebration of the man, his deep catalog, and all of contemporary rap. In 2013, 2 Chainz is so ubiquitous that to watch him perform is to revel in the existence of the genre: He aired nearly as many songs by other artists — Kanye West, Nicki Minaj, Trinidad James, Juicy J — as he did his own. The gawky 30-something draped in gold performed those tracks like he has an ongoing investment in them because he does. But first, we waited...
Coachella runs on a dime, but the tardy 2 Chainz forced the salivating crowd to swallow every passed second. All 20 minutes of them, as his band awkwardly jammed on his beats, inadvertently teasing the restless mass. Reportedly, Chainz was just accidentally late, but the anticipation undoubtedly worked in his favor. He finally rushed the stage to perform his scene-stealing "Mercy" verse, but only after his DJ had prompted the crowd to rap the entirety of Kanye's part. Here, though, 'Ye's verse found its greatest utility: Its jacked-up tempo proved almost impossibly tense as we all waited for Chainz to blurt, "Catch up to my campaign / Coupe the color of mayonnaise," live and in color.
2 Chainz was once thought to be a house of cards — a forgotten rapper who stumbled into a sudden flurry of high-profile guest verses. But Saturday's set was a double-cup of stardom, guzzled down in less than half an hour. People love this man, drawn to his unattainable cool cut-through with everyman swagger. They love his lines, even the really goofy ones — we all yelled, "She got a big booty, so I call her Big Booty," and 2 Chainz knew we would do so long before we ever did. At one point, he held a moment of silence for the stage. We all bowed our heads.
15. Best Lack of Restraint: BIRDY NAM NAM
15/51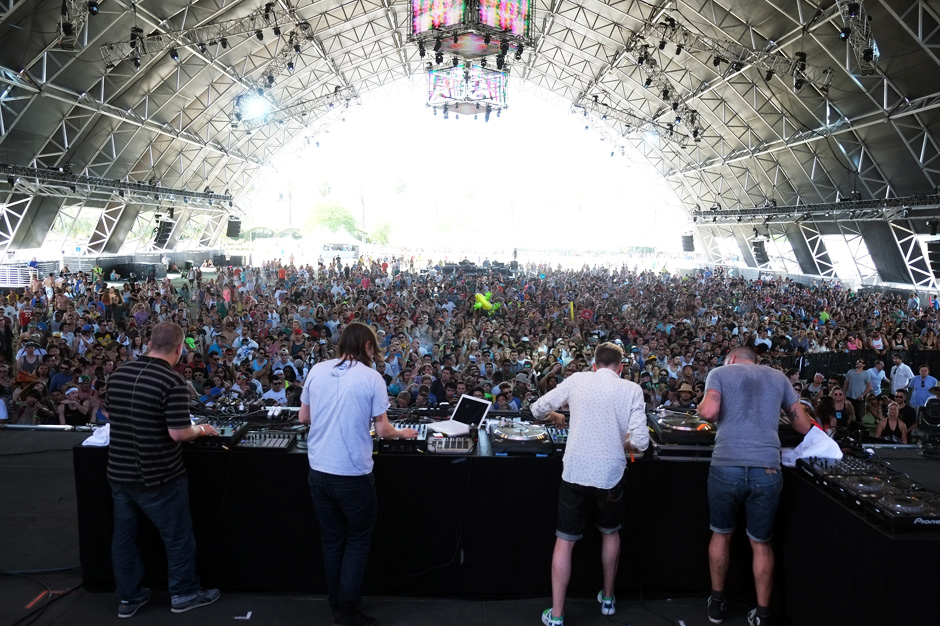 Birdy Nam Nam are a group of four Parisian DJs slowly emerging from obscurity thanks to Skrillex. His remix of their "Goin' In" became one of the wubstep wunderkind's signature tracks, and that was before he flipped it for his cross-pollinating A$AP Rocky collaboration "Wild for the Night." They have a catalog of other stuff, but this was the big blast in their bag of drops. And they threw it out shockingly early — just seven minutes into their set. For Birdy loyalists (or, more accurately, EDManiacs camped out at the Sahara tent all weekend), it was a quick high before the real shit, almost designed to filter out the dilettantes.
16. Best Topless Person: ACTION BRONSON
16/51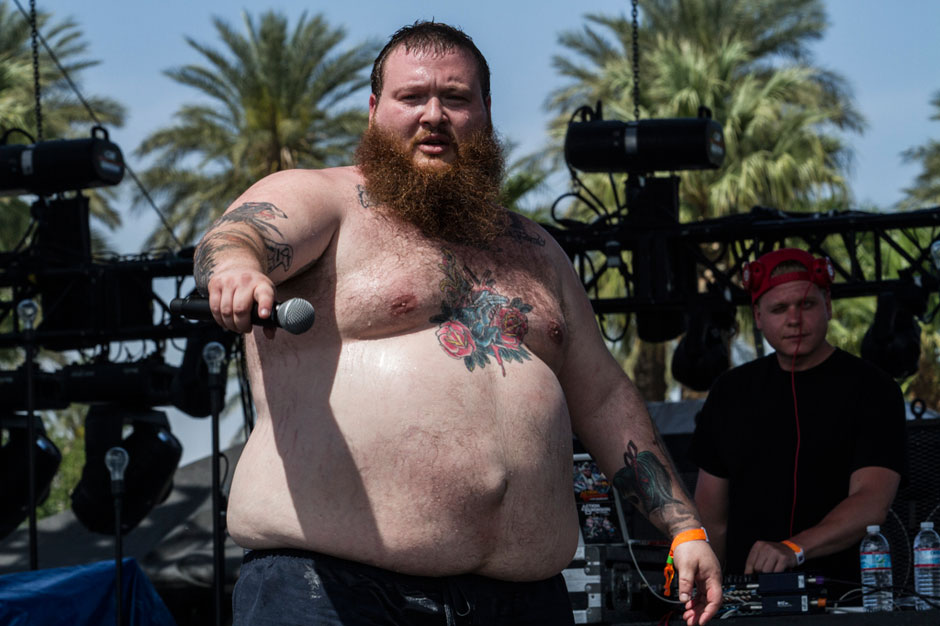 Coachella is notorious for all of the toned and tanned SoCal skin that's on view around the grounds, but Queens MC Action Bronson really took the cake (fair game since he raps so extensively about food) this year. After ripping an a cappella rhyme about steamed red snapper, he climbed down into the crowd, ate a tamale someone handed him, smoked all of the blunts he could find, and then emerged shirtless. "I'm sorry to subject you to this," said the rapper once he'd returned to the stage. "My shirt's out there somewhere."
17. Best Celebrity Sighting: RIFF RAFF
17/51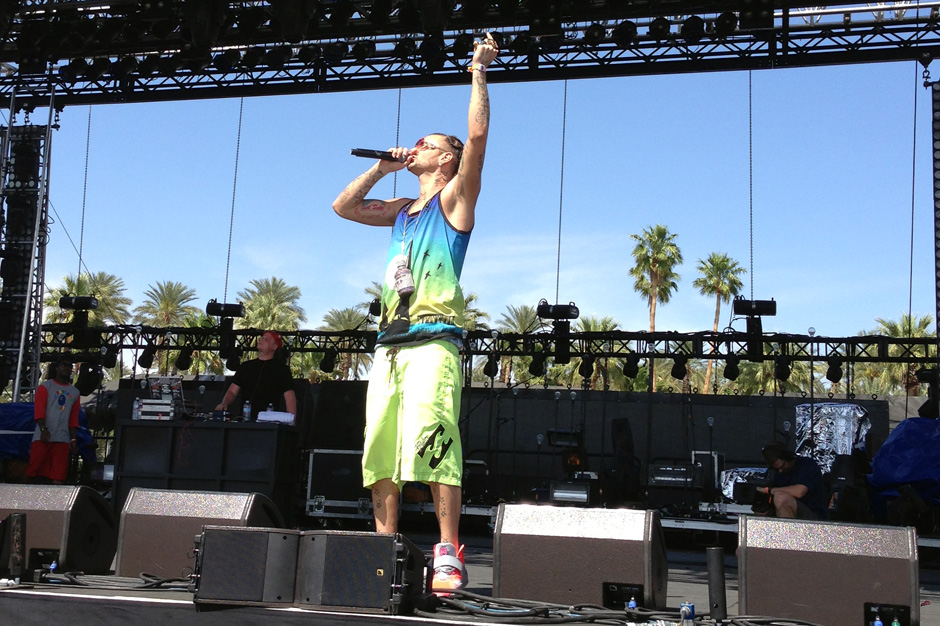 We know we saw Lindsay Lohan and all, but we know who you care about. After Action Bronson wore himself out, he requested a little help from the all-rapper peanut gallery watching in the wings. A couple of Odd Future members obliged, but it wasn't a party until RiFF RaFF arrived. The Riceman came-eth and spit "Bird on a Wire" with fantastically gonzo aplomb, while Tyler, the Creator and Earl Sweatshirt geeked hard on the sidelines.
18. Best Self-Celebration: MAJOR LAZER
18/51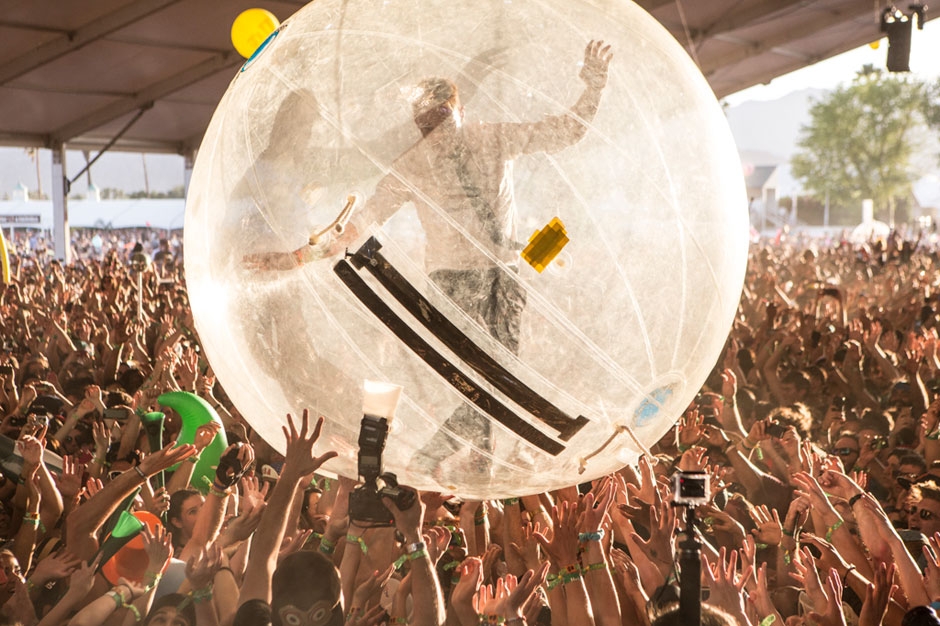 What does a Major Lazer set entail? Attendees of Diplo's later-afternoon set on Saturday at Mojave still may be unclear. As Major Lazer, Diplo himself spent more time running around the stage than he did behind the decks, throwing a whole bunch of vuvuzelas into the crowd, jumping into one of those plastic Wayne Coyne balls for crowd surfing, and imploring people to remove their shirts. Meanwhile, a DJ who wasn't Diplo twisted the group's E'd-out take on dancehall into shapes more familiar to EDM kids, with steady and consistent build-ups and drops every half-minute or so. It was ultimately bewildering, but, hey, Diplo was having a good time.
19. Best Unintentional Joke: THE OASIS WATER BAR
19/51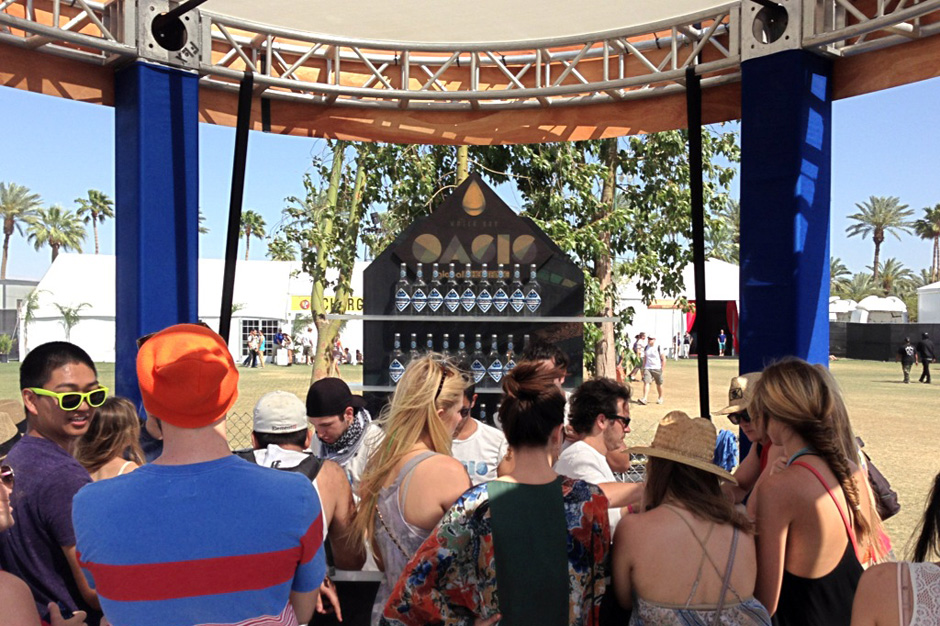 Offering everything from "Purified Wastewater" to "Artesian Aquifer" to "San Francisco Tap," this fancied-up mall kiosk served thirsty kids shots of the clear stuff out of various bottles topped with barware pouring spouts. It was strangely popular, proving that people will line up to "taste" anything — even if it patently has no taste. Thanks for that, Sideways. Thanks a lot.
20. Best Derp-Out: SKRILLEX
20/51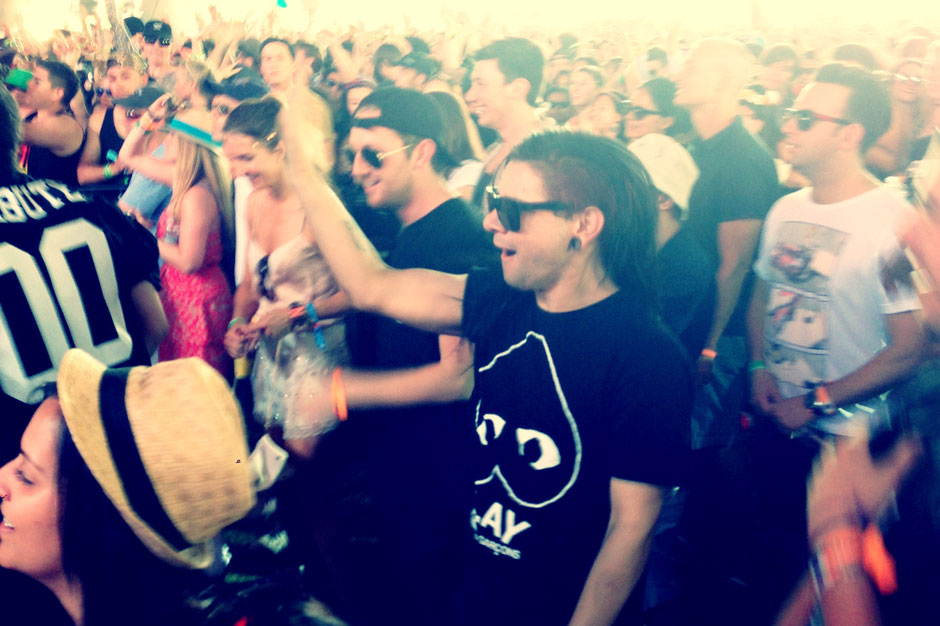 Baauer must have been the happiest dude in all of Coachella. Ten weeks ago, no one knew his name. Now he can pack put the Sahara at 3 p.m. while Skrillex derps out dancing next to us in the crowd. This shot was taken pre-"Harlem Shake." Who knows what Sonny's face did when the drop hit.
21. Best Sexy Motherfucker: FATHER JOHN MISTY
21/51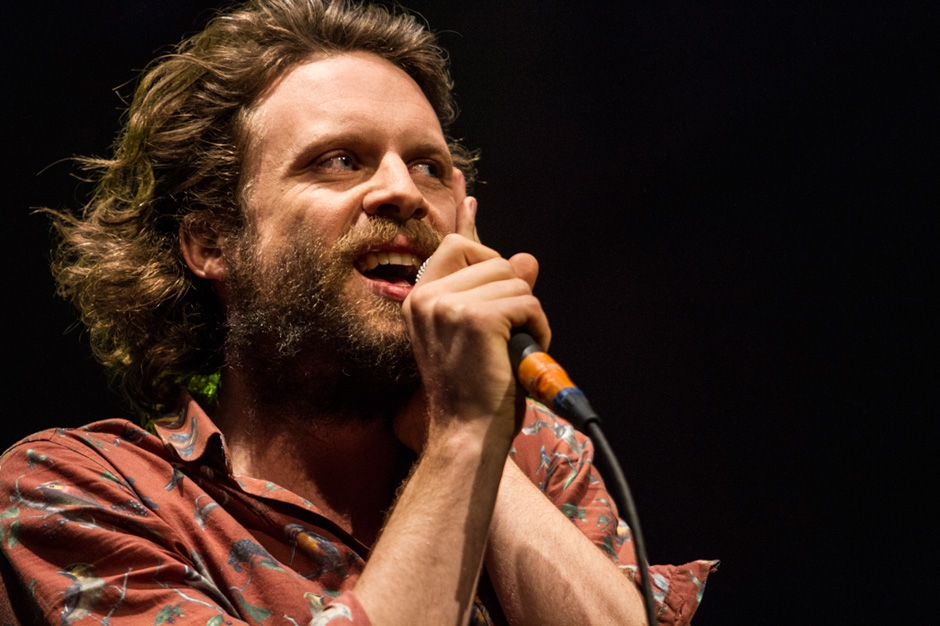 Whatever it was Father John Misty (a.k.a., Josh Tillman of Fleet Foxes fame) was selling, the ladies of Coachella were buying in bulk. Striding onto the stage at the Gobi tent Sunday night, he soundchecked sexily ("This is Joshua's voice"), he chatted about the weather sexily ("I'm here this evening to once and for all settle the fact that I'm more powerful than wind itself"), and joked about drugs sexily ("I know a lot of you are hallucinating right now, so let me get you up to speed," he announced. "Money is made out of candy, and candy isn't real"). Swashbuckling across the stage, Tillman was a vision in cream pleated pants, swiveling his hips, falling ecstatically to his knees, and strumming his acoustic guitar while crooning "Hollywood Forever Cemetery Sings" and "Only Son of the Ladies' Man." The ladies squealed, the men squealed (at least, the ones near us did), and everyone forgot about the sandstorm brewing outside.
22. Best Dinosaur Crowd-Surfer: DINOSAUR JR.
22/51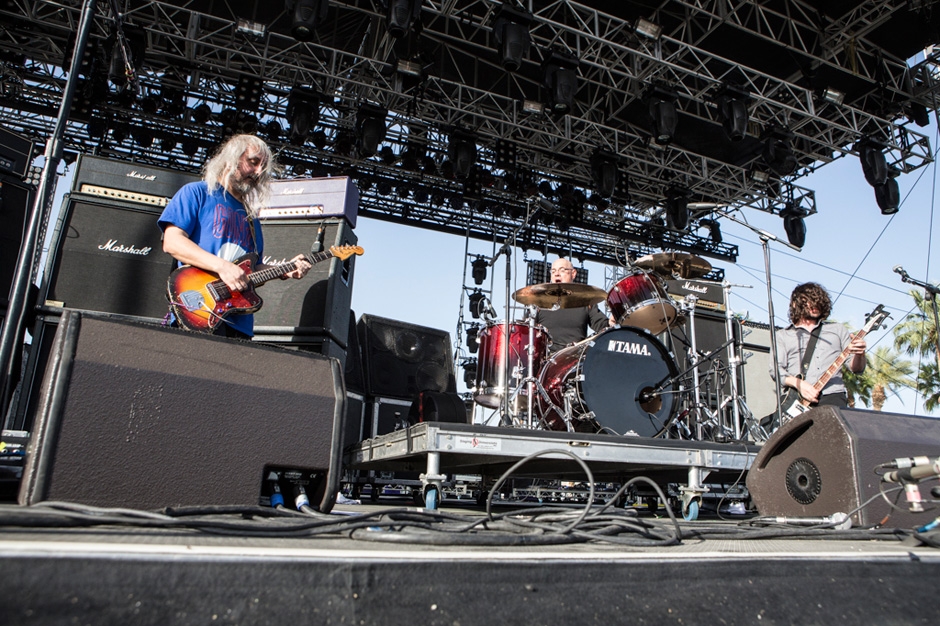 Many objects and people floated above the Coachella crowds this weekend, including a pool noodle, a ubiquitous blow-up alligator, and a pink flamingo. But we were delighted to see not one but two plastic dinosaurs making their way across the field when J Mascis and Co. hit the stage Sunday. Better yet, the security guards at the front of the Outdoor Theatre hauled in a guy outfitted in a full green T-Rex suit who'd crowdsurfed his way to the front. In the 90-degree heat, he was certainly feeling the pain.
23. Best Pandemonium: EARL SWEATSHIRT
23/51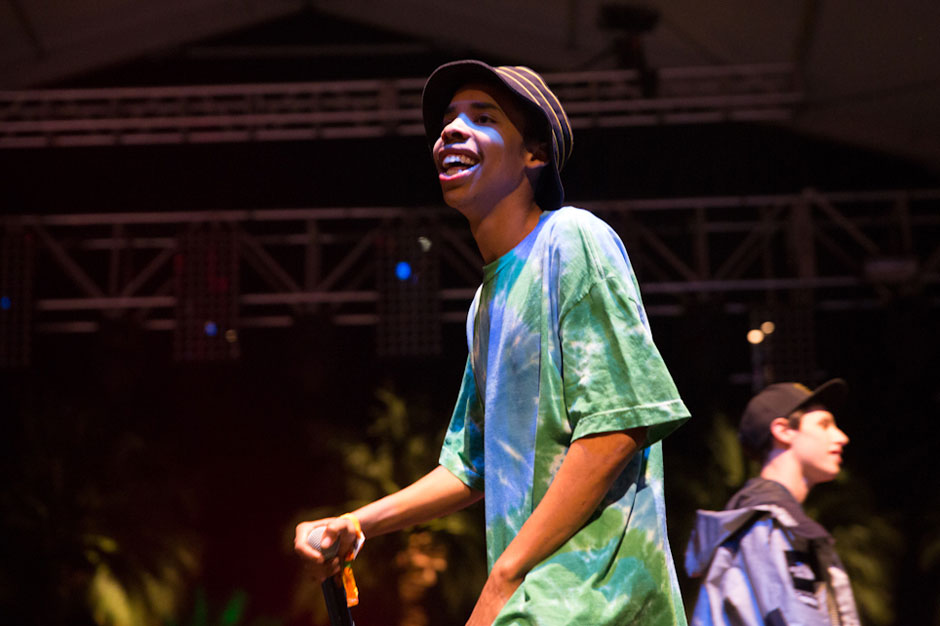 Want to make a small ocean of festivallers scream like it's 1964 and the Beatles just rocked The Ed Sullivan Show? If you're Earl Sweatshirt, all you've got to do is play a snippet of Odd Future associate Tyler, the Creator rapping over one of your songs and they'll lose their damned minds roaring for his arrival. Luckily for the countless Supreme-hatted stans gathered at the Gobi tent for the midnight set, the Golf Wang guru strutted straight out to perform his part of Earl's new single "Whoa." And then he stuck around to do just about every other song the two have shared verses on — from the ancient EarlWolf deep cut "Orange Juice" to "Rusty" from Tyler's Wolf, featuring an additional assist from Domo Genesis. Oh, and did we mention that Flying Lotus was Sweatshirt's DJ for the night?
But for all the insanity — Tyler's insatiable need to climb scaffolding; Taco's 15-foot Olympian leap from the stage into the crowd; FlyLo's live remixes of fan favorites; and all of those dark, rawly rapped new tracks — nothing brought the house down like everyone's original introduction to Odd Future: a little song about sex, drugs, and cannibalism from 2010 called "Earl." Our ears are still ringing from a few thousand frothing Wolf Gang fans shout-rapping, "Try talking on a blog with your fucking arms cut off!" Gulp.
24. Best New Import: DISCLOSURE
24/51
Time will tell whether London duo Disclosure will score legitimate crossover success in the U.S. — the British brothers Guy and Howard Lawrence, neither old enough to drink here, have already scored two major pop hits in England — but their tightly wound and triumphant Gobi tent-closing set proved they've already laid solid groundwork for building a steady Stateside following. The brothers played a handful of new tracks off their impending debut album, many of which leaned towards the jittery rhythms and swooning emotionality of U.K. garage. But when they dropped their big tracks, many in the crowd parroted every word, keeping up with the hamster-wheel tempo of "White Noise" and shouting along to the big, sweeping moments of "Latch."
25. Best Glowing Orbs: GRIZZLY BEAR
25/51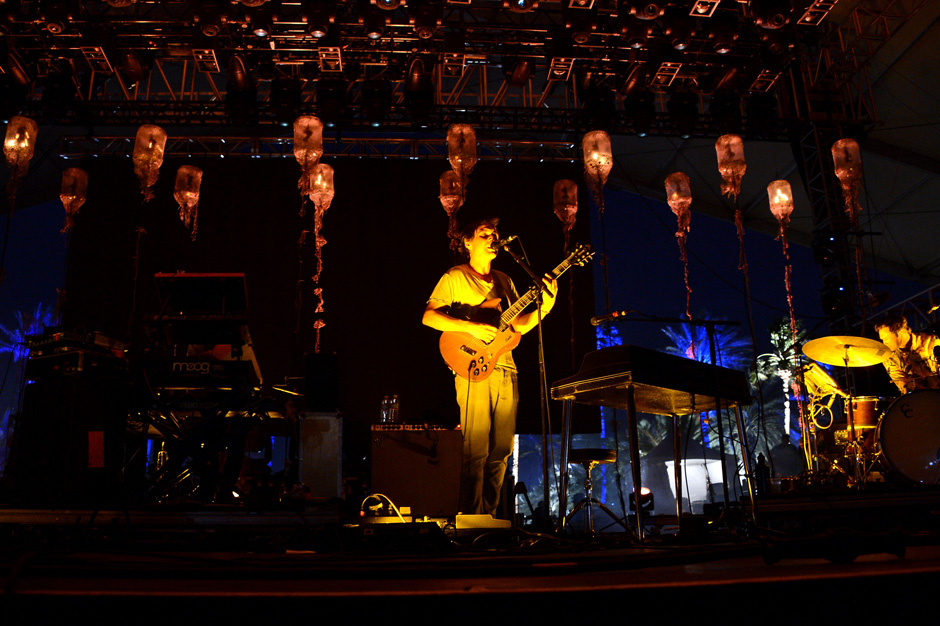 You might not expect it, but there was hefty competition in this category. As previously noted, Purity Ring rocked their illuminated hornets nests, and Sigur Rós launched animated glow-balls via the very busy LED screen over their heads. But Grizzly Bear wore it best, with twine-covered oversized Mason jars rising and falling behind them, held up by barely visible strings and lit from within. The band's sad-eyed singers already cast ghostly vibes with their haunting harmonies, but the set decor gave that eerie energy a physical home and made all of the band's newer noisy asides sound like the work of powerful demons.
26. Best Gaslight Anthem Dis: KURT VILE
26/51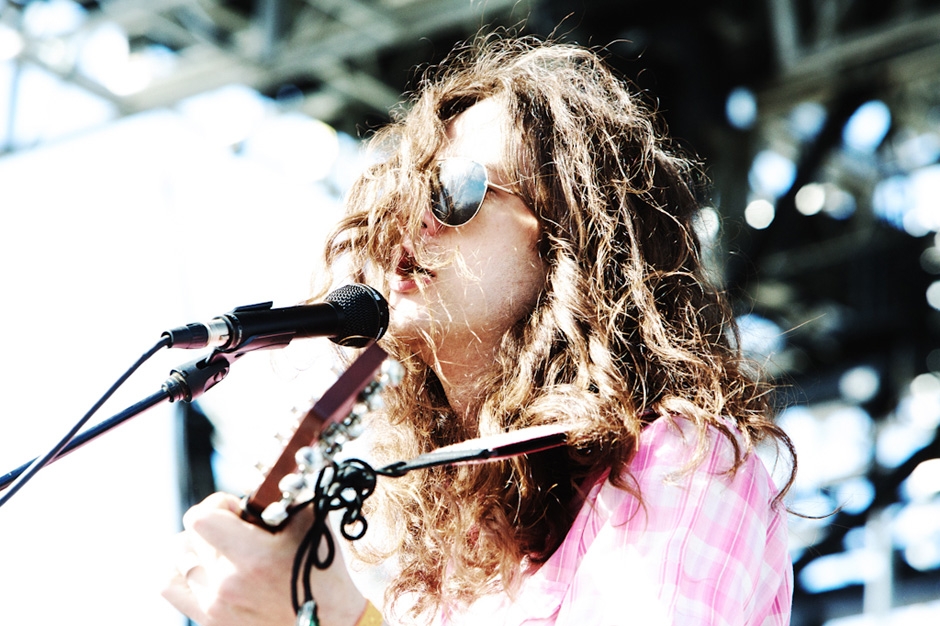 Kurt Vile is a quiet, friendly type, so perhaps that's why the crowd didn't realize he was making a funny when he hooked a thumb at the main stage, where Gaslight Anthem were playing, and said: "Hey, the Boss sounds good over there, doesn't he?" He also racks up a bonus "best" for use of the word "yeah" during his songs. How many "yeahs" does a Kurt Vile "yeah" when a Kurt Vile "yeah"s onstage? Thirty? A hundred? One "yeah" for every tasty lick? (He has a billion tasty licks, FYI.)
27. Best Attempt to Be Down: JURASSIC 5
27/51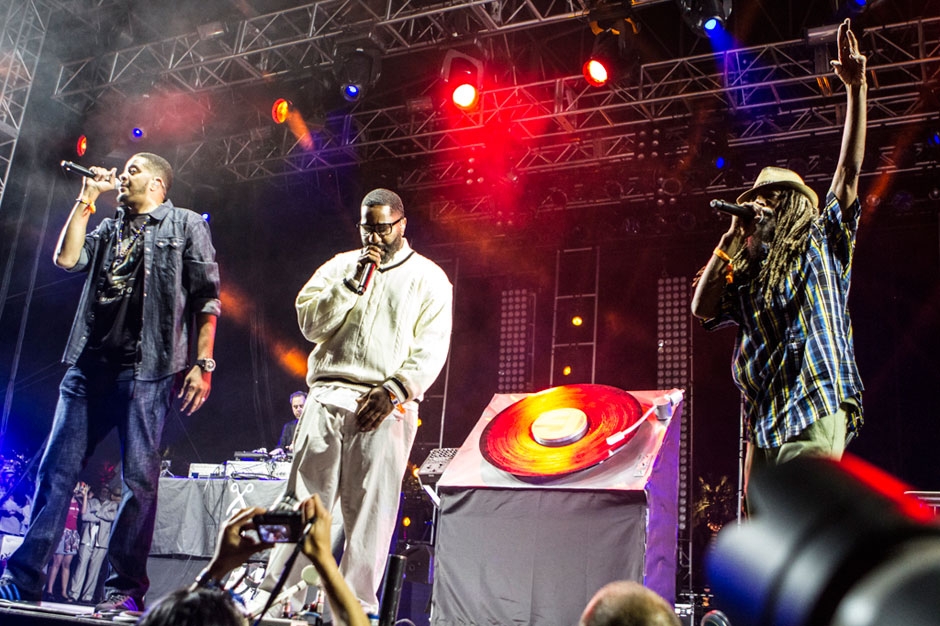 J5 were arguably the surprise of Coachella — they were the festival's highest-billed hip-hop act despite being merely cult superstars, but they lived up to it by attracting a deep and loyal crowd. They had not performed together since 2007, but their set was smooth and polished with fluid transitions and familiar refrains flickering awake. But the set's most memorable moment was when either DJ Nu-Mark or Cut Chemist dropped "Harlem Shake" to punctuate a quick DJ interlude. The self-awareness of the decision remains in question.
28. Best Cute Bro Moment: LA ROUX
28/51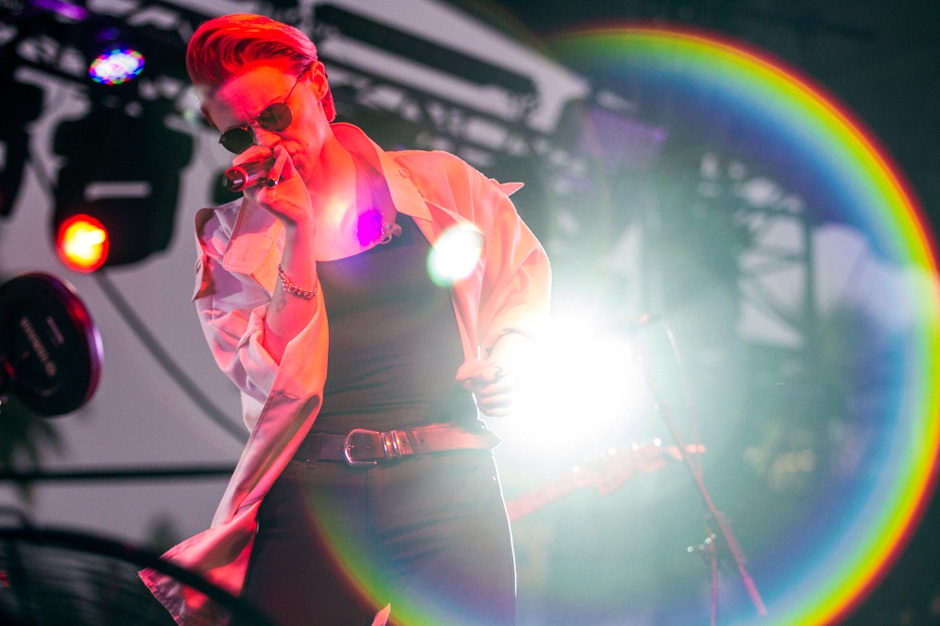 English pop star La Roux has one major hit in the U.S., but Coachella was so starved for relevant pop this year that her audience spilled out of Mojave tent on Sunday night. That hit is "Bulletproof," and it capped a nearly flawless set of hooky new wave. It sounded so good that a large number of frat guys shouted the song at each other — an unexpected but adorable turn of events.
29. Best Homecoming Kings: ODD FUTURE
29/51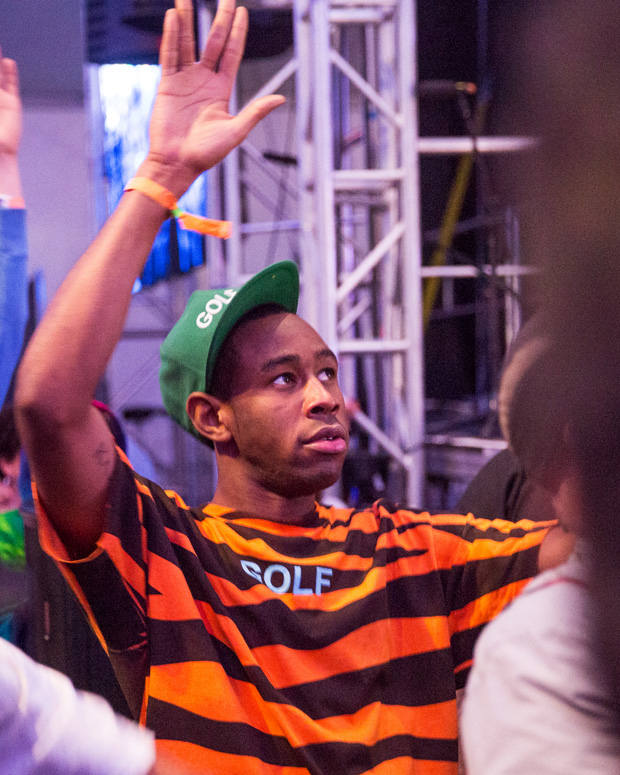 Earl Sweatshirt headlined the Gobi tent on Friday night, but that was far from the last anyone would see of Odd Future at Coachella. Like the last two years, Tyler, the Creator and his roving pack of pranksters were fixtures on the grounds — popping up backstage to watch comrades like Action Bronson and Trash Talk. There was no one person as gleeful the entire weekend as Earl was on Saturday afternoon when Bronson brought RiFF RaFF out to perform his song (recorded with Chief Keef), "Cuz My Gear." He rapped every line while leaping in the air as if Kanye had just been lowered from the rafters. The irony of Odd Future's ubiquity is that if they could move in silence anywhere it would be at Coachella, where their style has been co-opted so heavily by California teens that Earl or Tyler now look like Waldo in a room full of red-and-white striped shirts.
30. Best Synchronized Dressing: THESE SUPERFANS
30/51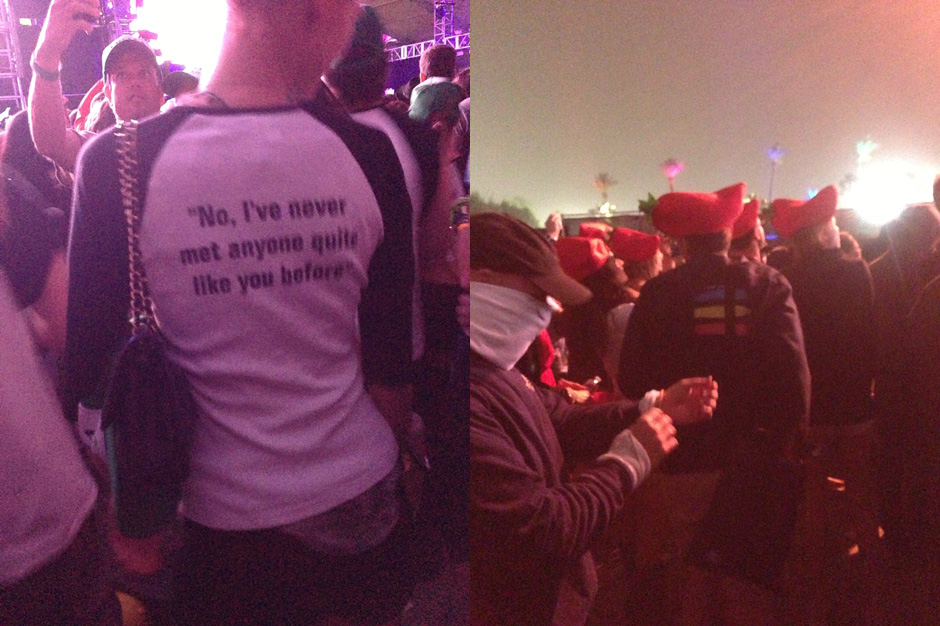 When we spied this crew in the crowd for New Order, we thought it was an aberration. When we saw them the following night at Red Hot Chili Peppers, we realized we'd missed whatever it was they did Friday evening. A crew of enterprising fans showed up each night with matching outfits celebrating their favorite headliners. For New Order, they sported matching trucker hats and shirts featuring choice lyrics (many seemed to come from "Temptation"). For the Chili Peppers, it was matching chili pepper hats. Were they industrious? Sure. Annoying? A bit. But we applaud their Coachella spirit. (As long as they're wildly dancing somewhere far away from us.)
31. Best 2004 Flashback: FRANZ FERDINAND
31/51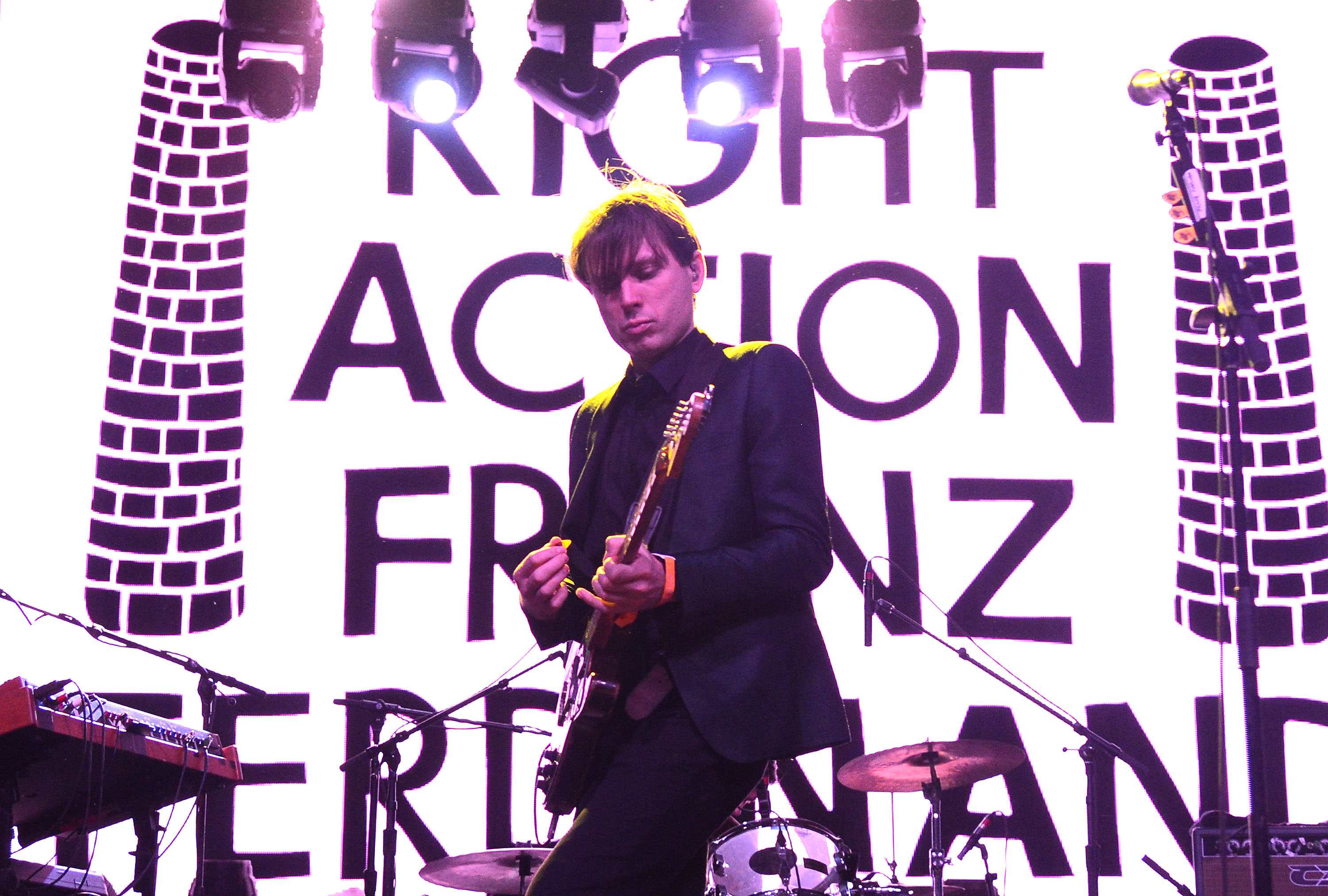 It's been a while since Franz Ferdinand released an album. It's been even longer since Franz Ferdinand released an album worthy of breathless buzz. But when Alex Kapranos, Nick McCarthy, Bob Hardy, and Paul Thomson strode onto the Mojave stage Saturday evening, it was like time in the tent had frozen on a particularly riotous 2004 night. Guitarist Kapranos and McCarthy traded off on "Matinee," their riffs as razor-sharp as their tailored suits. Pushing the tempo on "Michael," they tossed in a little Donna Summer, and tested out a handful of new tunes (including the very Franz Ferdinand-sounding "Evil Eye"). They wrapped the set all crowded around Thomson's drums, slapping away to the end of "Outsiders." The applause could be heard at least a tent away.
32. Best Band Out of Time: THE POSTAL SERVICE
32/51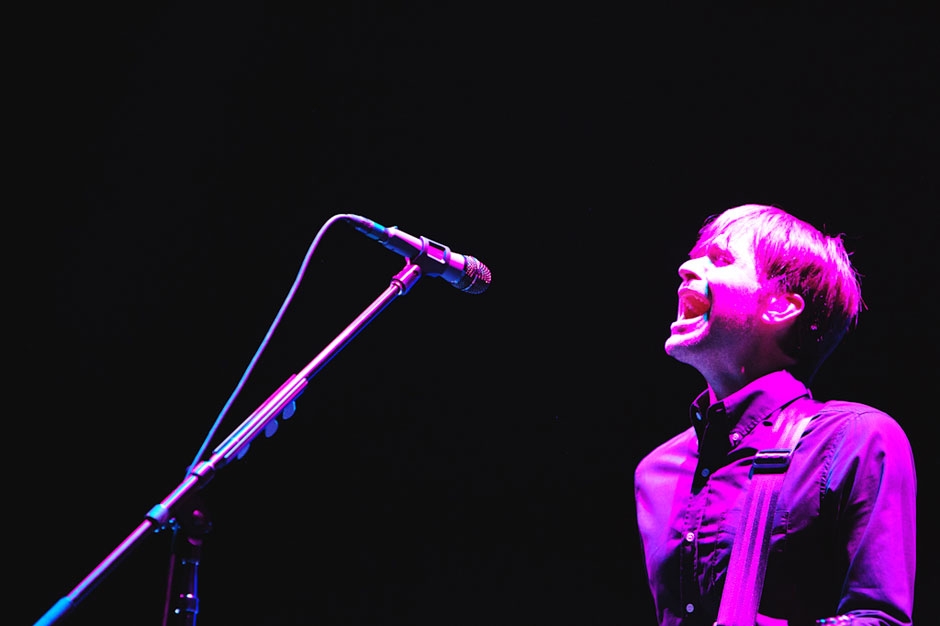 "We might see you again, we might not," said the Postal Service's Ben Gibbard as he introduced "Such Great Heights" late in the band's main-stage set on Saturday night. There's relevancy in the tease for Gibbard and Jimmy Tamborello, whose twee electro-pop side project has made them superstars. In a festival that heavily catered to EDM, the Postal Service's softness was both a welcome antidote and a sign of fossilization. They were also tucked into a time slot beneath the xx, whose innovation, hipness, and real emotional weight explained what had happened in the intervening years.
33. Best Scavenger Hunt: "MERCY"
33/51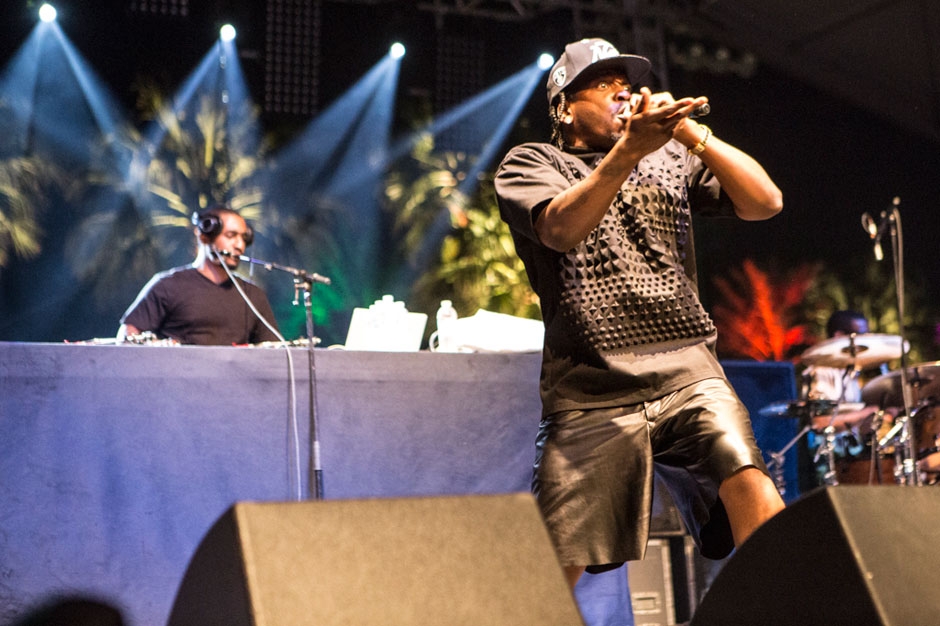 On Saturday, 2 Chainz and Pusha T performed roughly half of G.O.O.D. Music's "Mercy," but hours apart. The track was also a crowd-pumping staple over at the EDM tent, and TNGHT played their wobbly, minimal remix of it the day before. Was there some kind of Kanye-conducted scavenger hunt going on that nobody told us about?
34. Best Distraction: HOW TO DESTROY ANGELS
34/51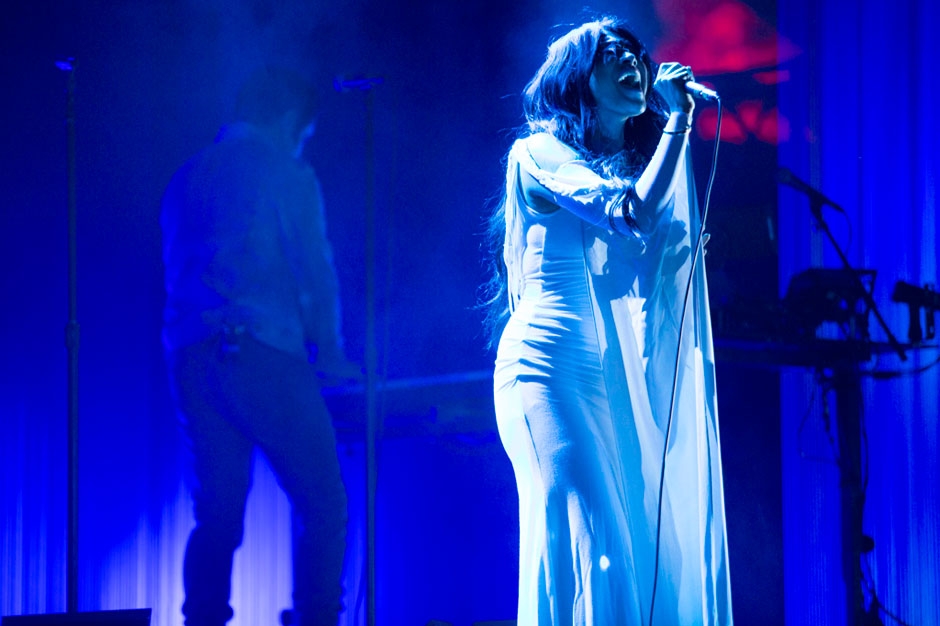 How to Destroy Angels are not the Trent Reznor project that anyone really wants to see live, but credit to the Nine Inch Nails maven for making it worth our while anyway. Much like NIN's renowned Lights in the Sky Tour, How to Destroy Angels flexed a mesmerizing stage set-up on Friday night at the Mojave tent. The band draped the stage in translucent sheets, amplifying their futurism by making it seem like the audience was peeking in on a habitat peopled by humans in the year 2113. That the music was too brooding for its own good (with the exception of the blown-out anthem "How Long?") didn't matter — in fact, it might have been explicitly the point. Keeanu Reeves as Neo would have dug it.
35. Best Crowd-Surfer: JANELLE MONÁE
35/51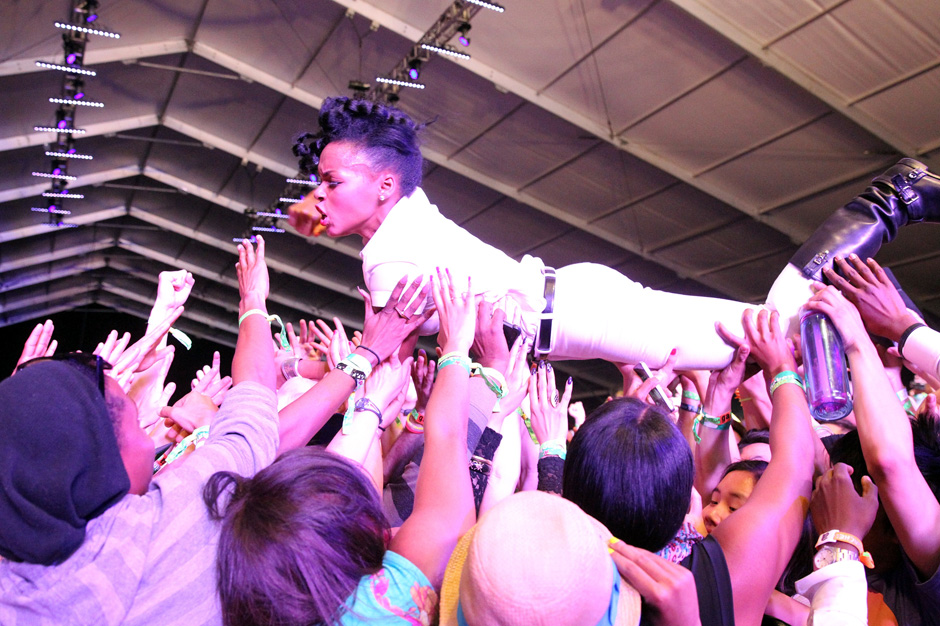 Janelle Monáe didn't hit the Gobi stage until 11:03 p.m. on Saturday — nearly 20 minutes late — but by 11:05, all grumbling had ceased. That empty onstage space in front of us had been replaced by 15 impeccably dressed. impeccably skilled players, and one of those was the ArchAndroid herself. She'd arrived in secret, as one of three hooded figures in the center of the stage, but as her orchestra picked up steam, she threw off the cloak to reveal a rapping, scatting, singing, dancing dynamo of a bandleader. It all happened so fast, in such a flurry of horns and strings and funk and soul and incredibly synchronized movement, that it's difficult in hindsight to parse one moment from the next.
There was the part when she jittered wildly to "Dance or Die," and later when she tore through an incredibly faithful cover of the Jackson 5's "I Want You Back." There was that bit where she shot down "death" (in the form of those cloaked creepers) with a gun that looked like a black-and-white candy cane, and that other bit where she made like Cab Calloway and got the crowd to do her very own version of the old Hi-De-Ho. There was "Cold War" and "Tightrope," an inspiring speech, and one incredible bout of crowd-surfing for which she removed her bow tie.

Yes, up there in front (and on top) of that roiling crowd, Monáe was the impossible love-child of David Bowie and James Brown with the indomitable guts of Beyoncé. But she was also something more important: herself. And also quite possibly a genuine android because, like, who could actually do all that insane shit and still be standing at the end?
36. Best Performance by a Septuagenarian: RODRIGUEZ
36/51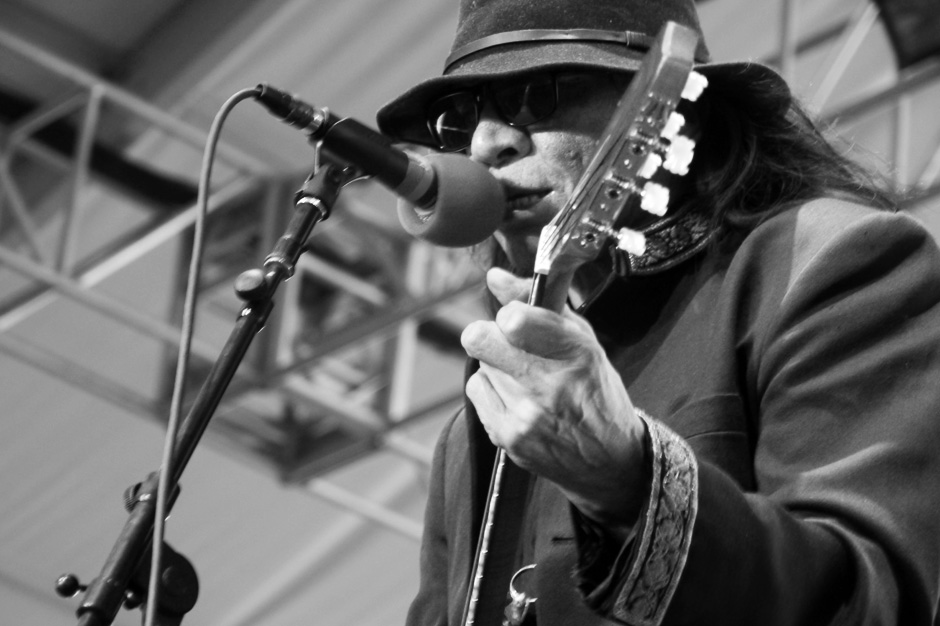 For sheer rarity, no other set of the weekend offered the same feeling of privilege that Rodríguez's did. The legend behind the 70-year-old's existence is larger than life at this point — in fact, as documented in the Oscar-winning film Searching for Sugar Man, the psych-folk singer was believed to have been dead at one point. While the Detroit resident actually lived a normal working-class life, his music's influence grew around the globe and, after the documentary amplified this narrative, he is now a festival draw in his own country.
When you get past the backstory, you're left with something more remarkable still. Imagine if Bob Dylan had been cryogenically frozen at the very start of his career, before his work could be affected by celebrity. Rodríguez is thin and wizened, but otherwise he's the exact same man who recorded the jangly garage-pop tune "You'd Like to Admit It" in 1967, or the proto-metal stomper "Only Good for Conversation" in 1970. He played both of those songs to an ecstatic audience on Sunday afternoon after being helped up onto the stage at the Gobi Tent. Bad audio plagued the first few numbers, but he and his backing band worked it out in time to deliver "I Wonder" to an outsize crowd that knew every word. "Thanks for your patience," he said meekly at one point. "I'm a solid 70."
37. Best Case of the Hives: PURITY RING
37/51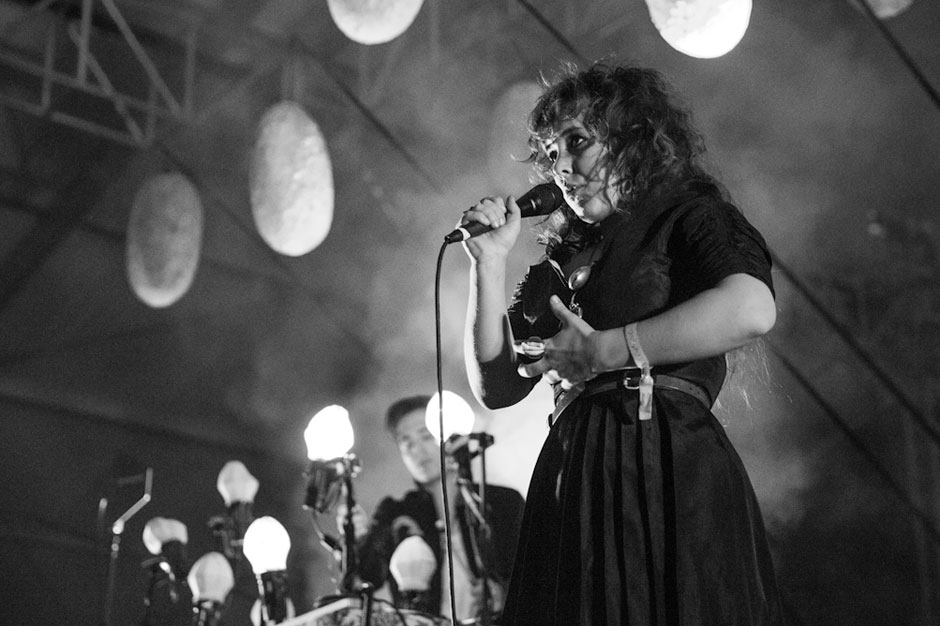 Is this what elves listen to in the trap? What Hobbits bump in the bad part of the shire? Purity Ring's on-album magic manifests in very mysterious ways onstage: Singer Megan James zooms about in a dress that wouldn't look out of place at Renaissance Faire, while producer Corin Roddick uses drumsticks to beat on gossamer lantern blobs that aren't exactly unlike the illuminated asses of overgrown lightning bugs. What's remarkable is, with or without the fantastical flourish, these guys packed as much punch as the group that preceded them on the Gobi stage on Friday night: the much-anticipated trap crew TNGHT. With all of their cheap drums, chopped vocals, and thick synthetic textures, Purity Ring's "Belispeak" absolutely banged. And without Young Magic there to assist, James executed the syrupy "Grandloves" raps herself, swaggering just fine atop those massive bassy swells. The fact that she did it while banging on an elevated kick drum that lit up every time she smacked it meant that her duo's set looked, felt, and therefore was a whole helluva lot better than TNGHT's boring table-sheet-laptops, house-party steez.
38. Best Rock'N'Roll Makeover: THE SHOUTING MATCHES
38/51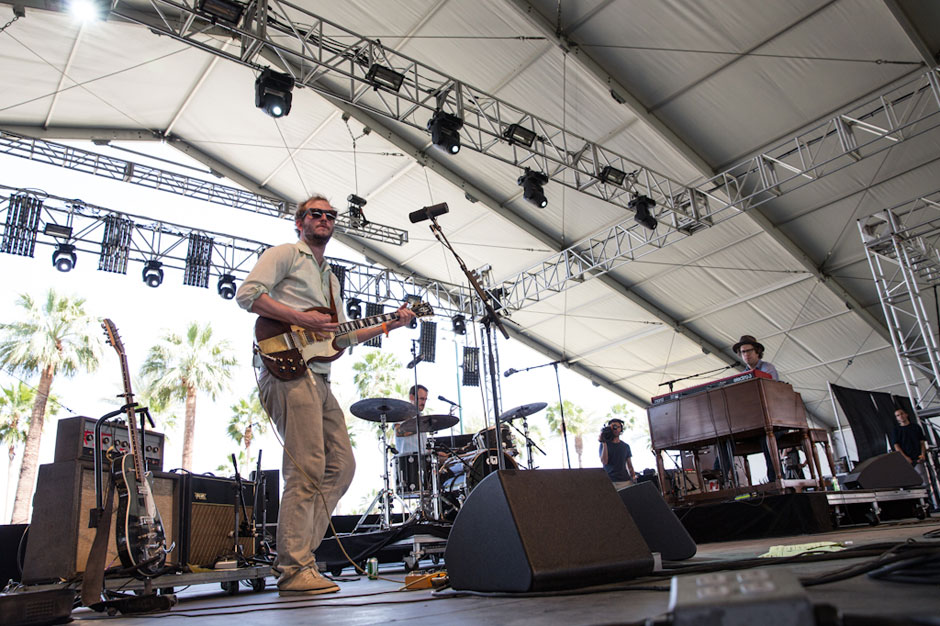 Here is the most succinct summarization of Justin Vernon's new group, the Shouting Matches: It is probably the only band with which he's cracked a Heineken while onstage. With this most recent venture, he's ditched the crackling fireplace-rock of Bon Iver and the oh-so-quiet storm of Gayngs and taken a trip down the Mississippi, to where the lakes are muddy and the blues are played. He's never looked more comfortable.
The Shouting Matches — rounded out by old Vernon pals Brian Moen (of Peter Wolf Crier) and Phil Cook (of Megafaun) — will never be Bon Iver: For starters, their 2:05 p.m. set time was one of the festival's least desirable. But this may be the band of Vernon's that is most suited for big tents, full of organ-soaked blues vamps that are warm, punchy, and eminently agreeable. Where Bon Iver draws you in by being quietly unnerving, the Shouting Matches slide up and strike up a conversation. Vernon had a noticeable bounce in his step throughout the set. He clearly relished the low stakes and slipping into character, one who beckons a girl down to Tampa and says "put that soft spot on me." Vernon was once famously mocked by Justin Timberlake on Saturday Night Live for being a mope clinging to his acoustic guitar. Timberlake would love the Shouting Matches.
39. Best Bowing at Prince's Altar: JESSIE WARE
39/51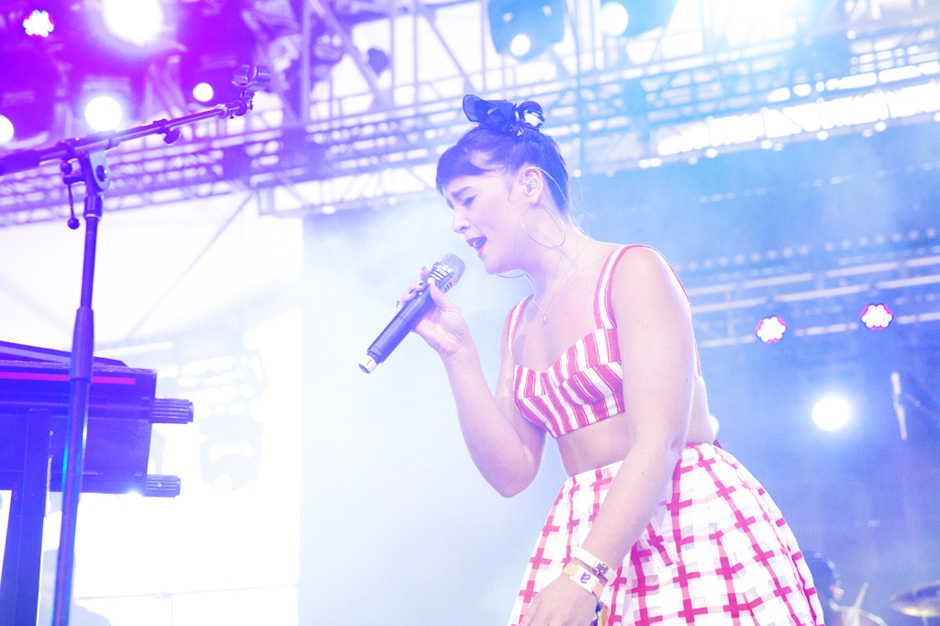 Jessie Ware came up in London's bass scene and last year released a stunning collection of gold-tinted smooth R&B, and at the Mojave stage on Sunday she shifted into another shape: itchy-scratchy funk. She opened her set with a "Kiss"-inspired rendition of "Still Love Me" and reworked her tracks with spiky guitars and throbbing bass lines. The songs did miss their lushness, but this palate was more appropriate for a live setting — a track like "Imagine It Was Us" benefitted from foregrounding its slap-bass accents. It all came together when she introduced her bassist as Rocco Palladino, son of the Who, Eric Clapton. and D'Angelo not-so-secret weapon Pino Palladino.
40. Best of Perseverance in the Face of Adversity: MODEST MOUSE
40/51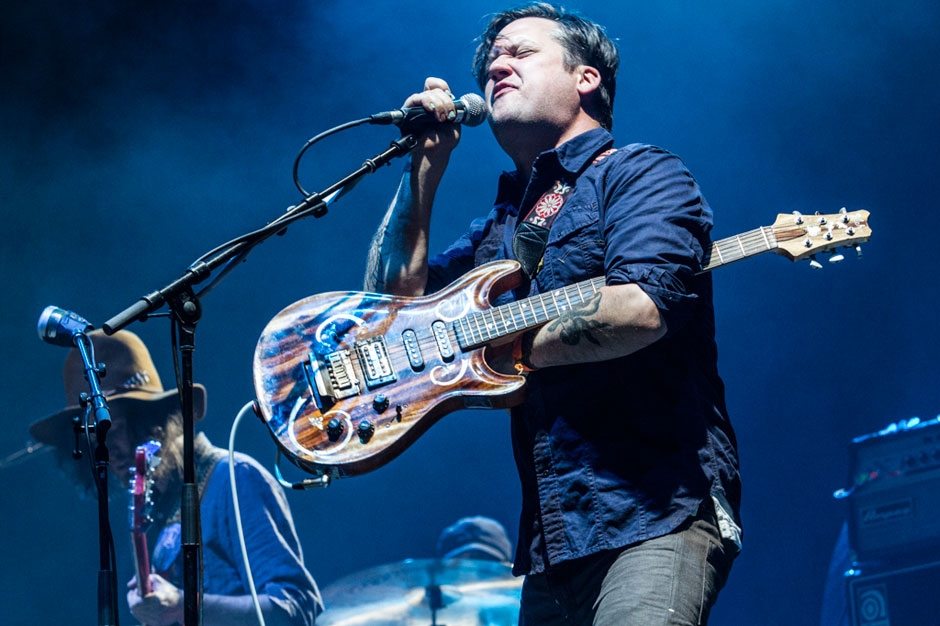 Modest Mouse played to a crowd that streatched a few football fields deep at the main stage on early Friday night, partly because a good number of people just wanted to hear "Float On." So when the band got to the song as their set ended, it was set to be your typically rousing festival moment. Then, early in the second verse, the sound got completely cut, and it didn't come back on. Lead singer Isaac Brock was completely unaware, and continued to rage into his mic for at least another 30 seconds before a stagehand kindly tapped him on the shoulder and began to escort the band off the stage.
41. Best Morrissey Impression: JOHNNY MARR
41/51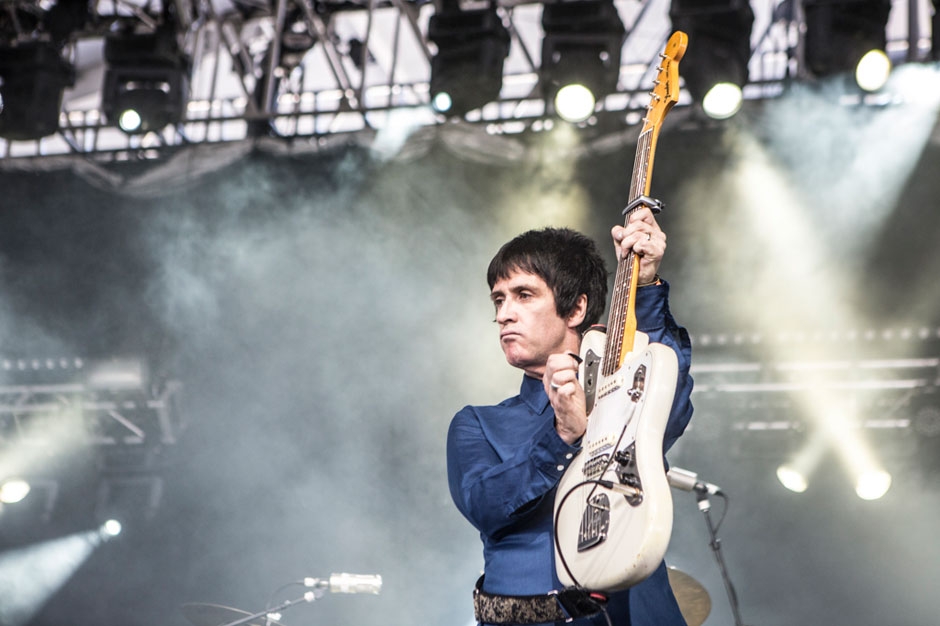 Ladies and gentlemen, please welcome Johnny Marr-issey! The former Smith did his best Moz impression thrice: "Stop Me if You Think You've Heard This One Before," "There Is a Light That Never Goes Out," and "How Soon Is Now?" As much as the dude dominated his own rock rippers ("Upstarts" sounded far, far more urgent in person than on Marr's new album The Messenger), fans predictably preferred the Smiths hits. And if they closed their eyes, they wouldn't have missed Morrissey.
42. Best Shameless Flogging of Californication: RED HOT CHILI PEPPERS
42/51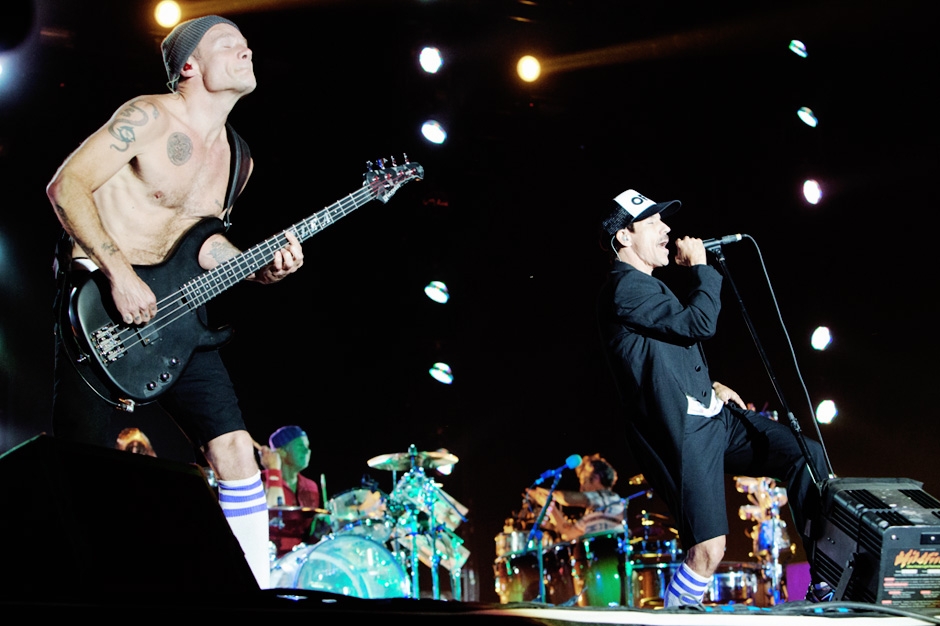 Red Hot Chili Peppers are as California as sunshine and surfing, so of course they were a natural choice to close out Sunday night on the big field. Anthony Kiedis and Co. certainly weren't expecting that field to contain several thousand refugees from a sandstorm ("I feel like I'm in Lawrence of Arabia," the frontman observed. "I feel like I'm in the dust bowl with Woody Guthrie," Flea added). But as far as the RHCPs were concerned, they were in the middle of the Santa Monica pier. Flea emerged shirtless despite the chilly night; before long, Kiedis had shed his jacket, shirt, and Off! cap, too. There was funk and there were drum solos, but above all, there were hits — the band opted against a set of deep cuts in favor of playing every song in their repertoire that vaguely referenced their home state. So we got "Dani California" and "Californication" and lots of chances for the bros in the crowd to throw their hands up and group hug. What wasn't lost in the less-than-ideal conditions: the fact that this remarkably resilient group features a pair of 50-something dudes who can still jump higher than Woody Harrelson.
43. Best Giant Snail: HELIX POETICUS
43/51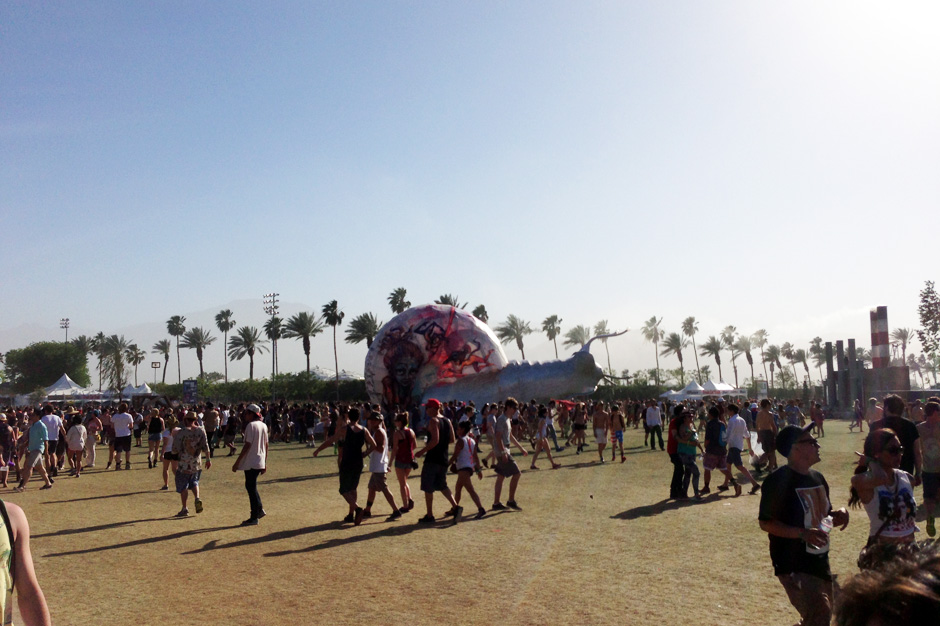 Yeah, we don't know what that dippy name is all about, either — this massive mollusk wasn't spouting poetry but he thankfully wasn't spouting slime either. Mounted atop some sort of vehicle (or perhaps imbued with magical properties), this sparkle-encrusted guy slowly made his way around the entire polo field. At some point, a rogue band of hippies graffitied his shell, but Helix don't give a fuck.
44. Best Fist Pump: SAVAGES
44/51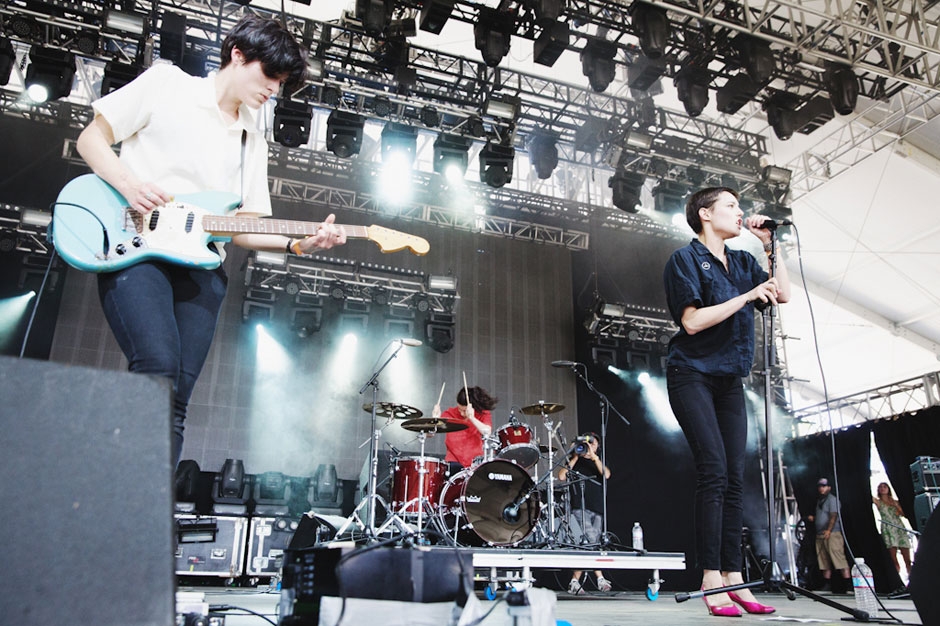 Savages frontwoman Jehnny Beth has what's growing into the most supercharged fist-pump in rock. Her right hand clenched, she pummels an invisible enemy while she's performing, with an intensity somewhere between landing a plane and open-heart surgery. So it's no wonder the band's afternoon set at the Mojave tent was packed with curious onlookers who quickly became true believers. Every member of the two-year-old quartet — guitarist Gemma Thompson, bassist Ayse Hassan, and drummer Fay Milton — is a powerhouse musician capable of holding the stage on her own. Together, with a seeming effortlessness, they generate a haunting post-punk fury. Beth capped "She Will" with an obscenely major high note. "Shut Up" featured a slow, deliberate build that resolved into one of Thompson's brilliantly gleaming guitar lines. By the end of the eight-song set, fists were being pumped back at the band with an equally invested forcefulness.
45. Best Chance to See a Hypothetical Headliner in an Intimate Setting: THE STONE ROSES
45/51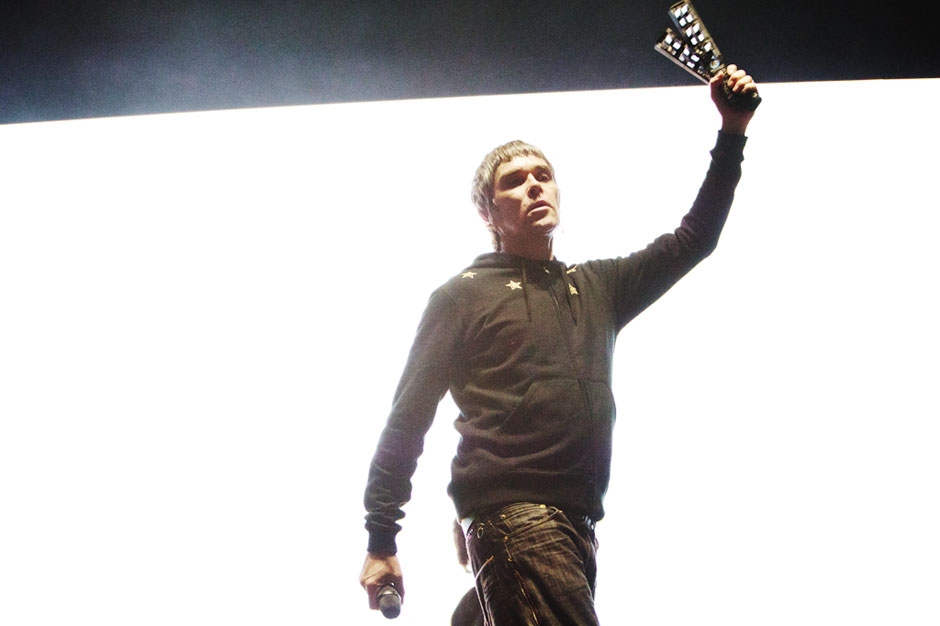 The Stone Roses are the first name you see on this year's Coachella poster, but they were about the fourth choice of attendees out of the acts playing Friday night's final time slot. By the time Ian Brown and crew took to the main stage, the crowd had thinned to an embarrassing level, one more befitting of 2 p.m. than 12 a.m. Blur had experienced the same phenomenon an hour earlier on the same stage after half of the Yeah Yeah Yeahs' audience fled for other pastures, but attendees' rebuking of British legacy acts reached critical mass for the Roses. Once and for all, Coachella is not Glastonbury.
46. Best Holy WTF: SPARKS
46/51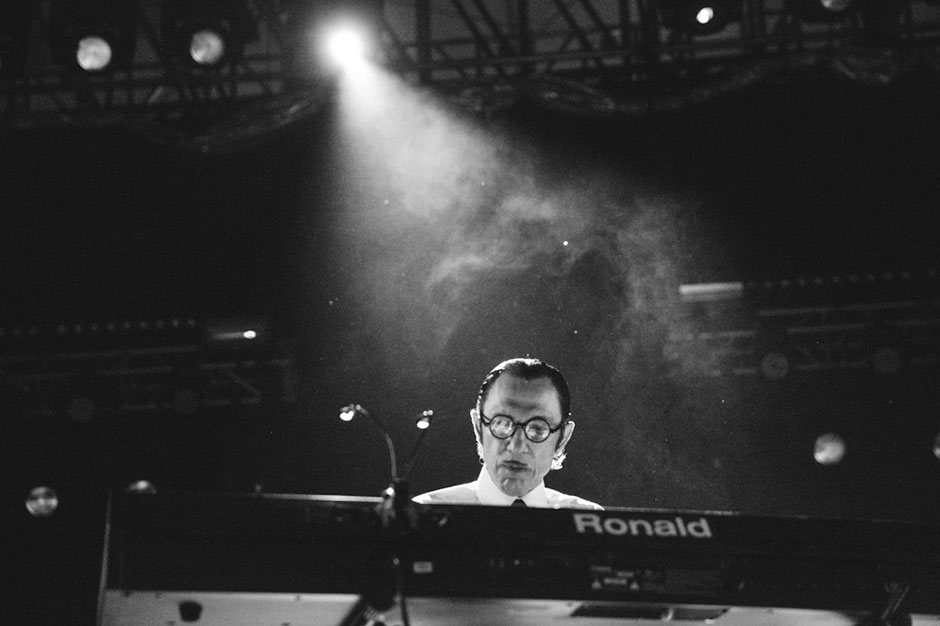 In 2013, the rock opera has evolved into a messy, arena-aiming monstrosity with dubstep drops and half-baked sci-fi themes. We do not find it a-Muse-ing at all, so perhaps that's why Sparks' minimal take on high drama felt like an odd kind of comfort. With his pencil mustache and general John Waters steez, Ron Mael manned the keyboard while his brother Russell hopped around in high-waters singing loopy lines about being a rhythm thief ("Auf wiedersehen to the beat...lights out, Ibiza"), plus other near-nonsense about metaphors and dancing like Sherlock Holmes. There's no way a single passerby stopped for more than a minute's worth of marveling at this incredibly out-of-place sight, but that made it all the more special to the hundred-plus spectators who truly wanted to witness such a thing.
47. Best Partial Performance of the Trainspotting Soundtrack: BLUR AND NEW ORDER
47/51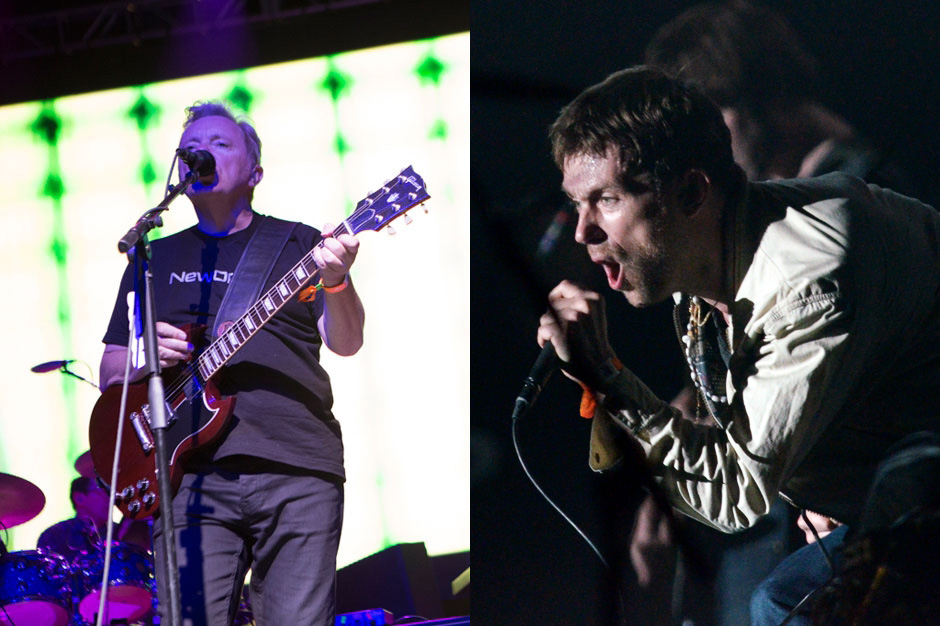 Friday night's Blur set was beautiful, dramatic, and historic (the group's first performance in the U.S. with guitarist Graham Coxon since 1999). It also featured the stunning piano-pounder "Sing," which soundtracked Renton's trip to see drug dealer Mother Superior in 1996's Trainspotting. The following night, New Order performed "Temptation," which appears on the very same soundtrack. Had Lou Reed not canceled his Coachella set, we might have nailed a hat trick with "Perfect Day." Had Pulp and Underworld been at the fest this year (rather than last), we might have gotten "Mile End" and "Born Slippy." If Leftfield had played this year rather than in 2011, we could have heard "A Final Hit." Had it been 2003, we would have had Primal Scream and Iggy Pop ("Trainspotting" and "Lust for Life" plus "Nightclubbing," respectively). Moral of the story: A lot of this iconic soundtrack has been played on the fields of Coachella. Free idea for 2014, Goldenvoice! Who wouldn't want to see an Elastica reunion?
48. Best Sandstorm Soundtrack: TAME IMPALA
48/51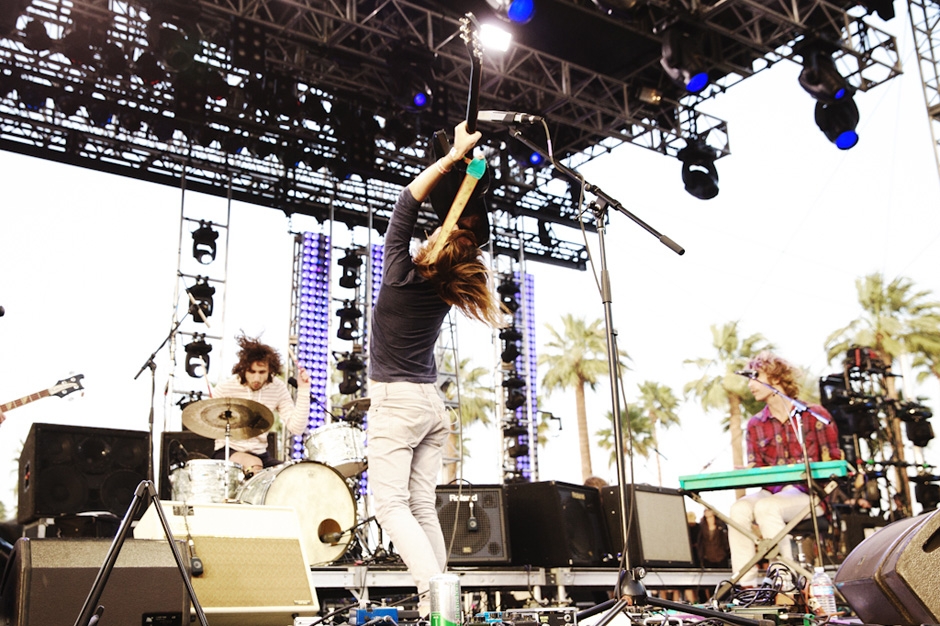 Sunday was defined by one of those events that was inconsequential to any person not at the festival but unforgettable for all attendees. Just as the sun began to drip down behind the mountains, the wind in Indio picked up considerably, kicking up a steady and suffocating sandstorm that lasted throughout the night. It was an unpleasant turn of events, but one that nonetheless suited Australian fuzz-rockers Tame Impala perfectly. Their world of swirling reverb was perfectly suited for a persistent mist of dust and sand, offering a rare bit of comfort.
49. Best Cold Weather Repellant: VAMPIRE WEEKEND
49/51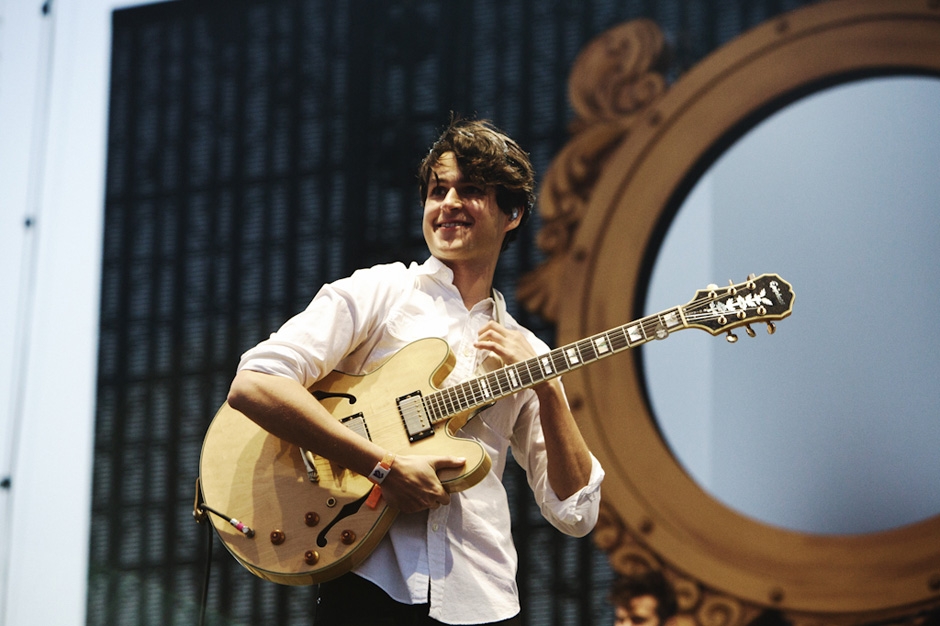 By the time these Modern Vampires of the City took the main stage on Sunday night, it was clear to all that the weather had taken a turn for the worst. Strong winds were whipping sand and frigid air at Coachella's semi-nude attendees who huddled at the foot of the main stage for warmth both physical and metaphorical. The New York prep-poppers didn't have to dig deep for summery songs. From "Cape Cod Kwassa Kwassa" to "Cousins" to new one "Ya Hey," each track felt like a focused blast aimed at the atmospheric nastiness attacking us. Other #Coldchella tips and tricks: 1. Hug a stranger; 2. Buy two burritos, shove fists inside; 3. Go home; 4. Dig.
50. Best Full-Album Performance: VIOLENT FEMMES
50/51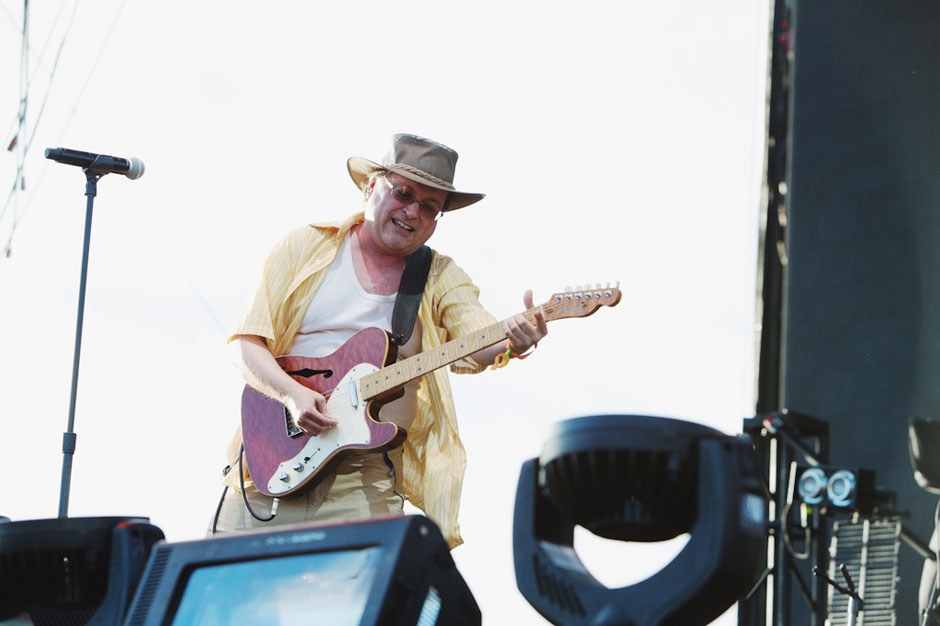 "We haven't played a Violent Femmes show in about six years so this is a pretty big day for us," said Gordon Gano, now 49, from Coachella's main stage shortly after 6 p.m. Saturay. He quickly corrected himself: "A really big day!" Indeed, the band handily hurdled the gap originally caused by bad blood (via an intra-band lawsuit) to reunite the original trio responsible for their masterful 1983 debut, Violent Femmes, which they performed all the way through with barely a break.
"Is this a new group?" we overheard a kid in the crowd ask before Gano, bassist Brian Ritchie, 52, and drummer Victor DeLorenzo, 58, showed their faces. The latter dated himself upon arrival: "Good evening, everyone. We're Violent Femmes and we play songs." If that was a shot at the rest of the fest's performers, no one minded much, and besides, he had a point. The self-titled LP opens with a stunning one-two-three-four punch. With "Blister in the Sun," thousands in the crowd broke into song. With "Kiss Off" came hundreds more. And as the band banged out "Please Do Not Go" and "Add it Up" — with assistance from a motley horn section including the Stooges' Steve Mackay — those same voices grew louder and louder again.
The Femmes' strange brand of folk-punk was perfectly ramshackle, seeming straight enough before diverging into wild blues bouts and jazz jags. Gano's writing always showcased a mind that was clearly bent, after all, and his lascivious sexual angst played well in a post-Spring Break crowd that showed more skin than cloth. They listened reverently while he played violin on the far quieter "Good Feeling," but they were more interested in the couplet from B-side "Gimme the Car" where he seems ready to offer up a rhyme for "runt" before feinting instead.
51. Best Wizard of Weird: YOUTH LAGOON
51/51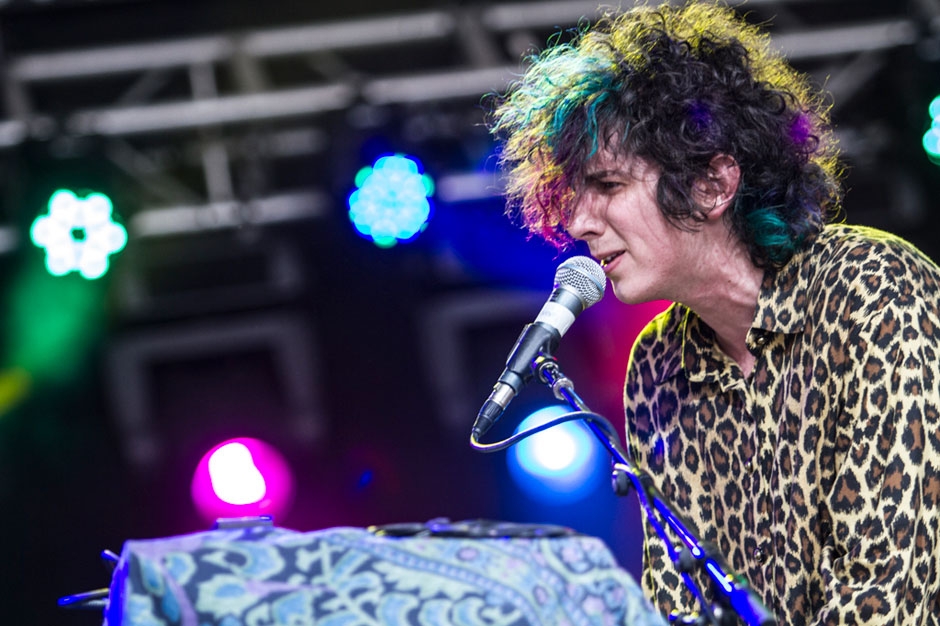 Word to Lee "Scratch" Perry for being the most legitimately bonkers performer of all (and to the Violators' slide-guitar player for that shaman's mullet), but Youth Lagoon's Trevor Powers was the fest's most inspired wizard of weird. On Saturday, he posted at the center of the stage surrounded by strange boxes and knobs, looking like a Jo-Ann's Fabric store had vomited onto his head. Wearing a fuzzy, leopard-print collared shirt — with all kinds of paisley draped in his vicinity and a veritable rainbow dyed into his flyaway hair — he led his band through the gloriously psychedelic songs of his new Wondrous Bughouse LP. The fact that he was backed by guys who looked like the sort you'd knock back beers with at the local pub only underscored the fact that he was the one pulling all of the strings.