Canadian boutique label Arts & Crafts turns 10 this year, and to celebrate, the indie-pop curators are planning a compilation album featuring new collaborations from acts on the A&C roster. The collection, titled Arts & Crafts: X, will be released in CD, digital, and vinyl formats on May 28. According to the label's website, X will boast a total of 10 tracks, including new compositions and "fresh interpretations."
The full list of artists involved with the upcoming comp: Broken Social Scene, Feist, Ra Ra Riot, Stars, Amy Millan, Apostle of Hustle, Snowblink, Chilly Gonzales, Dan Mangan, the Darcys, Gold & Youth, Jason Collett, the Hidden Cameras, Hayden, Timber Timbre, Still Life Still, Trust, Years, Zeus, and Zulu Winter. A detailed track list revealing the specific songs and pairings will be announced in the coming weeks.
Arts & Crafts also recently released the two-disc retrospective Arts & Crafts: 2003-2013, which cherry-picked songs from several of the aforementioned artists, in addition to tracks by the Stills, Los Campesinos!, Kevin Drew, and more.
The record label is also organizing a nearly month-long photo exhibit with Toronto-based fashion and celebrity photographer Norman Wong; the event (running from May 23 to June 15) will highlight Wong's past work with the label, in addition to a series of black-and-white portraits featuring prominent A&C signees.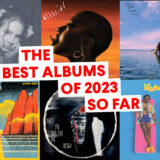 As if all this weren't enough, A&C is also planning the Field Trip Music & Arts Festival, happening on June 8 at Fort York and Garrison Common in Toronto. The single-day event promises live performances from Broken Social Scene, Feist, Bloc Party, Ra Ra Riot, Stars, Cold Specks, and Zeus, among others.