With the sharp edges, evocative spaces, and terse lyrics of Spoon and Divine Fits, Britt Daniel wrings maximum impact out of the minimum sonic elements. Speaking over the phone from his home in Los Angeles, the baritone-voiced singer is every bit as forcefully economical. Divine Fits — Daniels' band with co-frontman Dan Boeckner (Wolf Parade, Handsome Furs), drummer Sam Brown (New Bomb Turks), and multi-instrumentalist Alex Fischel — are about to embark on the next leg of their tour in support of last year's A Thing Called Divine Fits, a debut album too ruthless for the wack "supergroup" category. Daniel talked with SPIN about prepping two new Divine Fits songs, starting work on Spoon's follow-up to 2010's austere-auteur opus Transference, and the worst kind of rock star.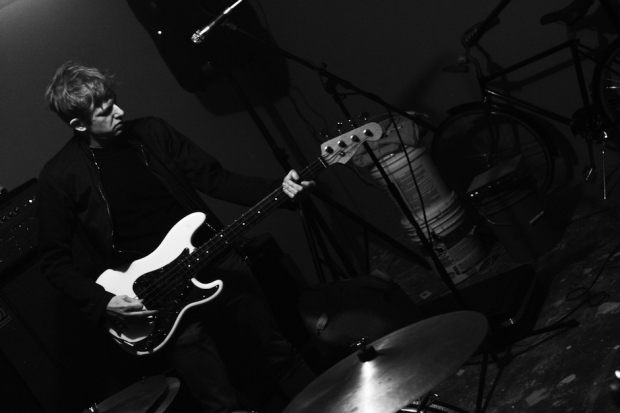 You guys played a new song at South By Southwest, and your recent Instagram pictures sure make it look like you've been in the studio. What can you tell me?
We just recorded a couple songs right before South By Southwest and then we were playing one of them during the festival. Hopefully we'll be playing that new one next week [this week] when we do more shows.
What's that one called?
The one we were playing at the shows is called "Chained to Love," and the other one is called "Ain't That the Way."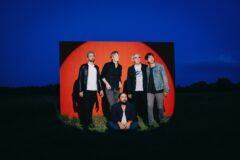 And I'm guessing you sing lead on that one?
Right.
Can you tell me anything more about the songs or what format they might eventually come out on?
We definitely would want them to come out as a physical thing, so I'm guessing that'll be seven-inch. And then they'll be available digitally, too. My guess is that it'll come out digitally first, just so we can get them out there. Because you know it takes a little turnaround time on those seven-inch vinyl pieces.
Is there anything — EP, album — down the road again for Divine Fits?
There'll be another album. I don't know when we're gonna [chuckles] — I've started working with Spoon on some very early versions of songs, so that's gonna come next. And then eventually we'll make another Divine Fits record.
What phase is the stuff with Spoon? I remember reading before you were just waiting for the guys to make some backing tracks.
They did some of that, yeah. They were really good, actually. I know Eric [Harvey] and Jim [Eno] got together in November and finally sent me some of those recordings. Right now it's a lot of instrumental music. There were a few tunes that I have written over the last couple of years that I brought in at these rehearsals. And they sounded pretty good, actually. A couple of those, they're — what are they? — they have slightly more soul than the last record, if anything? Slightly more R&B. And then there's these instrumental songs. I don't know how those will end up. I gotta put some words on 'em.
One thing that you and Dan and have both emphasized about Divine Fits is that this is a real band. You've been touring, you did that Reddit AMA, you've done remixes, you've done cover songs. Do you feel like you kind of need an extra effort to stand out in the cluttered environment these days?
Yeah, you probably do. I don't know if that's new. You have to do something special to stand out. You always have, in any era of rock'n'roll. And for me, the most no-nonsense way and the way that I've had the most luck with is to just work on the songs until they're amazing. It's not exactly a gimmick, but it's — records are the most important thing.
I was just listening to those recordings that you did with Jon Wurster and Jason Narducy as Split Single. You're playing bass, and on one of them you're really kind of grooving.
I love playing bass. It's mostly what I play in Divine Fits. What was cool about that project in specific was that I was just playing bass. I wasn't writing new songs, I wasn't — I ended up putting some background vocals on it, but I certainly wasn't lead singing. I like that. like being able to contribute in one specified way.
How has it been different at this stage being on tour with Divine Fits — the whole vibe — versus with Spoon?
We have a bigger rider with Spoon. More drinks backstage. A more involved deli tray. Bigger places. The most essential part of it is the same. And that's that I love doing shows and I love knowing all during the day that tonight I've got a show. I've got something to look forward to. Someone's going to provide me with drinks. And I'm going to go up onstage in front of people and sing.
Any thoughts on how the covers you've been doing recently relate to the Divine Fits' music?
To me, the great thing about covers is it's a shortcut to being able to play an amazing song without going through the process of writing it. There are so many songs out there in the world that — if I know we have to come up with a new cover, then I'll just sit in my room and sing song after song and figure out which one I can kind of sing the best. And that's fun, you know? Being able to play onstage, to play a world-class song. What more could you ask for?
One thing that stood out in that Reddit AMA, and maybe this is an old story, but: Why do you hate Axl Rose?
Well, I just think that he's kinda the worst type of rock star out there, who's totally self-involved and precious about his own music and won't put out a record and can't — you know, all the great people that made that first Guns N' Roses record what it was can't stand working with him, or he doesn't wanna work with them. I mean, I don't know. Racist, and, uh, homophobic. Problems like that. He's chilled out. There was a very obnoxious phase for Axl Rose. I'm sure if I had experienced as much success as he had, I would probably be a third as obnoxious. I'd probably be obnoxious, too. But not that much.