On a cold, grey, late-March day, J.K. invited me to visit Plotnik at his nursing home on Manhattan's Upper West side, a few blocks from Tom's Diner, the visage for "Monk's" on Seinfeld. The record-store owner lives in a private room on the corner of the building. Its salmon-pink walls bear the brunt of horror memorabilia and a painting of Bela Lugosi as Dracula, an extension of Plotnik's interest in classic fright flicks like The Mummy and Frankenstein. An Israeli flag and a menorah grace his eastern wall, complementing photographs of himself when he was younger and also photos of J.K. A window on that wall displays a stunning view of the majestic 19th-Century Cathedral Church of Saint John the Divine.
"We're very fortunate that we have a private room so we can really make our own life again," J.K. says. "It's really important for me and him, especially the privacy."
When we enter his room, Plotnik sits in a wheelchair facing his TV, which is showing Turner Classic Movies. His hair goes down to his shoulders, and when J.K., who is dressed in a black long-sleeve shirt and jeans, turns him around, his face shows a quizzical smile. When someone talks to him, he makes eye contact, though generally looks away. But as the photographer sifts through her equipment, his deep brown eyes follow her every move. J.K. tells us that Plotnik was once a photo buff. Over the course of our hour-long visit, he gesticulates more than he speaks — a trait J.K. says is unusual — but it's clear the couple has a special understanding of each other.
At one point, J.K. asks Bob, "How long have we been together?" And he sort of flicks her away with his hand, as if to say, "Too long"; but it also seems more like he's razzing her on. She tells him how handsome he looks in his new shirt and he perks up. When she asks him to make his "top model" face for the camera, he lifts his chin and opens his eyes wide. She climbs onto the side of his wheelchair for some photos and tells him, "I think we're a very good fit. You're very easy to hang onto." Despite our planned "interview," he responds more to questions when J.K. asks them. She says that he has all his long-term memories and responds to photos she shows him of himself around the shop. Even in his current state — the right half of his body is immobile and his right leg is swollen — he's able to convey an immense pride in owning and operating his store, though most of his answers are one- or two-word phrases, gruffly spoken.
After he tells us he opened the store to collect doo-wop, we ask who his favorite doo-wop artists are. He replies: "Frankie Lymon." His favorite song by Lymon, who lived in nearby Harlem, is "Why Do Fools Fall in Love?" J.K. says Plotnik doesn't get to listen to much music unless she brings her iPod, though most of his favorites aren't available on iTunes. He previously had a roommate who knew who he was and they would listen to Rolling Stones records together; but when his roommate started to get too riled up from the music, Plotnik ended up with the room to himself.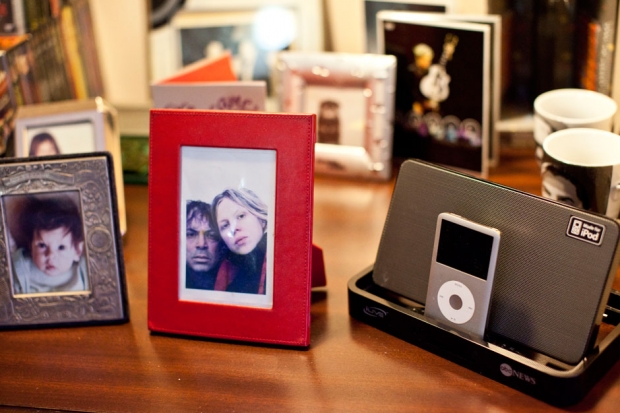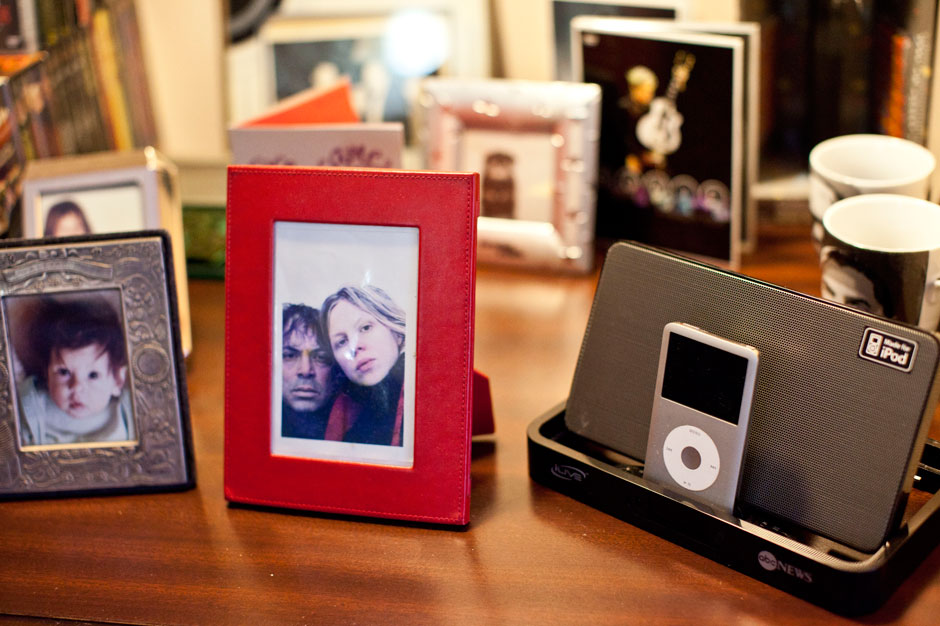 J.K. talks about the store and its employees — Weidner, Plotnik says, was his best, though Weidner later contests that honor, saying, "He usually said, 'You're fired.'" She asks him about his surly reputation. "Did you ever hit anyone with your baseball bat?" she prods. "Mm-mm," he replies negatively. When she asks why he kept it in the first place, he says, "To scare out thieves."
Eventually, J.K. hints that the store might not have many more days left. "The Village is becoming more expensive and everybody's doing their best. I'm proud of that." Plotnik stares off, unfazed. When she asks if he'd like her to bring him to the store, though, he nods yes.
"How do you want people to remember Bleecker Bob's?" she asks.
"Best record store in the world," he says. "And my taste."
And when she asks, "Where would you like to see the store go?" He simply says, "Heaven."
---
Finally, it's settled that April 13 will be the store's last day, but the last week of Bleecker Bob's Golden Oldies begins as a nonstarter. Sunday, April 7, was the supposed to be a farewell party, but J.K. "put the kibosh on it" at the last minute, according to Ski. A few days later she explains: "I kind of thought it might be too overwhelming for me, because I have been really stressed. I really didn't want to put a spotlight on it like that. Maybe it's just not us. Would Bob have wanted it? I would have felt bad if I did it and I couldn't bring him. That's a whole other process. It's a lot. I know CBs had a big closing, Bottom Line had a big party, but this is who we are. We're the antisocial ones. We're not going to celebrate it. We're going to make you all miss it when you pass by, like, 'Whatever happened…?' God, it's going to hurt to pass by here and see them tearing it down."
It's a sentiment many of the customers share. Mirissa Tarver, a woman in her early 30s who moved to New York from Texas three years ago, learns the next day that the store is closing, and she becomes visibly upset. "I've been coming here ever since I moved here," she says. "I come in here a lot. This is where I buy a lot of my Prince stuff, a lot of old-school stuff that I can't get anywhere else. It's really sad. I would have been so hurt if I came back here and you were closed. Now I've got to buy something today." Before she leaves, she purchases a copy of Prince's 1999 that's missing its cover for herself and Stevie Wonder's Music of My Mind for her friend.
"People used to come down to the Village to come to places like this," says a 71-year-old Bleecker Bob's regular called "Baba Chico," a former DJ. "When these places no longer exist, then what? Mayor Bloomberg and all these other people who are responsible for the law, I don't know if they realize what's really happening. Or maybe they don't care. Maybe they want to make a radical change."
For his part, Ski, who is wearing a black Velvet Underground & Nico banana shirt today, is committed to keeping Bleecker Bob's active. As Kiss' Destroyer album plays loudly in the store, he flips through some of the memorabilia the clerks have recently unearthed: a Television press kit from "when New York was cool" and PJ Harvey posters from 1992 promoting her debut, Dry. As of today, after weeks of chasing leads on new storefronts, he's gotten a counteroffer on a space and he's countering back. He was offered another spot for $3,000 a month, but at 700 square feet, he determined that it was unacceptable. He says he's still in discussions about whether or not he'll be using the "Bleecker Bob's" name on the new space, but that he has plans for evolving the store. He wants to sell downloads there and host in-store concerts. His parents have told him that even though running a record store might not be the best business venture in 2013, they're supportive of his decision. If worse comes to worst, he might buy someone else's collection of LPs to sell or sell his own collection of LPs (though he really doesn't want to do that).
When Foley comes in at around 7 p.m. on the Tuesday before the store closes, he's wearing a black blazer over a nicer shirt than the tank-top he dons later. "I went on a couple of job interviews," he explains. "I went to Ace Hardware, which is across the street, and I went to Trader Joe's on 14th Street. I have food experience, as well. That interview actually went quite well. Luckily, my wife starts a job on Monday. It's her first time working in five years, since we have a 5-year-old little girl. That is a big deal."
Despite a dearth of customers in the early part of the week, Ski is optimistic about the real-estate leads he'd been pursuing for an East Village location of Bleecker Bob's. "Some lady has six or eight spots to check out," he says. "One is at 12th Street, between Avenues A and B. I don't want to go past A, though. It's definitely habitable these days, but back in the day people would ask what the hell are you doing here?" Nevertheless, Ski says he's looking for a temp job.
Foley is less optimistic later in the evening. "It's really, really quiet here," he says in his brogue. "You'd think the last few days might be something, but no, it's really quiet." He observes that vinyl has been selling more than CDs lately. When I ask whether he'd want a place in the new store Ski is scoping out, he demurs. "I wouldn't work with Chris again," he says. "We're all just pressed and pissed-off to be getting out of here. It's just not fun at the moment."
Three days before the store closes, DeSalvo puts on Elf — Ronnie James Dio's bluesy pre-Rainbow band — shortly after he arrives around 6 p.m. When I ask how he's doing, he simply says he's stressed. After Bob's closes, he won't collect unemployment, since he's a part-timer. He's hopeful some friends may give him work. As Weidner packs up his things, he tells DeSalvo it was a slow day, but by 10 p.m., about 10 people have gathered to browse.
On Bleecker Bob's penultimate day, customers are starting to congregate in greater numbers. A woman exclaims, "I didn't know Judy Collins made so goddamn many albums!" A large man in a flat cap with wild hair lets loose an emphatic "No fucking way!" when DeSalvo tells him the store is closing tomorrow. A soft-spoken, middle-aged man with blonde hair named Joe Thirion browses the aisle while clutching a stack of bootleg live recordings of the Ramones and Procol Harum. "I was recommended not to be here tomorrow, because it's going to be a circus," he says. "This is my last shot at these things. Any local businesses down here that don't own their own space are goners. They're dead. It's just sad."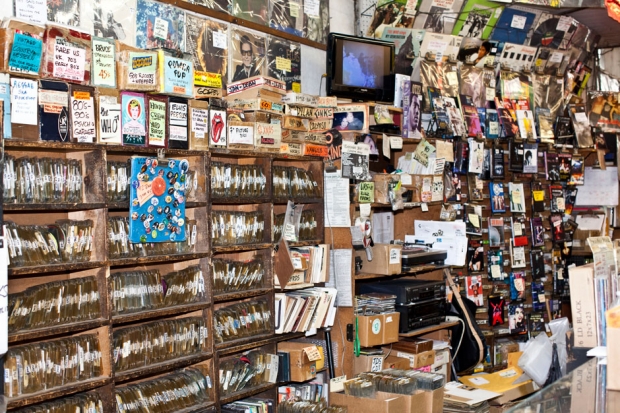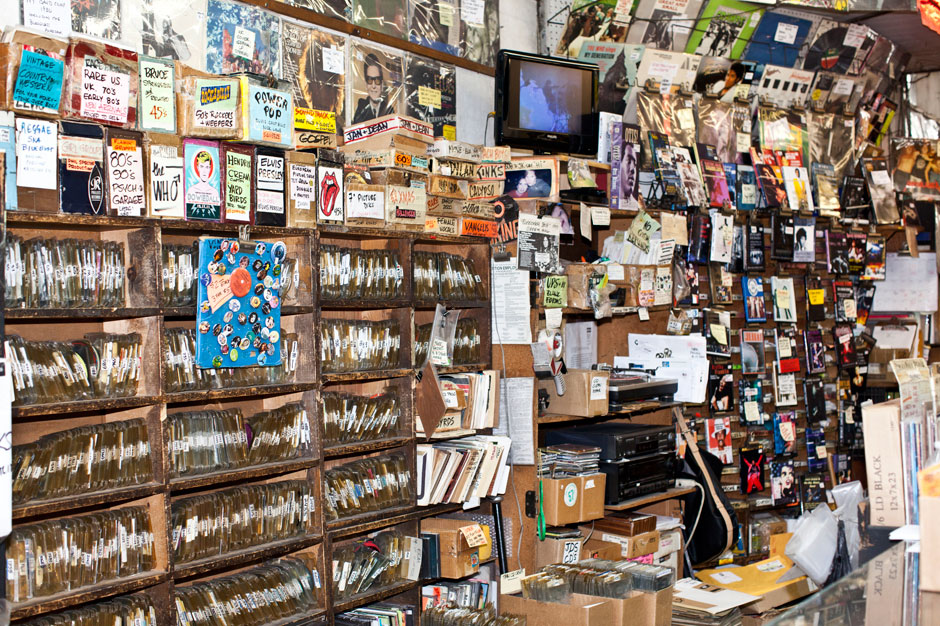 Robert Menes, a dark-haired customer in his 30s with thick-framed glasses and a light Jersey accent, thumbs through the stacks of LPs. After reflecting on his teenage years when he made trips into Manhattan to buy Nirvana, Bikini Kill, and L7 records at Bleecker Bob's, he says, "I really wanted one day to bring my kids here and show them, 'This is how I used to buy music. This is how I still buy music.' Now that may never happen." He finally settles on a recording of David Bowie, live in 1972.
DeSalvo, who is wearing a paint-splattered hoodie, looks harried behind the counter. When one customer says she's sad to see the store go, he quickly rejoins, "Yeah, me, too." He says that even though Sunday will be the first day the store is closed, there is no real plan in place for eliminating the leftover product or packing up. Moreover, he's wary about his own future. "I'm afraid I'll have to get a real job soon," he says. But by 10 p.m., he's too busy to do much else but work, as customers swarm the store.
When the last day finally arrives, the store fills with customers early in the day. By mid-afternoon, on Saturday April 13, bodies clog the store's narrow aisles. Weidner is blaring Miles Davis' Bitches Brew, as he busies himself — even on the last day — by looking through stock behind the counter and chatting with a VIP customer who's perched behind a glass counter as he thumbs through 7-inches. A few more customers join the shopping fray, and at about 4:30, J.K. strolls in with her friend Vinnie. Dressed in a black blazer that looks a little too smart for a funeral, she looks around for a second and quickly becomes her typically bubbly, if mordant, self. "These last few weeks have been very stressful," she says with an up-turn in her voice that belies the sentiment. "I was really going through depression. Did I make the right move? Was there something else I should have done?" She consulted with acquaintances of hers who run businesses and the options she discovered that she could have taken to advance the business made her upset, but she's grown to find solace in the decision to close the shop. "I think once this is over — and this is something I should start doing today — I will be able to think of this as an accomplishment," she says. "It's not, 'Did I do the right thing?' It should be more, 'We did it!' I don't want to make today too frustrating."
As the word "today" looms heavily in the air, J.K. says she's yet to tell Plotnik about the store's demise. Fearful that the news might prompt a deep depression, she plans to ease it to him gently, positing that the economy has been in decline and things weren't what they used to be, just as she had hinted when we visited him at the nursing home. "The other day, I said to him, 'Things are not always easy,' and he goes, 'They're not easy for me.' I said, 'Oh.' I don't get that insight into him all the time. There are good days and bad days."
One of the good days recently, though, was a few weeks before the store closed, when J.K. brought Bob into the shop for the first time in two-and-a-half years, and he sat in his wheelchair by the counter. After remarking that the store "looked really good," according to J.K., Plotnik asked Weidner how business was and "sort of stared at everything." It wasn't a long visit, because eventually he got restless about the gate being down, saying, "The gate," in his short, gruff way, but J.K. says he liked seeing the store the way it was.
Then fate turned his head.
"A customer came close to the register, where he was with Chris, and said, 'I heard you guys are closing down,'" J.K. recalls. "Bob gave me a look like, 'What?!' So I've been asking people, 'Should I tell Bob? Should I not?' Some people say the truth is best; some people say he doesn't need to know. It's like those people who come out of a coma after 10 years, like, your family's gone, your wife remarried, they sold your house. And you're sort of…" J.K. mimes a Wilhelm scream. "I just don't think it's necessary. Not that I believe in full denial, because he should be very proud of what he's done. But for me to drag him in there and the gates are closed, and people are buying this and taking away that, it's too much. Maybe when I get over it and put a more positive spin on it…" Her thought trails off.
As customers ambled past us, she comments on a poster that a gothy-looking customer is holding for the 1944 sci-fi-horror flick Curse of the Cat People — a movie she has, of course, watched with Plotnik. Then she directs the conversation toward the future. With Ski and DeSalvo still looking for new locations, she's hopeful for the future. "I wish they would find someplace," she says. "Maybe we call it Bleecker Bob's: Lower East Side. Or the Other Side of Bleecker Bob's. I was playing around with the idea this morning, as I drank my coffee, wondering, 'Fuck, maybe I should just incorporate myself.' So I don't know. I guess I sort of just don't believe it," she continues. "I'm sort of here and hanging in there. But it's a good thing."
After a steady stream of customers all night, the scene gradually transitions into more of a party by 2:30 in the morning — half an hour before Bob's traditional Saturday closing time. Weidner and J.K. are long gone, but the shop is still vibrant with life. One of the 22 customers present is sporting the store's vertigo-inducing black T-shirt, as customers flip through the dwindling number of LPs and CDs. Throughout the past week, the bins had seemed relatively well-stocked, probably from the clerks' meticulous reorganization of product, but tonight, mere minutes before the end, it's finally looking picked-over. Ski has come in with a boatload of Brooklyn [Brewery] beer and to help DeSalvo with the closing ceremonies. "We could probably stay open till 5 or 6," Ski says with a glimmer in his eyes. But the numbers thin out, and by 3:15, there are 13 shopping, and by 4, nine. As one of Bob's many clocks winds its way toward 5, the end comes, and with all the customers gone, the record store at 118 West Third Street closed its door to the public for the final time.
---
About three weeks before DeSalvo and Ski locked up for good, J.K. had laid out a legal pad beside framed photos of Plotnik and his daughter on the smoking-accessories and knickknack case in the back of the store. With three pens to choose from, customers began writing memories on the pad's wide-ruled pages, as if it were the register book at a wake. Of the many entries, some were simple, some were introspective, some were profane, but a few stand out:
"Dear Bob, Thanks for embarrassing the shit out of me daily as a young teenager," reads one.
New York hardcore scene legend Harley Flanagan wrote, "Bob we will miss you and your store so much. [Here, Flanagan draws a sad face.] N.Y. is not what it was, Bro. God bless you and your family." Then he signed it with the crossbones "N.Y.H.C." logo.
"Another Village institution that will live on in the hearts and minds of those who will rock forevermore," reads another.
But the most poignant came from a longtime customer named Richard Allen, whom DeSalvo notes used to buy everything Rolling Stones. "Whenever I miss N.Y.C. (even though I live in it), I step into Bleecker Bob's." His use of the present tense stings the page. As fate would have it, though, a silver lining might yet grace the rooftops of downtown Manhattan. "East Village space may actually happen," Ski wrote on the store's Facebook page two days after the store closed. He was offered a lease on a new location, so he created an IndieGogo.com listing, offering T-shirts and a VIP discount card, to help raise $6,500 for moving costs. Ultimately, he wasn't able to sign that particular lease, "due to issues with the space," but an April 20 Facebook post promises that the staff of Bleecker Bob's is still looking for a new storefront.
For now, though, Bleecker Bob's is closed. The awning, bearing the store's name, has been torn down. And the "open" sign has been replaced with the torn-off cardboard lid of a pizza box. On it, someone has scrawled, in furious capital letters, "CLOSED FOR GOOD! BYE BYE."