Blame the Knack: 8 Essentials of the Fake New Wave Feeding Frenzy
So, you know how all those left-field undie rock bands got signed to major labels in the '90s alt-goldrush wake of "Smells Like Teen Spirit," and most didn't sell diddlysquat? Well, what nobody remembers is that the same thing had happened just more than a decade earlier, after the Knack's "My Sharona" (and to an extent the Cars/Cheap Trick/Devo/Blondie, etc.) exploded out of nowhere and convinced big-league bizzers that new wave might mean big bucks. Except new wave's buzz bin wasn't filled so much with avant-weirdos as the turn-of-the-'80s equivalent of hair-metal bands going grunge: Provincial bar-band rockers passing themselves off as power-pop or techno-pop or punk, via faster tempos, cuter melodies, Cars-y keyboards, herky-jerk beats, acting like tough guys from the street, trying on one-noun names or funny haircuts or skinny ties or pink sidewinders and a bright orange pair of pants. If Billy Joel and Linda Ronstadt could make new-wave albums, anybody could, right?
Squares trying to play hip, in other words, and almost inevitably being awarded instant cut-out status for their trouble. There were scads, a few of whom actually managed to briefly land a tune on the radio between 1979 and 1981: Pat your aching back if you recognize the A's, Inmates, Jags, Kingbees, Kings, Rings, Sherbs (supposedly sampled on Daft Punk's new album!), Sports, Fabulous Poodles, Flash and the Pan, Sniff 'n' the Tears, Moon Martin, Herman Brood and his Wild Romance. And those were the lucky ones! (At least compared to, say, the Tazmanian Devils.) Fake new wave dated back to Christ Child's preposterous 1977 Buddah debut Hard (rumored to be recorded by moonlighting Topanga Canyon session hacks aping Sex Pistols sleaze), but once the Knack hit, the genre really "took off." Here are eight fake new-wave albums that actually deserve to be remembered, but will continue to keep used-vinyl dollar bins warm till they are. Get 'em while they're cheap!
Blame the Knack: 8 Essentials of the Fake New Wave Feeding Frenzy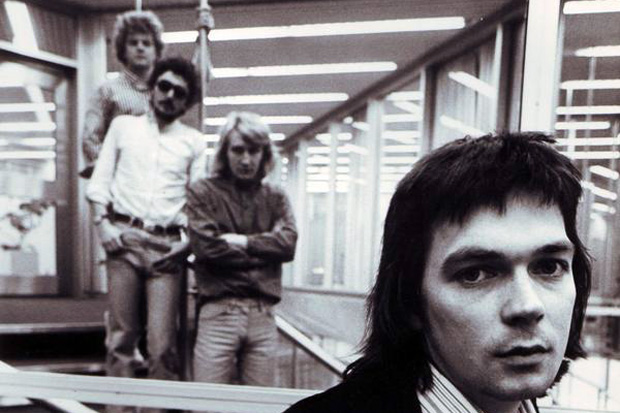 The Hounds - Puttin' On The Dog (Columbia, 1979)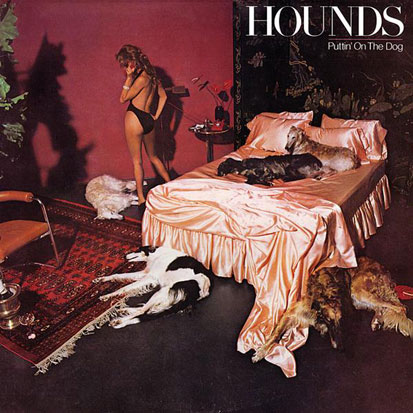 Chicago's Hounds did not look new wave: Too much hair, wrong kind of leather trousers, more like the kind of cock-rock thugs who'd beat new wavers up. First album — Unleashed, from '78 — had a woman with a dog collar around her neck on its cover. Follow-up from '79 — Puttin' On the Dog — had a woman in black underwear, in a lavish hotel room surrounded by shaggy dogs. But Hounds are nouns, so Columbia naturally stuck their "Do Wah Diddy Diddy" remake on a 7-inch promo EP called The Now Wave Sampler, alongside the Beat, Sinceros, and Jules and the Polar Bears. The first album had the Mott the Hoople-ish "Drugland Weekend" ("Your city looks like someone took a dump" — long spun at Friday drive-time on Chicago rock radio); "Bad Blood Between Us" (starts close to "Blitzkrieg Bop," then gets heftier, and it's about getting into a fight with a "punk," though not a punk rocker — just a greasy-haired bar creep who won't shut up); and "The Alleys of Love" (teen groupie "doing the pogo," then a recommendation that Jimmy Carter snort cocaine.) Puttin' on the Dog was, amazingly, even better, despite three '60s British invasion covers, a fairly new-wave move for '79 suggesting that (perhaps at behest of label A&Rs with Cars in their eyes), Hounds were indeed "Working on My Cool," as another track puts it. There's also some extremely arch-sounding art-glam called "Spiders" that could pass for 1971 Alice Cooper crossed with 1973 Sparks, plus all these crazy synths that can't decide whether they're new wave or prog or disco. But it's all still superb charging heavy rock, peaking back-in-the-saddle-wise with a bucking disco-metal bronco called "Horses." Robert Christgau ("not punk rock") and Dave Marsh ("Woof") both hated it! How's that for consensus?
Yipes! - Yipes! (Millenium, 1979)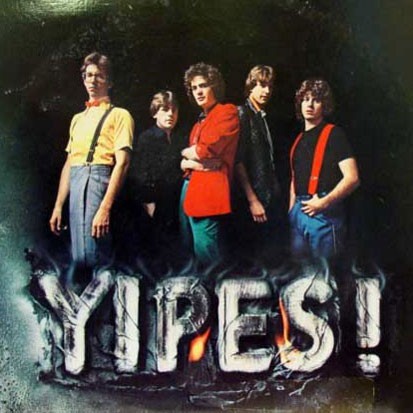 You can tell Yipes! wanna be new wavers, Wisconsin-style, because despite all their still-blow-dried '70s hair, one of them has oversized glasses frames, a mini bowtie, and spaghetti suspenders on the LP jacket, and another one evidently found Dad's old thin necktie. RCA-distributed Millennium Records, also home to fellow also-rans Bruce Cockburn and Chilliwack, no doubt had high hopes. Yipes! seem kind of conflicted, though: They do a hilarious ditty called "Me and My Face" about how everybody ("big boys at the rollerdome," "big dudes at the disco," "beach bums in Miami") wants to beat them up, but another where they threaten West Side kids who took their baby away to a rumble. They also do songs about how both good boys and good girls go bad. They picked the name Yipes! 'cause "we're a cartoon band," and though they're class warriors (open the album hoping rich boys turn old and sick and lose their stock-market money), they're also class clowns like the Dictators or Cheap Trick — "Out In California," their surf-garage-with-Sha Na Na-harmonies "California Sun" facsimile, criticizes West Coast cars for lacking ceilings; and "Hangin' Around" is about a friend named Jack who buys platform shoes but doesn't fit in at a disco called the Club Detroit, so he gets "unhappy 'cause his parents were white." And then there's the lovelorn border bolero named after Roy Orbison with phony Spanish words ("Ford Grenada, North Korea / Señorita en Córdoba John Travolta"), and this taunting sort of monastery-metal-turned-bouncy-campfire-singalong called "Russian Roll" about how "The Commies are cool, the Commies are square / From Siberia to Leningrad / Their vodka's good but their aim is bad." It's all super-hopped-up technicolor doing-donuts-in Burger Chef-parking-lot infectious, too. They don't make 'em like this anymore, and not just because the Cold War ended.
The Headboys – The Headboys (RSO, 1979)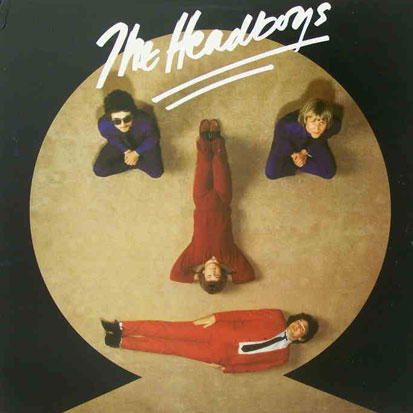 The Headboys, from Scotland, are another of fake new wave's unheralded one-almost-hit wonders: "The Shape Of Things To Come" got all the way to No. 67 in the U.S., not exactly a Bee Gees smash by Polygram-distributed RSO Records standards, but not bad. That album-starting cut was an original, not to be confused with late '60s Yardbirds or Max Frost and the Troppers classics; nor does second track "Stepping Stones" have anything to do with the Monkees, though seems like they're begging the question, and both are good anyway — somewhere between Cars-mechanic zig-zig and proto-.38 Special hard guitar pop. "My Favorite D.J." could be XTC's Drums and Wires with more meat on its bones, then "Kickin the Kans" puts fuzzbucket CCR "Green River" swamp guitar into an extra-catchy suburban bandwagon pogo context. Side one ends with a semi-dirge called "Silver Lining" with funeral piano and Celtic fiddle from a Boy of the Lough. Flip the disc and you're hit with "Experiments," the kind of robotic science-lab clink-clank that Thomas Dolby would tinkle in the '80s (the keyboard also halfway predicts "Let's Go All the Way" by Sly Fox) except done as loud, fast rock; then a Tom Robinson-style music-hall soccer-terrace stomper getting pervy about "Schoolgirls," with "drunken yobs chorus" partly credited to "some mysterious person who walked off the street." Then speedy, snappy Boomtown Rats ringer "The Breakout"; then a snide Jack The Ripper homage; then a closer with sax allegedly honked by a 300-year-old man. "Maybe the Headboys wanted to be rock's philosopher kings?" 1983's New Rolling Stone Record Guide theorized. "Unfortunately, the position had been abolished." But what you really get is plenty of me-and-the-boys songwriting, from regular joes trying to look a bit mod, cashing in with wacky hooks for kidz on the go.
The Brains - The Brains (Mercury, 1980)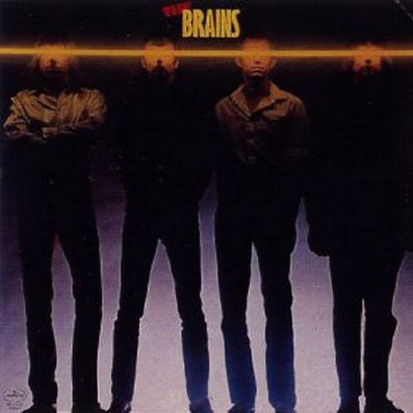 "Money Changes Everything," a cynical critique of capitalism corrupting art and romance that Cyndi Lauper later famously covered into a No. 27-charting 1984 pop hit, has the distinction of being, in 1979, the first independent rock single to finish top 10 in the Village Voice Pazz & Jop critics poll. Rerecorded upon these Atlantans' promotion to the majors, it led some to speculate about art-corruption for real. So, despite awarding the album an "A-" grade, he still complained about Steve Lillywhite's heavy production and "songs that would fit fine on a Queen album" — namely, the heartbeat-echo-unto-thunder-pomp of "In The Night" and the likewise spacious Blue Öyster Cult-riffing martial zoom-crash "Sweethearts." But truth is, Lillywhite's metallic edge — applied that same year to better-known albums by Peter Gabriel, U2 and Psychedelic Furs — gave The Brains a power they never matched on their later records, which also lacked the lickety-split fun-fun-fun technobilly speedboogies of the debut's busy-signal buzzing "Raeline" and breathlessly self-abusing "Girl In A Magazine." The instrumental "Treason" opens the album conjuring surfboards, spies, and satellites, and nearly four minutes pass before Tom Gray even opens his mouth. From there, though, he's exasperated always, early-Costello-level anxious and nerderrific, even when aiming for Springsteen street cool, and his electronic keyboard gives the band's rock energy a tangible nervousness, their wires criss-crossing into perpetual-motion mousetrap machine effects like they've all been electocuted by that bolt of light passing through their brains on the cover. So were they new wave, or not? They did open for Devo. Then again, Rick Johnson in Creem heard them as "a veritable Iron Butterfly for the '80s," and Mercury lumped them with Def Leppard and the Scorpions on a 7-inch promo. And guitarist Rick Price wound up playing bass for the Georgia Satellites. You figure it out.
4 Out of 5 Doctors – 4 Out of 5 Doctors (Nemperor, 1980)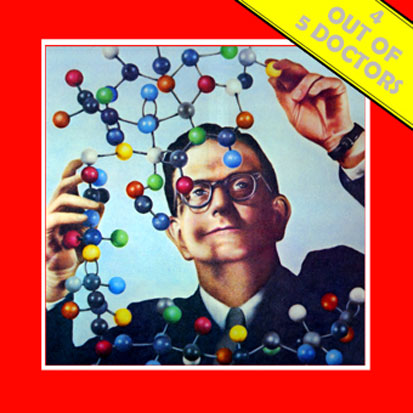 Washington, D.C. dudes recording in Miami Beach, with their shirts unbuttoned an extra button on the album's back cover and ready to board the sailboat or go digging clams. They look really wholesome even if one guy's shoes don't match, but you never can tell. "She's into cold cream, and I'm making bombs in my room / She's like a prom queen, and I'm the prophet of doom / I'm smugglin' firearms, she's readin' Mademoiselle / Don't drop the nerve gas, that's not perfume on the shelf." Watch out! That's in the clearly mega-alienated "Not from Her World," the last and admittedly best song on their first album (of two), but there are also forward-looking, secret-agent-ring titles on the order of "Modern Man" and "Danger Man" and "Mushroom Boy" that do the Farfisa-of-the-future, '70s-prog-geeks-at-the-new-wave-bowling-alley dance like fellow travelers of Rush's and Genesis' keep-up-with-the-Police periods. So that scientist juggling molecules on the front cover totally fits, as does something pretentious called "Opus 10." But "Elizabeth" and "Mr. Cool Shoes" dish out some nifty staccato Costello/Joe Jackson angst bop regardless. "Waiting for a Change" has a flute; "Jeff, Jeff" has a sax. And there's even a number called — get this — "New Wave Girls": "newspaper panties and pins in their nose," not to mention "knives in their shoes," scary! But just the thing for four strivers capable of having their cake and eating it too, opening for the Clash and Cars on one end of the street and Pat Travers and Hall & Oates on the other. Unfortunately, 4 Out of 5 Doctors never managed even the rather fleeting success of their CBS-distributed Nemperor labelmates the Romantics and Steve Forbert. Their apparent career high point? A bunch of songs performed in a 1983 slasher flick called The House On Sorority Row.
Sue Saad and the Next – Sue Saad and the Next (Planet, 1980)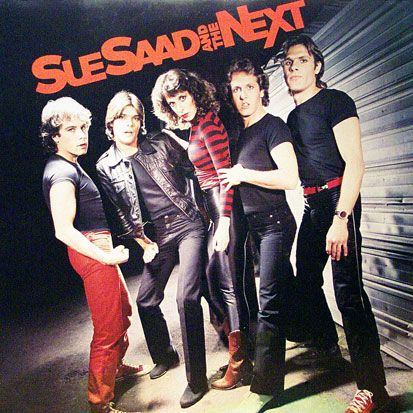 Somehow less legit new wave than either Pearl Harbor and the Explosions or Holly and the Italians or Robin Lane and the Chartbusters (all recommended), the only album by this L.A. five-piece came out on Richard Perry's Elektra/Asylum subsidiary Planet the same year as the debut by L.A.'s Cretones, three of whose songs Linda Ronstadt borrowed on her 1980 new-wave wannabe classic Mad Love. "Ronstadt new wave" is kinda what Saad and the Next (dig that bizzy buzz-bin name!) were aiming for, though the Pretenders and Pat Benatar also figure in. Not to mention a little B-52s ("Rock Lobster" riffs in "I Me Me") and Rickie Lee Jones (seedy, back-alley, beatnik-lamppost lyrics in dark slow one "Cold Night Rain"). The bassist and one of two guitarists had previously performed in a "rock musical," but wanted to be in an actual band — L.A. enough? Still, as tough-gal, faux-wave, corporate hackwork goes, the LP's easily up there with Benatar's first and best two; rhythm section has oomph galore. On side one, "I Me Me," about how people at parties talk about themselves too much, and the "Walk on the Wild Side"/"People Who Died"-style beautiful-loser roll call "It's Gotcha" pull off sundry tricky changes at nearly punk-overdrive tempos; and "Young Girl" has Saad's mom slapping her face and telling her to avoid boys over AOR ska bass lines. On side two, "Your Lips-Hands-Kiss-Love" opts for trigger-pulling sex appeal, then "Danger Zone" closes it all with runaway girls and crosstown boys riding the razor's edge and having heart attacks in the heartland while Saad's singing takes on a Janis growl. She later portrayed a punk rocker braving a 1996 nuclear war in the 1985 sci-fi thriller Radioactive Dreams — just as anybody who had followed her career up that point would've predicted.
The Fools – Heavy Mental (EMI America, 1981)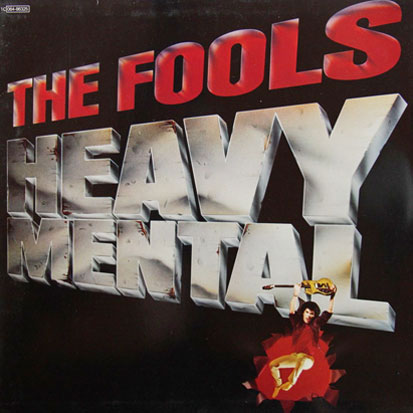 These oft-amusing Boston opportunists actually had a few semi-hits, none typical of their best stuff: the white reggae "It's a Night for Beautiful Girls" got to No. 67 in 1980; Roy Orbison cover "Running Scared" (no more pointless than Nick Cave's version five years later) hit No. 50 in 1981; and there was also 1980's clucking Talking Heads parody "Psycho Chicken," which didn't chart but got its share of Dr. Demento airplay. Thing is, none of those really hint at how their first two, probably ironically titled, full-lengths — Sold Out from 1979 and Heavy Mental from 1981 — have massively memorable tunes out the wazoo. Best in show on the debut are fraud plan "Mutual of Omaha" (up there with "National Insurance Blacklist" by the Business and "State Farm" by Yazoo as a pinnacle of insurance rock), "Spent the Rent," and "I Won't Grow Up" (titles all clues). Peaks of the aptly weightier-guitared Heavy Mental (weightiest in opener "Mind Control" and the sorta psychobilly "Last Cadillac on Earth") are "Around the Block" (one of the 1980s' more shattered Stones rips), "Alibi" (guy thinks up lies to tell wife on way home late at night as the band drives fast), and "Dressed in White" (almost-Chuck Berry/Nick Lowe-level wedding-day rock, and also like one of those ubiquitous country hits where somebody's old girlfriend finally marries some other jerk, except funnier and more vicious: "And your Dad'll be in a bad mood / And I'll only be there for the food," etc.) The ostensibly in-concert It's Alive from 1987 was a true Animal House toga party a decade and a half after the fact, albeit less Blues Brothers-ly when the Fools kept things inauthentic. But their first two — united into a handy CD by EMI reissue imprint American Beat in 2009 — are the real hoot.
Johnny and the Distractions – Let It Rock (A&M, 1981)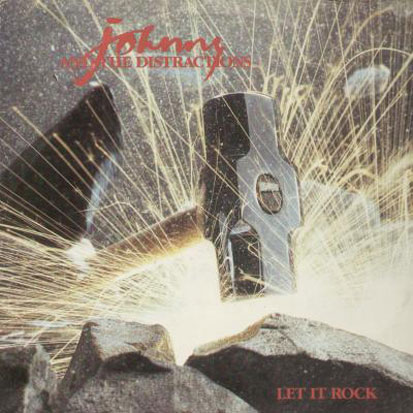 In their mostly leather-clad little back-cover photo, this platoon from Portlandia when Portlandia really mattered (Quarterflash debuted in 1981 too!) just plain look mean, and not like they're pretending, either. Johnny and the Distractions is a reasonably new-wave name, but their real genre is "badass." They're like a lager-bottle-smashing gang of pub-rock reprobates from the U.K. (say, the Count Bishops) or Australia (say, Rose Tattoo) come back to make blue-collar American power-chord bam-bam that melodically suggests early Bryan Adams or Eddie Money, but bruising with twice as much malevolent punk-or-metal-take-your-pick muscle as those two ever managed. Their closest cousins might be the Iron City Houserockers, who'd just put out their best album in 1980, but those Pittsburgh lugnuts sound artful by comparison, despite a similar bare-fist-with-a-side-of-armpit stench of manual labor: "I ain't got the kind of job to leave a man smellin' clean," Johnny Koonce confesses, wishing he could afford to pay his taxes while braving high Little Richard or Bon Scott squeals. Over a "Boys Are Back in Town" groove on "City Angels," he passes out in his car in Pasadena and tries to figure out how to get back to La Cienega when "all those Spanish boys say no comprendé." Gregg Perry's piano boogie-woogies but his organ gets rather fancy, à la the Brains or Pittsburgh's (and A&M's) comparably wave-metal Reds; and two guitars race down the main drag playing chicken at sunup. Power-pop never kicked so hard, but new wave-fond A&M probably saw its proliferation as a selling point for this band. Cover just has a sledgehammer slamming down and breaking a safe open and, new wave or not, the Distractions earn it. The fake punks were the real punks now.