Giant Rats! Human Hot Dogs! Boxer Shorts! Swamp Dogg's 11 Craziest Album Covers
Since his 1970 debut, Total Destruction to Your Mind, R&B cult hero and SPIN profile subject Swamp Dogg has been responsible for some of music's most outlandish and just plain weirdest album covers. These are the 11 you must see, with commentary from the man himself.
Giant Rats! Human Hot Dogs! Boxer Shorts! Swamp Dogg's 11 Craziest Album Covers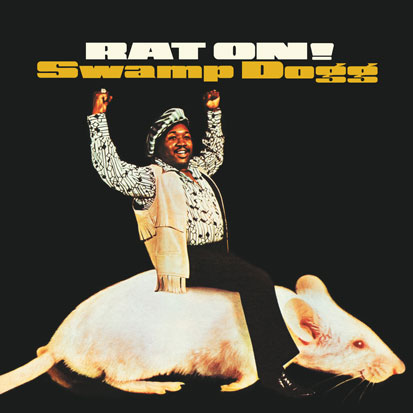 'Total Destruction to Your Mind' (1970)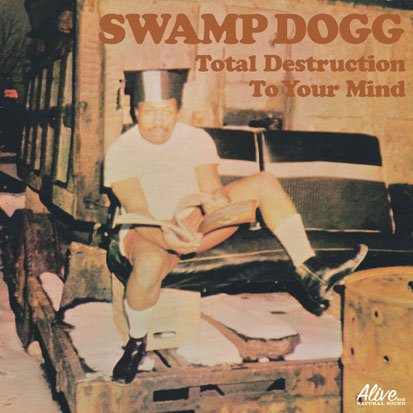 "I lived like three blocks from LaGuardia airport at that time and [Willis Hogans Jr., the photographer, and I] went out and took some pictures. People talk about the washed out color, but that was because the guy that I was using for my album covers was, by profession, a police photographer. All [the photos] he shot were mug shots! I guess [the cover] looked great to him."
'Rat On!' (1971)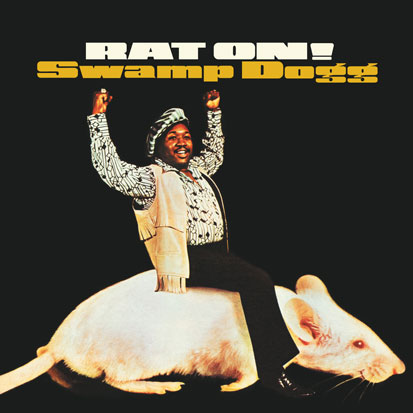 "By the time I got to Rat On!, I figured out who Swamp Dogg was but I put [him] on a higher plane than he really deserved. I felt that the black man was arriving and was closer to being at his destination than he was. The black man finally is on top. The rat is smiling because in his mind he knows that the black man does not have enough savvy, education, and stick-togetherness to stay on top."
'Have You Heard This Story??' (1974)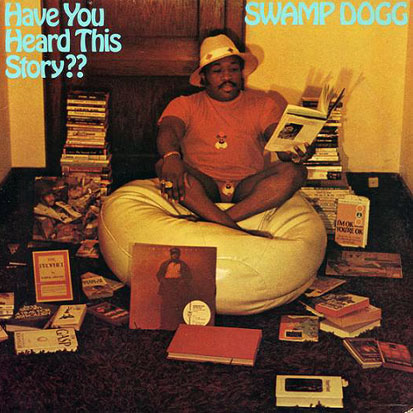 "Other than wanting to take a picture in my drawers and undershirt and a hat that I got from my father after he passed away, I don't know if there was any big idea. I have a book called I'm OK, You're OK sitting out there. That was like the Fifty Shades of Grey of its time. I'm speaking of popularity, not of content. It was all about what I was going through mentally. It's about Swamp Dogg trying to get his mind back."
'I'm Not Sellin' Out / I'm Buyin' In!' (1981)
"That's when I got tired of fighting the establishment and decided to become part of the establishment. In my songs I basically was fighting for the black man. I was trying to educate the black man. I was trying to make the black man rise up. I put myself on the table to show that I had picked up enough to join in with society as we know it. It's time to make a living."
'The Best of Swamp Dogg: 13 Prime Weiners, Everything on It!' (1982)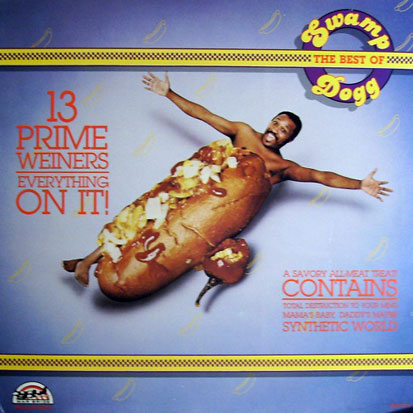 '[Photographer] Willis Hogans Jr. and I got together and did that. I just wanted to be inside a hotdog bun, and whatever my next album was going to be that's what I was going to do. When the guys decided they were going to call it 13 Prime Weiners, that fit me just right. If you look closely you will see that we didn't quite line up the legs as well as we could've lined them up."
'Swamp Dogg' (1982)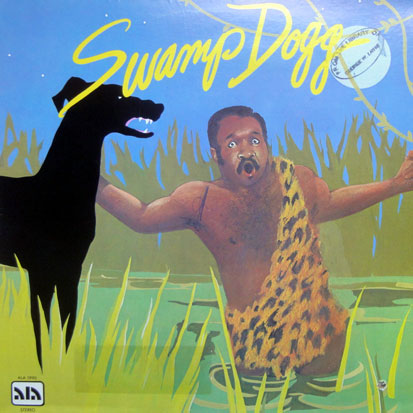 "I let another company put that out, Ala Records. They did that cover and I hated it! I still do. I was going to sue 'em and my wife said, 'You know, when they walk into court with all of your albums and show the judge what kind of shit you've been putting out, he may lock you up for wasting his time.'"
'Surfin' in Harlem' (1991)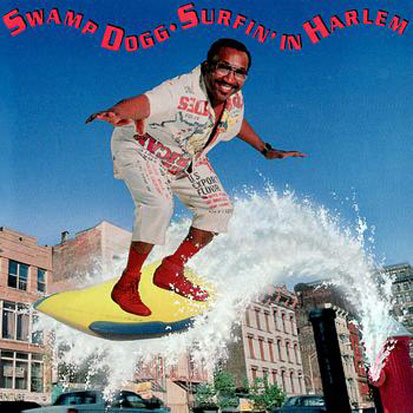 "The last place you can surf is in Harlem. Nevertheless when they open up all of those fire hydrants during the summer, that's about as much surfing as you're going to get. It was about how ridiculous life has become. It has become about as ridiculous as wanting to go surfing in Harlem."
'The Re-invention of Swamp Dogg' (2001)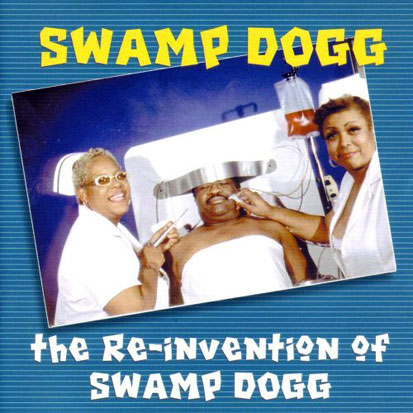 "I was trying to set up a thing that it would be Frankenstein being operated on. I couldn't get ahold of an operating room or a doctor's office where they'd let me do this. We put some shit together in my living room. I wanted my wife on the cover and so there are two girls on there. The prettier one is my wife!"
'If I Ever Can Kiss It... Kiss It Goodbye' (2002)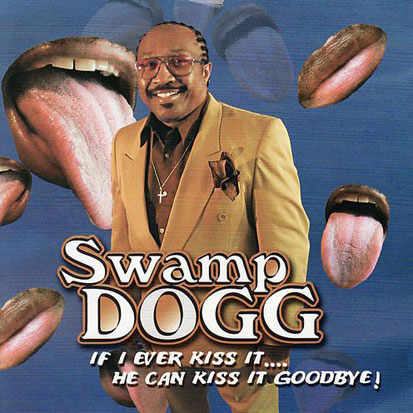 "That was my attempt to hit the Southern Soul market and to be very sexually dirty. That's the type of songs on that record. It's about being sexually edgy and having a lot of fun. All those lips and tongues and shit are mine. I came up with that idea from Mick Jagger. I can always see those big ol' lips. So I had my lips and tongue all over the motherfucker."
'The Resurrection of Swamp Dogg' (2007)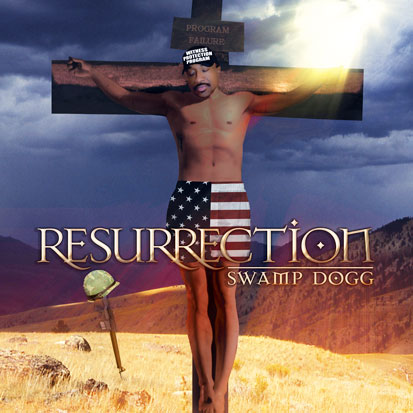 "Jesus Christ had all these people around him that supposedly had his back and one or two of them got together for a few pieces of silver and had his ass nailed to a cross. You can't trust nobody. Well if you look at the cap it says 'Witness Protection Program.' The Witness Protection Program is supposed to be top notch, but of course we know better. You watch TV and you see what happens to witnesses under protection."
'An Awful Christmas and a Lousy New Year' (2009)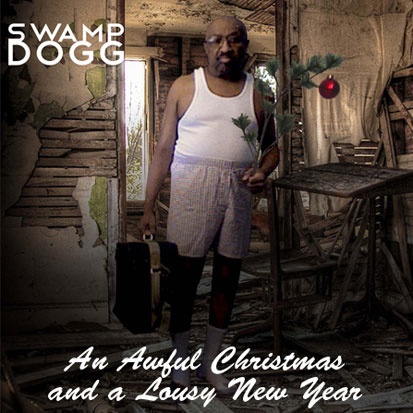 "I had on my drawers and my wifebeater. I picked up my attaché case to bring it back to my office. My partner took four or five shots. My graphic people got rid of all of the equipment and chairs and put me in the middle of a burned down house. If you stand in the middle of your house and it's a big ol' cinder, that's an awful Christmas. And there's no way you're going to have it back up by New Year's. That's an even lousier New Year's."