As far as impressionistic memoirs by New York City-based poets-turned-punks go, Richard Hell's I Dreamed I Was a Very Clean Tramp has at least one promising precedent: Patti Smith's Just Kids. And while the now-63-year-old Hell, a founding member of '70s punk progenitors Television, the Heartbreakers, and the Voidoids doesn't quite achieve the same grimy golden dreaminess of Smith's award-winning reminiscence, his book shines its own dirty light.
Which means it has lots of sex, drugs, and rock'n'roll. Pick up I Dreamed I Was a Very Clean Tramp, out March 12 via Ecco, if you want poetry and insight. But if you're looking for just the juicy parts, we've got you covered with the excerpts below:
Love Comes In Spurts
Not long after moving to Manhattan from his home in Kentucky in 1966, Hell, who was then still calling himself by his given name of Richard Meyers, had a curious encounter with a counter-culture hero. "Allen Ginsberg once liked my looks on the street and invited me over," recalls Hell. "I declined without hesitation, automatically, never having felt much rapport with Ginsberg from his writings, and because it wasn't within my range to give encouragement to a gay guy trying to pick me up, though it didn't bother me."
Staring In Her Eyes
Presumably like many ground-zero punks, Hell has erotically charged memories of Patti Smith's explosion upon the city's avant-garde music and poetry scene. "She was a natural-born sex waif and a pretty-assed comedian. She'd step out with her hand on her tight-cocked hip, all casual, if in-your-face, and jack out mind and body gush, giggling at herself like a five-year-old, under her deep-set eyes and her coal-black shag, begging to be fucked, skinny as a rod, massive tits… " You get the idea.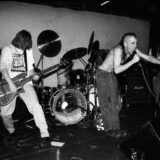 Down at the Rock'n'Roll Club
As befits a man who's most famous song is called "Blank Generation," Hell has a less than romantic view of the connection between a rocker and his fans. "Being a rock and roll musician was like being a pimp," writes Hell. "It was about making young girls want to pay money to be near you. That was the relationship with the anonymous audience, and the audience you actually met as well."
Lowest Common Denominator
Even while he was living an existence pretty much confined to Manhattan's Lower East Side, Hell's tattered and torn fashion sense spread far and wide. Flipping through a European rock magazine, he notices a picture of a band called the Sex Pistols and sees his own style. "I had to laugh. Everybody in the band had short, hacked-up hair and torn clothes and there were safety pins and wacked-out T-shirts and contorted defiant facial expressions… It was flattering. It was funny."
New Pleasure
Throughout the book, Hell examines his interest in extremes, from music to philosophy, to drugs, to, unsurprisingly, sex. "My introduction to the real, complex pleasures of slave ownership began on a hot summer night in 1979, at the loft of my crystal meth dealer," Hell writes about his foray in S&M. He and the dealer's girlfriend, shall we say, hit it off: "As I slapped her, it dawned on me that there was more to [S&M] than I'd realized… I was like she was a language in sex that I would use to write a poem."