UPDATE: Matador publicist Nils Bernstein has confirmed that the album title is correct and that Matador will indeed be releasing it in June.
Queens of the Stone Age have announced the title of their long-awaited sixth album: …Like Clockwork, according to Antiquiet. The desert rock OGs have also updated their website to include the new artwork above, the word "June," and a series of sound snippets presumably sourced from the new long-player. To hear those, visit the QOTSA site, click the image, hit refresh, repeat.
The website also contains another bit of hidden information. Users who click around on the page will eventually find a Matador Records logo, suggesting that the band has signed with the indie powerhouse for this release. Their ferociously good last album, 2007's Era Vulgaris, was released on Interscope, as were the sludge-shoveling masterpieces that preceded it (word to Songs for the Deaf).
Antiquiet claims that "more news is on the way," including the big reveal of the band's new touring drummer. Of course, it was SPIN cover star Dave Grohl who actually played on …Like Clockwork. We've also learned of contributions from Elton John, Trent Reznor, Jake Shears, Mark Lanegan, and Nick Oliveri. Of late, Josh Homme has been dropping cryptic messages about the anticipated album.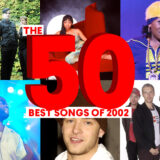 Stay tuned for more.