Rap things worth caring about. Ranked!
1. Lil Wayne Isn't Dead: So, that didn't happen. Great, right? Of course it's great. Next week, we've got I Am Not a Human Being 2 coming out. It will inevitably be painted as another dip in quality and Wayne skateboards a lot now and blah blah blah. Listen, it ain't 2008 for any of us. But step back and reacquaint yourself with just how outsider artist bizarre Lil Wayne remains even when he's lost the map in a bad way. A cursory listen through IANAHB2 reveals at least two highlights: The title track, a "November Rain" piano pounder opener that may top Meek Mill's similarly unhinged and freestyle-like "Dreams & Nightmares"; and a histrionic dubstep rap featuring Gunplay. Even the album-ending, album-ruining butt rock banger "Hello," should just make sense at this point. What do y'all expect?
2. Real Rap #2 by Benjamin Urkowitz: This mini-comic piss take on "real hip-hop" heads follows around a tubby, duck-looking dude known as "Duh Studge" (bio on the back of the comic reads, "He sucks, who cares.") as he whines about how rap music nowadays "just ain't real," and argues with his underground lesbian MC buddy Nast-E Nick-E, who offers him legit advice like, "When you say your rhymes, you aren't really flowing words together." Duh, Studge of course, has no time for technicalities, for he is trying to save hip-hop! He also accidentally ends up going home with some swingers, argues with a Jew-fro'd fool about Rick Ross, and ties his shoes very intensely. Available from Oily Comics for just one dollar.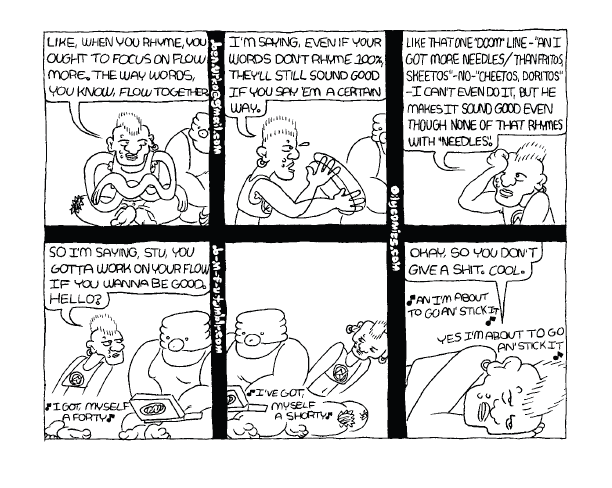 3. Beyoncé's "Bow Down/ I Been On": Not so much a song as a talking point and even a meme at this point, Beyoncé's "Bow Down/ I Been On" jerks between high-pitched vocals and low-pitched DJ Screw slurs and confounded everbody. Crammed in there is Beyoncé speaking to a generation of girls who looked up to her (and perhaps now, kind of just rip her off) and telling them "Bow down, bitches." Sonically, it would not exist without hip-hop and not in the "Oh, they're basically rapping" steez of Destiny's Child's speak-singing, but in the avant-sonics that rap and only rap has been able to smuggle into the mainstream. Namely, DJ Screw's increasingly influential slowed-up sounds. "Bow Down" works because Beyoncé behaving badly packs a thrill. There's no reason for her to do this song. Will it be on an album? Is this just part of a song? What's the deal?
https://www.youtube.com/embed/eB9zg0ywP0Y

4. The-Dream's "Tron" Reconsidered: Doubling down Beyoncé's screw-happy "Bow Down" is The-Dream's non-album throwaway "Tron," which moves so far into syrup-sick territory that it might as well be witchhouse or at the least, the kind of darkwave-tinged hip-hop that say, Cities Aviv and producer Lee Bannon are working with as of late. Like Beyoncé, The-Dream warps and warbles his vocals, and talks a great deal of shit. Of course, that has been Terius' style from day one: The mad genius, sonically next level egoist of R&B. "Tron" also happens to be his hardest, harshest song since Love Hate's "Ditch That…" The late DJ Screw often spoke of wanting to "screw the world" and we're now witnessing a down-up, Internet rap radio R&B embrace of chopped-and-screwed.
https://www.youtube.com/embed/fskWyXRDju8

5. Trinidad James vs. Nardwuar: Let me get this straight. After we lef A$AP Rocky, SpaceghostPurrp, Joey Bada$$, and others through mostly unquestioned, Trinidad James, a broccoli-haired sorta spoken-word kind of rapper ATLien was just too much for everybody on the rap Internet? Did everyone just get their bullshit detector in the mail? Objectively, James' rise is conventional and the way you're supposed to do it: He released a mixtape that slowly built-up some buzz, and the none of the songs on it popped off for good reason. Far more developed than the one-song wonders that dominate buzz over the last two years. Well, Trinidad haters, the best and most humanizing interviewer out there, Nardwuar the Human Serviette hangs out with the "All Gold Everything" rapper and reveals, a funny, regular-ass dude. He worked at the mall! He knows a lot about food! He seems like a real chill bro.
https://www.youtube.com/embed/cjoPAJxlkas