Watch out, Apple. As the music-streaming business evolves at a pace that has the potential to remake the industry, a self-styled outlaw has taken explicit aim at iTunes, still the big kid on the song-downloading block. Megaupload founder Kim Dotcom, whose legal battle over U.S. charges of massive copyright fraud continues to drag out, announced via Skype yesterday during SXSW Interactive that he plans to launch an iTunes rival later this year.
As Billboard reports, Dotcom said he "would think that in the next six months" his team will release Megabox, an online music service he sees as the bane of record labels. He reportedly called the service "very similar to iTunes," but browser-based and loading "much faster than iTunes or anything else out there." Dotcom told TorrentFreak last year Megabox will get its revenue from advertising and "will allow content creators to keep 90 percent of all earnings."
The Megaupload founder is awaiting a hearing in August, which his lawyers already successfully pushed back from March, over possible extradition to face charges in the United States. He was arrested in a raid on his mansion outside Auckland in early 2012 and maintains he's innocent and isn't to blame for others who might've committed copyright infringement via his service. "I will never be in a prison in the U.S.," he reportedly said yesterday. "I can guarantee that."
The grandiose pronouncements of a disembodied head weren't the only developments in the online-music business yesterday. Spotify is nearing a deal to introduce free mobile radio beyond the United States, Bloomberg reports, citing three sources with knowledge of the discussions. Spotify's free mobile service is currently limited to U.S. users, though a desktop product is available in 20 countries. Pandora, the biggest Internet radio company, gets 75 percent of its listenership via mobile devices and now offers the service to U.S.-, Australia-, and New Zealand-based listeners.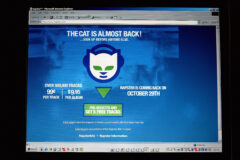 Meanwhile, fellow streaming music provider Rdio announced at SXSW yesterday it is expanding its service to seven new countries. As the Verge reports, Rdio's six-month free streaming option will now be available to listeners in Mexico, Ireland, Iceland, Italy, Latvia, Lithuania, and Austria.
Google, Apple, and Beats Electronics are all also reportedly working on music streaming services, and Pandora is searching for a new CEO. If 2012 was the year downloading took a dive, then 2013 is shaping up to be the year the streaming floodgates opened.