Last night in Los Angeles, Justin Timberlake confirmed that his already ambitious return LP The 20/20 Experience will indeed be followed up with a "volume two" in short order. The recently released 10-song set is only "the first half of the album" he told the El Rey audience, and as ?uestlove pointed out, "10 songs now…..10 songs later= 20 vision." But JT's apparently not a slave to mathematical formula, as a pair of 20/20 bonus tracks are now making the rounds.
Our friends at Idolator have shared the Target-exclusive tracks, "Body Count" and "Dress On." The former offers an aggressively propulsive slice of Timbaland funk — acoustic strum, saxophone blurts, bubbly drums — that serves as a pretty excellent vehicle for the dancier side of Timberlake lamented by some as absent on the new long-player. The latter, by contrast, is a dank and smoky love song about marriage, which features a few brighter major-chord moments that contrast markedly with the alt-R&B bleakness that otherwise pervades the track. Timbo also sneaks in a few bars on "Dress On," sweetening the deal and raising the question: Why in the world were these two songs relegated to B-side status? Perhaps Justin was obsessed with round numbers after all.
If this is what the cutting room floor sounds like, we should probably start getting excited for that second 20/20 installment.
"Body Count":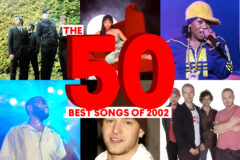 https://youtube.com/watch?v=HvX2mqnQA-4%3Frel%3D0
"Dress On":
https://youtube.com/watch?v=jSGCx4Cx1Sk%3Frel%3D0