"MikeQ asked Nadus and I to do official remixes for that EP," says Sliink. "That was a turning point for us, too. Because of it, we met Fade To Mind's crew who were supportive of weirder, harder-sounding music. We definitely got put on to a wider audience that was down with us doing what we do."
If nothing else, time is proving that younger innovators have more options. The Internet is now their Music Liberated: Soundcloud mixes, YouTube dance instructionals, and free, downloadable EPs have spawned an entirely new generation of producers. In fact, through a series of Twitter interactions, MikeQ and JayHood have both been in the studio with Missy Elliott. She just released the outcome of their collaboration, "Banji," the first single by her newest protegee Sharaya (with JayHood getting production credit). "I had no idea what artist I was producing for," says JayHood. "She asked me to make her a beat through DM on Twitter. I basically just pretended like I was working on a Missy track and used Timbaland vibes. I wanted to make a hip-hop track that had club ideas on it." He hopes to continue to work with Missy on her much buzzed-about new album that's rumored to be released later this year.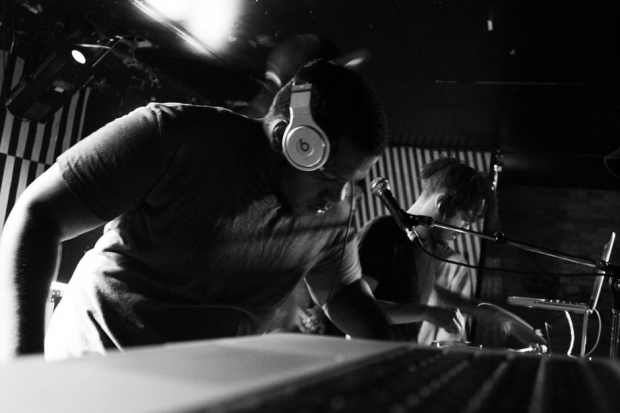 Meanwhile, Sliink was approached by Kreayshawn via her label Columbia for a "Jersey Club meets trap" remix for an upcoming single. Recently, Chris Brown's camp has reached out as well and Sliink is in talks to collaborate with the R&B singer's side-project band U.G.L.Y. He continues to work the Internet-fueled underground, releasing his Vibrate EP and a handful of mixes, which resulted in a tour with Flosstradamus, a headline stint of his own, and showcases at NRML festival in Mexico and at SXSW. Though he's wary to fully affiliate himself with any one label or brand, he says he'll always wear his hometown Brick Bandits or Cartel Crew starter labels above the logos of Body High or Mad Decent.
For all of his success, Sliink is a realist too. In his more reflective moments he talks about the club music community as a cheery departure from the rough neighborhoods that have swallowed up childhood friends and classmates. He rants about the traps of the music industry and his long-term dream of working with local rappers to build something authentic, without the controlling creative intrusion that comes with major labels. "Putting your city and state on first is important," he says. "I'm blessed to have love from great labels. But I'm not dumb enough to think that people, in general, who are jocking me now, will support me forever."
It's an intuitive, off-the-cuff remark that's both refreshing and unnerving coming from someone so young and talented. Then again, that keen "big picture" perspective of club music is exactly what got Jersey Club here to begin with.