But the Brick Bandits' creative and business ethic remains the same: Always keep the younger generation interested and involved. Now leaders in their own right, the group's founders have been coaching and mentoring up-and-comers. "It's important to hear what the kids are listening to because they always know what will be big next, they just don't know it yet," says Foster, chuckling once again.
"They want to learn from us and know that we can help them make their shit pop," adds Payne. There's Bad Ink, a huge collective of teenagers and early twenty-somethings like JayHood, Sincere, DJ Diz, and K-Shiz. Then there's DJ Sliink's Cartel Crew of Mike Gip, DJ Big O, DJ Tray, Hot Rod, and ClubHeadSlim, which features wild, forward-thinking, experimental production where ridiculousness is awarded. Members of the crew have made a vogue track out of LMFAO's "Sexy and I Know It," turned the hook of Kendrick Lamar's "Swimming Pools (Drank)" into a manic chugging contest, and flipped the King of Pop's "Dirty Diana" into a crude, springing, sex romp. Cartel's R&B and trap aesthetics have become increasingly popular with teenage partiers, whose choreographed dances are just as important as the songs that inspired them.
"A lot of the OGs are mad about just how crazy important dances became, because you can't separate a song from the dance," says Sliink. "They practice before coming to the club, both boys and girls." He goes on to explain that, at times, the quality of the song doesn't matter if the dance steps are fun and easy to learn. "I had a song called, 'Get the Patty-Cake Goin'. The dance is a hand-jive thing like from the movie Grease. One of the local DJs made a dance to it using JayHood's vocals and I made a big-band sound with Jersey bass. These dances are hilarious. There's a big dance called the Urkel right now where everyone looks like a damn fool." The most popular hit for the "Urkel Dance Jersey" on YouTube is a five-year-old doing his version in his living room. On DJ Joker and MC JayHood's "Hands on Yo Hips," they debut "Skip to My Lou," yet another dance created by seven-year-old sisters who go by the moniker Lil Divas.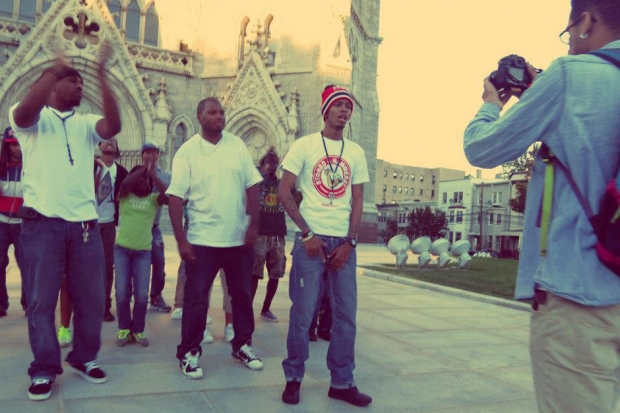 The 151 Feva Gang's Dapper Don and Killa "Kherk" Cobain portray a less innocent side of the scene. The duo's party-rap-meets-Club-music style is mirrored by their day-in-the-life YouTube videos. In the clip for the 2011 single "Kush Groove," the duo drink Bacardi, puff foot-long blunts, bump-and-grind at black-light basement raves, and ride down their neighborhood streets atop a moving couch, while rapping over Stardust's "Music Sounds Better With You." But their roots are in dance clubs. "We've had stages: We used to be really into crunk, we also rapped a lot over Club beats," says Kherk, citing Rod Lee's "Dance My Pain Away" as an example. In 2007, K-Swift, a radio host and live mix DJ for Baltimore's 92Q hip-hop station, heard the duo's tracks and messaged them on MySpace.
"She asked us to be on a remix of this track called "Tote It" with her artist Blaqstarr," says Kherk. "It was so crazy for us, she was an icon." Since then, Don and Kherk have released The Last Swaggin, a club-infused mixtape of house-party gold, and are currently working with local producers like DJ Frosty, JayHood, and Joker. "We are working on a video EP right now for Kherk's solo project The Unicorn," says Don. "We want all of our music to reflect our personality and lifestyle so we think being able to see us hanging out is important. The kids got their dances and we love that, too. But we're about having a different kind of good time."