The story goes that after a series of playful answer records, a semi-genial beef turned nasty; the duo and Paynes were headed for an all-out brawl before they finally met in person in early 2003. "The crazy thing is that I had just heard that Bernie Rabinowitz, the owner of the Music Liberated record store in Baltimore had died," says Paynes. This presented a problem on several fronts.
Music Liberated had not only been Paynes' go-to for rare Club music, but had also become a meeting place and germination hub for the Baltimore Club community as younger local audiences shifted towards radio-driven hip-hop. And it was amid the racks of the store that Tameil had originally met the icons of the Baltimore sound, the innovators who fused Miami Bass, house, breakbeat, and hip-hop into a frenetic, drum-laden dance music for the city: DJs like Rod Lee ("Dance My Pain Away"), DJ Technics ("Party People"), Scottie B (co-founder of Unruly Records), DJ Booman, KW Griff, and Jimmy Jones of the Doo Dew Kidz.
Furthermore, the store owner pressed limited-count vinyl for Baltimore DJs who didn't have the money or support to put out singles. Without Music Liberated or anyone else willing to press new singles by unsigned or independent artists, the number of Baltimore Club singles dropped significantly. That meant that Tameil's business and New Jersey's enthusiasm for the sound could wane too.
So, instead of duking it out over their respective sounds, DJ Tameil, Tim Dolla, and Mike V joined forces and built their own Newark-based scene from the post-Music Liberated ruins. "Mike V and I had already teamed up with Klassix's Da Black Mic (Michael Williams), and De'Jon Howerton back in 2001," says Foster. "Together, we called ourselves the Brick Bandits and had been making music for our own block parties and gigs." Their most notable track was Da Black Mic's "Elmo's Song," which doused the theme for the Sesame Street character's children's show with giggles and set it to a club beat. Soon to follow: Mike V's "Backpack" (which sampled the Dora the Explorer theme) and a handful of other pop culture-mocking riffs; Tim Dolla's "Sprint PCS"; and De'Jon Howerton's "AOL Theme," which was made on a Playstation setup. "We were corny as fuck," hoots Foster, recalling his early days. "Corny and hot at the same damn time."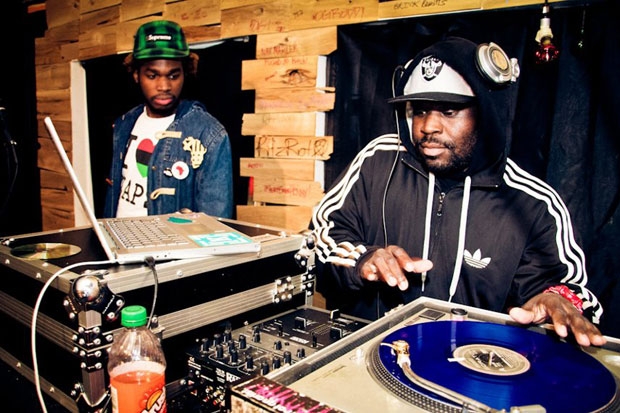 Early Jersey Club DJs were fully aware that their audience demographics were changing as well. Although this fusion music worked for bridging the gap between house lovers and younger hip-hop seekers at club events, their main audience remaimed family-friendly. Away from the club, the DJs played "Sweet 16" parties, street barbecues, skating rinks, and other all-ages events. "We knew it was important to keep the teenagers dancing," says Paynes. "We made our own sound kits and called it 'booty bounce' music for awhile. We'd chop the beat up more, chop the vocals, take two sounds or phrases and bounce them between each other, add bigger bass claps and snares. Sometimes, I thought that only someone who pop-locks would understand it. But it was all good as long as the kids danced."
In 2005, Paynes officially joined the Brick Bandits, solidifying the collective's presence as the go-to group for Jersey Club music. Meanwhile, Baltimore was going through its own new surge in popularity, largely thanks to enthusiastic support of Philadelphia's emergent, genre-crossing Hollertronix DJ duo. Diplo went on to recruit and release music by Baltimore producer Blaqstarr and rapper Rye Rye on Mad Decent (both artists have moved on to M.I.A.'s N.E.E.T. Recordings imprint), and then unveiled a young DJ Sega as Philadelphia's response to the Club-music craze. Though Brick Bandits had plenty of mixtapes of their own, it was Mad Decent that released Brick Bandits first official EP on vinyl. And while Diplo has since reached mainstream success, other Club producers are struggling to find their place. And their money.