Jay-Z has been in a collaborative mood lately, hopping onto a remix of Kendrick Lamar's "Bitch, Don't Kill My Vibe," readying a co-headlining Legends of Summer Tour with Justin Timberlake, and serving as musical director on the Quvenzhané Wallis-starring Annie remake. Now Jigga has detailed his involvement in another much-speculated-about soundtrack, for Baz Luhrmann's The Great Gatsby.
According to a press release, Mr. Carter will act as executive producer on and contribute new songs to the movie's soundtrack, which will also feature "a varied collection of the world's most talented and compelling musical artists."
We've already seen recordings by Jack White, Florence + the Machine, and Filter appear in the flick's trailer — not to mention Jay-Z's own team-up with Kanye West and Frank Ocean, "No Church in the Wild" — and also heard rumors that Prince and Lady Gaga would work on Gatsby's musical companion. But right now, Hova and composer Craig Armstrong, who previously worked on the scores for Luhrmann's Romeo + Juliet and Moulin Rouge!, are the only sure things. Jeymes Samuel, also known as the Bullitts (and Seal's brother), tweeted several months ago that he was helping with the project, but his name didn't show up anywhere in the official statement.
Jay-Z is also booked to attend the opening gala for this year's Cannes Film Festival, which runs from May 15 to 26. The Great Gatsby, which arrives in theaters on May 10, will open the annual showcase.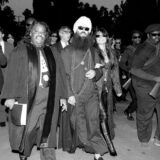 Don't miss SPIN's recent cinema-flavored feature, 40 Movie Soundtracks That Changed Alternative Music.