Silver Connections: 8 Essentials of Eurodisco
As disco first evolved in the U.S., it was largely R&B-based music, carrying over Motown and Philly International assembly-line slickness, gospel ecstasy, Southern soul grit, James Brown funk, Barry White bedroom schmaltz, and the extreme extended groovology pioneered by Isaac Hayes. But in Continental Europe, a style of disco developed that was notably more synthesized and austere, often sleazier or chillier or just plain sillier, than its U.S. counterpart. In other words, if rock fans building vinyl bonfires at White Sox games thought disco sounded inhuman, replacing musicianly perspiration and heart with icy technology and repetition, Eurodisco proved their point. Europe was farther from the nexus of African-American music and cursed by its own English-as-second-language traditions (Eurovision pop, home-grown art rock), and also, frequently, more immersed in Third World rhythms, as early as Belgian group the Chakachas' faux-equatorial (and Top 10 in the U.S.) "Jungle Fever" in 1972. Eons later, Eurodisco reverberations are still being felt — in techno and its multitudinous offshoots all the way to Daft Punk and dubstep and "Harlem Shake"; in post-Electroclash superstars like Lady Gaga and Ke$ha; in the so-called "Italo-disco revival" of once-noisy indie rock bands like Glass Candy and the Chromatics. Here are eight albums from the '70s and early '80s you can credit, or perhaps blame, for breaking early ground.
Silver Connections: 8 Essentials of Eurodisco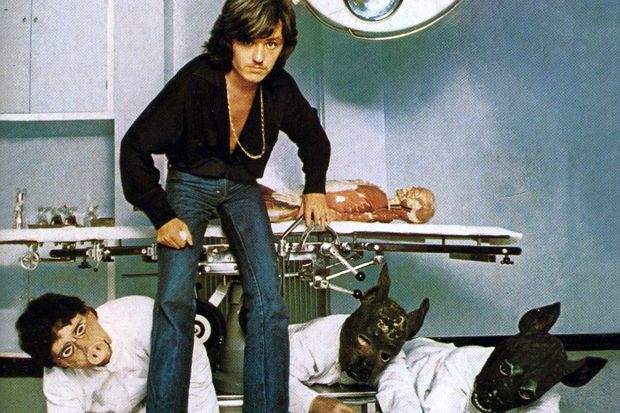 Giorgio – Son Of My Father (Dunhill/ABC, 1972)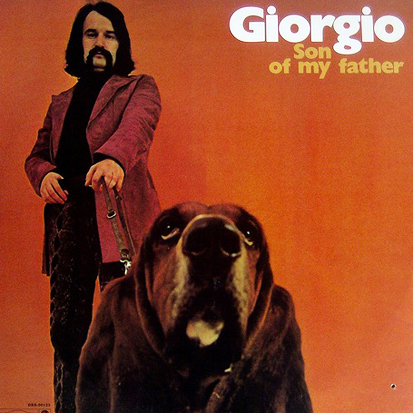 That'd be Giorgio Moroder (last name not on LP cover), the Italy-via-Munich producer and songwriter probably best known for having a significant hand in every Donna Summer album from 1974 to 1981, and in particular for getting mechanical Teutonic dance-trance into the U.S. Top 10 with her 1977 "I Feel Love." Including this album in a Eurodisco survey is cheating, since in 1972 disco didn't quite exist yet. But you can still hear interesting seeds of the style, and not just because of Giorgio's gargantuan only-in-the-'70s Fu Manchu on the cover. (His pet bloodhound is bodacious, too.) The hitlet (No. 46 in the U.S.) is the lead and title cut, a shouty bubbleglam stomper featuring a synth hook that Moroder would revive when he helped Blondie top the pop chart for six weeks with 1980's blatant Eurodisco (via Black Sabbath "Children of the Grave" rhythm) move "Call Me." "Underdog" and "Watch Your Step," respectively and kind of hilariously about how bosses and cops keep the little man down, are more garage punk; "Lord Release Me" is an endearingly awkward Yurropean-accent gospel attempt that anticipates several future Boney M moments. But some of the more revealing selections reveal connections to kraut and art rock: "Automation" talks about being bored to death on the assembly line over a motorik blues progression that crosses Can with Canned Heat; "London Traffic" paves a monotonous roadway for Kraftwerk's "Autobahn"; "Spanish Disaster" mixes Mediterranean exoticisms with hypnotic hints of prog. And the album closes with "Tears" — sad, recurring-keyboard-figure astronaut techno, well over a decade early.
Silver Convention – Madhouse (Midland International, 1976)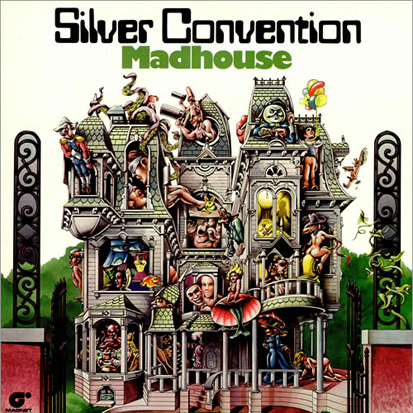 "Silver Convention lives in Munich, Germany, and belongs to the new generation of artists who have broken with the established image of German music," the liner notes to the group's 1975 debut LP Save Me boasted — not only a completely understandable attempt to live down a country's notorious history, but also maybe another hint that early German disco was an extension of odd German rock. They were, initially, a far-from-verbose group: Their giant, mantra-like U.S. hits "Fly Robin Fly" (1975) and "Get Up And Boogie" (1976) chanted only a dozen words between them, and their first two albums sounded thin in more ways than one. But by their third, Madhouse, later in '76, Prague-born lyricist Michael Kunze — who later wrote musicals about Mozart and Marie Antoinette — was clearly feeling restless. The record opens with intercepted newscast signals about riots and exploding bombs, upon which a Supremes-styled trio of women start complaining, between the kind of string jabs that Chic would soon turn into high disco art, that, "We live in a madhouse, yeah yeah yeah, that's what the world is." Next song is a staccato swipe at "Plastic People" who "criticize and standardize," "terrify and terrorize," "mobilize and immunize" and so on; then they do a tick-tocky analog arcade-pulsed argument called "I'm Not a Slot Machine" that also insists they're not pinball machines but feels pretty darn mechanized anyway; then jazzy piano runs and flasher-disco sashaying lure us into a "Fancy Party" attended by teachers dressed as clowns, preachers in silver gowns, Cain, Abel, Samson, Delilah, and "Casanova in chains." The album cover cartoon depicts a three-story house overflowing with even freakier freaks, many unclothed, doing kinky things in blindfolds and bondage gear. Disco was still young, but already totally self-referential.
Cerrone – Cerrone 3: Supernature (Cotillion, 1977)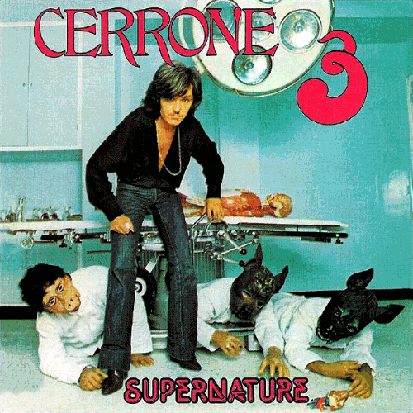 Talk about freaks: the mutants in dog and pig masks sprawling around and grasping for the plastic heart (the auricle/ventricle/aorta variety, not valentine) beneath the hospital operating table on this one's cover make the open-shirted and be-chained Italo-French producer at the helm look like your average 9-to-5 businessbore by comparison. But they are appropriate, given that the 10-minute horror epic of a title track has an extravagant diva reciting Lene Lovich lyrics about scientists trying to feed the hungry but inadvertently waking up "creatures down below" who "grew up in a way that we'd never seen before" — science gone too far, as the Dictators put it the same year. Liner notes: "The monsters came / Made you realize your shame / It's so sad / You lost the only world you ever had." Cerrone was a drummer raised on rock (his first recording band, Kongas, was a kind of funkier tropical post-Santana), and this is hard music, as dark as metal, swooshing forebodingly back and forth above a four-on-the-floor kick drum that Cerrone is said to have introduced to disco. The first side, beginning with "Supernature," is an 18-minute suite, with a breakdown called "Sweet Drums" in the middle; side two, three songs with "love" in their titles (Cerrone had many more on other albums), opens like the Incredible Bongo Band then gets deeper, thicker, Shaft-ier, and eventually puts loud rock guitars atop more congas and timbales. Detroit-born Lovich, who two years later hit with an amusing kind of quasi-Slavic robot-dance new wave, also wrote lyrics for a cocaine-obsessed 1978 disco album by Chi Chi Faveles and the Black And White Band.
Don Ray - The Garden Of Love (Polydor, 1978)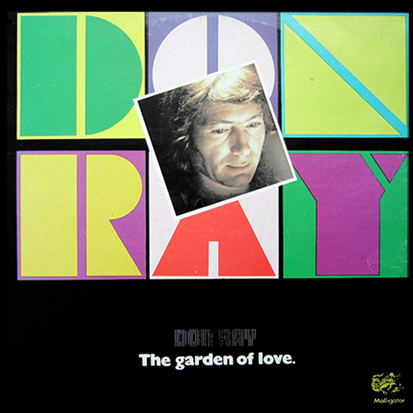 Don Ray — real name Raymond Donnez — was German-born and French-based, and some say he'd played keyboards (not credited) on Jane Birkin and Serge Gainsbourg's "Je T'aime… Moi Non Plus" in 1968. But he made only one album under his own name, and it'd be a masterpiece on the basis of lead cut "Got To Have Loving" alone, one of disco's signature tracks: a manly soul-rock voice lamenting a world of casual lovers who "love to be loved, but seldom return it" and saying we need to stick together for the world's sake, increasing in intensity over a perfectly orchestrated repetitious thumping swirl of drama and eventually trashcan-sized drums, the latter presumably courtesy of Cerrone. The rest of the album mixes oceanic-fluted, Afro-Caribbean proto-quiet-storm ("Body And Soul"), paranoid post-boogie-woogie proto-house music about being chased on "spooky nights" that'd thrill Michael Jackson ("Midnight Madness"), lovely downcast drizzly-day disco ("Standing In The Rain"), blue-eyed bubblegum electro-soul ("Garden Of Love"), and hearty lothario romanticism ("My Desire") that seem to derive from the swarthy chest-haired early '70s minstrel-rock of Blood, Sweat & Tears and Looking Glass. Six modes total, all winners.
"Special thanks to: Lene Lovich for her ideas and help," the back of this album says. Allegedly, she wrote the words here, too. What some genius really needs to do one of these days is plot out a Eurodisco family tree, showing all the incestuous interconnections. There's also a 1977 album called The House Of The Rising Sun by a group called Revelacion which thanks Don Ray and Cerrone on the back; my French copy is on Crocos Records, which has a big reptile for a logo just like the Malligator label that Cerrone put out early albums on. Gets even more confusing, because the mucho-macho French flamenco-disco group Santa Esmeralda also put out their own The House Of The Rising Sun LP in 1977, following up Don't Let Me Be Misunderstood, a debut named for a different (U.S. Top 15) Animals cover. And despite scant cover credits, those albums were also apparently produced by Don Ray! Whew.
Alec R. Costandinos and the Syncophonic Orchestra – The Hunchback Of Notre Dame (Casablanca, 1978)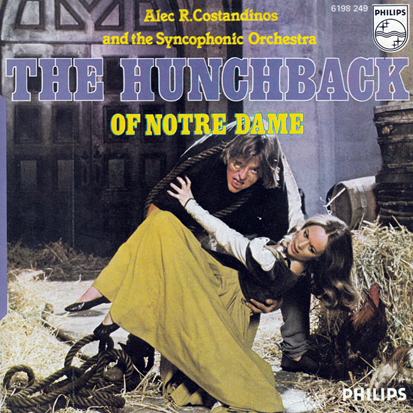 Yet another ubiquitous Zelig to twist up the Eurodisco tree's branches: Cairo-born Frenchman Alec R. Constandinos collaborated plenty with both Cerrone and Ray too, as well as being a man-behind-the-curtain for records, many of them worth seeking out in dollar bins, by Sumeria (space-glam disco), Crystal Glass (brassy glass-candy disco), Paris Connection (Rue Des Innocents disco), Love And Kisses (nip-slip disco — at least that's what stands out in their cover art), and more, not to mention soundtracks to probably-forgotten films like Trocadero Bleu Citron and Winds Of Change. (Since Eurodisco can get rather soundtracky anyway, those fit right in.) In pre-disco days, he was somehow connected with the Greek prog band Aphrodite's Child, whose 1972 track "∞," like Gainsbourg's "Je T'aime… Moi Non Plus," prefigured disco's proclivity to mix female orgasmic gasping into music — on Hunchback itself, in something ominously entitled "The Inconveniences, Of Following A Pretty Girl In The Streets At Night." Heavy '70s prog and gothic proto-metal were also top-drawer elements on Costandinos's albums — notably in the 1979 cut "For Amusement Only." But Hunchback, for its part, is just plain gothic, from Quasimodo and the gargoyle on the cover to the majestic medieval operatics and piano recitals inside, embellishing narration and dialogues about scepters, sorceresses, the dungeon in man's soul, and skeletons crumbling into dust. "La Esmeralda" is, appropriately (and again, confusingly) flamenco disco á la Santa Esmeralda, who'd already done their own "Quasimodo Suite" in 1977; much of the rest is recommended to Enigma fans exploring their roots. No idea whether anybody actually danced to it, but when you need a metaphor for disco as the all-time outsider freak show, a hunchback is not a bad bet.
Gino Soccio – Outline (Warner Bros., 1979)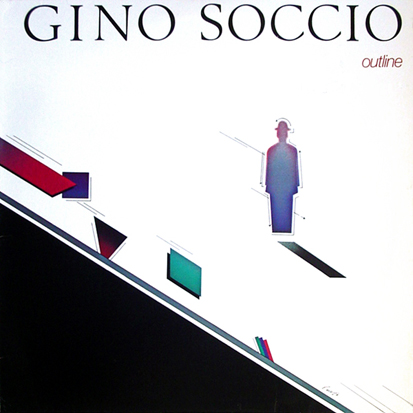 I've tried to limit myself to actual Europeans in this roundup — so, for instance, no D.C. LaRue, who made excellent albums that sounded unashamedly Eurodisco even though he came from Connecticut. But it's impossible not to make an exception for keyboardist and guitarist Gino Soccio — and it's really no stretch since Montreal, as anybody who has ever heard much Quebecois pop knows, is still basically an outpost of France. Like Giorgio Moroder, Soccio sported an impressively bushy 'stache, and like Cerrone, he had a taste for rock, as evidenced by frat-surf twang riffs on 1980's S-Beat album and Free and T. Rex covers on a 1979 album he made with Witch Queen. With Outline, though, both the title and geometric design signal minimalist grooves you could spin back-to-back with, say, Steve Reich's Music For 18 Musicians — Soccio stripped disco of the strings, of all the gaudy frippery and overblownness, so dancers could focus on an increasingly insistent bass line that "tries to take you higher, as "Dancer," a No. 48 U.S. pop hit, put it. That's followed by "So Lonely" — another of those quiet, forlorn disco laments nobody remembers, this one almost sounding like it was recorded in an aviary or botanical garden. Then "The Visitors" — another of those otherworldly space-disco explorations nobody remembers, this one concerning aliens who "made your world a planet in the sky," then disappeared and "left no trace": Have I mentioned yet how important Ziggy-era Bowie was in shaping Eurodisco's star-gazing? Side two has a gorgeous architectural whirlpool of criss-crossing synth motifs and mostly wordless vocals called "There's A Woman"; sounds like it could trance out forever, but apparently Soccio decided 8:20 was long enough.
Tantra – The Double Album (Importe/12, 1980)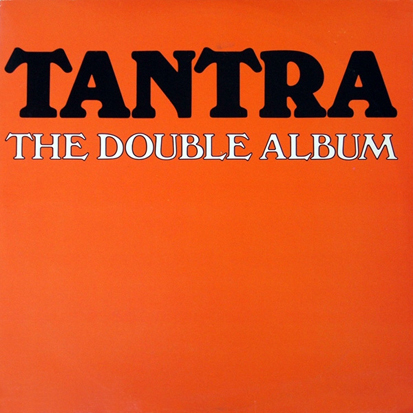 By the time the '80s rolled around, disco was famously dying. Theoretically, anyway — in real life, it was just changing its name, to garage (as in Paradise) and electro and new romantic and rap and boogie and house and freestyle and hi-NRG and new beat. In Europe, disco's center of action shifted to Italy, where, as Brian Chin's liner notes explain, the two albums here initially emerged separately in limited editions, then were combined for stateside release when the mystical 16-minute dream-travelogue "Hills Of Katmandu" took off on U.S. dancefloors as an import. Other tracks suggested new directions Eurodisco could take: toward crunchy, distorted, wah-wah'ed metallic new wave in "Top Shot" (with its disengaged talk of rich clubbers on dope who "don't really know what to do, I think I'll kill myself"); toward an Afrobeat hybrid at least as polyrhythmic as what Talking Heads were dishing out on Remain In Light that year in "Su-Ku-Leu" and "Mother Africa." Truth is, African music had always been part of disco, back to Manu Dibango's "Soul Makossa" in 1973. But Tantra — two black men, one white man, two white women, judging from the gatefold photo — gave it renewed emphasis. And given two songs that fill entire album sides, proggish instincts figured, too: "They used conservatory training and the more cosmopolitan cultural experience of Europe to make dance music structurally more complex and musically more eclectic," Chin writes. Which is to say this music goes through plenty of changes.
Alexander Robotnick – Ce N'est Q'un Début (Materiali Sonori Italy, 1984)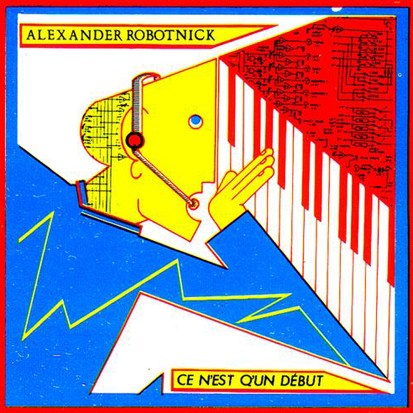 Sometime in the early '80s — at least by the time ZYX Records compiled its first of several Best Of Italo Disco samplers in 1983 — a big chunk of Eurodisco got rebranded. Eventually, it didn't even matter whether the Italo-disco in question came from Italy anymore: Seemingly it just had to be very bouncy, very cheesy, very pretty, and, usually, very goofy. In 1985, Sire Records even tried to break the sound to Stateside new wavers, with an amazing robotic-looking four-song compilation EP called Fuzzdance. That genre name never seems to have caught on, but the EP's first cut, "Problémes d'Amour" by a Kraftwerk-and-Grace Jones-inspired Italian electronic producer named Maurizio Dami but calling himself Alexander Robotnick, kind of did. His album, which has cover art very similar to Fuzzdance's, never came out in the States and is still rarely seen, but the little record store in Detroit that I bought my copy at in the mid '80s stocked a strangely generous stack of them: Wouldn't be a shock if Derrick May and Juan Atkins picked up copies in the same shop. The music has plenty of new wave in it — especially via Robotnick's harsh, hushed, stuttered, guttural, burp-interjecting, throat-clearing, consonant-grinding sing-talk, which sounds sort of like Falco trying to be John Lydon and paving the way for Wax Trax industrial in the process. "Dance Boy Dance" builds toward punk noise, the title track has a bongo breakdown that takes over in true Cerrone fashion, and two cuts with "Kola" in their titles have blatting saxophones: The closer, "African Kola," seems inspired by early hip-hop turntable scratch mixes, and isn't far from Arthur Russell's early '80s work with Dinosaur L. Yet the album's synth-beats — rubbery, spacey, dinky, bloopy — and melodic beauty remain firmly in the Eurodisco tradition: One music's future is another music's past.