Deerhunter Reveal 'Monomania,' an Avant-Garde Album of 'Nocturnal Garage'
With a new lineup in place, the band shares the track list, cover, and credits for the May 7 LP
Deerhunter have announced their forthcoming fifth album Monomania, due out May 7 on 4AD, via a strangely worded and somewhat scrambled press release. The odd missive describes a "Mystery disc of NOCTURNAL GARAGE. rat tapes / NEW FORMAT," which, apparently, "is avant garde(?) but only in context not form (original intent of avant garde (1912-59) / before logic: FOG MACHINE / LEATHER / NEON." Well, duh. Who didn't see that coming?
The announcement shares the cover art (above) and the track list (below), and describes the group founded by Bradford Cox as "Resistant to HISTORICAL / FUTURIST SNARES (1959 _)," plus "formed 2001, AMENDED JAN. 2013." Those amendment include the expansion of the band to a five-piece, with Lotus Plaza touring member Frankie Broyles now lending guitars, and bassist Josh McKay replacing Joshua Fauver. Their detailed credits are below as well.
Monomania, which is named for a pathological preoccupation with a single thing or idea, was recorded using "MULTIPLE 8TRAX" in Brooklyn by Cox and Rare Book Room mix-master Nicolas Vernhes (Marnie Stern, Matthew Dear, Wild Nothing). Looking for more information on this "American (GA) Rock Group" and their new full-length? Glean what you can from the drag-tastic press photo, band members' credits and colorful song titles.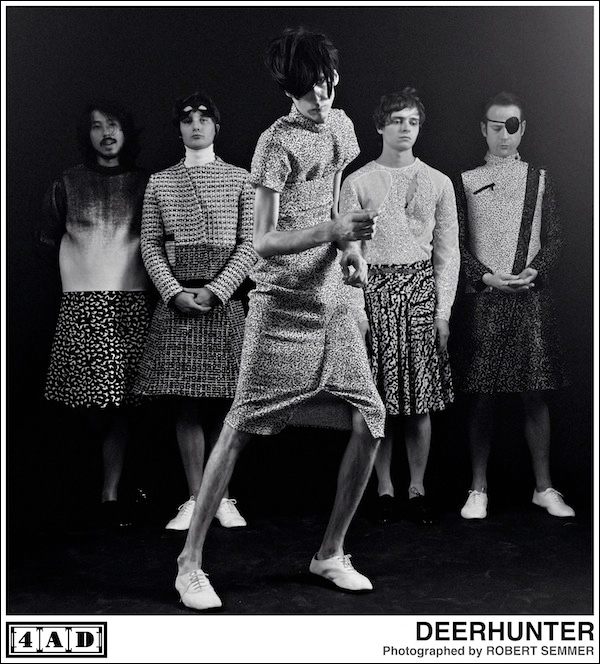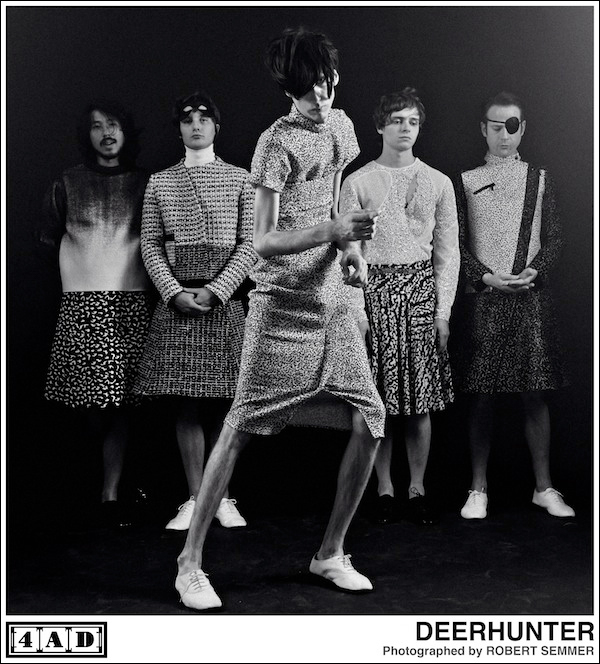 Bradford Cox: Vocals, Rat Tapes, Fog Machine, Electric and Acoustic Guitars, Treatments, Percussions, Melody Bass on Final Track, Microphone Placement, Typesetting.
Lockett James Pundt IV: Electric and Acoustic Guitars, Vocals on 'The Missing', Synthesizer, Percussions, Laser Focus, Neons.
Moses Archuleta: The Drumset, Videos, Percussions, Decorations.
Frankie Broyles: Electric and Acoustic Guitars, Steel Guitar on 'Pensacola'
Josh Mckay: The Electric Bass, Wurlitzer, Transistor Organ.
Deerhunter, Monomania track list:
1. "Neon Junkyard"
2. "Leather Jacket II"
3. "The Missing"
4. "Pensacola"
5. "Dream Captain"
6. "Blue Agent"
7. "T.H.M."
8. "Sleepwalking"
9. "Back to the Middle"
10. "Monomania"
11. "Nitebike"
12. "Punk (La Vie Antérieure)"