As SPIN has excitedly noted many times, the Breeders are celebrating the anniversary of one of our favorite albums, 1993's Last Splash, with a special tour featuring the album's lineup (Kim Deal, Kelley Deal, Josephine Wiggs and Jim Macpherson) and LSXX, a massive reissue of the platinum LP that's due April 23, 2013 on 4AD. Now we finally know what will be inside the limited-edition, seven-disc vinyl box set (which will also be sold as a three-CD package) — a plethora of previously unreleased tracks packaged up in artwork by the brilliant British designer Vaughan Oliver, who is responsible for all of Pixies' visionary album covers, and who also handled Last Splash. He's calling the LSXX version "an irreverent conceptual and visual re-imagining" of the original.
The box includes a 12-inch vinyl pressing of the original album as we heard it in '93, four 10-inch EPs (Safari, Cannonball, Divine Hammer, and Head to Toe), Stockholm Syndrome (a 12-inch vinyl live concert album recorded in Sweden in 1994), a 12-inch recording of a BBC radio session from July 24, 1993, and the original Last Splash demo recordings from November 1992.
As far as the stuff you'll be reading while listening to these goodies, the set features a 24-page booklet stocked with previously unpublished photographs from the Last Splash sessions, personal pics taken on the road, and reminiscences by the band and pals incluidng Kim Gordon and J Mascis. Yes, you will be getting double Kim power on this reissue.
LSXX Full Track Listing: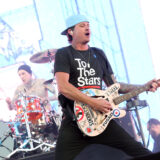 Disc 1 – Last Splash – 12-inch vinyl as it originally was released
"New Year"
"Cannonball"
"Invisible Man"
"No Aloha"
"Roi"
"Do You Love Me Now?"
"Flipside"
"I Just Wanna Get Along"
"Mad Lucas"
"Divine Hammer"
"S.O.S."
"Hag"
"Saints"
"Drivin' on 9"
"Roi (Reprise)"
Disc 2 – The Stockholm Syndrome (Live in Stockholm) – 12-inch vinyl
(Seven of these tracks previously were released as a limited-edition, fan club-only release via the Breeders' Digest; the other nine are previously unreleased)
"Shocker in Gloomtown"
"New Year"
"Hellbound"
"Saints"
"Hag"
"I Just Wanna Get Along"
"S.O.S."
"Roi"
"Head to Toe"
"Happiness Is a Warm Gun"
"Cannonball"
"Invisible Man"
"Doe"
"Drivin' on 9"
"Don't Call Home"
"Limehouse"
Disc 3 – Demos, rare tracks and session versions – 12-inch vinyl
"No Aloha" (BBC Session, previously unreleased)
"Flipside" (BBC Session, previously unreleased)
"Divine Hammer" (BBC Session, previously unreleased)
"Hag" (BBC Session, previously unreleased)
"New Year" (November 1992 demo, previously released as a bonus 7-inch with original vinyl pressing of Last Splash)
"Grunggae" (November 1992 demo, previously released as a bonus 7-inch with original vinyl pressing of Last Splash)
"Invisible Man" (previously released on 4AD label compilation, 13 Year Itch
"No Aloha" (November 1992 demo, previously unreleased)
"I Just Wanna Get Along" (November 1992 demo, previously unreleased)
"Mad Lucas" (November 1992 demo, previously unreleased)
"S.O.S." (November 1992 demo, previously unreleased)
"Saints" (November 1992 demo, previously unreleased)
"900" (November 1992 demo, previously unreleased)
"Iris" (previously released on the No Alternative compilation album)
Safari EP – 10-inch vinyl
"Do You Love Me Now?"
"Don't Call Home"
"Safari"
"So Sad About Us"
Cannonball EP – 10-inch vinyl
"Cannonball"
"Cro-Aloha"
"Lord of the Thighs"
"900"
Divine Hammer EP – 10-inch vinyl
"Divine Hammer" (single version)
"Hoverin'"
"I Can't Help It (If I'm Still in Love With You)"
"Do You Love Me Now?"
Head To Toe EP – 10-inch vinyl
"Head to Toe"
"Shocker in Gloomtown"
"Freed Pig"
"Saints"
And as a reminder, here's where you can see the band's anniversary full-album tour:
March 29 – Brooklyn, NY @ Bell House
May 3 – Pittsburgh PA @ Mr. Smalls Theatre
May 4 – Washington,D.C. @ 9:30 Club
May 5 – Philadelphia, PA @ The Trocadero
May 6 – New York, NY @ Webster Hall
May 9 – Boston, MA @ Royale Nightclub
May 11 – Toronto, ONT Canada @ Danforth Music Hall
May 12 – Detroit, MI @ Majestic Theatre
May 14 – Nashville, TN @ Mercy Lounge
May 15 – Atlanta, GA @ Variety Playhouse
May 17 – Gulf Shores, AL @ Hangout Festival
May 24 – Barcelona, Spain @ Primavera
May 25 – Nimes, France @ This is Not A Love Song Festival
May 27 – Toulouse, France @ Le Bikini
May 28 – Bordeaux, France @ Le Rocher De Palmer
May 30 – Porto, Portugal @ Primavera
June 1 – Paris, France @ Trianon
June 2 – Brussels, Belgium @ Ancienne Belgique
June 3 – Amsterdam, Holland @ Paradiso
June 14 – Dublin, Ireland @ Vicar Street
June 17 – Glasgow, Scotland @ ABC
June 18 – Manchester, England @ Ritz
June 19 – London, England @ Forum
June 21 – Camber Sands, UK @ ATP Festival