See all our best live photos from SXSW 2013 here
5. DENIRO FARRAR
119 Club, 9:45 p.m.
Wednesday night's rap show at 119 Club was running so far behind schedule that it's possible that headliner ScHoolboy Q just got off stage as you read this. An early bright spot amongst a sea of anonymous faces was North Carolinian rapper Deniro Farrar, who was commanding and charismatic. Shirtless and sporting a blunt cadence, he shares the same appeal of trap stars like Alley Boy and Plies — which makes it interesting that, on record, he raps mostly over beats from cloud-rap weirdos like Friendzone and Ryan Hemsworth. But his set at SXSW was gruff and uncompromising — he spent the majority of it lashing out at rappers for not actually selling coke. JORDAN SARGENT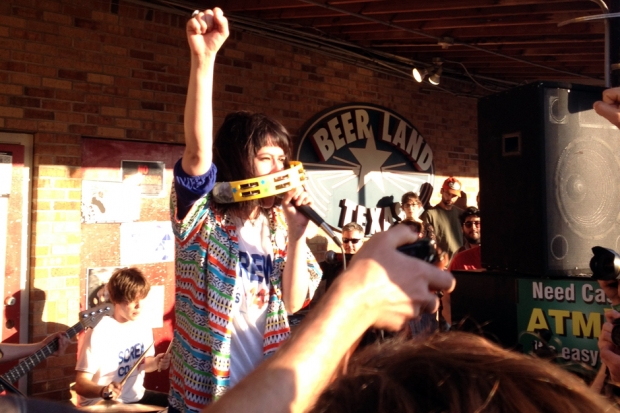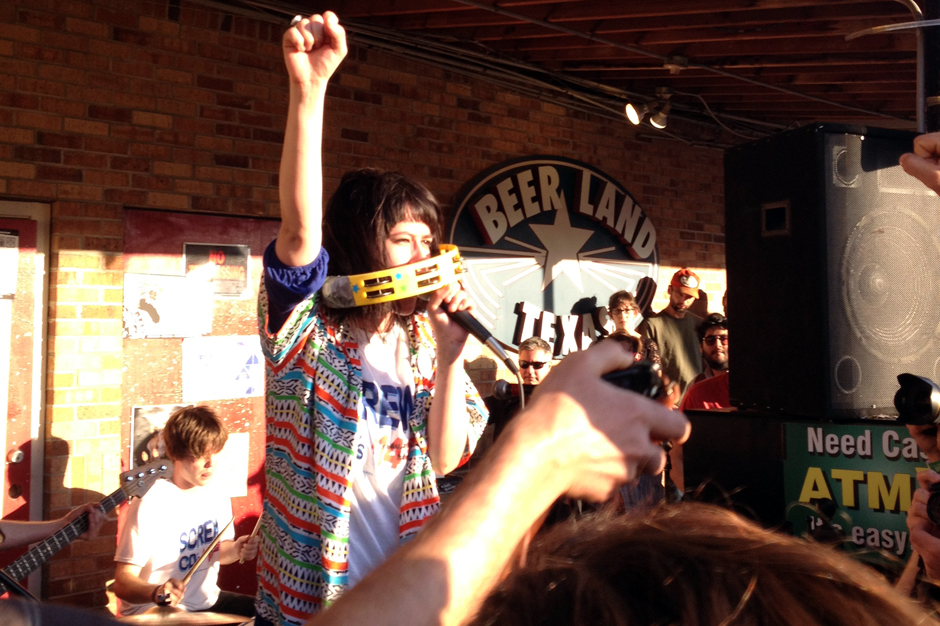 4. DIKES OF HOLLAND
Beerland Patio, 5 p.m.
Apparently, they do this all day every day. Austin, Texas garage punks the Dikes of Holland have been called the best live band in town by the Austin Chronicle, and they still might be during SXSW week, even with 14 million other Twitteriffic acts invading the Dikes' home digs. Just witness their rubbed-raw roar of a groove maintained by two take-no-shorts record-collector lifers on guitar and bass. A flop-sweating drummer in hot pursuit. Kansas City Royals Hall of Famer George Brett on organ. And frontwoman Liz Herrera, all black bangs and wild howls and mad grins and blue stockings and cowboy boots and a tambourine on her head. At the end of their set, which occurred on the tiny "patio" in front of glorious punk shithole Beerland, Herrera begged: "Please buy our CDs because we really, really, really need the money." We recommend 2012's Braindead USA. Don't sleep. CHARLES AARON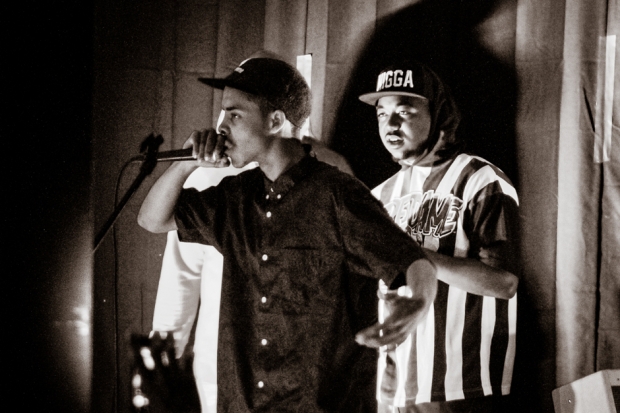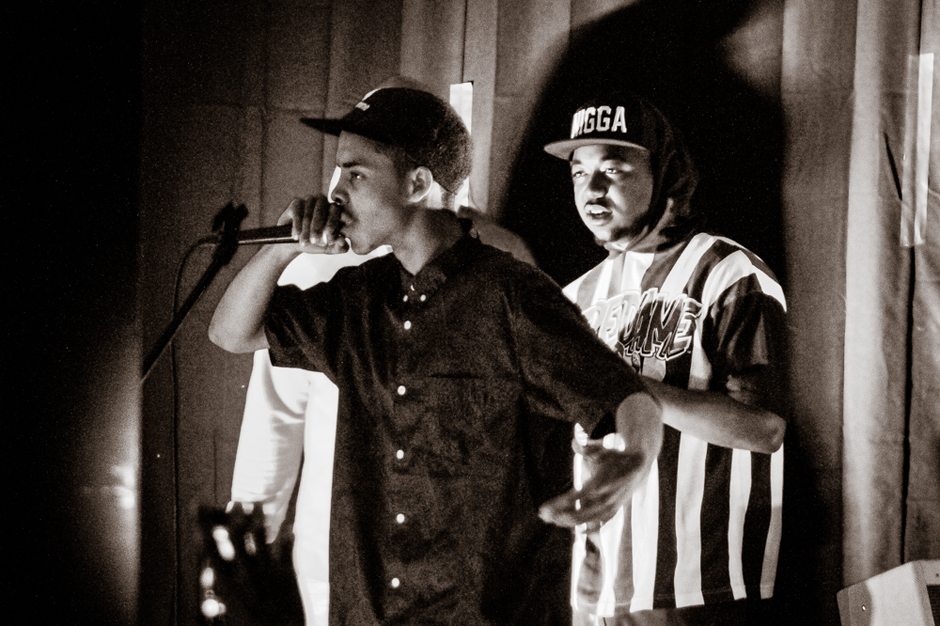 3. EARL SWEATSHIRT b/w TRASH TALK
Scoot Inn, Converse x Thrasher Death Match, 12 a.m.
So there goes Young Earl, freed from the protective clutches of his mother, wandering across the Scoot Inn outdoor stage like a remarkably sly pup, simultaneously performing and smh'ing as the packed crowd waves their hands in the air and/or gawks bemusedly. There goes Young Earl, proving why he's always been considered Odd Future's most gifted rapper, ripping through his bars with powerfully enunciated charm, occasionally building to the dizzying, rapturous crescendo that's possible only with a serious MC who's just as invested in communicating deeply as provoking. There goes Young Earl, flanked by media-savvy buddy Tyler, the Creator (who plays Type-A, stage-directing hypeman), pulling media-savvy, veteran hip-hop journalist Elliott Wilson onstage for no particular reason ("My ol' nigga," as Earl puts it). There's Young Earl, rapping with a wildly cracked ease reminiscent of Del the Funky Homosapien in his '90s days, flowing about "doobies full of euphemisms" (from new single "Whoa") as a pair of oversize white legs fly up outta the pit and their owner crowd-surfs in slow motion — "Hooked on phonics, niggas," observes Tyler. There goes Young Earl, interjecting asides with backyard informality: "This is a pretty cool little song to end the night with, kinda mellow," and then goes off on his defining gross-out jam, the self-titled track "Earl," about putting decomposing bodies in plastic and "faggot rap actors" and shoving trumpets up butts and other such 2010-era Odd Future-ish topics, before politely bidding us farewell: "Good night, motherfuckers, Trash Talk, right now in small room," setting off a stampede of the more aggro attendees.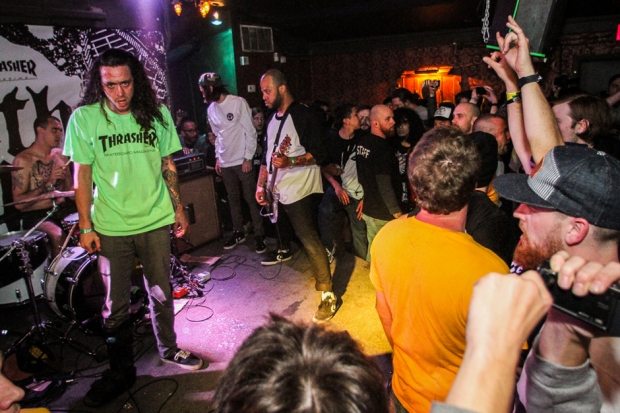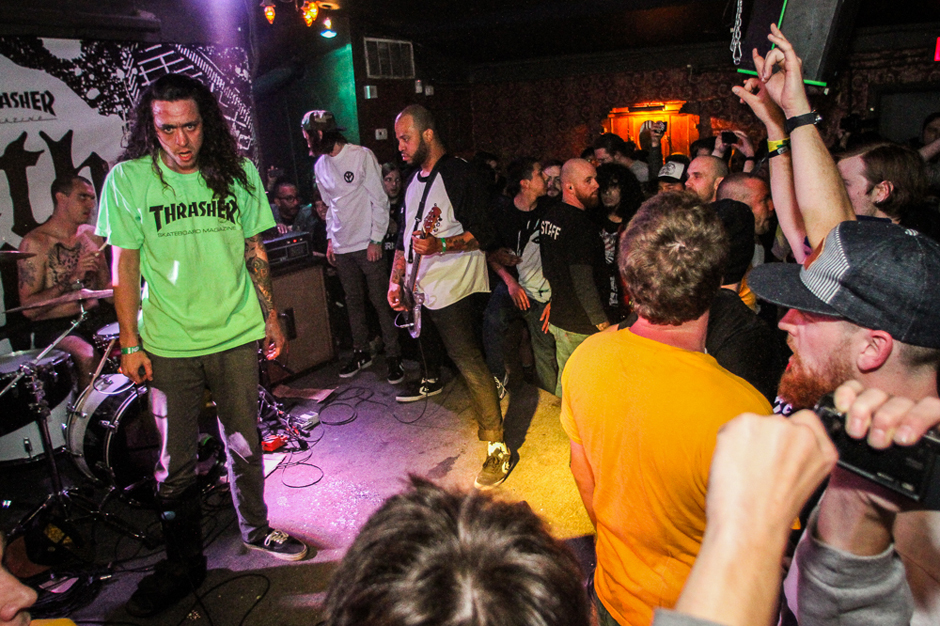 Trash Talk frontman Lee Spielman returned the favor, shouting out Earl and Odd Future before rasping: "How the fuck you guys feeling? This is the last show of a long fucking day." Then the band's Sabbath-aspiring thud kicked in hard, and stage-divers hurled themselves across the small stage while burly security tried to make sure that no necks were snapped, or perhaps more importantly, that none of the Scoot Inn's equipment was damaged (a legitimate concern). Meanwhile, shifting from jackhammer frenzy to martial menace to random chaos (both riveting and puzzling), the show teetered on the line between '80s-style hardcore punk and heavy-metal performance art, as Spielman mused: "Anybody think security could take a couple of steps back, just a couple? We all know what kinda show this is. It'll be okay, I promise. There are no guns and knives here, right, just drugs?" Even with a badly injured foot, he returned to stalking the stage, dodging fans' arms and legs, pumping his fist and presiding over the methodical rhythmic roar. Outside the back exit, a young woman sat on the ground weeping, but a sweaty guy beside her shouted, "Don't worry, she's happy!" Who knows, but with a band like Trash Talk, anything's possible. C.A.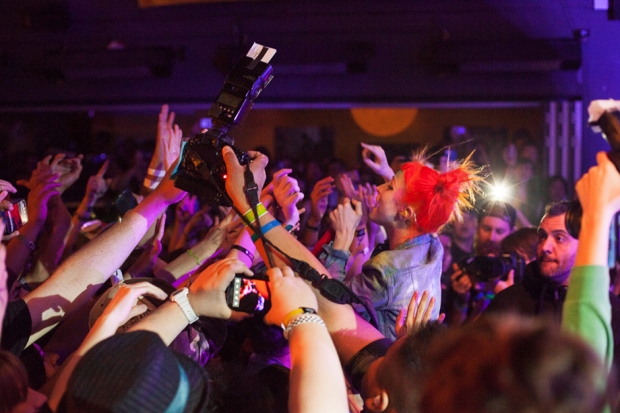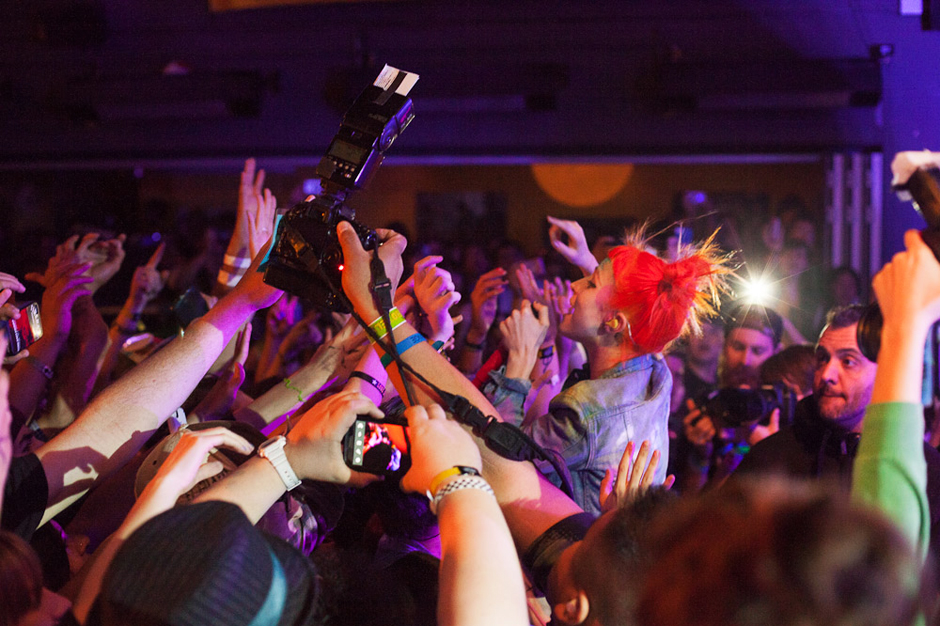 2. PARAMORE
The Belmont, Warner Sound Captured By Nikon Showcase, 1 a.m.
Until someone forces you to think otherwise, it can be easy to forget that music — not branding or free beer or industry gossip — is ostensibly the point of SXSW. The moment Hayley Williams bounded on stage with Paramore last night at the Belmont, all the other crap melted away. Williams was outfitted for attention in a jean jacket, with her blazing red hair done up in two puffy pigtails, bright red nail polish, and a weird smear of blue-green paint across her face. But it was her energy and voice that woke up the weary crowd. (It was straight-up cold at the outdoor stage when the band finally appeared, an hour past their scheduled 1 a.m. appearance.)
The 11-song set featured only two songs from the Paramore's upcoming self-titled fourth album — lead single "Now" and appealingly herky-jerky, No Doubt-esque "Still Into You" — but the power was distributed perfectly. Williams, whose live voice is just as strong and accurate in person but even more impassioned than it is on record, jumped up on the drum riser, hopped across the stage, leapt onto the monitors, and generally behaved as if she was where caffeine comes from. The anthemic "That's What You Get" and explosive "Now" were standouts, with the band's bracing, unceasingly hooky churn keeping pace with the her.
Maybe the best moment, though, was the quietest. Williams and guitarist Taylor York performed the lilting folkie "In the Mourning" as a delicate acoustic ballad, interspersed with a verse from Fleetwood Mac's "Landslide." It was gorgeous, the singing full of warmth and wisdom, and suggested that someday Williams could put out one hell of a stripped-down album. She created a lovely, still moment during an otherwise throbbing set, under SXSW's peculiar (even vulgar) conditions. That means she's a true star. DAVID MARCHESE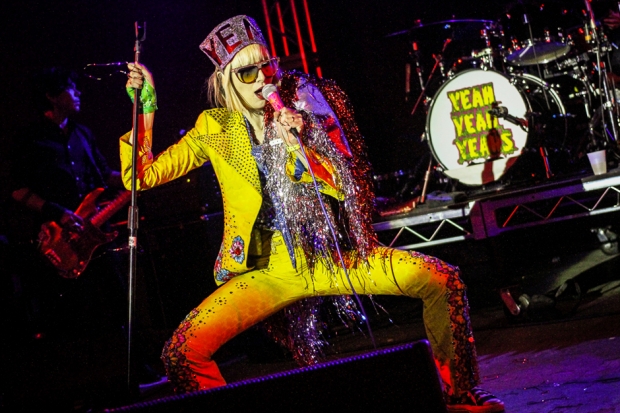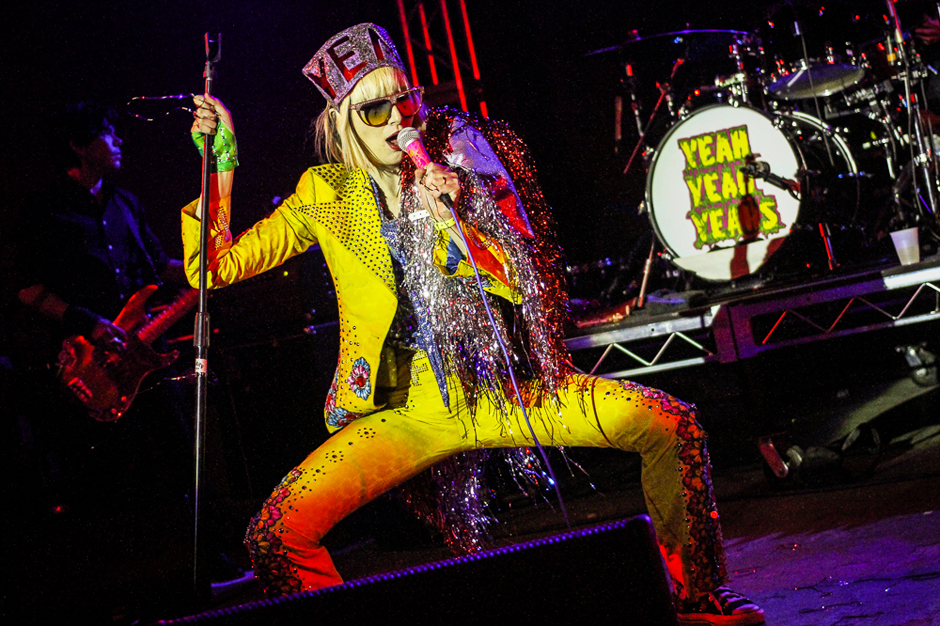 1. YEAH YEAH YEAHS
Stubb's, NPR showcase, 11 a.m.
The short list of incredibly ballsy things Karen O did last night at the Yeah Yeah Yeahs' only SXSW appearance: singing about blood suckers in a club packed with music-biz insiders; wearing a bedazzled banana-yellow jumpsuit; and performing "Subway," one of the most delicate tracks on the band's upcoming fourth album, immediately after their giddy 2009 glitter bomb "Zero."
It's the year to be hated (yet again), and Wednesday night's show felt like a preemptive strike — a chance to demonstrate that new songs and old songs can hang together on the set list without some gaping disconnect. On 2001's "Art Star," Karen famously stuffs the mic in her mouth and issues an eye-opening series of primal screams; on 2013's "Sacrilege" she pleads over an ecstatic gospel choir. The tools in the band's arsenal may have changed, but their goals remain the same: getting the hair on your arms to stand at attention.
For almost everyone packed shoulder-to-shoulder at Stubb's, it was their first chance to hear four songs from April 16th's Mosquito: its dramatic, spunky title track, which opened the show (Karen O arrived as a glitter ball, wearing a silver-tinsel shawl over her psychedelic-Elvis jumpsuit); "Under the Earth," a lolling, psychedelic plunge spotlighting Brian Chase's syncopated drumming (guitarist Nick Zinner played bass; Karen O wore a headlamp); "Subway," a sweet poem about loss in transit built on a sample of a New York City train (producer Dave Sitek tells us it's the J/M/Z line, for the record) that's so hushed and fragile, Karen O stood nearly nose-to-nose with bassist Dave Pajo and sang it directly to him; and "Sacrilege," the album's groovy first single that includes that gospel choir (the 24-piece outfit didn't make the trip to Stubb's so the band used a backing track).
There were a few kinks left to be worked out — a few odd key changes on "Zero," a bit of thinness to the new tracks, which sound robust as studio versions — but after "Cheated Hearts," Karen O exclaimed, "You guys… I love you guys," and the feeling was more than mutual. An hour deep into the set, the band busted out It's Blitz! stunner "Heads With Roll" and the floor erupted into a mass of bouncing bodies. After an hour of posing and pleading, Karen O had earned the right to drop the mic — and she did. CARYN GANZ
See all of SPIN's festival coverage here.