See all our best live photos from SXSW 2013 here
5. Chance the Rapper
Gatsby's, 5 p.m.
SXSW is full to the brim with "personalities" hoping to score attention, but Chance the Rapper's oddball set at Red Bull's 120 Hours party — curated by Chicago rap blog Fake Shore Drive — felt genuine. Performing after rap-punks Show You Suck, Chance came to the stage wearing a tank top and cut-off jeans, a bouncing ball of twitching energy; his high-pitched, nasally voice and darting flow displaying an idiosyncratic magnetism. Chance's beats, stewed in soul and gospel, emanated a warmth that makes this newcomer seem even easier to love. JORDAN SARGENT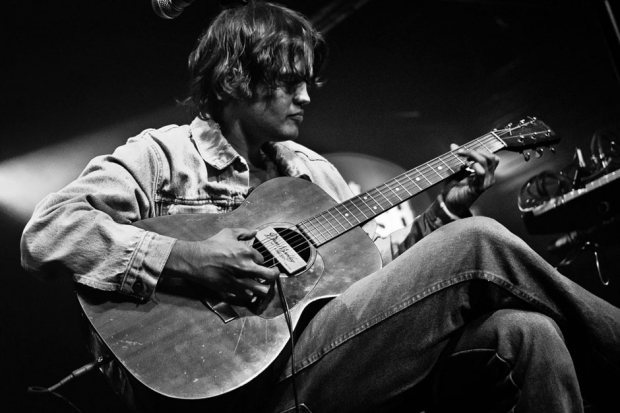 4. William Tyler
Merge Records Showcase, The Parish, 9 p.m.
Before gliding into "Country of Illusion," one of the mesmerizing guitar instrumentals from his forthcoming Impossible Truth, the Nashville resident explained that the song was inspired by the commercial failure of the notorious four-hour 1980 Western Heaven's Gate and how the film's flop spelled the end of the '70s film studio system. Now, whether anyone would possibly ascertain that from an instrumental, we can't say. But it was a stunner. Playing solo, Tyler flowed forth with cascading finger-picked lines, setting glinting melodies against a constant Om-drone, working those tunes through a series of amoebic variations, then skittering on to the next one. Sometimes he'd hit a pedal and loop himself for a few bars, then accompany himself with lush counterpoint. You could zone out and let the beautifully humble virtuosity (he never sounds showoff-y) wash over you, or get Zen-focused on a cluster of notes and marvel at Tyler's dynamics, his touch, his attention to detail. What it all had to do with Heaven's Gate, we don't know. And we don't care. DAVID MARCHESE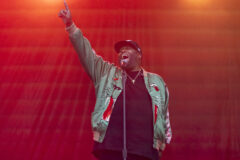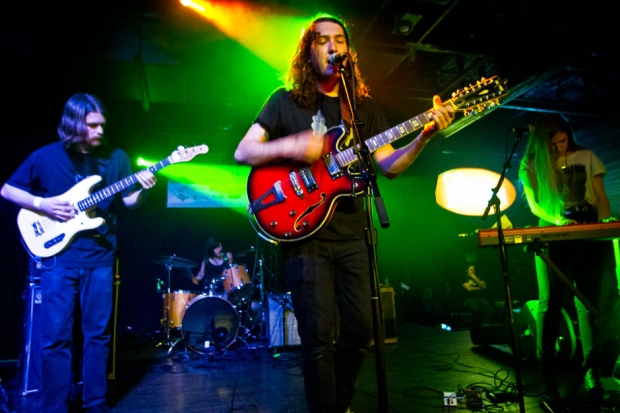 3. Mikal Cronin
Merge Records Showcase, The Parish, 10 p.m.
You can't get too comfortable during a Mikal Cronin song. At the Parish, the ridiculously talented Bay Area power-popper and Ty Segall compadre would launch into music that was all welcome signs — his own high, crisp rhythms, lovely plaintive melodies — then he and his backing band would snap. The second guitarist would begin blasting raygun leads, the keyboardist would squeeze out organ ooze, Cronin would slam on the distortion pedal, and the drummer would begin punishing his kit (the bassist pretty much stayed bopping along no matter what else was happening around him). In the space of a few beats, a song like "Shout It Out," from his excellent upcoming Merge debut, MCII, would transform from adorable puppy to snarling beast.
Too much contemporary guitar-centric pop music is plagued by a fundamental limpness, the purveyors too easily contented with a couple nice chord changes and a winsome melody. (As if, I dunno, Gerry and the Pacemakers are the gold songwriting standard.) Cronin can do that, but he also knows that's not enough. Time and time again, on a selection of songs taken mostly from MCII, he'd turn tunes that'd be meh in less capable hands into something truly mondo, full of frenzied energy — he ended the set on his back, feedback howling from his guitar. Turns out it's not a bad idea to hang around with fellow SF garage-rockers like Ty Segall and Thee Oh Sees. A lot of fuzz goes a long, long way. D.M.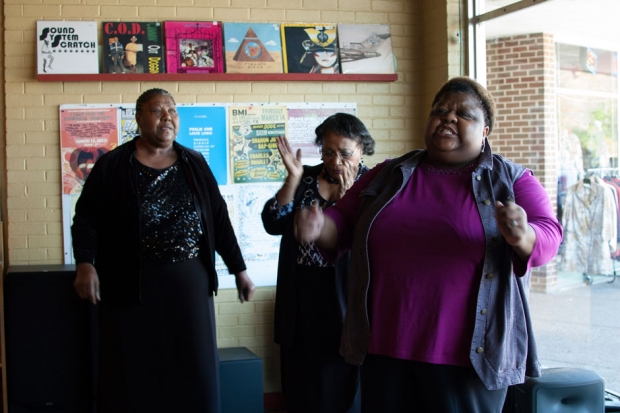 2. The Como Mamas
Breakaway Records, 2 p.m.
It was past 2 p.m. and those of us assembled in the small record store, located in an old shopping plaza in north Austin, were looking around unsurely. The day's special guests, Misssissippi gospel trio Como Mamas, were yet to show and there was no way to locate them ("They don't have cell phones," said the store's manager, placing an Eddie Hazel solo album on the turntable.) But soon they did arrive, and walking over to the corner of the shop, the group's Esther Mae Wilbour, dressed in her Sunday best, matter-of-factly announced with a resolute, booming authority: "We know that everybody in here wants to go to heaven." She stopped to look around at the suddenly rapt gathering. "Because there's enough hell down here!" The daughter of a north Missippippi sharecropper, Wilbour knows what she speaks, and her audience of the devoted and curious nodded, smiling. Tension broken.
With that, the a cappella trio — Wilbour plus her cousins, sisters Angela Taylor and Della Daniels — transformed Breakaway Records' quiet, coolly reserved temple of vinyl albums and prized soul-funk 45s, into a rough-and-tumble place of worship. Early on, the group displayed their spine-tingling dynamism with a riveting version of "Peace of Mind" featuring Taylor that felt rooted in decades of determined, hard-earned belief. At the song's conclusion, the singer's deep, broad voice hung in the afternoon stillness; then she burst out, as if relieved, plainly praising God: "He's so good! He's all over me! And I'm glad about it!"
But the performance's peak was undoubtedly Esther Mae Wilbour's raucous lead vocal on "Ninety Nine and a Half Won't Do," which she introduced by saying, "I been out on the battlefield a long time, so we're gonna keep on running till we make the hundred." And run she did, churning her arms, closing her eyes shut tight, pointing up to the sky, balling her fists, her voice full of an edgy joy that promised redemption, if you were willing to pay the price. Chanting "it won't do" again and again and again, with her cousins' urging her on, Wilbour was like a magnificently powerful distance-runner we were cheering on, as if we'd bet our lives on her. Afterwards, she left no question as to who we should really be betting on: "Jesus is the burden-bearer," she roared, "you can't thank him enough!" CHARLES AARON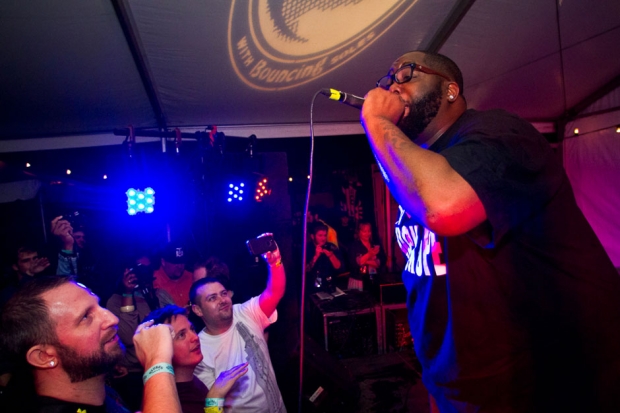 1. Killer Mike
Bar 96, 12:30 a.m.
Killer Mike's late-night set at Bar 96 earned a perfect 10 on stage banter alone:
"Speaking of not giving a fuck about the motherfucking government… We elected people who did cocaine and could barely read!"
"I still don't know what this shit means" [crosses arms in a classic b-boy stance)
"I came to make your ass think, motherfuckers!" followed quickly by "I came to burn this motherfucker down!"
"That was the angry section. Now we get to the drugs and strippers."
"When I left a major label, all my industry friends disappeared. Fuck them, by the way."
He also, of course, was Thursday's best performer in terms of pure rapping, pure emotion, and pure grit. His voice was cracking like a teenager's by the time he hit the final song of his hour-long, R.A.P. Music-heavy set, and he refused to stop ranting and spare his throat for an upcoming appearance on David Letterman next week (he advised the crowd to get high and check it out).
Gliding across the stage with a true showman's comfort, he led the crowd in a sing-along of OutKast's "The Whole World," asked us to fill on for a missing El-P on "Butane (Champion's Anthem)" — stopping the track when we got off-beat to get it right — and had his DJ slap on a freakish rubber Ronald Reagan mask for "Reagan," punctuating the former president's speeches with color commentary ("That was a lie!").
He also got choked up talking about the deaths of his beloved grandparents, and advised to crowd to surround themselves with real friends and real R.A.P. music: "Anytime we're together, God is truly in the building." Amen. CARYN GANZ
See all of SPIN's festival coverage here.