The 5 Best Things We Saw at SXSW Friday: Trinidad James, Mystikal, Chelsea Light Moving
Plus Baauer refuses to do the Harlem shake!
See all our best live photos from SXSW 2013 here
5. Chelsea Light Moving
Mohawk outdoor stage, 12:15 a.m.
Five years ago, Thurston Moore played on Friday night of SXSW at the Mohawk Patio. Last night, Moore did the same, but damn, what a difference five years makes. In 2008, a solo Moore set was simply an outlet for an extremely prolific icon of New York cool; now it's a perceived death knell for Sonic Youth, who've been unclear on their future since Moore and Kim Gordon split as a real-life couple in 2011.
It took the band so long to set up, Moore had time for a little audience interaction. "I have some extra drink tickets," he declared from the stage, passing a wristband back "to the thirsty guy" before announcing fans would have to answer trivia questions to score the rest. "What is this guy's name?" he asked, gesturing to guitarist Keith Wood. "What was the natural color of Ginger Spice's hair?"
Is Chelsea Light Moving, one of Moore's many, many side projects, a SY replacement? It can't be, and it (thankfully) refused to be last night. The quartet (Moore, Wood, bassist Samara Lubelski, and drummer John Moloney) brokered in noise, jams, and rave-ups, but never in a way that mimicked Sonic Youth's consciously orchestrated anthems. In some ways, stakes were lower and Thurston could relax into drawn-out explorations like "Sleeping Where I Fall," strong opener "Burroughs," and its punky closer, which found Moore chanting "no, no, no, no, no" like a petulant child. The singer-guitarist, now in his mid-50s, still performs with the vigor of a teen. And he's still a guitar hero. CARYN GANZ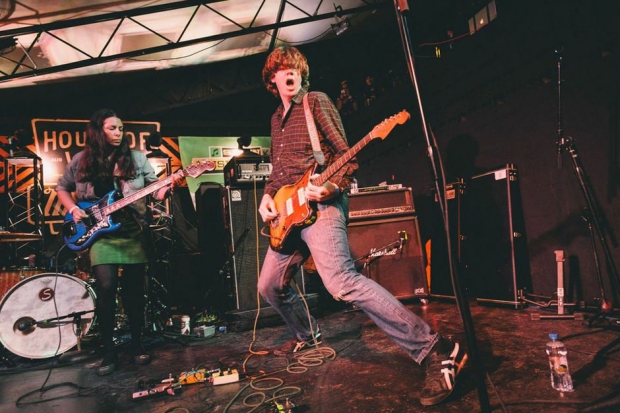 4. Baauer b/w Disclosure
Scoot Inn, 12:30 a.m.
The outdoor stage at the Scoot Inn has a bit of a beach-volleyball vibe, which was appropriate for "trap" (still hard to write that without wincing or chuckling) poster boy Bauuer, who drew a crew of sloshed and groping extras from Spring Breakers ready to "Harlem Shake" themselves into oblivion. But strangely, that never happened, as the nondescript DJ/producer decided to play a fairly innocuous set of sped-up hip-hop tracks and NO FRIGGIN' "HARLEM SHAKE." There were WTFs galore as it became painfully obvious that Mr. Bauuer had little else to offer. But heady London house duo Disclosure — actual innovative and skilled DJs and producers — rendered Bauuer a dim memory, saving the late-shift as they got the remaining 100 or so faithful dancing intensely in the sand with a typically sinuous, flawlessly nipped and tucked and blended set. In a far from ideal setting, the Lawrence brothers (Guy and Howard) showed how the job is done, with recent single featuring AlunaGeorge sounding positively triumphant. Anytime, anywhere, they're always on. CHARLES AARON
3. King Tuff
Bar 96, Dr. Martens Presents Filter on Rainey Showcase, 11:30 p.m.
Don't be fooled: King Tuff is a rock god in disguise. King Tuff (who his mom calls Kyle, presumably), may dress like a guy who got lost on the way here from 1974 in his studded jean jacket, long messy hair, and ragged t-shirt, but as he displayed on Friday night, the singer-guitarist's songs are grand, glammy gold — they're just covered in a layer of skuzz. "Anthem," from last year's self-titled album, swaggers on a giant guitar riff and regal melody. The defiant "Freak When I'm Dead" splashed day-glo fuzz across a Buddy Holly canvas. "She's on Fire" was a compact blast of fizzy melody and rhythmic giddy-up. On everything, King sings — about not giving a shit and his guitar, named Jazijoo — in a needling, wry yowl, a smile permanently plastered on his sparsely bearded face. He knows what these songs could be if they were delivered by some messianic dingus. Thank god he's a big goofball instead. DAVID MARCHESE
2. Mystikal
The Main, 11:50 p.m.
Mystikal is a legend. His flow — at once conversational, like he's playing dominoes in the park, and dizzying, like he's trying to mimic the movements of a fighter jet — is so innovative that it's never been imitated. He was the perfect foil for the Neptunes' mutant swamp-funk, conjuring tracks like "Danger (Been So Long)" and "Bouncin' Back (Bumpin' Me Against the Wall)" that stand as some of the most bizarre songs ever to get steady radio play.
Mystikal is also a convicted rapist, and he doesn't let you forget it. At his late set at The Main on Friday he directly addressed the women in the crowd: "Ladies, I was gone six years," he said, referring to his prison stint. The crowd responded with wild cheers. He then said that he got tired of jerking off, which drew even louder cheers. Then he launched into a recent track called "Short Story."
"Short Story" is a third person narrative whose obvious touchstone is "Trapped in the Closet." Mystikal wakes up — "dick hard like wolverine claws" — and goes to a woman's house, where they have sex before her boyfriend inevitably comes home. It's vivid and suitably ridiculous — he includes the "bamp bamp" of knocking on the door and the "blah blah"s of the phone conversation — and he performed it with the dripping panache of a one-man show. It was something that very few, if any, current rappers would even try and pull off.
Such is the dilemma with Mystikal, an absolutely incredible talent who is, in his own way, as unrepentant about his past as Chris Brown. No other act at SXSW could close their set as Mystikal did on Friday night, with a bugged-out, inspired run of "Move Bitch," "Bouncin' Back (Bumpin' Me Against the Wall)," "Danger (Been So Long)," "Shake Ya Ass," and an a capella rendition of his James Brown homage "Hit Me." These are songs and performances to be celebrated, to be cherished. Or are they? JORDAN SARGENT
1. Trinidad James
SPIN at Stubb's, 5:50 p.m.
Scheduled to play a short "special guest" set after Kendrick Lamar, Trinidad James was a bit tardy and brows started to furrow, but not for long. When the Atlanta boho-loco trickster finally bounded out onstage, he even rivaled Solange for fashion-forward ridiculousness — the dude really does wear "all gold everything"! The checklist: gold and comically oversized backpack, gold teeth, gold rings, gold watch, gold-rimmed glasses, gold earrings, gold chain, black t-shirt with the chemical symbol for gold — etched in gold! And when he announced, "I fucks with everybody if you don't give a fuck what anybody have to say," you knew all was well. James climbed on speaker cabinets, wandered into the crowd, and took iPhone photos, as he and his crew threw multiple t-shirts to the rabid fans upfront, eventually even launching the ginormous gold backpack (which was claimed by a burly hippie with a bushy, tendril-y beard). He cranked out "One More Molly" and "Givin No Fucks" and ran out of time before "All Gold Everything," but nobody was beefin'. For a supposed one-hit wonder, James looked like a bonafide, legitimately eccentric star. Or at the very least, one hell of a rolling one-man party. Woo, indeed. C.A.