Seven glitter-adorned women turned to stare blankly at me when I arrived at Glass, a warehouse that serves as a green room next door to New York City's Marquee nightclub on Saturday night. Dressed in the kind of alien fantasy get-up that is almost exclusively reserved for sexy sci-fi role play and bottle-service go-go dancers — metallic leotards, studded geometric bras, coned and sequined shoulder pads, scaly stilettos — they, like the rest of us waiting, were anxious for Tiësto to arrive.
Once it was revealed that, despite my boots and weather-appropriate jacket, I was a writer who also belonged in this backstage lounge, they resumed primping and chatting in their thick Eastern European accents. Outside, a line was monitored by nightclub personnel decked out in suits and talking into headsets, while eager patrons impatiently tapped their high-heels as they waited to be checked off the doorwoman's very expensive list. Earlier in the day, desperate fans had offered as much as $600 in cash to anyone who could spare a ticket to the superstar DJ's two-hour long set.
Discussing EDM in the context of its audience is perhaps superficial, but necessary. Saturday night's show highlighted a less-talked-about but undeniably present side of EDM: The venue, Marquee, is a high-end club in Manhattan's Chelsea neighborhood where dress codes are enforced, bottle reservations are required to sit down, and drinks range from $12 for an Amstel Light to $18 for a vodka soda at the lower end of the scale. (I saw a tab of $708 on one bartender's screen.) Which, of course, calls into question the type of demographic who could afford to attend this event in the throwing-your-inhibitions-to-the-wind way that dance music is generally meant to be experienced. Gaggles of baby-faced boys emulating the velvet-blazer golden years of Gossip Girl's Chuck Bass gazed at Tiësto as he took the stage, holding up cell phones pre-opened to Instagram.
It's the chaos that followed the insta-sharing that is more important, though. For the two hours that we watched Tiësto's set, uncomfortably pushed up against a bar that showcased one dancer and what seemed to be a never-ending queue of shots, the dance-floor was a raucous entity of its own. Everyone danced. Everyone. They danced in whatever way they could; fist pumping, jumping, pre-pubescent-style grinding, flailing whichever limb wasn't pressed up against another body. Earlier in the night, Tiësto had told us that this was indicative of American crowds; that he could play anything to great result. And he was right — whether it be Dutch house artists like Hardwell, or Axwell's mega-hit and tecktonik dance sensation "I Found You, or remixes of pop artists (Icona Pop and Florence and the Machine made it into the mix), the people danced. Girls walked around with mini marquees that flashed the DJ's name, glasses were broken and immediately swept up, and once inflatable flashing rods were thrown into the audience, people danced with them too.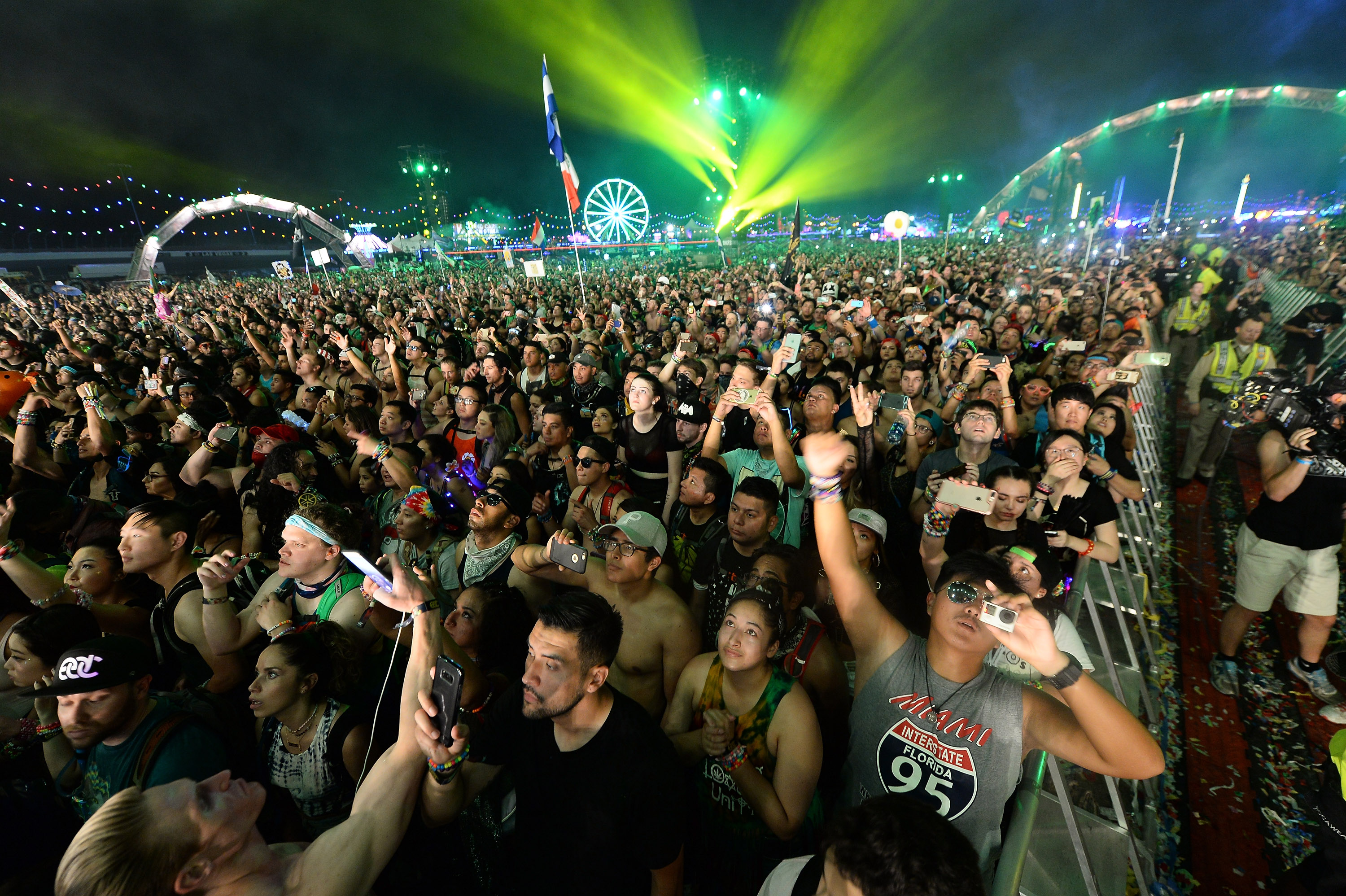 In person, Tiësto isn't nearly as much of the showman as he is behind the booth. In fact, when we sat down shortly before he took the stage, it was strange to imagine that this was a person who is basically considered to be responsible for EDM as we know it now. The DJ was graceful and considerate and careful of his words, though that is probably to be expected of someone who has been interviewed about this subject for more than twenty years. He made jokes at his own expense and about his peers in a way that only someone without disillusion could. And thankfully, as a result, our only discussion of glow sticks was about how he hates them.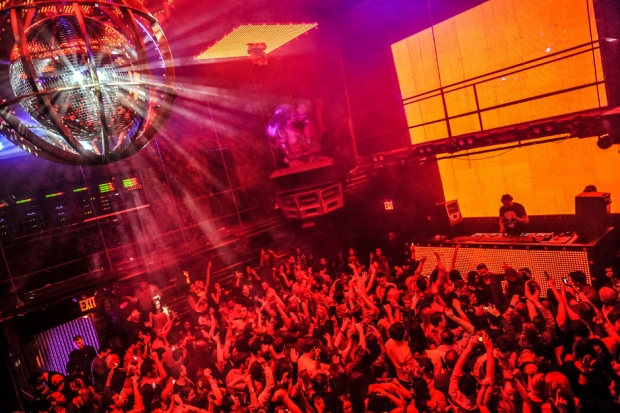 Where are you coming from right now?
I flew into NYC from Brazil. But earlier I was at the Dream Hotel getting drinks with [club owner] Noah Tepperberg, who is one of my favorite people in New York. That's my ritual before the show. To go out and get a few drinks and hang out backstage with friends. At the end of the day, my job is about making a party, so I like to think I can participate in that aspect too.
As someone who has been doing this for a long time, how would you define EDM now in light of the last few years?
It makes me really happy that it's finally out there. I think it's a great name for our genre.
How would you describe that genre if you had to do so exactly? What qualifies as EDM?
Anything that is made on a computer and has a beat. [Laughs] EDM was born in the U.S., it was born in Chicago.
So you're not going to give in to the idea that the meaning of EDM has changed over time? There's no denying that there are pretty strong associations with that tag that are rooted in trance and big festival-friendly dance music.
I mean, yeah. I think everybody who loves EDM loves everything from Daft Punk to Tiësto to Justice. Everyone is EDM. I like that we are all in one genre. You know, before, when there was divisions like house, techno, electro, trance, the main genre always lie in EDM. Music that's made in a certain way.
You're gearing up for the "College Invasion" tour, which seems to cross over pretty heavily with the demographic that would go to festivals like Electric Daisy or Electric Zoo. Can you tell us more about why you chose to go to colleges?
Well, the main thing is that when I played a lot of those festivals, some of my fans could never see me live. These kids are 18, some are younger, and a lot of the venues I play are 21-plus. It's great to be part of their education in a way. Their education to the entertainment world. I love to go to colleges and play there. I did it and it felt so amazing, they were so into it, and their energy was fantastic. That's why I decided to do it again, I want to make it a yearly tradition. It's inspiring and it's like I absorb their energy.
What were you listening to when you were that age?
I was all over the place. I still am. I was listening to mainly rock music and heavy metal. I was a huge Pyromania fan. You would never expect it, but I was in love with Iron Maiden, I was such a huge fan. I went to a lot of rock stuff like Van Halen too.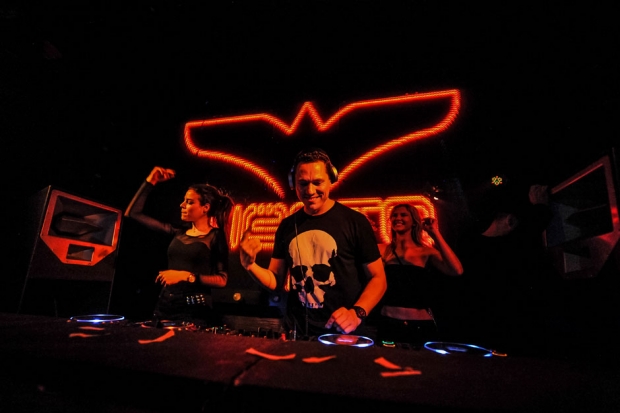 It's interesting you were into metal; I'd generally associate metal lovers with the other side of popular, arena-style EDM — the harder, grinding dubstep guys. It seems that producers like yourself tend to make sunny tracks that come from huge major chord progressions. Swedish and Dutch producers in particular — Afrojack, Avicii — have found success on the American mainstream-pop circuit. Why do you think that is?
I think it's because we're forced to be in the studio all the time. We have very shitty weather in Holland and so there's no reason not to be in the studio. That, and our crowd is very hard to please. When you go to a club and play, they barely make any noise. It's very hard to know that you're pleasing them. It keeps you on your toes as a DJ, and as a producer you want to make music that will make the crowd go crazy, lose their inhibitions. So it's a very hard mark to hit on all these different levels; making interesting, new music for a knowledgeable audience, but also music that will keep them on the dancefloor. When you succeed in Europe, you know it's a really good track. In America, everyone goes crazy for everything. It's insane to watch.
Do you feel self-conscious when you play out? Or did that pass long ago?
Yeah, sometimes, of course. The whole point is to show an audience something new or different. I want to make myself and the crowd happy by way of something different and that makes things difficult. I'm never playing something that hasn't been released or no one has ever heard before because I care to deliver them what they were hoping to see from me. But also I play four or five songs that will definitely surprise them. Whether it's in America or Russia.
The reception of EDM with pop vocalists has been huge. Is that something you are excited about or have plans to go after?
I was never attracted to the pop world. I listen to music that is pop sometimes. But I've never thought, "Oh, I need to work with Ne-Yo now." It's never really been my thing.
Do you like pop music?
No, not really.
As one of the most well-known dance-music DJs in the world, by definition, you are a popular DJ. It's interesting that you don't like pop music that is also dance music.
Yeah, but I mean there's a huge difference between me and David Guetta. The big difference you're going to see are the type of people I work with: Tegan and Sara, Bloc Party, Sigur Rós. No one had ever worked with Sigur Rós before, you know?
Do you consider yourself underground?
I think I'm commercial underground. I'm not commercial in the way that people consider "pop," but I'm not underground in the way that people consider that. either. I am just a cool guy. [Laughs] I don't know how to compare me to another band. I think if I had to consider that I would say that I am like U2. There's no one in the world like U2, and they have done so much, but they are still one of the most popular bands in the world. I've worked with Bono and can see that comparison more than other elements of pop. I think if you were to make that same analogy with someone like David Guetta, singers like Chris Brown and Rihanna come to mind. Super pop.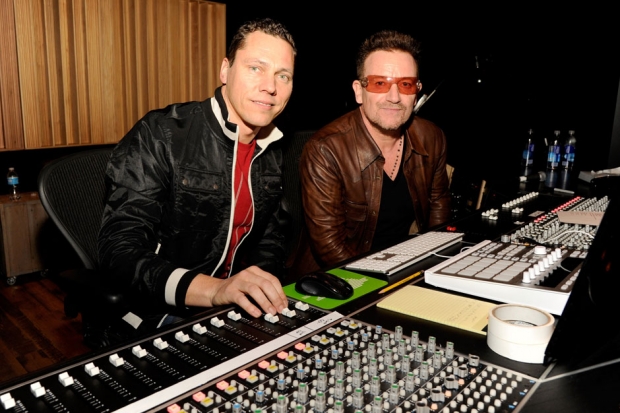 Many of those musicians now using a lot of similar production aesthetics. They're less removed from you because there are elements of trance or whatever else they're using in pop now — elements that you helped make popular in EDM.
Yeah, yeah, that is an interesting thing to think about. It's hard to deny that even if I wanted to. I just think that we are very different.
I can't speak for Europe, but in America there's this current infatuation with throwbacks to '90s trends. In dance music, that manifests as a younger generation kind of co-opting the aesthetics of old-school raves. You were DJ'ing in the '90s and this is a demographic that also makes up a lot of your American audience. What are your thoughts on today's mainstream festival culture vs. older, underground rave culture.
It is absolutely inspired by the '90s, though to be honest I was never drawn to rave culture. I feel like these kids are trying to make it their own and there's something valuable in that. I never participated in rave culture when it was happening in Europe, I never DJ'd those nights just because it wasn't my thing. I never supported rave. I actually don't like glow sticks. I have had them banned from my shows. It is like you were saying, there's something suggested by it. I think it sends out the wrong message. I think dance music is not about taking molly or getting fucked up or throwing glow sticks around. It's about enjoying the music, just as you'd enjoy country or rap.
Often discussions about EDM are discussed in terms of the people who go to see it.
You said earlier about seeing me at Electric Zoo and that a lot of people end up talking more about the people in the audience instead of the music. What they are wearing or how fucked up they were and that becomes a reflection of the DJ, even though I don't believe my fans come out to see me for that reason. It's like you would see at Electric Daisy, that there were no glow sticks at my show. A lot of people hated me because I banned glow sticks, but I think it's important to show that it's about more than just that.
Do you prep differently for playing places like Electric Daisy and a smaller nightclub like Marquee?
It is a very different set of people and so I play different music. For me, it's more like a holiday gig to play at Marquee. It's like playing a living room of 500 people. My friends are here and it becomes a very easy gig. It's easy music to play; I don't think about it too much. When I play EDC or Ultra with 60,000 people, it's a lot more pressure. I really think about what I play there. I will plan out my set — not song for song what I will play — but like some part of the set needs to be one thing and some part needs to be another. Here, I would play more vocal-driven or more sexy music. Things that are suited to the set for "Club Life" set [his weekly radio show]. When I play a festival, I would play more Dutch music, electro, things that go harder. Big drops and big breaks. It is a big difference between sets.
I think it's interesting that there are certain cities, New York included, where you play at smaller clubs instead of the large venues like MSG. It's great that you're playing Staples Center in L.A., but is there a larger reason that DJs stick to these certain venues? It sometimes feels like there's a privileged hotel club circuit that is responsible for bringing EDM to the U.S.
That's why I try to make sure to play places like Electric Zoo. The hotels have helped, they've helped a lot, but they are not the only gigs. The main reason I never played MSG is because there's not enough room on the dancefloor. I was offered to play there four or five years ago, but couldn't qualify doing it. It is an amazing venue for rock artists, but not for EDM. I think you have at most 1,200 people on the floor? I went to a U2 concert there. To play an all-seated venue for EDM is not right. That's the only reason why I haven't played there. It goes back to the idea that EDM is made for dancing, right?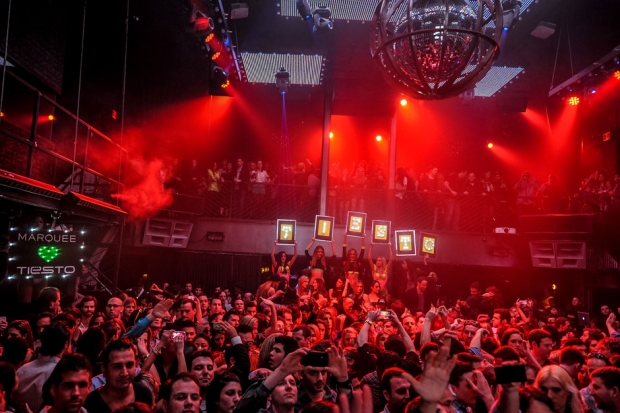 Through your show and social media it's clear that you're very supportive of younger dance-music artists. How important is it for you to keep up with new trends or regional styles?
I think being relevant is also very important. If you're not relevant anymore, then who cares? I am excited about a lot of young DJs, there's a lot of young talent in Holland. I was there in January and it's very inspiring to see kids turn to me and see me as the Godfather. They see me as the local, but as the legend, and I like to be in that position. I like to be there as a father-figure with this stuff, someone who can give them advice. I like to give the most support to producers from Holland. There's a lot of stuff on Diplo's label that has been big in America through Holland — Partysquad is still very big. I heard about Munchi. But anyways, it is important to me to be around younger producers because they keep me young and give me energy as well. I feel like, "Oh I remember doing that when I was 20."
What do you predict will be a bigger trend in EDM in the next year or so?
Well, it's all blending together, isn't it? It's still growing. I don't see any outstanding trends, but I think that breaks will be very big in America, as well. I think it's getting a too mainstream in America and is going to go to a place where hip-hop meets EDM. Trap or whatever that is, and "Harlem Shake." I think it would be smart to go in that direction, but with catchy vocals and without getting too cheesy.
How do you keep your productions from getting repetitive? Is it difficult to come up with new ideas?
That's the kids, that's the kids. They give me ideas, we work on it together. I do a lot of collaborations; I've worked with Hardwell, Diplo, Steve Aoki. They're all younger guys and they inspire me. We sit in the studio together and they come up with great shit I'd never thought about and we work on it from there.
What happens when DJ'ing is done for you?
That's the most asked question in the last year, I think. Once it's hit this level of popularity, it's like, where could this possibly go from here? I remember when I was 30, I said to myself that I would stop in the next five years. Now, I'm 44. I do think I will be done at one point but I also think that as long as people like me, I can remain relevant, and the music is good, I will keep doing this. Once that's over for me, then I think I will know when to stop. I've been doing this for long enough that it won't be difficult to know when that is. And then I will move on to something else: maybe fashion, maybe being a manager, maybe starting my own DJ agency.
So Tiësto the brand will live on.
Yes, yes, it will never die. Who knows, maybe when I'm 50, I'll start making chill-out music.