In honor of Valentine's Day, the xx have released a live cover of Beyoncé's heart-wrenching stunner "I Miss You," which was co-written by Frank Ocean for her 2011 album 4. The trio performed it on Tuesday night at the Austin stop on their current tour for their beautifully executed sophomore LP Coexist, which was among SPIN's 50 Best Albums of 2013.
"Whilst on tour in Texas, we decided to cover a song by a Texan," said the xx via statement. They're sharing highlights from the road on their website. "She is one of our favourite artists of all time, Beyoncé. This song has always meant a lot to us and was written with another artist we really admire, Frank Ocean. Happy Valentines day [sic] to you all. Lots of love, xx – The xx."
Their version turns the digitally driven original into a duet between Romy Madley Croft and Oliver Sim accompanied by spare guitar and bass. It's exactly what you'd expect to hear, and it's exactly as beautiful as you'd hope it would be.
While the rest of the xx's February dates are sold out, there are more on the way in addition to stops at the Coachella, Sasquatch and Governor's Ball festivals. Need incentive to see 'em in person? Just ask former Seattle Seahawks linebacker Brian Bosworth: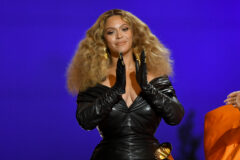 Just had SEX & never took my clothes off..XX takes U 2 the abyss of ur consciousness. .kickass show w/ love 4 allGO!! twitter.com/GotBoz44/statu…

— Brian Bosworth (@GotBoz44) February 13, 2013