Though they've been broken up for nearly three years if you include the hiatus, Rilo Kiley caused quite a stir in December when they cryptically reported to Facebook, "Record is almost finished." They were referring, of course, to their forthcoming rarities compilation, finally revealed to have a perfectly darling title, RKives, and a due date of April 2 via Little Record Company, the (cute cute cute) label of bassist Pierre de Reeder.
Fans should be forgiven for forgetting about the B-sides and demos compilation, however, since the band started talking about it all the way back in February of 2010. Though despite speaking on the thing a handful of times over the years, no one in the Los Angeles indie-pop group had let slip that they scored a remix of their 2007 Under the Blacklight track "Dejalo" featuring none other than Oakland pimp-rap godhead Too $hort.
In 2006, Jenny Lewis told Pitchfork a funny story about getting burned by the MC at a Justin Timberlake record release party (FutureSex/LoveSounds, presumably):
"I was gushing, 'God, Too $hort, I've really loved you since high school … First he asked me if I was a real redhead, which was kind of uncomfortable, and then he said 'Let me have your email address.' … He typed it into his Blackberry and then typed in his phone number and sent me an email with his phone number! So exciting! But then when I got home I realized that he faked me out and he didn't actually send it."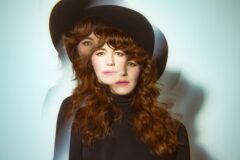 Perhaps the message just got delayed in transit? In any case, assuming there aren't any similar juke moves made by this impending release, RKives will be arriving shortly in CD, LP, and digital formats. Those feeling particularly nostalgic will be able to purchase a limited edition package including all three, plus stickers (!), a button, a poster, and a cassette of additions demos all packaged in a totes adorbs tote bag. Awwww.
As for the album art, expect "a rich mix of personal photos, collages, and hand written lyrics," "lovingly designed by the band" of course.
RKives track list:
1. "Let Me Back in" *
2. "It'll Get You There" *
3. "Runnin' Around" *
4. "All the Drugs" *
5. "Bury, Bury, Bury Another" *
6. "Well, You Left" *
7. "Draggin' Around"
8. "I Remember You"
9. "Dejalo" (Zondo Remix featuring Too $hort)
10. "A Town Called Luckey"
11. "Emotional"
12. "American Wife"
13. "Patiently"
14. "Rest of My Life" (demo) *
15. "About the Moon"
16. "The Frug"
*previously unreleased