Pussy Riot's circumstances within Russia have taken a turn for the worse at a time when the Moscow feminist punk collective's recognition continues to grow globally.
One of the group's two imprisoned members has gone to the hospital, the AP reports. Nadezhda Tolokonnikova was exhausted from overwork at a harsh prison colony and had previously complained of headaches, a fellow band member said. A Russian prison official declined to detail Tolokonnikova's condition beyond saying it was "nothing serious."
Yekaterina Samutsevich, a Pussy Riot member who was freed on appeal, told independent Rain TV today her bandmate isn't allowed to rest. "She works nearly round the clock," Samutsevich is quoted as saying. "She said she feels tired, extremely tired."
Tolokonnikova's husband, Pyotr Verzilov, told the AP the trip to the hospital didn't involve a specific illness. Instead, it involved a previously scheduled appointment. "Obviously, the conditions aren't that great, but her lawyer's dealing with it," he's quoted as saying.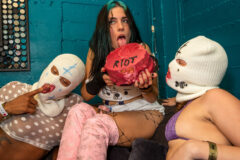 Meanwhile, Pussy Riot – A Punk Prayer, a documentary about the group, won an award at last month's Sundance Film Festival. The film took home the World Cinema Documentary Special Jury Award for Punk Spirit. As Radio Free Europe reports, the directors seized the chance to call for more support for the two group members imprisoned for the so-called crime of hooliganism motivated by religious hatred.
In Russia, a court has banned footage of the anti-Putin protest that led to Pussy Riot's indictment. Internet service providers found hosting the "extremist" video face up to $3,000 in fines.