Going by the preview, you might describe the elevator pitch for Park Chan-wook's new film, Stoker, as "Lolita meets The Talented Mr. Ripley." (Fangoria calls it "an Alfred Hitchcock film as captured through the lens of Terrence Malick.") Mia Wasikowska (Alice in Wonderland) plays India, a loner with a musical streak and a simmering, sublimated violence. After her father dies in a car crash — on her 18th birthday, mind — her uncle Charlie (Matthew Goode), previously unknown to her, arrives on the scene to care for poor India and her nutso mother, Evelyn (Nicole Kidman). Sexual tension and a rising body count ensue. Despite the title, this isn't a vampire flick, but, per Park's fantastically gruesome oeuvre — the South Korean director is best known for his Vengeance Trilogy, which includes 2005's Oldboy; this is his first English-language feature — you can bet there will be blood.
Featuring a score by eminent Hollywood mood-setter Clint Mansell (Black Swan, The Fountain, Requiem for A Dream, π), the film also employs a lithe new piano work by Philip Glass that, we're told, plays a pivotal role in the film's agonizing pas de deux of lust and cruelty.
Listen to Glass' "Duet" here, and check out the preview for the film below. Plus, don't miss 40 Movie Soundtracks That Changed Alternative Music.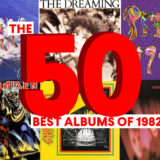 https://youtube.com/watch?v=MXaanQkzrXU%3Fversion%3D3